Can Pizza Be Cooked In A Microwave? Yes! Try This Easy Recipe Tonight
Everyone knows pizza can be cooked at home in an oven, but home ovens take time to preheat and require special tools (like a pizza stone or steel) for best results. What about cooking a pizza in a microwave?
Pizza can absolutely be cooked in a microwave (as long as you're not using a standard homemade pizza dough recipe). The crust won't be browned like with a pizza stone, but it can still taste good if you know what you're doing and make a few adjustments. If you want a crispier crust, you can optionally place the microwaved pizza on a hot frying pan for 30 seconds to brown the underside of the pizza.
Let's go over the differences between microwaved and baked pizza, then I'll share an interesting method for making tasty microwave pizza at home.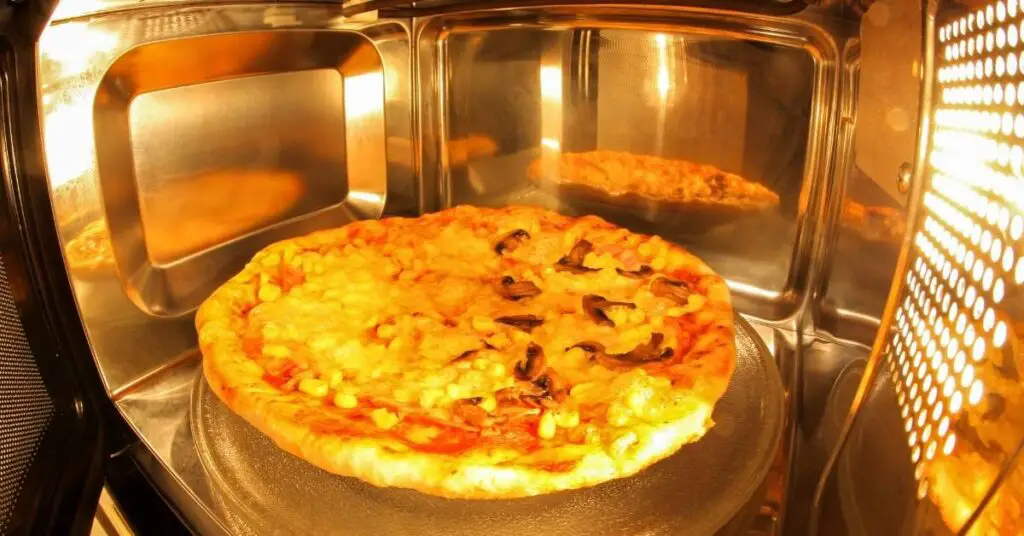 Microwave Pizza Is Not The Same As Oven Baked Pizza
First things first, it's important to have reasonable expectations before deciding whether you want to microwave a pizza or bake it in the oven.
A microwave isn't capable of browning the crust or caramelizing the cheese like you would expect with an oven-baked pizza. So if these qualities are a deal breaker for you, check out another pizza recipe instead.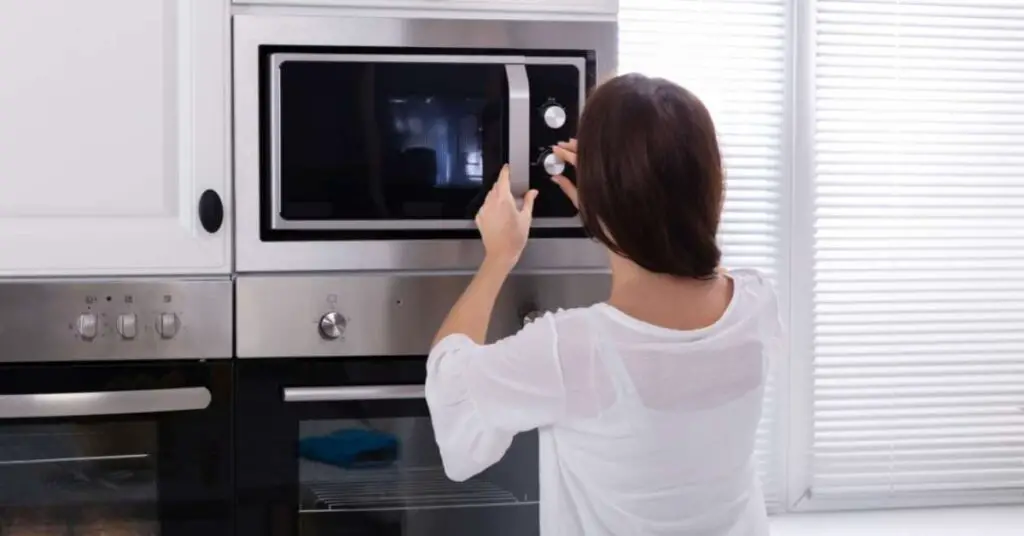 Microwave pizza will be much paler and softer compared to pizza baked in an oven. The crust will bubble up and the cheese will melt, but that's about it. Don't expect much more than this unless you plan on popping it in the oven at the end, which in many ways defeats the purpose of cooking it in the microwave to begin with.
But microwave pizza can still be very tasty, and even crispy, if you follow a few tips and tricks.
Don't Waste Your Best Ingredients On Microwave Pizza
I normally make homemade pizza using a pre-fermented yeast dough that I prepare 2-3 days before actually making the pizza. This gives the pizza crust a delicious taste and texture that makes it easy to digest. I also like to use a simple San Marzano tomato sauce and fresh mozzarella cheese.
But if I'm making pizza in a microwave, I don't bother with any of these things. All the qualities of a pre-fermented dough are going to be ruined in the microwave, and the fresh mozzarella will turn into a rubbery, watery mess. It just doesn't make sense to waste time and money on these ingredients for a simple microwave pizza.
For microwave pizza, it's best to keep things simple. You can prepare your dough in as little as 5 minutes before baking it. And since we're not letting it rise, it's fine to use baking powder instead of yeast. For the cheese, you can use any kind of low-moisture variety you have available – I like to use Monterrey Jack with jalapeno, but there are lots of other options too.
How To Make A Mini Microwave Pizza (no yeast)
Here's a quick recipe you can try at home that takes as little as 5-10 minutes to prepare. This is a slight variation on my previous 1 minute microwave pizza recipe.
The reason this recipe works so well is because the baking powder gives the crust nice air bubbles while the sourness of the yogurt gives it an almost fermented like flavor.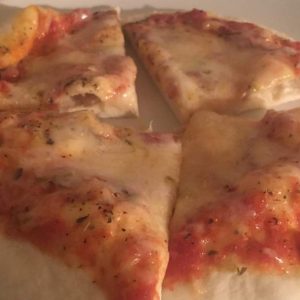 Mini Microwave Pizza For One Recipe
Ingredients  
Pizza Dough
5

tbsp

All-Purpose Flour (50 grams)

2.5

tbsp

Yogurt or Milk (35 grams)

1/2

tsp

Baking Powder/Soda (5 grams)

1/4

tsp

Fine Salt (6 grams)
Pizza Toppings
2

tbsp

Tomato Sauce (or however much you want)

3

pinch

Shredded Cheese (or however much you want)

1

pinch

Dried Oregano

1

dash

Black Pepper
Instructions 
In a mixing bowl, combine the flour, baking powder, salt, and yogurt/milk

With a stiff spatula or spoon, combine the ingredients until they're roughly combined, then transfer the dough ball to a clean counter.

Continue kneading the dough by hand for another 3 minutes or until it's relatively smooth. Make sure all of the dry ingredients have been incorporated into the dough. If it's too sticky, add a dusting of flour.

When the dough is kneaded enough, dust your countertop with flour and begin rolling it out with a rolling pin. If you don't have a rolling pin, any clean bottle will do or even just use the palm of your hands.

Poke the dough a few times with a fork and place it on a piece of parchment paper. Microwave it for around 45 seconds. If the dough bubbles up too much while cooking, poke more holes in it next time.

Add sauce, seasoning, cheese to the crust and microwave it again for another 35 seconds or until the cheese is fully melted and bubbling.

(Optional) For an extra crispy crust, place the cooked pizza onto a hot frying pan for 10-20 seconds, or until the bottom starts to brown. Enjoy!
Tip: Try using a flavored cheese, like jalapeno monterey jack, for an even tastier pizza without needing extra toppings.
Related Posts:
Related Questions:
How Do You Microwave Pizza?
To microwave uncooked pizza, place the dough with sauce on parchment paper and microwave it for 40 seconds, then add cheese and microwave for an additional 35 seconds.
In general, microwave pizza is not an ideal way to cook pizza because a microwave is not capable of browning the crust or caramelizing the cheese. For a crispier crust, try using a microwave crisper or placing the microwaved pizza on a hot pan for about 30 seconds.
Which Mode Is Best For Pizza In Microwave?
The best mode for making pizza in the microwave is convection, if your microwave supports it. Otherwise, set your microwave on high and use a crisping rack if you have one.
How Long Do You Microwave Pizza?
In general, reheating pizza in the microwave should take between 15-30 seconds. If the pizza is room temperature, start with 15 seconds. If the pizza is cold due to being refrigerated, start with 30 seconds. Make sure to avoid microwaving your pizza for too long or the crust and toppings will lose their texture and taste.
Can You Cook Raw Pizza Dough In A Microwave?
To cook raw pizza dough in a microwave, simply place it on a piece of microwave safe parchment paper then microwave it on high (or convection setting) for approximately 1 minute. Alternatively, you can cook the pizza crust alone for 40 seconds, then add cheese and sauce it finish cooking for another 20-30 seconds. Results will vary depending on the size of the pizza and how powerful your microwave is.