Ooni vs Roccbox: How to Choose Between Ooni vs Gozney, Roccbox vs Ooni Koda, Karu and More
If you're in the market for a new pizza oven, you've no doubt heard of Ooni and Gozney Roccbox. These two award winning brands are some of the biggest and most well known domestic outdoor pizza oven manufacturers around. This post will compare Ooni vs Roccbox, and Gozney vs Ooni, in terms of features and price based on my personal experience with these pizza ovens to help you figure out which Ooni model (and Ooni price) is best for you–or if you prefer the Gozney Roccbox instead.
---
Ooni and Roccbox are both pizza oven brands with models that support gas, wood and charcoal fueling options, as well as indoor and outdoor cooking. The Roccbox is a pizza oven priced at $499 and large enough for a 12 inch pizza, while Ooni sells a range of pizza ovens priced from $349-$999 with options for 12 inch and 16 inch pizza.
In my opinion, the most similar Ooni oven to the Roccbox in terms of features is the Ooni Karu 12G at $429, while the closest Ooni oven in terms of price is the Ooni Koda 16 priced at $599.
While this pros and cons list might lean towards Ooni, it doesn't mean Ooni is going to be the best choice for everyone. Let's go over which Ooni ovens compare to the Gozney Roccbox, then discuss their cost and features to figure out which one is best for you.
Ooni Vs Roccbox In Numbers:
One of the main differences between Ooni vs Roccbox is that Ooni sells 6 different pizza ovens while, currently, Gozney Roccbox only offers one. This makes things simple in terms of having fewer ovens to compare but can still be confusing if you don't know which Ooni ovens are roughly equivalent.
To simplify this, I've limited the number of Ooni ovens to just the closest equivalents to the Roccbox vs Ooni in terms of price and features. Let's take a look at those pizza ovens now:
How I'm Comparing Gozney vs Ooni Pizza Ovens
No two pizza ovens are alike, and that means each pizza oven will come with its own unique set of strengths and weaknesses. Ooni and Roccbox are no different, in fact even different Ooni pizza oven models can differ substantially in design from one another.
For the purposes of this review, I'm going to be comparing Ooni vs Gozney Roccbox pizza ovens in terms of price, features, max temperature, portability, and and my personal experience with the oven.
I will say up front that while I prefer some features over others, my experience with each Ooni and Roccbox pizza ovens has overall been positive. Both Ooni vs Gozney are well respected, highly trustworthy companies with robust warranty programs and great customer service. Also, both Ooni and Gozney are based in the UK, so you can expect good customer service as well as high-quality design standard. I'm confident that whichever pizza oven you choose, you will have a good experience dealing with either company.
This is why it's so essential to judge pizza ovens on your own personal pizza preferences, and why my goal here is to give you as much information as possible to do so. For example, if you plan on only making Neapolitan style pizza, I recommend going with a 12 inch model, like the Ooni Koda 12, Roccbox, or Ooni Volt 12. That's because these pizza ovens are just the right size, and reach an appropriately high temperature for Neapolitan pizza.
On the other hand, if you're mainly interested in New York or New Haven style pizza, I recommend picking up a 16 inch model for the extra baking surface size. My favorite 16 inch outdoor pizza oven model is currently the Ooni Karu 16.
These are the kinds of factors you should be keeping in mind when picking out a pizza oven. Your own personal pizza preferences matter just as much as technical specifications and build quality.
So, as you can see, it's not simply a matter of ooni vs roccbox or roccbox vs ooni. That said, let's get into the reviews.
The Roccbox Is Similar To The Ooni Koda 16 and Ooni Karu 12
The two Ooni ovens that immediately come to mind when comparing to the Roccbox is the Ooni Karu 12 and the Ooni Koda 16. As you can see in the table above, the Ooni Karu 12 shares most of the same features as the Roccbox while the Ooni Koda 16 shares the same price with a slightly different set of features and portability factors.
The Ooni Karu 12 has a 13×13 baking surface, room for a 12 inch pizza, and supports multiple fuel types. This makes it the most similar oven to the Gozney Roccbox in terms of features with the major exception being weight. The Roccbox weighs nearly twice as much as the Ooni Karu 12, weighing in at 44lbs compared to 26.5lbs for the Ooni.
The Roccbox is relatively small so all that extra weight mostly comes from the dense insulating layers that help the oven retain heat. This is a nice feature, as the Roccbox definitely does a good job at staying hot, but for most people this isn't going to be a huge concern.
Considering a pizza cooks in as little as 90 seconds at 950°F (500°C), retaining heat for extended periods of time is probably not a big selling point for the Roccbox unless you plan on making dozens of pizzas in a row or using it commercially.
This compares to the Ooni Karu 12 (for example), which does all of the same things for a significantly lower price and nearly half the weight.
What is nice about having such dense insulating layers, however, is that the outside of the Roccbox remains relatively cool to the touch even at full temperature. It's still hot, and you still want to keep your pets and children away from it, but compared to the Ooni, the Roccbox does a better job at keeping the outside surface from reaching skin-scalding temperatures. In my experience, this protective heat insulation is one of the best selling points of the Roccbox.
This isn't to say Ooni pizza ovens don't have great insulation as well, just that they (Ooni) have opted for less insulation and more portability compared to Gozney Roccbox. By making this choice, Ooni pizza ovens are generally less expensive (though not necessarily "cheaper") compared to Roccbox and other pizza ovens with similar features.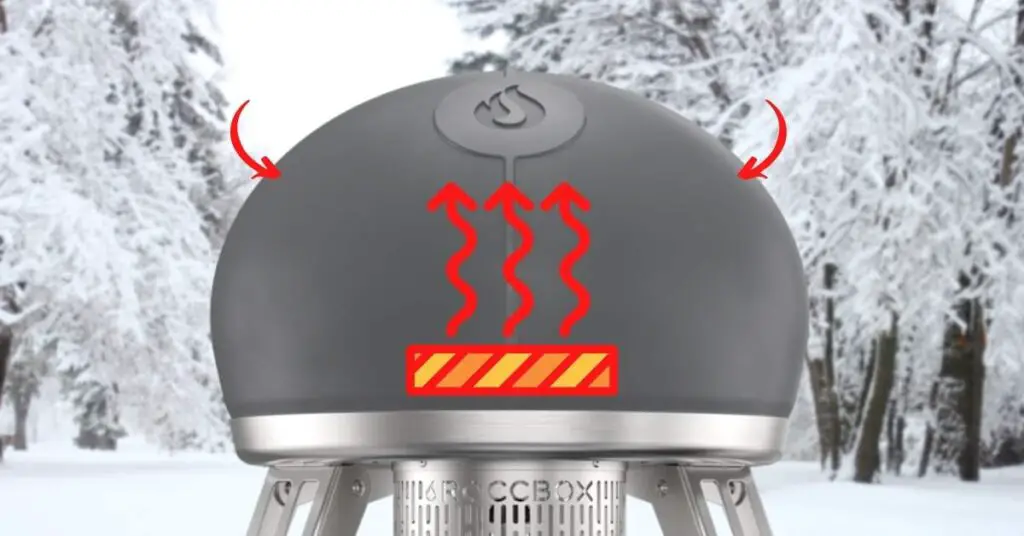 Gozney Roccbox – One Oven To Rule Them All?
The Roccbox by Gozney is a one stop shop in terms of their pizza oven collection. As of writing, Gozney only offers the Roccbox compared to Ooni which currently offers 6 different pizza ovens to choose from. (Update: This has changed with the introduction of the Gozney Dome. Read about it here.)
Offering fewer choices can sometimes be helpful for prospective pizza oven buyers because it makes their product line clear and discernible. This is especially true when selecting from a single product!
The Roccbox Is A Great But Flawed Pizza Oven
The Roccbox by Gozney is a versatile outdoor pizza oven capable of using three different types of fuel (wood, charcoal and propane). The Roccbox is fully able to deliver wood-fired deliciousness at temperatures of up to 950°F (500°C) which makes it perfect for Neapolitan style pizza.

Despite the Roccbox's ability to make amazing pizza, its main drawbacks are price and weight.

Priced at $499, the Roccbox has trouble competing with similar Ooni ovens at similar price points. And weighing over 44lbs, owners of the Roccbox might be reluctant to bring it places much further than their backyard.
I also don't like recommending wood or charcoal pizza ovens that don't have a chimney. A chimney improves air-flow and directs smoke away from the cooking area. This was an oversight in my opinion, but if you're using propane it won't be much of an issue.

In terms of quality pizza, however, the Roccbox delivers, and there are a few features it has that others do not such as an extra thick layer of insulation to prevent scalding temperatures on the outside surface and a built-in thermometer.
Let's be clear about one thing first: with the Roccbox, you will be able to make top quality pizza as good as anything you can make in an Ooni or any other professional pizza oven, especially when using gas. But with this point comes the crux of the issue and the reason why the Roccbox is so difficult to recommend (compared to Ooni, that is… Roccbox vs other pizza ovens is a different story).
If a pizza made in a Roccbox is no better or worse than one made in an Ooni, then why wouldn't you buy an Ooni? It's a valid question when you consider how near the Roccbox is in features and how far away it is in price compared to the Ooni Karu 12.
The only exception I can see to this, where the Roccbox might be preferable, is in commercial uses. Because the Roccbox is so thick and heavy, it does an excellent job retaining heat which makes it ideal for cooking many pizzas at a time, one after another.
The Ooni options, on the other hand, are lighter and less insulated. This means Ooni ovens lose heat more quickly than the Roccbox and so need to be "reheated" for a minute or two between each pizza. However, for most people who will only ever make 1-3 pizzas at a time, the extra insulation won't be as important.
Wood Options Are More Difficult With Roccbox
While both the Roccbox and select Ooni options support wood, the two aren't completely equal. The Roccbox has a traditional wood burner while the Ooni uses gravity fed wood pellets in addition to traditional wood. The wood pellets used by the Ooni are easier to load and burn more efficiently than the traditional wood-fired Roccbox.
The way the Roccbox works is by feeding small pieces of wood into the attached wood burner. Unless you buy your wood in small pieces you will most likely need to chop it up yourself. This task in itself will probably be too much of a hassle, and potentially dangerous, for most people.
As the fire continues to burn, you'll need to feed more pieces of wood into the small slot on the back of the burner to keep the flame going. It can sometimes be difficult to cram the pieces in and if they're not cut correctly they simply won't fit in at all.
Once you've sourced appropriately sized pieces of wood and have your fire up and running, however, the burner works great in terms of heating up the Roccbox. As long as you let the flame heat the stone for long enough, you'll have no trouble cooking up a perfectly made pizza. But – again – if the Roccbox and Ooni both make good pizza, what is the incentive to choose Roccbox when it's more expensive and less convenient?
To get around some of the inconvenience of using wood, many Roccbox users use gas to get the oven to a nice hot temperature then switch to wood at the very end to add a smoky flavor to their pizza. This is a nice little trick but it would be nice if the wood wasn't as much of a pain to get going in the first place.
Ooni's Gravity Fed Pellets Are A Better Wood Burning Solution
Ooni has two methods for using wood in its ovens. The first is by slotting small pieces of hardwood into a compartment on the top of the unit, such as with the Ooni Karu 12 oven. This is similar to the way the Roccbox works but the wood is easier to load and the opening to slot the pieces in is bigger in size.
The second method Ooni uses is a unique gravity fed wood pellet solution. In my opinion, this is the best and most efficient way to use wood in a pizza oven. The way it works is by simply scooping up some wood pellets and pouring them into the fuel tray. You can top up the pellets by pouring more into the pellet hopper.
As the fire burns, extra pellets are gravity fed from the hopper into the fuel tray to keep the flame going as you cook. This is a really innovative and convenient solution that makes cooking with wood much easier than the traditional methods.
Currently, this option is only available on the Ooni Fyra 12 but I hope they add it to their other wood-fired ovens in the future.
Ooni: Your Choice of Size, Temperatures, & Other Things
Compared to Roccbox with its single oven offering, there are more decisions you'll have to make when buying an Ooni. So far we've mentioned the Ooni Koda 16, Ooni Karu 12 and Ooni Fyra 12. Here's what I love about each of those ovens:
Related Post: Ooni Pizza Ovens: All 6 Models Compared & Reviewed
Ooni Volt 12 Pizza Oven: Built-In Thermometer, Fully Electric Indoor Pizza Oven
The Ooni Volt 12 is an electric, indoor pizza oven launched in early 2023. This pizza oven is unique for being one of the only indoor pizza ovens to be fully electric and capable of reaching temperatures of up to 850F (450C), making it perfect for most styles of pizza including Neapolitan.
If you're looking to use your pizza oven indoors, the Ooni Volt 12 is the clear choice over the Gozney Roccbox because the Roccbox can only be used outdoors.
That said, if you plan on using your pizza oven mostly outdoors anyways, the Roccbox is quite a bit less expensive than the Ooni Volt 12 ($499 vs $999), so choose carefully before making any decisions between these two.
The Ooni Koda 16 is a 16 inch oven, meaning it can make up to a 16 inch pizza, and is fueled only by propane. So, if you're looking for something fueled by wood or charcoal like the Roccbox, this oven isn't for you. But I think for most people, gas is going to be a far more convenient option anyways because with it the Koda enables you to make premium quality pizza without the hassle of burning wood or charcoal.
The Ooni Koda 16 costs about the same as the Roccbox but is big enough for a New York City sized pizza (16 inches) and even has the option for using natural gas, something no other pizza oven has. Combined with its compact design and relatively lightweight (40.1lbs), this pizza oven puts convenience and size front and center.
The Ooni Karu 12 is probably the most similar Ooni oven to the Roccbox in terms of features. It's big enough for a 12 inch pizza, standard Neapolitan size, and supports multiple fuel options.
The biggest difference between the Ooni Karu 12 and the Roccbox is cost. Priced at $349, the Ooni Karu 12 is around $150 cheaper for a nearly identical set of features and a much lighter weight (26.5lbs vs 44lbs) and slightly smaller size.
To top it off, some of the same features shared by the Karu 12 and Roccbox are better designed on the Ooni. For example, the wood burner, as we discussed, has a wider opening and is easier to load wood into than the Roccbox.
I only mentioned the Ooni Fyra 12 briefly in the section on wood burning, but I think it's worth highlighting further here. The Ooni Fyra 12 is the only Ooni oven, or pizza oven in general, that features a unique gravity fed wood pellet system.
Rather than slotting individual pieces of wood into your pizza oven, the Ooni Fyra 12 allows you to simply scoop wood pellets and pour them into a fuel tray. As the flame gets going, extra wood pellets stored in the hopper are automatically fed back into the fuel tray via gravity as you cook. This is a very innovative solution that makes cooking with wood much more convenient and efficient.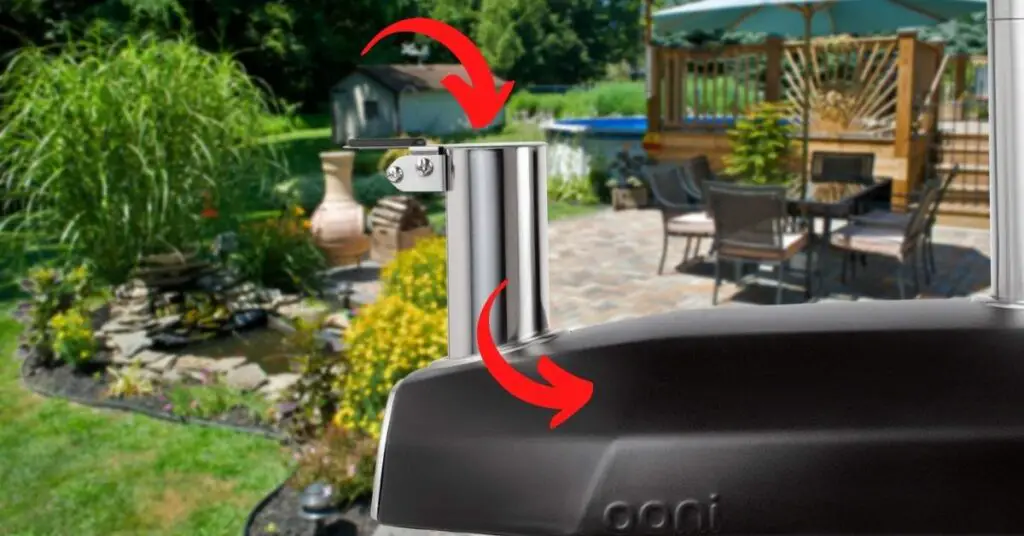 All Ooni Pizza Ovens Compared
For the rest of Ooni's pizza oven collection, check out the table below. You can also read my full in depth breakdown of all 6 Ooni ovens here.
Related Post: Which Ooni Accessories You Need To Get Started
Roccbox vs Ooni: What Reddit Thinks
When doing research before purchasing a pizza oven, it's always good to see what the internet thinks about it First. And even though some of the reviews you read online aren't quite objective or fair, it does give you a good idea of what you can expect.
One of my favorite places to go is Reddit because of its huge user base and the breadth of experiences you can find there. When it comes to the Roccbox vs Ooni, Reddit comments have a lot to say about this ongoing debate.
In general, Ooni and Gozney are viewed quite favorably as brands and most people report having good customer support experiences with both companies. I have to say, my own experience mirrors this: these are reputable brands that you can trust your money with.
That said, there is a clear bias towards Ooni in the various Reddit thread covering the topic. This likely has to do with the fact that Ooni carries several pizza oven models with different features and price points while Gozney only offers the Roccbox for $499 and the Gozney Dome for $1799, which is significantly more expensive and non-portable.
The truth is, the average Redditor is simply more likely to find an Ooni pizza oven that matches what they're looking for than they are with Gozney or the Roccbox in particular. This isn't to say that Gozney is inferior to Ooni, just that they offer fewer products that will inevitably appeal to fewer people.
But of what Redditors have seen of Gozney, they generally like the Roccbox very much, especially those who focus mostly on cooking smaller pizzas with gas. The Gozney Dome is also a clear winner in terms of Reddit approval, but the higher price tag puts it out of reach for many.
What Kenji Lopez-Alt Thinks About Roccbox vs Ooni
Kenji Lopez-Alt is a popular food blogger and product reviewer who you've probably seen or read about even if you don't remember the name. He's made some very memorable videos breaking down pizza ovens and sharing recipes, which has earned him a large following online. So, it's only natural that many people are interested in his opinion on the Roccbox vs Ooni debate.
For what it's worth, Kenji likes both Ooni and Gozney Roccbox very much (as you would expect–they're both great brands). That said, he picked the Gozney Roccbox has his top pizza oven pick with the Ooni Karu 12 coming in as a close second.
It should be noted, however, that Kenji's review was done a few years ago and Ooni's product lines have changed quite significantly since then. The Ooni Karu 12 has since been replaced with the superior Ooni Karu 12G, although you can still buy the Karu 12 at a much reduced price ($299 vs $399 previously).
Ooni vs Roccbox vs Bertello
Bertello is another pizza oven that comes up frequently in the debate between Roccbox vs Ooni, and I can see why. It's a well-made and well-designed pizza oven that is going after the same premium pizza oven market as Ooni and Roccbox. The Bertello rose to fame when it was featured on an episode of Shark Tank during which Bertello earned the financial backing of show's star Kevin O'Leary.
Overall, the Bertello is a good pizza oven, but in fairness I wouldn't put it above either Ooni or Roccbox if we're drawing comparisons. Bertello has a lot of potential, though, and I'm excited to see where they go from here as a new pizza oven company on the scene. For more information on the Bertello pizza oven, you can find my review on it by searching this website.
Conclusions:
Other Observations:
With six Ooni ovens to choose from, Ooni most likely has a set of features and price that you'll like.
Roccbox makes excellent pizza despite not being as competitive in pricing vs Ooni.
If you want to make large pizzas using a simple gas oven, your best bet is the Ooni Koda 16.
If you only plan on making smaller pizzas (up to 12 inches) using wood I recommend the Ooni Karu 12 or Ooni Fyra 12 for the best value.
The Roccbox is better suited for commercial purposes due to its thick layers of insulation.
The Roccbox works best as a gas powered oven than as a wood one due to some design limitations with the size of the wood burner where it opens.
Not all Ooni pizza ovens have the same pizza stone. For example, the Koda 12, Fyra 12, and Volt 12 all have a 0.4″ pizza stone, while all other models have a larger size 0.6″ pizza stone. This should not affect the pizza, but it will affect how well the stone retains heat between uses.
Keep in mind that while Ooni is generally the preferred brand due to having more options, Roccbox vs other pizza oven brands compare quite favorably. Gozney is the easy winner between Roccbox vs the Bertello or the Roccbox vs the Pi Solo Stove, for example.
The latest additions to the Ooni brand are the outdoor Karu 12G and the indoor Volt 12 pizza ovens, which have instantly become two of my most recommended pizza ovens.
All of the ovens listed here are exclusively outdoor models with the exception of the Ooni Volt 12 which can be used indoors as well. The only drawback of the Ooni Volt is its high price tag and slightly lower max temperature of 850F.
The Roccbox, Ooni Volt 12, Ooni Karu 12G, and Ooni Karu 16 all features a built-in thermometer. And while a built-in thermometer is useful, it's not as effective as a standalone infrared thermometer which can measure the temperature of the stone directly as opposed to the ambient air in the oven. Infrared thermometers are cheap and can be found on Amazon or bought from Ooni and Gozney directly with your purchase.
Related Posts:
Related Questions:
Other Vendors
Ooni ovens are also available on Amazon, however you won't be able to take advantage of bundle offers available by buying directly from Ooni.