Ooni vs Big Horn Pizza Oven: Ooni Clone or Cheap Knockoff?
If you've been looking into pizza ovens lately, you might have noticed people talking about a new "Ooni clone" that's scant on details and low in price: the Big Horn outdoor pizza oven. But how similar is the Big Horn to premium Ooni pizza ovens, and is it worth the cheaper price? I tried both and here are my findings.
The Big Horn pizza oven is functional but lacks most of the fine tuning and extra features that come standard with an Ooni oven. The Ooni oven most similar to the Big Horn is the Ooni Fyra 12 that sells for $349, while the Big Horn is regularly around $245.
Despite its limitations, the biggest drawback to the Big Horn, in my opinion, is its small size – with a mere 12 inch baking surface, the Big Horn can realistically only make a 10-11 inch pizza. By contrast, the Ooni Fyra 12 has a 13.2 inch backing surface, superior insulation and a gravity fed pellet hopper.
Bottom Line: The Big Horn pizza oven will get the job done, but it's not significantly cheap enough to recommend it over the Ooni Fyra 12.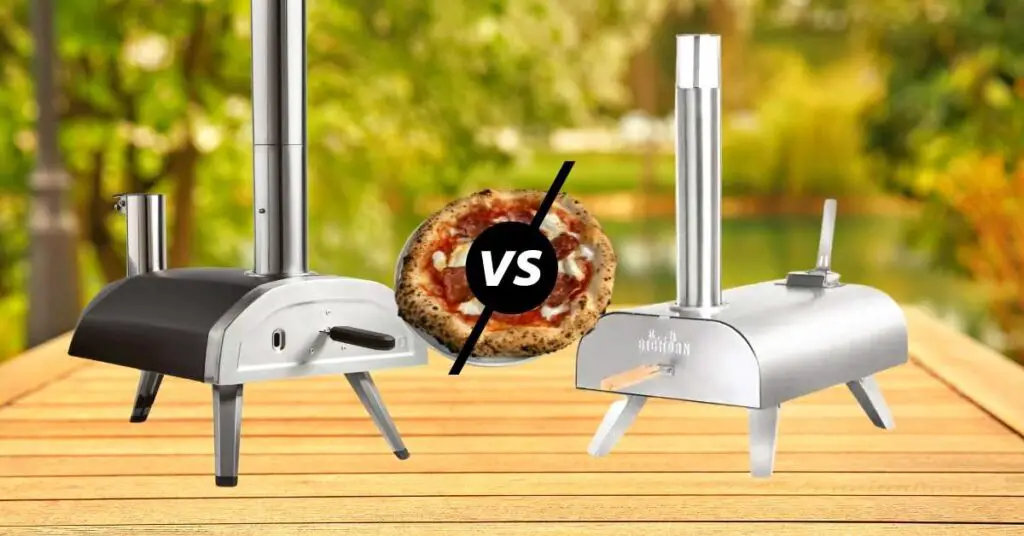 Ooni vs Big Horn In Numbers:
| Feature | Big Horn | Ooni Fyra 12 | Ooni Koda 16 |
| --- | --- | --- | --- |
| Baking Surface | 12×12 inches | 13.2×13.2 inches | 16×16 inches |
| Preheat Time | 18 mins* | 15 mins | 20 mins |
| Weight | 25 lbs | 22 lbs | 40.1 lbs |
| Foldable Legs | Yes | Yes | Yes |
| Oven Door | Yes | Yes | No |
| Chimney | Yes | Yes | No |
| Pellet Burner Type | Standard | Gravity Fed | Propane Only |
| Heat Retention | Minimal | Excellent | Excellent |
| Warranty | None | 3 Years | 3 Years |
| Price Per Sq. Inch (baking surface) | $1.70 | $2.00 | $1.90 |
| Price | $245 | $349 | $599 |
Note: The "price per square inch" you see in the table above is the price you're paying per square inch of backing surface. For example, the Big Horn has 144 square inches of baking surface which translates to $1.70 per square inch. Interestingly, despite higher prices, the two Ooni ovens are roughly the same on this metric due to bigger baking surfaces.
Related Post: Why Wood-Fired Pizza Is Healthier
Ooni vs Big Horn In A Nutshell: Pros and Cons
Thoughtfully designed and engineered with top quality parts
All the bells and whistles you'd expect in a premium pizza oven
Easy setup and minimal learning curve
Cooks evenly and consistently with very little practice
6 ovens to choose from for every price point and pizza preference
Prompt customer service and massive online support community
Thousands of happy users
3 year warranty, but unlikely to break down anyways
More expensive than the Big Horn
Some accessories are sold separately
Only the Fyra 12 has a pellet feeder (the rest use gas, charcoal and hardwood)
Relatively inexpensive
Easy to setup
Readily available through Amazon and other online retailers
Functional – with some practice, you can still make excellent pizza
The chimney quickly turns into a flame thrower (watch your eyebrows)
Mediocre build quality
Minimalist – no premium features
Doesn't retain heat well
Imbalanced heat flow – easy to undercook crust and burn toppings
Price isn't cheap enough to justify buying over the Ooni unless you're on an extremely tight budget
A $50 pizza stone might work better for you in some cases
Ooni vs Big Horn: Similar In Principle, Not In Practice
In many ways, Ooni and the Big Horn pizza oven are very similar. Both are outdoor pizza ovens, both specialize in Neapolitan style pizza, and both use an open flame to cook a pizza in just under a few minutes.
Even visually, to compare these two ovens doesn't reveal major differences at first sight, especially when comparing to other models in Ooni's wood-fired 12 inch series such as the Fyra or Karu. Ooni ovens have a metal frame, so does Big Horn; Ooni ovens have a chimney to improve air flow, and the Big Horn does as well.
However, beyond the two oven's basic spec sheet, there are some major and appreciable differences between Ooni and Big Horn that are important to be aware of before purchasing.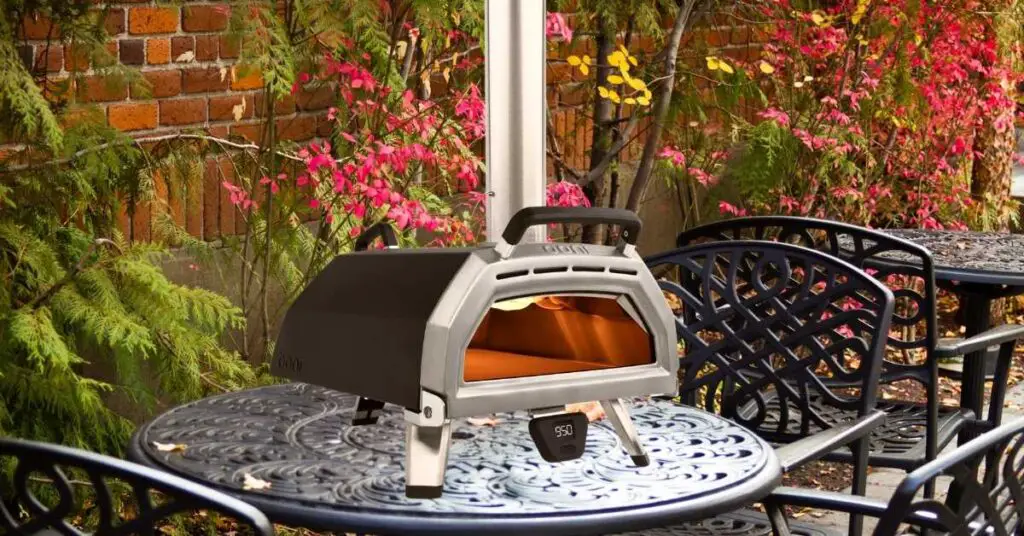 Ooni has A better design and more finishing touches, for a price
At first blush, the Big Horn pizza oven looks like it could fit right in as part of the Ooni pizza oven lineup. The Big Horn has, after all, been billed as an "Ooni clone" in various online pizza making circles. But in my opinion, the Big Horn pizza oven is much more of an Ooni knockoff than an Ooni clone.
At risk of sounding pedantic, there are major differences between a clone and a knockoff, and I think words matter when hundreds of dollars are on the line. A clone is identical to the original in every way, whereas a knockoff is copy designed to fool you before taking a closer look.
In this case, the Big Horn pizza oven is definitely not identical to Ooni. In fact, the Big Horn reminds me more of an Ooni prototype, or proof of concept, before more money and time could be spent improving the design and adding the many bells and whistles that people have come to love and expect from Ooni.
These Ooni improvements, like excellent air flow, and oversized baking surface, heat efficiency, and a gravity fed pellet hopper (the very features that make Ooni ovens such a pleasure to use) are all noticeably absent from the Big Horn pizza oven.
Big Horn can technically get the job done, but less efficiently and with more maintenance
While the Big Horn pizza oven is no Ooni clone, it doesn't mean it can't make a good, or even excellent, pizza. Because the Big Horn pizza oven can absolutely make a good pizza with some practice.
As I've mentioned in previous pizza oven reviews, any pizza oven is essentially an insulated box with a baking stone on the bottom. For that matter, if you were to buy some bricks from your local hardware store, make a kiln structure and light a fire underneath, you could make an excellent pizza as well. But will that brick oven be heat efficient, portable, safe, and easy to use? The answer is a resounding no on all counts.
This is one of the reasons why I don't judge pizza ovens based on the quality of the pizza it produces, but rather its efficiency and ease of use.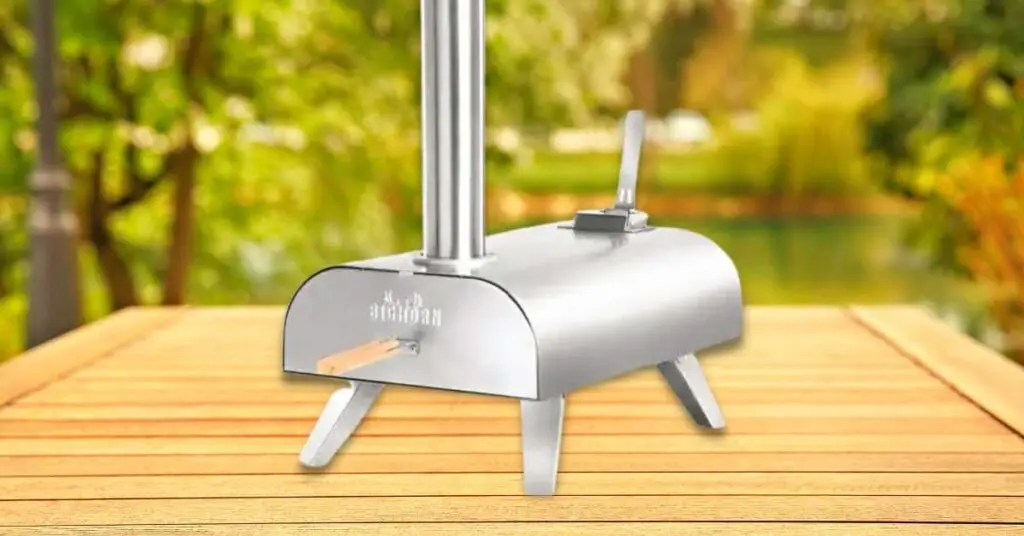 To be fair, the Big Horn pizza oven is leaps ahead of a load of bricks in your backyard. It has everything essential to making pizza: a place to put the fuel, an insulated box to keep it warm, a chimney to direct smoke away from the pizza and a baking stone to cook the crust. But that's about it, so if you're looking for just the basics at the lowest price, the Big Horn pizza oven might just be exactly what you're looking for.
But be prepared for a less efficient cook in a smaller and more difficult to maintain oven, if you do go for the Big Horn. And that's not to mention less technical support and a much smaller online community to fall back on for advice, if you need it.
Big Horn is Closest to The Ooni Fyra 12 in Function and Price
Another major difference between Ooni and Big Horn is the simple fact that Ooni carries 6 different pizza oven models while Big Horn carries one. And while simplicity is sometimes a blessing, Ooni offers a pizza oven for all different pizza preferences and at nearly every price point, including a couple that very closely match the Big Horn pizza oven.
The Ooni model that's most comparable to the Big Horn is the Ooni Fyra 12, a pellet fueled 12 inch pizza oven that sells for $349USD. The Ooni Fyra is the least expensive pizza oven in Ooni's lineup, and the only one that uses wood (or wood pellets, in this case) exclusively for fuel.
The Ooni Fyra is most popular among those looking to make wood-fired, personal sized Neapolitan style pizza. This is the same style of pizza being targeted by Big Horn, and for good reason – Neapolitan pizza has grown enormously in terms of popularity over recent years.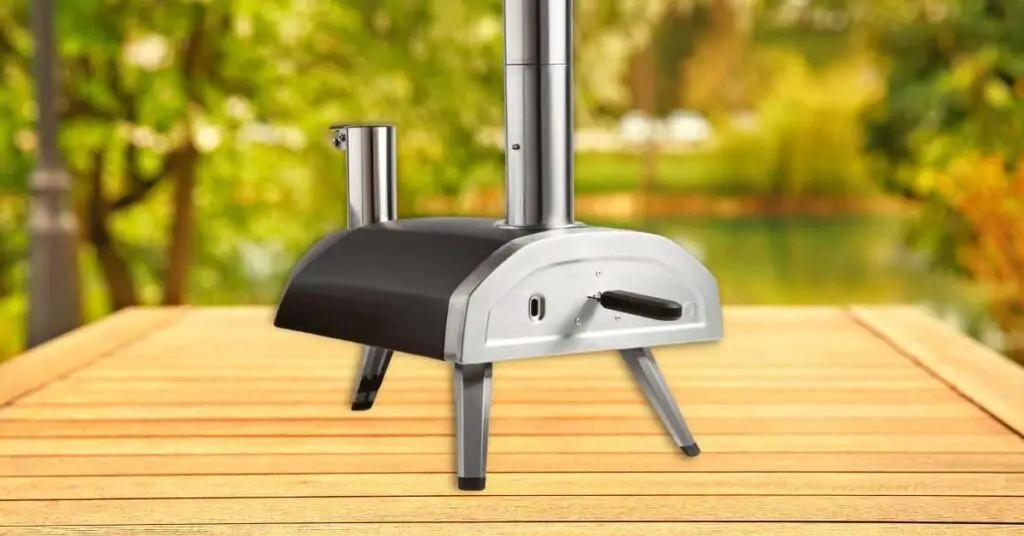 However, beyond the basics, there are some important differences between these two ovens, namely:
The Ooni Fyra has a bigger baking surface
The Ooni Fyra has a larger opening
The Ooni Fyra features an innovative gravity fed pellet hopper
The Ooni Fyra is better insulated with improved heat retention
The Ooni Fyra 12 Is Bigger and more efficient than the Big Horn pizza oven
These are just a few of the distinctions I see between the Fyra 12 and the Big Horn pizza oven, but the one that stands out the most to me is size. The baking surface of the Big Horn is only 12×12 inches, meaning it can fit a 12 inch diameter pizza at an absolute maximum.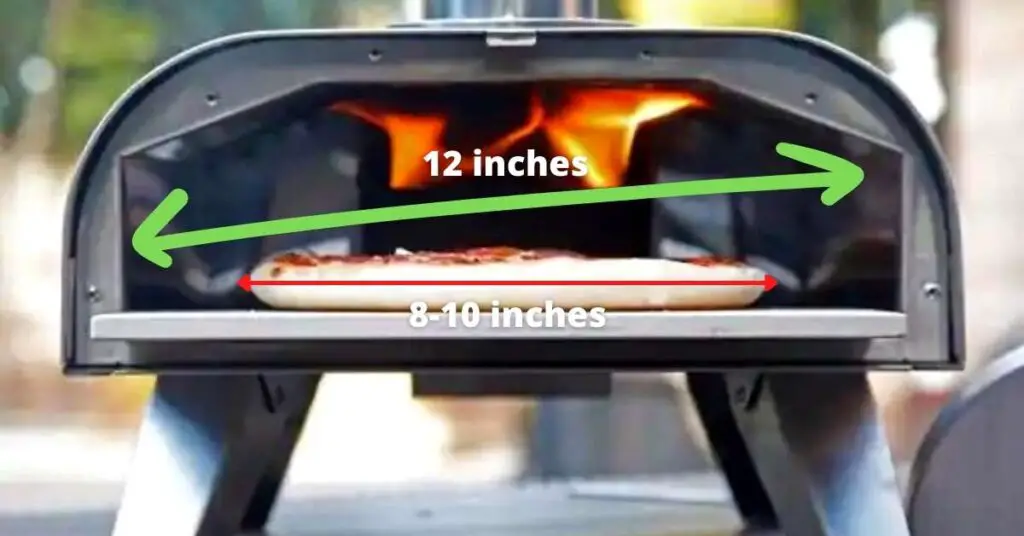 In real world practice working with raw dough, however, you will most likely only be able to get a 10-11 inch crust using the Big Horn since raw dough tends to retract a bit coming off of the peel. The Ooni Fyra 12, on the other hand, is 13.2×13.2 inches, giving you a full 1.2 inches of wiggle room to ensure that you can get that full 12 inch crust, or even larger.
So, despite both Ooni and Big Horn claiming to fit a 12 inch pizza, it actually comes down to the difference between a small and a medium sized pizza between the two of then.
Those extra 1.2 inches also gives you the ability to use a wider variety of pizza peels. Remember, the pizza peel needs to fit within the opening of the oven door in order to launch onto the baking stone, and 12 inches is actually quite narrow.
get the Ooni Pro 16 oven for even bigger pizzas
If you're looking to break beyond the 10-13 inch limitations of the Fyra 12 and Big Horn, you can consider purchasing the Ooni Pro 16. This pizza oven features a massive 17.7×17.7 baking surface which makes it more than big enough to produce a large 16 inch pizza with room to spare.
The Ooni Pro 16 is a multi-fueled pizza oven as well, meaning it can be started up with charcoal and gas in addition to wood. Multi-fuel is an amazing feature because it means different fuels can be used for different kinds of pizza and even weather conditions. For example, a lower temperature gas flame is perfect for New York style pizza, while a high temperature flame fueled by wood is amazing for Neapolitan.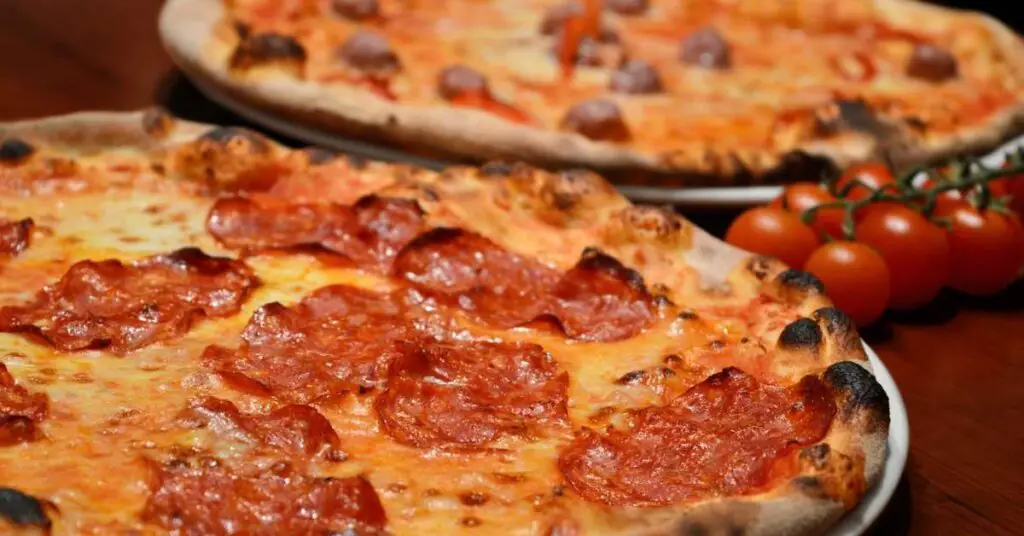 Of course, all that extra size and useful features come at a price. The Ooni Pro 16 retails for $599, which is not overpriced for what it is, but much more expensive than the Ooni Fyra 12 at $349, and especially the Big Horn pizza oven at ~ $249.
I should also mention the Ooni Karu 16, another multi-fueled wood-fired pizza oven, and Ooni's flagship model. This oven is easily the superior portable pizza oven on the market today, and one of my personal favorites, but at $799 it's probably not worth comparing to the much less expensive Big Horn, unless you can afford it. For more information on the Karu 16, check out my review here.
Is Ooni Worth The Price? Yes. Here's Why
When you have two competing products selling at different prices, it's useful to know if the higher priced item is worth the extra cost. In this case, Ooni is the higher priced and better known brand.
So, is Ooni worth the premium price tag? To put it simply – yes.
| Oven: | Price: | What I Like: |
| --- | --- | --- |
| Ooni Fyra 12 | $349 | Cheapest oven, wood-fired, light, classic 12″ Neapolitan |
| Ooni Pro 16 | $599 | Large pizzas, multi-fuel (wood, charcoal, propane), mid-range price, large oven door |
| Ooni Koda 12 | $399 | Cheapest propane oven, ultra-portable, sleek design, classic 12″ Neapolitan |
| Ooni Koda 16 | $599 | Large pizzas, sleek design, propane, natural gas support, portable, thicker stone |
| Ooni Karu 12 | $399 | Cheapest multi-fuel oven (wood, charcoal, propane), classic 12″ Neapolitan |
| Ooni Karu 16 | $799 | Large Pizzas, multi-fuel (wood, charcoal, propane) |
| Gozney Roccbox | $499 | Great insulation, nice look and excellent propane burner. |
| Gozney Dome | $1499-$1799 | Amazing, one of a kind, huge, outdoor multi-fuel pizza oven. Check out my review of it here. |
Ooni Ovens Are designed With Performance And Quality In Mind
Ooni is a brand focused exclusively on designing and manufacturing pizza ovens. As you'd expect from such a specialized premium brand, Ooni has listened to the concerns of home based pizza makers, resulting in many innovations that other brands have yet to catch up with.
Ooni's Gravity Fed Pellet Hopper Is A Game Changer
Take the Ooni Fyra 12, for example. The Fyra uses wood pellets just like the Big Horn, but unlike the big horn (and other pizza ovens), where you simply dump a scoop of pellets into the burner, Ooni has designed a truly unique gravity fed pellet hopper that for me is a game changer.
The Fyra's gravity fed pellet hopper makes refueling the oven easy, and keeping the flame going simple and efficient. To light the Fyra, you start with 1-2 handfuls of pellets in the burning tray and add a firestarter. After a few minutes, when the pellets have fully ignited, add another scoop of pellets to the pellet hopper. As the pellets in the tray continue to burn, fresh pellets from the hopper will automatically be pulled down into the burner to keep the flame going.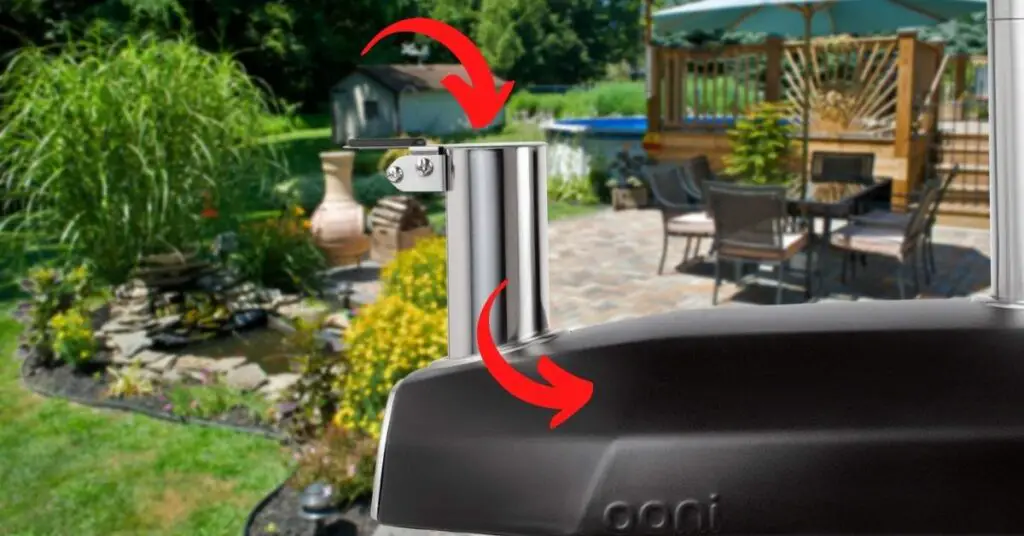 The brilliance of the Ooni Fyra's gravity fed system is that by minimizing the amount of pellets in the burning tray at any given time, good air flow is ensured and the flame stays strong without growing out of control.
This very simple feature ensures a balance of air flow, consistent temperature and a steady flame within the cooking area, all of which results in a better cooked pizza and minimal hassle for you in the process. Not to mention less exposure to the fuel tray or red hot flames shooting from the chimney.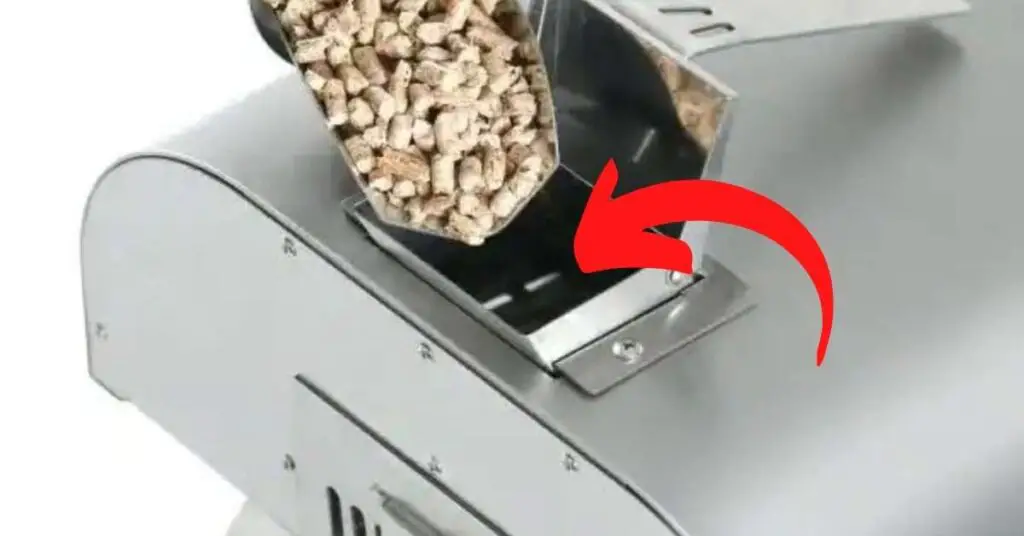 Ooni Ovens Are Better Insulated
Many pizza ovens are simply metal boxes with a flame at the back. In a sense, this is all you need to make a pizza, but that doesn't mean it can't be improved for better results and a better cooking experience.
The Ooni Frya 12 is a great example of this. Rather than a thin metal box with no insulation, the Fyra is built with a thick powder coated carbon steel shell with a small air gap in the middle. This solid steel, powder-coated construction not only ensures the oven stays hot without wasting excess fuel, it also prevents the outside of the oven from becoming so hot that even an accidental touch can scald your skin. That's great peace of mind, especially if you have kids or pets running around.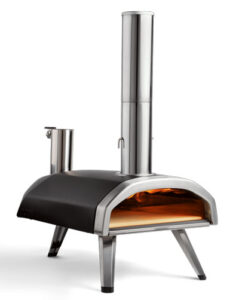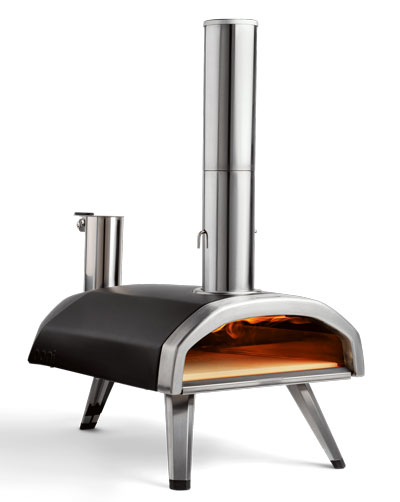 The Big Horn pizza oven, on the other hand, is more or less like the thin metal box with a flame in the back I described earlier. And while that doesn't prevent the Big Horn from making a good pizza, it doesn't make it a top quality pizza oven either.
Better Customer Support
One of the best selling points for Ooni is Ooni itself. The company is transparent about what they offer, is easy to get in touch with, and fast to respond to any questions. Ooni even offers a live chat feature on their website, which is great when you need answers quickly.
In addition to the traditional support channels, Ooni also maintains active communities both on their corporate website and Facebook.
Ooni Has A Huge Informal Support Community
But in my opinion, what puts Ooni support over the top compared to competitors isn't even Ooni, rather it's the vast online community of users ready to share their experiences and offer support to fellow users. Just check out Reddit or Instagram, for example, and you'll find communities of thousands of people using Ooni ovens.
On the other hand, Big Horn has no formal support system outside of a standard email address and a few FAQs on its Amazon listing. In fact, the Big Horn pizza oven doesn't even have a website outside of its amazon listing and the shop pages of a few national retail chains.
If you search around online for discussions about the Big Horn, you'll likely turn up only a handful of forum posts asking if the oven is any good. Unfortunately, there are no Big Horn communities sharing tips and tricks either.
But all of this might not matter if you already know what you're doing and have confidence in your ability to troubleshoot a new oven. Just be aware that Ooni will support you throughout your pizza making journey, while with Big Horn it's more of a do it yourself affair.
AVPN certified
Ooni has the rare distinction of being the only manufacturer to carry a pizza oven "Recommended for Domestic Use" by the AVPN, or the Associazione Verace Pizza Napoletana in Naples, Italy.
That may not seem like a big deal, but the AVPN is the foremost international body that establishes and protects the art of Neapolitan pizza. The AVPN sets the standards and practices that must be met in order to be certified as true Neapolitan pizza.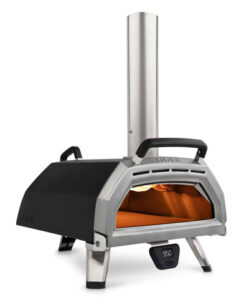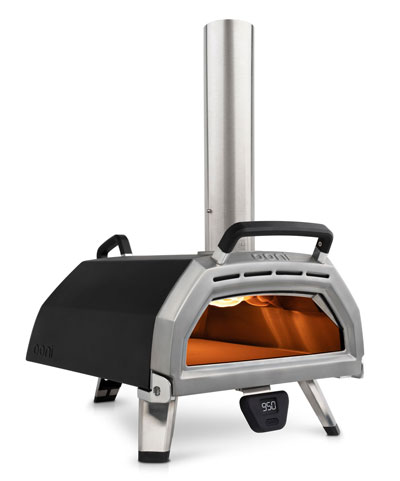 So, for the Ooni Karu 16 to get AVPN certification is unprecedented and an acknowledgement of Ooni's superiority in the domestic pizza oven game.
Better warranty
All Ooni products come with a 1 year warranty, but if you register the product with Ooni (completely free) you are automatically upgraded to a 3 year warranty. That means any time your pizza oven fails due to a defective part over that 3 year period, Ooni will get your oven working again free of charge.
Of course, with the premium price of an Ooni oven, you expect a solid build that won't break down often (if ever). So, hopefully that warranty never needs to be used, but it's nice knowing it's there just in case.
By contrast, Big Horn doesn't offer any warranty outside of the standard guarantees offered by Amazon or whatever other website you buy it from. And with its cheaper construction, there's a higher likelihood of needing repairs, which might put you on the hook to purchase a whole new oven some time in the future (since replacement parts are unavailable).
But with the cheaper price of the Big Horn (especially if you can get it on sale), it might be worth it to you to maintain it well and hope that it doesn't break. In either case, the choice is yours.
Big Horn May Be A Good Choice For Some
If the Big Horn pizza oven is an Ooni knockoff, there's still a place for knockoffs in this world. Afterall, there is a thriving market for knockoff items from almost every brand imaginable because knockoffs give us a taste of finer things at a greatly reduced price.
The Big Horn Pizza Oven Is Much Cheaper
As a consumer, you just need to decide if the roughly $100-$150 discount on Big Horn versus the Ooni Fyra or Pro 16. For those on a tight budget, the answer will be a clear yes, and you can feel confident that you're getting a functional pizza oven.
But for those with slightly more cash to spare, you should think about whether improved performance and an extended warranty are something you want, because the difference in cost is less than the value of what you gain going with a premium Ooni oven. You really do get what you pay for, sometimes.
Be Prepared To Tinker With The Big Horn To Get A Balanced Cook
The Big Horn pizza oven is not quite optimized in terms of temperature and air flow, which means it's easy to burn the toppings before the bottom has had a chance to cook. This is partly due to a flame that's too strong and a baking surface that doesn't retain heat well.
In some ways, this reminds me of making pizza in a home oven where we get around those limitations by preheating a pizza stone for at least an hour and turning on the broiler at the very end.
This won't work exactly with the Big Horn but the same logic applies – if you preheat the oven for longer than the recommended 18 minutes (which isn't nearly enough) and manage the flame by using less pellets and refilling more often, you can potentially get a more balanced cook.
With Ooni, and most other reputable pizza ovens, all of these things happen automatically.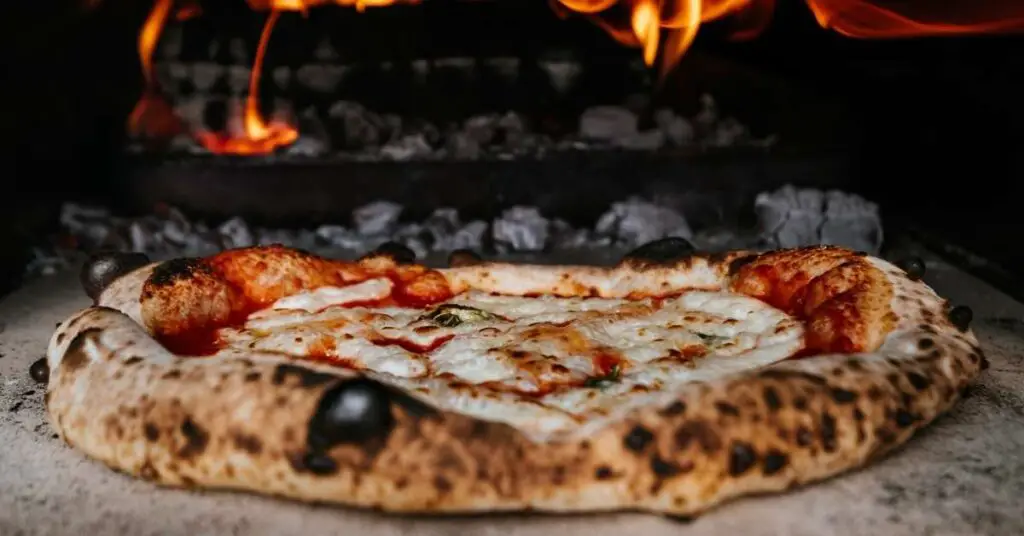 The Big Horn Can Still Make A Great Pizza
It case it hasn't been made clear yet, I want to reiterate that you can still make an excellent pizza in the Big Horn despite it being a no-frills budget knockoff.
The basics of a functional pizza oven are all there – a metal frame with a baking stone and place to light a flame in the back. In fact, the chimney actually puts the Big Horn ahead of many other cheap Amazon pizza ovens. The Big Horn might even just be the best "no name, no website" pizza oven on Amazon, for whatever that's worth.
Despite its strengths, though, Big Horn is not Ooni in the same way that a cheap $100 watch from Amazon is not a Rolex.
Big Horn Pizza Oven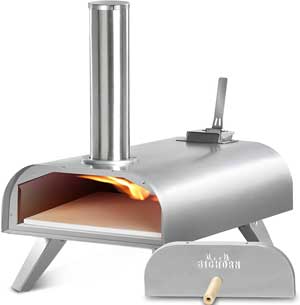 Summary
The Big Horn, sold exclusively from 3rd party retailers like Amazon and The Home Depot, is a functional, no-frills pizza oven made and designed by Chinese company Shinerich Industrial Ltd.

With the Big Horn, you can make wood-fired, Neapolitan style pizza up to about 11 inches in size. This oven works as advertised, for the most part, but heat efficiency is poor and the build quality is mediocre at best.

The lack of a gravity fed pellet burner like the Ooni Fyra is a shame but not surprising considering the price, while the flames that shoot from the chimney when the oven gets going is alarming and indicative of poor air flow.
Ending Thoughts
Final Verdict: If you want to spend the least money possible, get the Big Horn pizza oven. If, however, you want the best quality pizza oven experience, save up a little extra and get the Ooni Fyra 12 or Pro 16 instead. The Big Horn is cheap but not cheap enough to justify it over Ooni, especially when Ooni's extended warranty, rich feature set, and quality control are superior.
Main Take Aways:
In comparing Ooni with Big Horn, we can draw the following conclusions:
The Big Horn pizza oven is the budget Amazon version of Ooni's Fyra 12 pizza oven.
Ooni offers pages of documentation for each of their ovens while the Big Horn pizza oven doesn't even have a website.
The Big Horn is not an "Ooni clone" due to it lacking so many features Ooni offers.
Ooni and Big Horn are both aiming for a compact, wood-fired, Neapolitan style pizza oven.
Both Ooni and Big Horn claim to produce a 12 inch pizza, but the Big Horn baking surface is only 12 inches wide total, meaning realistically the maximum pizza size is 10-11 inches (quite small). Meanwhile, the Ooni Fyra has a 13.2 inch baking surface, wide enough for a 12 inch pizza with room to spare.
The Big Horn's frame and pizza stone retains heat poorly so it's unlikely to get hot enough in only 18 minutes (as claimed by their advertising). Combined with poor air flow and difficult flame management, you can easily end up with burned toppings and a pale, undercooked crust.
The Big Horn has a functional pellet burner, but it's more difficult to use and less efficient than Ooni's new gravity fed pellet hopper, which improves air flow and controls the flame.
Ooni ovens are better designed for performance and longevity while Big Horn is more of a bare bones pizza oven.
Ooni ovens come with a 3 year warranty and huge community support groups, while Big Horn doesn't offer a manufacturer warranty or customer support outside of shipping problems.
The Big Horn is only $100-$150 cheaper than the Ooni Fyra 12, which isn't even that much of a discount considering its lack of features.
I only recommend getting a Big Horn pizza oven over Ooni if you absolutely can't afford anything more expensive, but make sure you get it on sale. For that matter, if an Ooni is too expensive, you might be better off getting a pizza stone instead.
Related Questions:
What Are The Best Wood Pellets For Pizza?
When cooking pizza using a pellet burner pizza oven, hardwood pellets are generally the best choice. Hardwood pellets last longer, burn consistently, leave very little ash behind and add a rich, smoky flavor to the pizza.
How Hot Does The Big Horn Pizza Oven Get?
The Big Horn pizza oven has a listed maximum temperature of 860F, which is the standard temperature of a Neapolitan style pizza oven. However, due to a lack of heat efficiency in this inexpensive oven, most users report maximum temperatures between 700F-800F in real world usage.
How Do You Light A Big Horn Pizza Oven?
To light a Big Horn pizza oven, simply pour 2-3 scoops of wood pellets into the fuel tray at the back of the unit and ignite them using a firestarter or portable propane torch. When the pellets have fully ignited, slide the fuel tray back into the oven and wait for the baking stone to reach the desired temperature.
Who Makes Big Horn Pizza Ovens?
Big Horn pizza ovens are manufactured by Shinerich Industrial Ltd., a Chinese multinational outdoor stove company.
Where Are Big horn Pizza Ovens Made?
Big Horn pizza ovens are designed and manufactured in China by Shinerich Industrial Ltd.
Who Makes Ooni Pizza Ovens?
Ooni pizza ovens are designed and engineered by Ooni, a British outdoor pizza company based in Edinburgh, Scotland, UK. Ooni pizza ovens are produced, however, at a facility in China following top of the line manufacturing standards.