Gozney Roccbox Review: A Small Pizza Oven With Lots To Love
This review was a long time coming. Of all the pizza ovens I have worked with and talked about, the Gozney Roccbox is one of the names that comes up most frequently. Something about this oven—the name, the look—whatever it is, people are drawn to it. Today I'm going to be discussing this pizza oven in detail and tell you exactly what I like (and don't like) about what is easily one of the best pizza ovens available today.
Psst! Just wanted to let you know that Ooni is running a 20-30% off sale on pizza ovens until May 29th. If you've been holding off on one because of cost, now's the time! Perfect for summer!
---
Background: The Roccbox pizza oven is a 12 inch multi-fuel pizza oven priced at $499 designed and manufactured by Gozney, a British company that specializes in domestic and commercial pizza ovens. The Roccbox will cook with propane right out of the box—or for an extra $100, you can cook with wood as well. This pizza oven will heat up to a maximum temperature of 950F (510C) in about 20 minutes with propane or 30-40 minutes with wood—perfect for Neapolitan style pizza.
| Roccbox Pros | Roccbox Cons |
| --- | --- |
| Amazing insulation | Quite heavy for its size |
| High quality construction | Fairly small baking surface for a 12 inch oven |
| Relatively portable | Wood Burner 2.0 is a big improvement, but still quite small and difficult to master |
| Built-in thermostat | Relatively expensive compared to similar Ooni pizza ovens |
| Includes a peel (when purchased directly from Gozney) | |
| Works best with propane | |
Table: Roccbox pros and cons
Bottom Line: I love the design and construction of the Gozney Roccbox, especially its world-class insulation and silicone jacket wrapped exterior that remains cool to the touch even when cooking. The Roccbox is ideal as a propane fueled oven, while the wood burner is rather small and will take some time to master. Despite being marketed as a 12 inch pizza oven, the 12.4 inch baking surface is realistically too small for a 12 inch pizza after baking, so expect your pizzas to be no bigger than 10-11.5 inches. The Roccbox is best suited for those looking to maker smaller Neapolitan style pizzas in a well-built, premium-quality, highly compact pizza oven.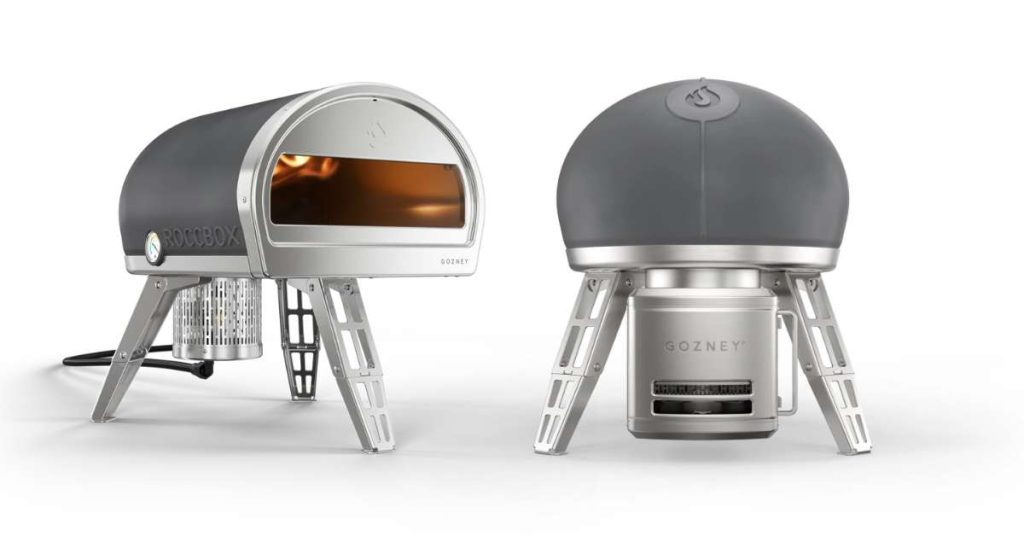 What Is The Gozney Roccbox?
The Roccbox was launched in 2016 at a time when domestic portable pizza ovens were still a relatively niche product. Along with rival pizza oven brand Ooni, Gozney helped to usher in an era of home-based artisanal pizza makers, as well as an increased awareness of gourmet pizza in general.
Like many other portable pizza ovens, the Roccbox is multi-fuel capable. "Multi-fuel" is basically a way of saying the Roccbox can burn multiple types of fuel (in this case wood and propane) by swapping out one modular burner type for another. This also means (unfortunately) that you'll need to purchase a second burner to use a second fuel type, or pay extra up front for both—not unusual for most pizza oven manufacturers.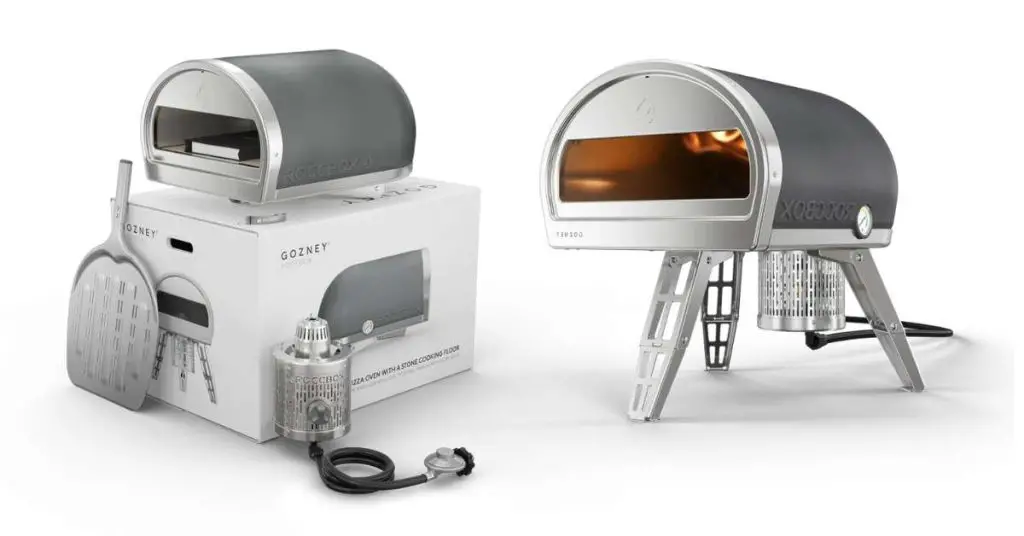 Roccbox Setup Is Easy
Setting up the Gozney Roccbox is incredibly simple—take the body of the oven out of the box, unfold its three support legs, snap in the pre-assembled burner, light it up, and you're ready to go.
If you're using the propane burner, the setup process is literally over. All that's left to do is let the oven heat up to the maximum temperature before launching your pizza into the oven.
To see a quick demonstration of the Roccbox being setup, check out the video below.
Cooking With Wood Is Slightly More Complicated
On the other hand, if you're using the wood burner, the setup and first time preparation process is a bit more complicated, though not necessarily difficult. You'll first need to snap in the wood burner, just as you would with propane, but next you'll need to add fuel (wood logs or planks) to the burner tray.
The Roccbox is a relatively small pizza oven, so naturally the wood burner tray is small as well. This isn't a problem in terms of functionality, but it does mean you'll need to regularly add more fuel (maybe every 5 minutes or so) in order to keep the flame going strong enough to heat the oven up to the maximum temperature.
Remember: the temperature of the ambient air in the oven is different than the temperature of the baking stone, which is where the pizza will actually cook. In order to reach the maximum temperature of 950F (510C), you'll need to completely saturate the baking stone with heat. This can take some time and require you to add more wood several times before the stone reaches the desired temperature. If you want the best results, you don't want to rush this step.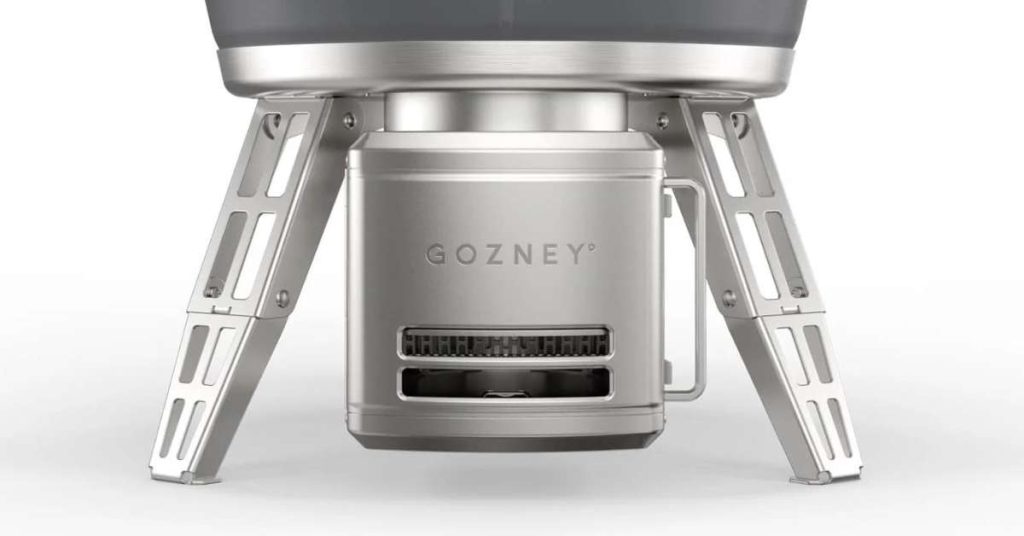 Unless you have experience keeping and controlling wood-based flames (or even just a campfire), you may find it surprisingly difficult to get the pizza oven hot enough on the first try. But don't give up, or be discouraged if it takes far longer than the advertised 20 minutes to reach the maximum temperature—the smoky, wood-fired taste of the crust it produces makes it worth it in the end.
Or, you can just use propane and avoid any issues to begin with. The choice is yours, but keep in mind that while propane can cook just as well as wood, it won't infuse any smoky flavor into the crust. Like most things in life, it's a trade-off.
What I like About Roccbox
The Roccbox is a pizza oven made by and for pizza lovers, and that's evident in its quality construction and intuitive design. This really helps to set the Roccbox apart from the dime a dozen, "metal box with a flame in it", cheap pizza oven knockoffs that can be found all over Amazon and other discount websites these days.
There's a lot to like about the Roccbox, so let's get right into it with my top 3 favorite features:
I love the fact that the built-in thermometer measures the temperature of the underside of the stone rather than the top of the stone (or even just the ambient air of the oven). The Ooni Karu 16's built-in thermostat only measures the ambient air temperature, and that's an otherwise top-quality pizza oven. Measuring the underside of the baking stone (in a pizza oven) tells you when it's been completely saturated with heat and is ready to use.
I love the "safe touch" silicone jacket that coats the exterior, as well as its thick layer of insulation. This not only keeps the oven hot for making multiple pizzas, one after another, but also makes it a relatively safe appliance to have around friends, family, and pets. One of the defining characteristics of cheap pizza ovens is how extremely hot the exterior gets—to the point where only a brief touch can scald the skin—so it's nice to see the Roccbox address this important issue.
I also really love the fact that the Roccbox includes a pizza peel in the box. Don't get me wrong—it's not free, you're paying for it as part of the price. But many people don't know that without a pizza peel you literally can't use a pizza oven, so the initially lower price of many other pizza oven models is somewhat deceptive to beginners.
Roccbox Wishlist (or, what I don't like about Roccbox)
I've listed what I like about the Roccbox, so it's only fair to mention the things I don't like about it. These aren't necessarily reasons to not buy a Roccbox, just factors to keep in mind when ultimately making your decision of which pizza oven to spend your money on.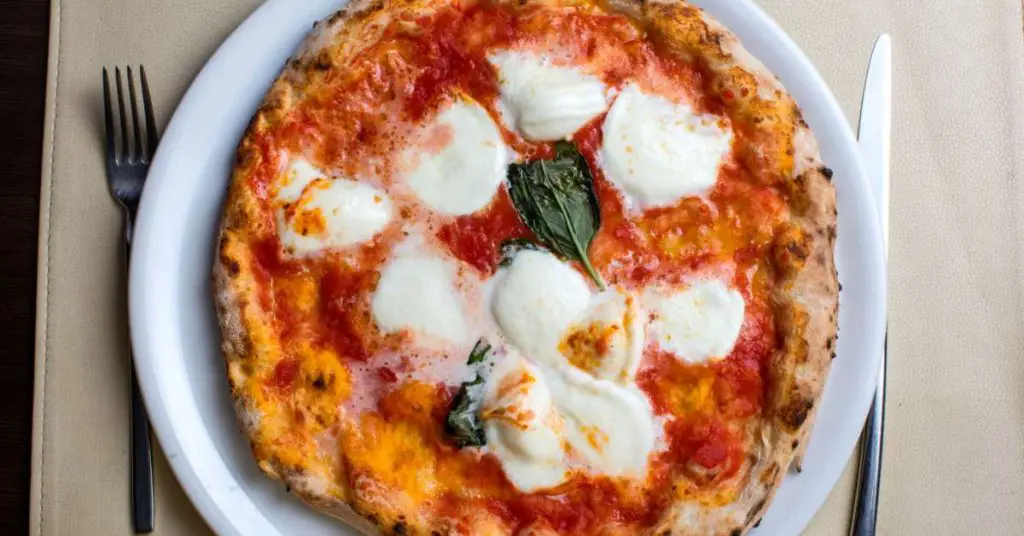 I wish the Roccbox had a bigger baking surface. This is probably my number one point of hesitancy in recommending the Roccbox. Pizza dough shrinks when it cooks, so a pizza that goes into the oven at 12.4 inches (the width of the Roccbox baking surface) will likely come out of the oven at only 10.5-11.5 inches, assuming you've stretched it properly. A true 12 inch pizza oven should be at least 13×13 inches, otherwise you're limited to smaller sized Neapolitan pizza. If that's all you're looking for, then it's not an issue, but paying $499 or more for a pizza oven with such a limitation will be a hard pill to swallow for many.
I wish the Roccbox had a chimney. As a propane pizza oven, this isn't an issue, but when it comes to burning wood this missing feature causes me some concern. A chimney is designed to control and improve airflow, as well as direct smoke and ash away from the cooking area—otherwise all heat and burnt debris is forced to exit from the front. The Roccbox still works well as a wood burning pizza oven, but not as efficiently as it does using propane or when compared to other wood-fired pizza oven models with chimneys.
Tom Gozney Signature Edition Roccbox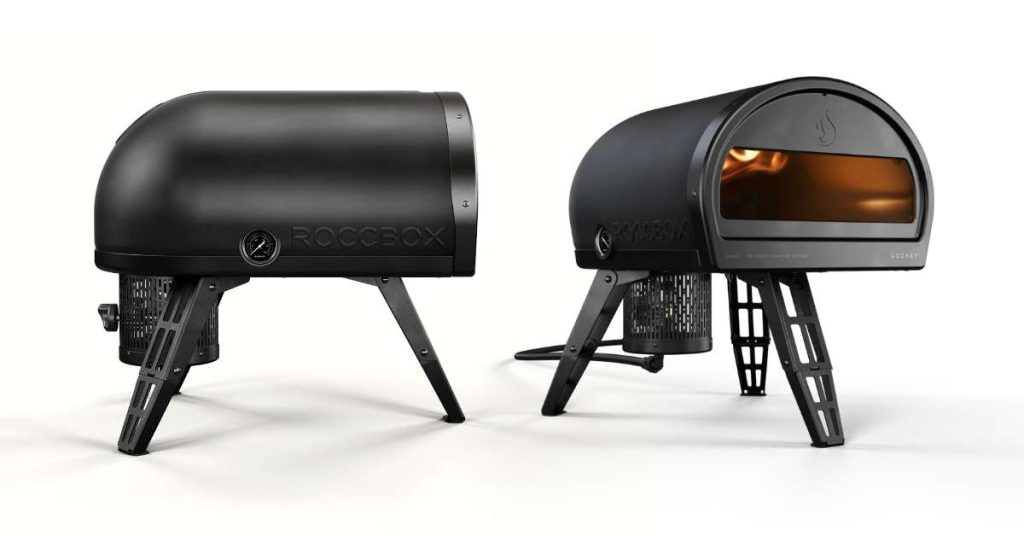 In late 2022, Gozney launched a special Signature Edition Roccbox, designed by the company's founder Tom Gozney.
The Signature Edition Roccbox is not functionally different than the regular Roccbox, but it comes with some fairly significant cosmetics changes such as a black matte ceramic bonded paint job and an anodized black pizza peel. Even the propane burner it comes with has an attractive black finish to it.
But the real difference between the regular and Signature Edition Roccbox is that $100,000 of the profits made from this pizza oven will be donated to the charity 'To Write Love on Her Arms', an American non-profit organization that helps those dealing with addiction and other important mental health issues.
This Signature Edition Roccbox costs a bit more than the regular Roccbox, but it looks great and helps fund a worthy cause. So, if you're at all interested in the Roccbox and can afford the extra cost, consider picking one of these up.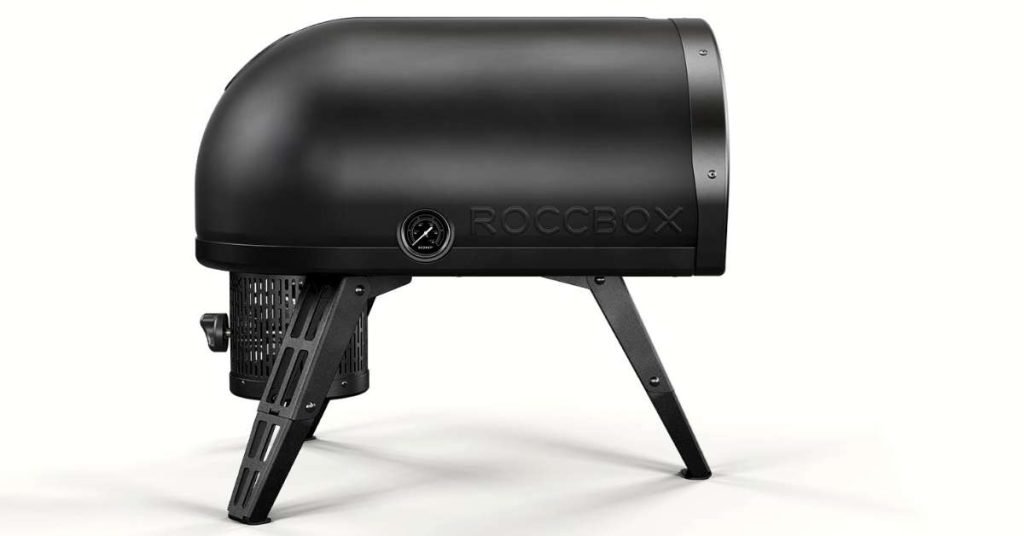 How Roccbox compares to Ooni
Google something about the Gozney Roccbox, or anything having to do with pizza ovens generally, and inevitably you'll come across a question asking if X pizza oven is "better than Ooni".
This is a difficult question to answer, and ultimately comes down to what you're looking for in a pizza oven. Last year I did an entire article breaking down the features of the Roccbox and comparing them with various Ooni pizza oven models. In the end, I determined that because Ooni offers more pizza ovens with more features, the likelihood is highest that you'll find an Ooni oven that matches your pizza preferences over the singular Roccbox. But that doesn't necessarily mean Ooni is "better" than the Roccbox.
In the end, it's important to remember that almost any pizza oven that can reach 950F (510C) is capable of making an excellent pizza, so this isn't a question of which oven makes better pizza. What it all really comes down to is which pizza oven offers the features you want in a package that you'll enjoy using.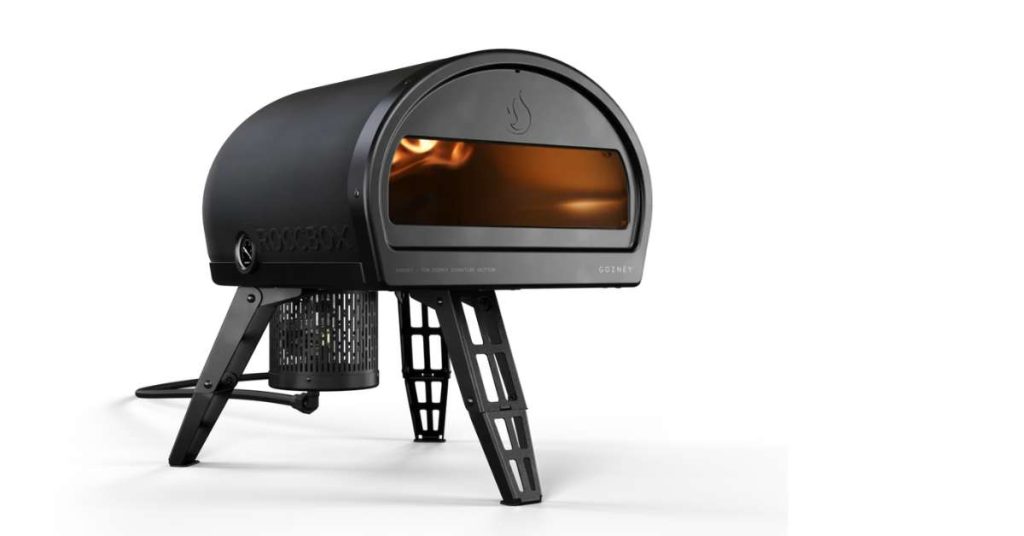 Which Ooni Ovens Are Most Similar to Roccbox And Why
Like I mentioned earlier, the Roccbox is a 12 inch pizza oven with multi-fuel capabilities priced at $499 for propane, or $599 for wood and propane (dual-fuel). With that in mind, let's look at which Ooni ovens are the most similar in terms of features and price.
| | Gozney Roccbox | Ooni Koda 12 | Ooni Karu 12 |
| --- | --- | --- | --- |
| Baking Surface | 13×12.4 inches | 13×13 inches | 13×13 inches |
| Max Pizza Size | 10.5-11.5 inches | 12 inches | 12 inches |
| Fuel Types | Wood, Propane | Propane | Wood, propane, charcoal |
| Weight | 44lbs | 20.4lbs | 26.5lbs |
| Price | $499 (base) | $399 | $399 |
Table: Gozney vs Ooni at a glance.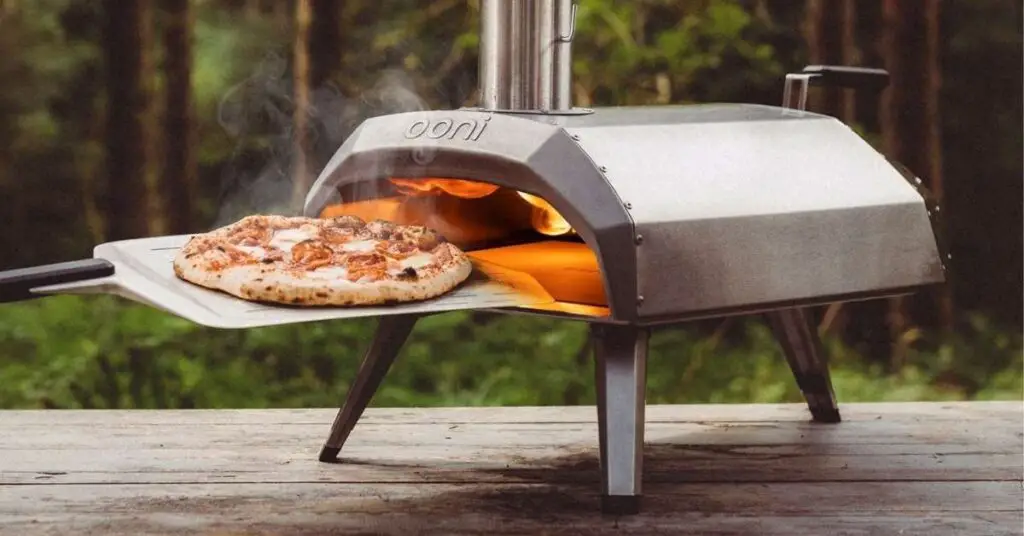 The Ooni Karu 12 is a 12 inch, multi-fuel pizza oven just like the Gozney Roccbox. However, unlike the Roccbox, the Ooni Karu 12 doesn't have a built-in thermometer nor does it have such a thick layer of insulation around the body.
Aside from this, the Ooni Karu 12 has a couple of advantages over the Roccbox: baking surface size, and a proper chimney. The 13×13 inch baking surface offers slightly more room than the 12.4 inch baking surface on the Roccbox, making it more feasible to produce a fully 12 inch pizza after baking.
As for the chimney, this is something the Roccbox is lacking entirely and that gives the Ooni Karu 12 an advantage in terms of airflow and smoke management when burning wood (though it's not really a factor when comparing propane performance). Airflow management helps to regulate the heat within the oven and can determine how evenly the pizza cooks.
Finally, the Ooni Karu 12 can burn wood, propane, as well as charcoal, which isn't possible with the Roccbox. That said, not as many people are interested in cooking with charcoal compared to wood and gas, so this won't be a huge selling factor for most people.
Price: $399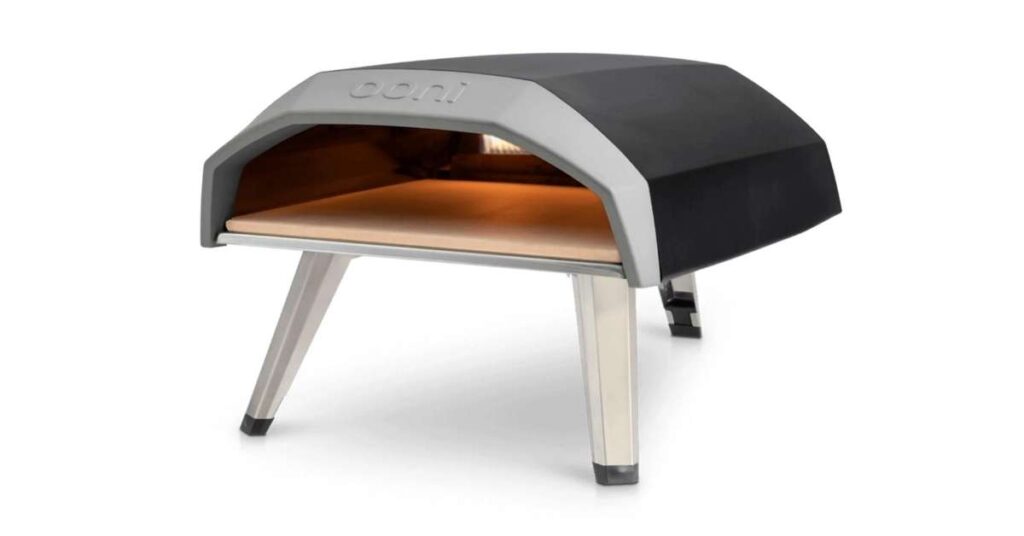 The Ooni Koda 12 is a 12 inch, exclusively propane pizza oven, compared to the propane and wood burning capabilities of the Gozney Roccbox.
Similar to the Ooni Karu 12, the Ooni Koda 12 also features a slightly larger 13×13 inch baking surface, making it possible to produce a full sized 12 inch pizza after baking.
The main advantage of the Ooni Koda 12 is its simplicity and size. Propane is just easier to use than wood or charcoal, so having a pizza oven with a built-in propane burner and nothing else removes some hassle and confusion from the learning process. You'll never have the option to burn wood in the future, though.
Another major difference between the Roccbox and Ooni Koda 12 is weight—the Roccbox weighs 44lbs while the Ooni Koda 12 weighs less than half that at only 20lbs. If you plan on using your pizza oven in one place most of the time, this won't be a deal breaker, but if you intend to take it to friends' houses or camping, etc., then it might be a factor to consider.
Other than this, the Ooni Koda 12 doesn't have a built-in thermometer or quite as thick a layer of insulation. It also doesn't have a chimney (similar to the Roccbox), but as a propane exclusive pizza oven that doesn't matter as much.
Price: $399
Do I Recommend Buying The Gozney Roccbox? Yes.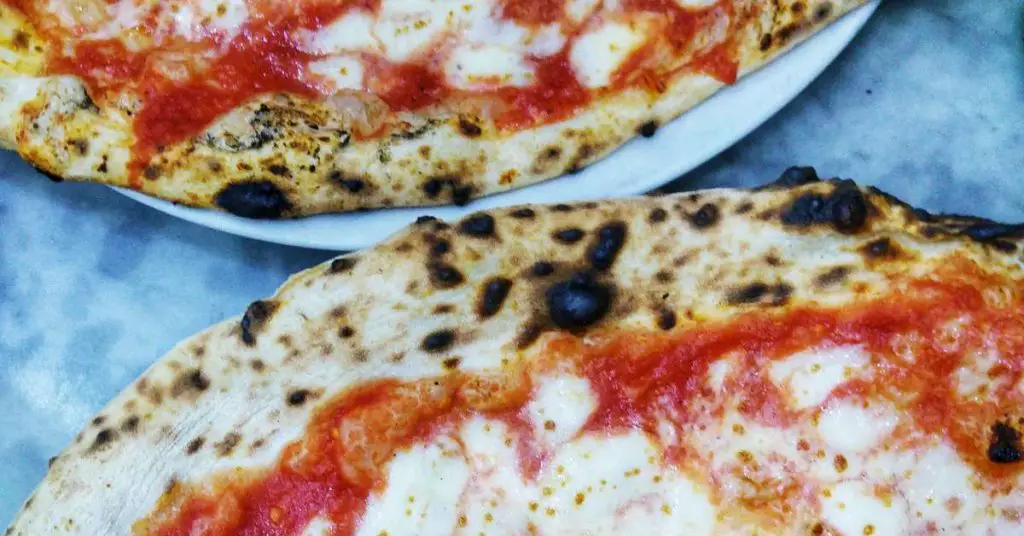 The Roccbox is a top quality pizza oven, so if you're interested in buying one, I wouldn't hesitate to recommend it, especially compared to the cheap no-name ovens you can find elsewhere.
That said, make sure you know what your goals are for making pizza at home, as well as the Roccbox's limitations.
For example, if you're looking to make large New York style pizza, the Roccbox isn't for you—it's just too small. In that case, you're better off looking at a 16 inch pizza oven like the Ooni Koda 16, Ooni Karu 16, or even the much larger (and much more expensive) Gozney Dome.
Also, if you're looking to cook primarily with wood, the Roccbox is a fine choice, but I would encourage you to first have a look at the Ooni Karu 12 or the Ooni Fyra 12 before making a final decision. Both of these ovens are better at burning wood and have a slightly larger baking area (not to mention less expensive).
But in the end, if you like the Roccbox and intend to buy one, you can have confidence knowing that you're purchasing an excellent product that makes excellent pizza from a company that cares about its customers.
Does the Roccbox ever go on sale?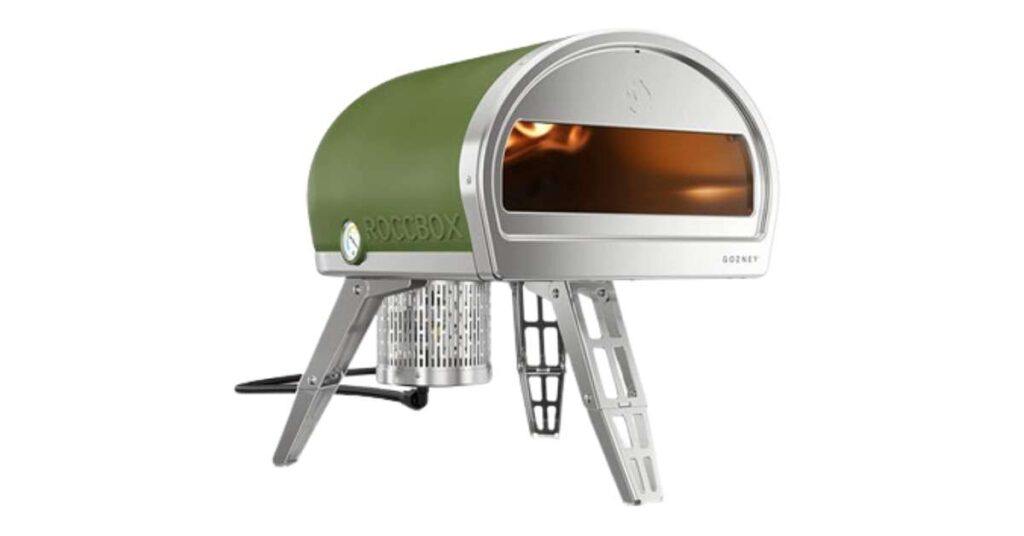 Like many other premium products, the Roccbox only rarely goes on sale—so if you can find it offered at a discount, it's worth grabbing one.
That said, outside of the normal holiday sales periods (Black Friday, Memorial Day), your best bet is to check the Gozney website or Amazon for sporadic deals or other special offers.
One thing I've noticed is that the Roccbox offered on Amazon doesn't appear to include the pizza peel (unless it's simply missing from the description). You can find a link to the Amazon listing below, but I recommend buying directly from Gozney to ensure you're not buying a used or inauthentic Roccbox (in rare cases).
Related Questions:
The Roccbox is a premium quality, multi-fuel pizza oven that's absolutely worth its cost as long as you understand what it is and what its limitations are. If you're in the market for a compact, super insulated pizza oven with outstanding build-quality, you can't go wrong with the Roccbox.
Which Is Better Ooni Or Roccbox?
Both Ooni and Roccbox pizza ovens have some overlapping features and price points, but which one is best for you will largely come down to your pizza preferences and how you intend to use the oven. The Roccbox is ideal for those who prefer smaller sized Neapolitan style pizza and those who intend to primarily cook with propane.
Can You Leave Roccbox Outside?
Why the Roccbox can technically withstand the elements if left outside, Gozney recommends storing it in a sheltered area when not in use, or covering it with one of their specially fitted water-proof covers. This is the best way to keep the Roccbox looking fresh and in good working shape for years to come.
What Size Pizza Fits In A Roccbox?
The Roccbox has a baking safe of 13×12.4 inches, which means the maximum diameter of a pizza that can fit in the Roccbox is 12.4 inches. However, because dough shrinks as it cooks, expect to realistically only be able make pizza around 10-11.5 inches. Proper stretching techniques can help to minimize how much the dough retracts when cooking as well.
Gozney Roccbox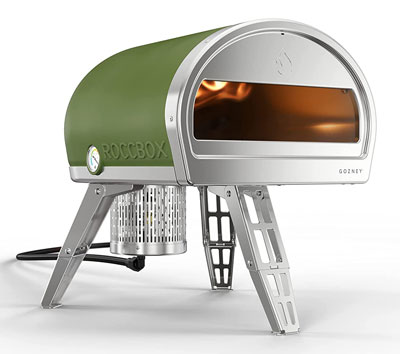 Baking Surface (12.4 inches)