Domenic's Detroit Style Pizza Recipe
Detroit style pizza isn't something I grew up eating in NYC – in fact, I'd never even heard of it until my adult life. Over time, I've grown to love it. It's one of my favorite styles of pizza to make at home. And because it bakes at a relatively low temperature (450F) it's perfect for a home-oven.
For this recipe, you can use the pizza dough recipe described below, or my standard homemade pizza dough recipe. Either will work fine.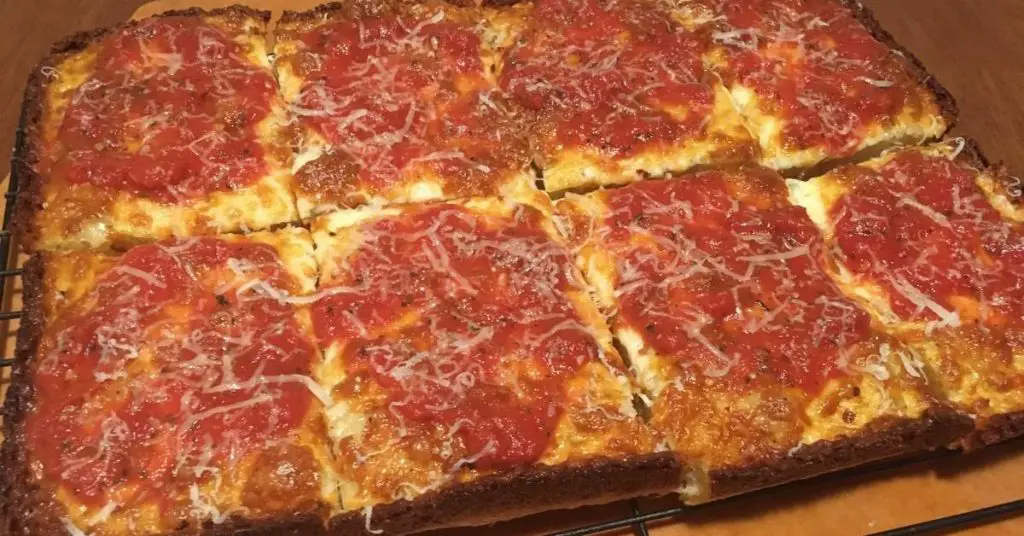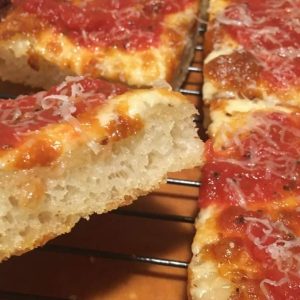 Domenic's Detroit Style Pizza Recipe
Ingredients  
525

g

Pizza dough ball (link to recipe above)

350

g

Blend of whole-milk low-moisture mozzarella and Monterrey jack cheese

Detroit style pizza sauce (as much or as little as you like)

10

g

Vegetable oil (I use avocado)

3

dash

Dried Oregano

3

dash

Parmigiano Reggiano (to taste)
Instructions 
Grease the pan with vegetable oil (I prefer Avocado). Use enough to cover every inch of the pan, but not so much that it pools.

Place the dough ball in the middle of the pan and press it down a few times to flatten it. Cover it up with plastic wrap and let it rest for 15 minutes. Remember to be gentle with the dough so it doesn't tear or lose too much gas.

Tip: If you followed my Detroit style pizza dough recipe (link above), you can turn the plastic container upside down and simply let it fall into the pan.

After 15 minutes have passed the gluten in the dough should be relaxed enough to stretch it from edge to edge of the pan. If you find this difficult, do the best you can then cover it up and wait another 10-15 minutes for it to relax more.

When the dough fills the pan from corner to corner, cover it up again. Let the dough rest for 2-3 hours depending on the temperature of your house. The dough is ready when it has visibly puffed up considerably and expanded in volume. This is the most important part of the whole process since Detroit style pizza is characterized by a thick and fluffy crust.

Spread the cheese from edge to edge, but make sure to spread it evenly and don't dump it all on one spot. The goal is to be as gentle with the dough as possible so all that gas we spent so much time building up doesn't escape. Also, be sure to build some of the cheese up along the side for an extra crispy and cheesy crust.

Pre-heat your oven to 450 degrees for 10 minutes and place the pan on the bottom rack. Set a timer for 15 minutes.

In the meantime, simmer your pre-cooked Detroit style pizza sauce in a saucepan. This will be spooned onto the finished pizza as-is, so make sure it's nice and hot!

After 15 minutes check the pizza. The cheese should have some light golden-brown spotting when it's finished like in the pictures above. The underside of the crust should be a golden-brown color as well.

When it's finished, remove the pan from the oven and let it sit for a few minutes to settle. Using a spatula, remove the pizza from the pan and place it on a cooling rack. It shouldn't stick too much if you're using the right kind of pan and oil, but you may need to scrape some of the baked on cheese from the sides.

Let the pizza cool on a cooling rack for 2-3 minutes then slice it into as many slices as you like. I usually go for 8 slices on a 10×14″ pizza.

Spoon some hot Detroit style pizza sauce onto each slice. You can put as much as you like but I try to reserve a little extra for dipping.

Shred some fresh parmigiano reggiano cheese on top while sauce is still hot.

Tip: Place the slices back onto a cooling rack for serving to avoid the crust becoming soggy.

Tip: If your crust isn't as crispy as you'd like it, instead of baking it longer and burning the cheese, pre-heat a pizza stone for 1 hour prior to baking and place the pan directly on top of it. Alternatively, place the pan on the bottom rack of the oven for an additional 5 minutes at the maximum temperature.
For this recipe, I've done quite a bit of research. Of course, none of the big Detroit style pizzerias are giving up their secrets but I've been able to piece together most of the key methods and ingredients by watching videos and asking around for advice on related pizza forums and subreddits. It's actually quite a simple recipe once you get the feel for it.
This recipe will explain how to how to put together a Detroit style pizza in a 10×14 square Detroit style "Lloyd Pan" brand pan. You can find my review of this amazing pan here.
Below is the procedure in pictures but keep scrolling for the complete recipe further down.
If you need a Detroit style dough recipe, you can use mine here.
If you need a Detroit style pizza sauce, you can find mine here as well.