Ooni Koda 12 Pizza Oven Review: The World's Most Popular Pizza Oven
The Ooni Koda 12 might just be the world's most popular pizza oven, or it least it seems that way. I can see why, too—it's portable, affordable, and makes great pizza. But in a market saturated with low-cost pizza ovens, is the Ooni Koda 12 worthy of the hype? Also, how does it compare to other Ooni pizza ovens?
Breakdown: The Ooni Koda 12 is an easy to use, gas-powered, premium quality pizza oven at a very appealing price point. Weighing in at only 20lbs, this pizza oven works just as well on a camping trip with friends as it does as a permanent fixture in your own backyard.
What I Like: The 13×13 inch baking surface is the perfect size for a Neapolitan or New York style pizza baked at a scorching 950F. No Learning curve, no smoke, minimal cleanup—the Ooni Koda 12 has a lot going for it.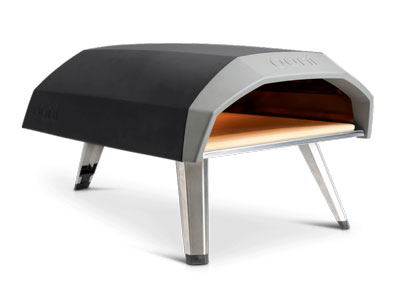 Ooni Koda 12 Pizza Oven
Price: $399
Questions: But is the Ooni Koda 12 worth the extra cost compared to cheaper Amazon knockoffs? Is it better to buy the larger Ooni Koda 16 instead? What if you want to cook with wood and not just gas? I'll go into detail on all this and more further down—or you can just read the quick summary below.
Bottom Line: If you want a fairly priced, premium quality, 12 inch propane pizza oven, there is no better option than the Ooni Koda 12. Yes—there are less expensive options out there, but they don't have the premium design or build quality of an Ooni. The main downsides to the Ooni Koda 12 is its lack of multi-fuel support and small size. If that concerns you, go with the larger and more expensive Ooni Koda 16, Ooni Karu 16, or Gozney Roccbox.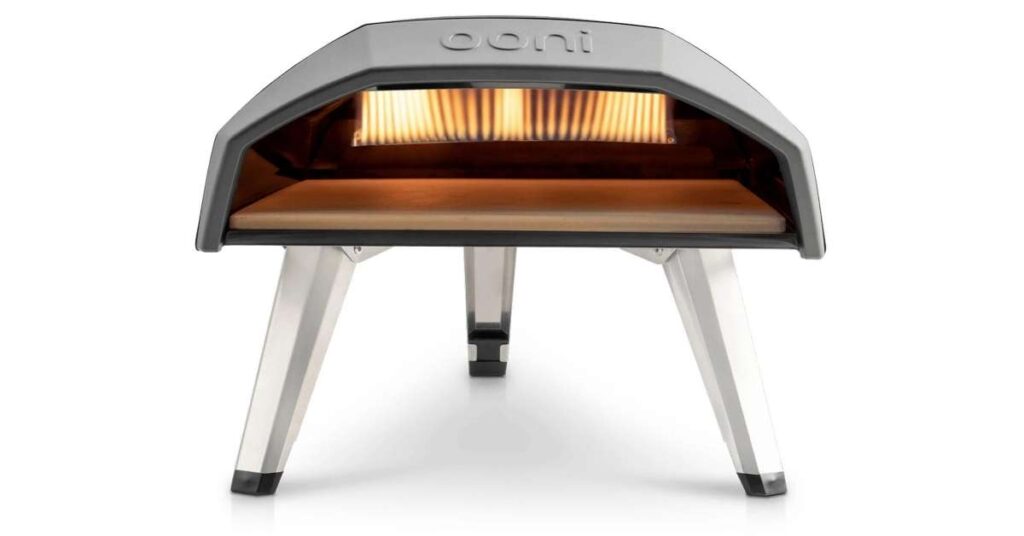 What Is The Ooni Koda 12
The Ooni Koda 12 is a portable propane-gas pizza oven weighing 20.4lbs (9.25kg) and big enough for a 12 inch pizza.
Here are some of the main pros and cons (based on my experience) to help you make an informed decision.
Pros
Great Heat Retention
Quick Preheat Time
Propane Convenience
950F Maximum Temp
Sleek Aesthetics
Carbon Steel Shell
Powder-Coated Finish
Cons
Only

Fits 12 Inch Pizza

No Multi-Fuel Option
If you still need more answers, be sure to read through my in-depth review of all the Ooni Koda 12's key features below.
Related Post: Ooni Karu 16 Review
Ooni 12 Specs Compared
Here's how the oven compares to a few other popular pizza ovens in terms of features and price:
| | Ooni Koda 12 | Ooni Koda 16 | Ooni Karu 16 | Gozney Roccbox |
| --- | --- | --- | --- | --- |
| Weight | 20.4lbs | 40.1lbs | 62.6lbs | 44.09lbs |
| Max. Pizza Size | 12" (Medium) | 16" (Large) | 16.5" (Large +) | 12" (Medium) |
| Baking Surface | 13×13" | 16×16" | 16.7×24.5" | 12.4×13.4" |
| Fuel Type | Propane | Propane | Propane, Wood, Charcoal | Multi-fuel (propane, wood) |
| Price | $399.00 | $599.00 | $799.00 | $499.00 |
Related Post: Ooni Koda vs Ooni Karu Review
Summary: If you don't care about size and just want a premium quality oven that's affordable and easy to use, get the Ooni Koda 12. If you want a larger pizza oven, or need multi-fuel support, get either the Ooni Koda 16 or Ooni Karu 16.
Baking Surface Size: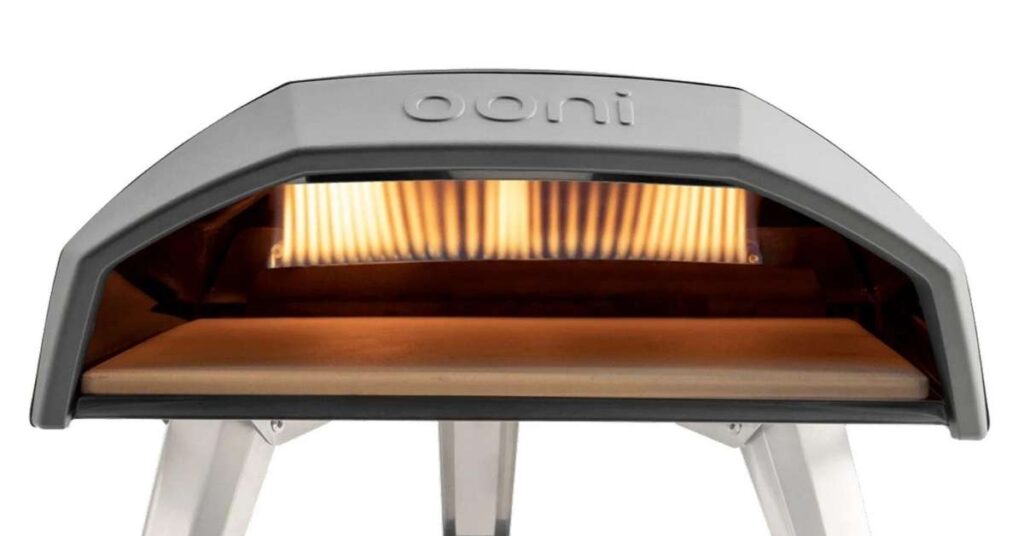 The baking surface size of a pizza oven refers to the total area available on the oven floor to cook a pizza. How big this area is determines how large of a pizza you can make in the oven.
The baking surface of the Ooni Koda 12 is 13×13", making it just big enough for a 12 inch pizza when you account for shrinkage while it cooks. 12 inches is about the size of a standard Neapolitan style pizza, or a medium sized American pizza.
For most people looking to make pizza for themselves or to share with a friend, a 12 inch pizza oven will work out just fine. But if you're interested in making larger pizzas to feed a crowd, or experiment with different styles, you'll want to look at either the Ooni Koda 16 or the Ooni Karu 16.
Tip: For reference, 12 inches is about what you'd be served at a Neapolitan pizzeria, while a typical New York style pizza is at least 16 inches or larger.
Fuel-Type: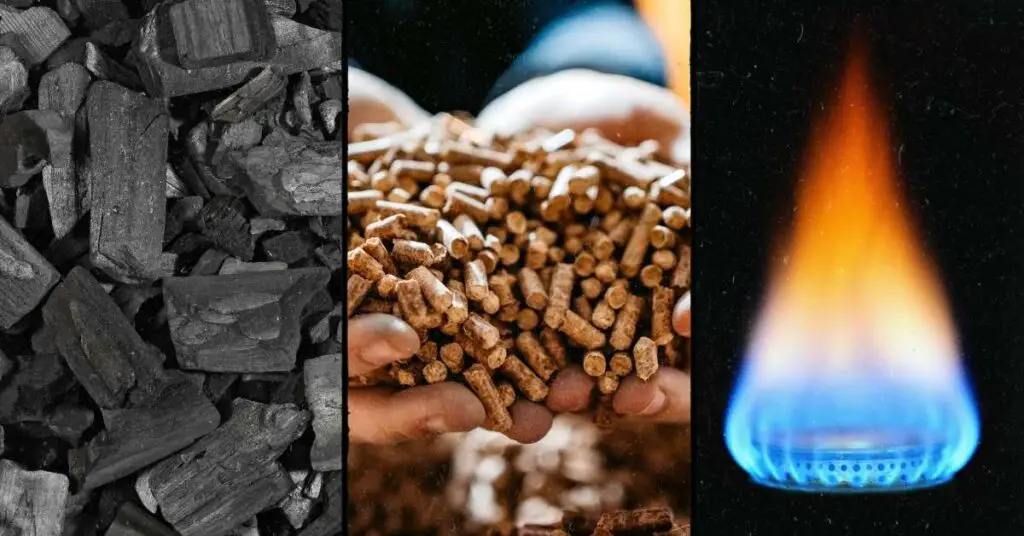 When it comes to fuel type, most people don't have a strong preference unless they specifically want to make wood-fired pizza. Wood-fired cooking has the advantage of being more "authentic", and infusing whatever it cooks with a rich, smoky flavor.
The Ooni Koda 12 is a propane-only pizza oven, meaning it's not capable of burning wood or charcoal. But what it loses in fuel-flexibility, it gains in convenience—propane can cook a pizza just as well as wood (minus the smoky flavor) and is much easier to use. Rather than having to start, maintain, and dynamically adjust a wood-fired flame, a propane pizza oven is controlled with a simple knob just like a propane barbecue.
Also, a propane pizza oven doesn't generate any smoke, meaning minimal cleanup and no chance of annoying your neighbors or family members if you're living in close quarters. This makes a compact pizza oven like the Ooni Koda 12 incredibly versatile.
However, if you're interested in wood-fired pizza, check out the Ooni Karu 16 for $799 or Gozney Roccbox for $499. Both of these ovens are capable of using propane or wood.
Tip: If you're primarily interested in wood-fired pizza, check out the Ooni Fyra 12. At only $349, it's the cheapest Ooni oven, and its wood pellet burner might just be the best on the market.
Maximum Temperature: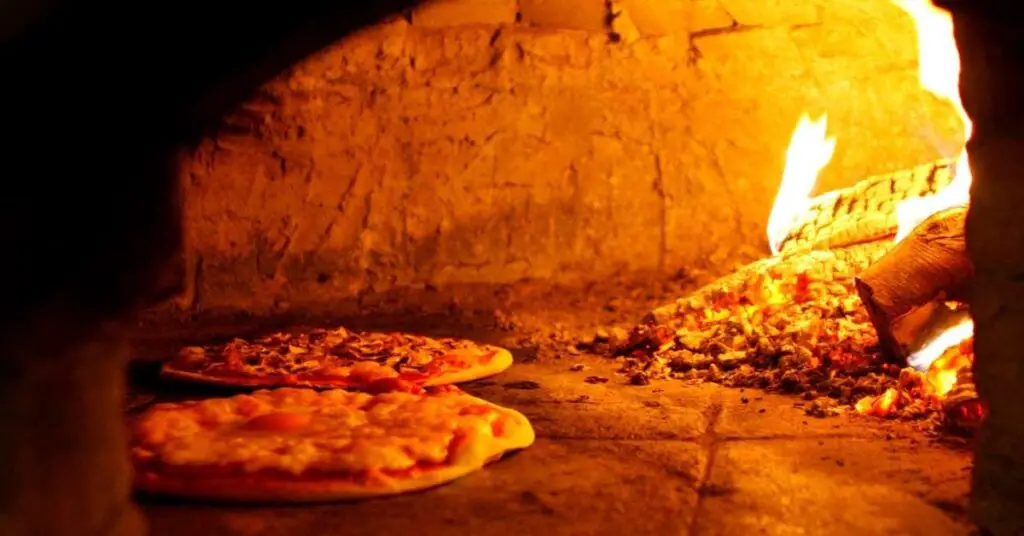 The Ooni Koda 12 can reach temperatures of up to 950-1000F within 15 minutes, perfect for making Neapolitan style pizza, or any other style that would typically be made in a "wood-fired" pizza oven.
If you prefer, you can easily turn down the temperature on the Ooni Koda 12 to make a typical New York style pizza as well.
Why Temperature Matters (or Why You Need A Pizza Oven)
The maximum temperature of a pizza oven is one of the most important features to look out for when buying a pizza oven. Too often, I see ovens marketed as "pizza ovens" that barely reach temperatures higher than a home oven (500F). These are usually electric, glorified toaster ovens, sold in department stores to people that don't know any better.
In fact, the main distinguishing feature between a regular oven and a pizza oven is the maximum temperature. Temperatures between 850-1000F (or about 485C) will generally yield the characteristic "leopard spotting" seen on Neapolitan style pizza, which happens as a result of tiny air bubbles caramelizing under the intense heat.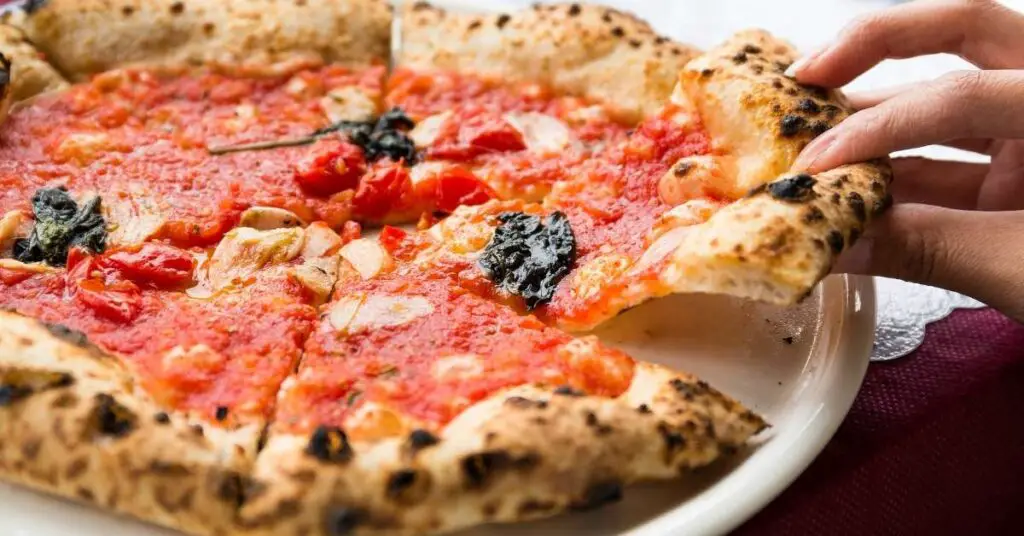 By contrast, this chemical reaction is simply not possible under lower temperatures, like in a home oven, or in one of those indoor electric "pizza ovens". So if you want to make authentic pizza like you would get in a pizzeria, you need a pizza oven that can reach extremely high temperatures.
Price: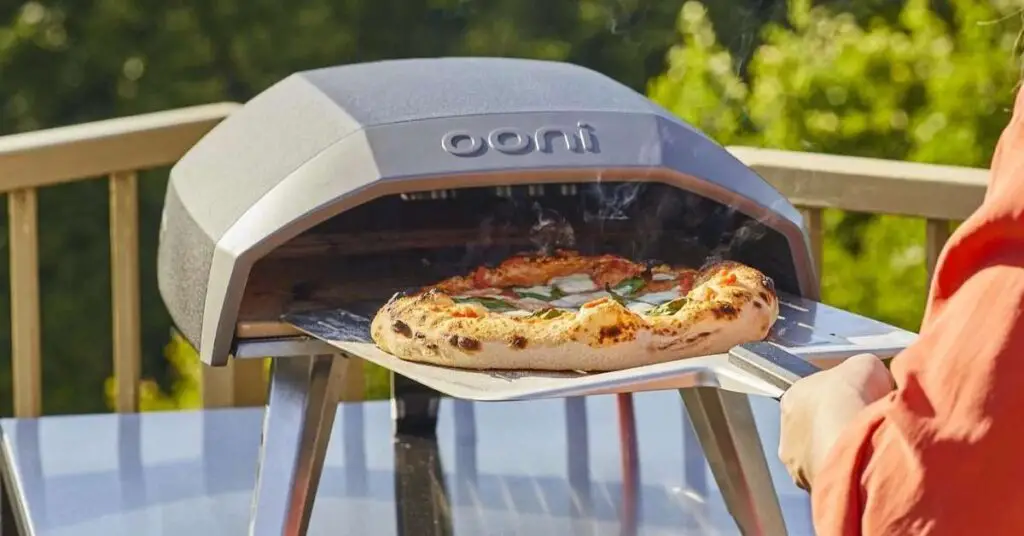 In terms of price, the Ooni Koda 12 is right where it should be. Priced at $399, this pizza oven is at the lower end of the premium-quality cost spectrum. This is reflected in its heat-efficient design, excellent build-quality, and sleek aesthetics.
You could spend a little bit less on the Ooni Fyra 12 ($349), but that oven doesn't offer the convenience of propane. You could also spend a bit more on the Ooni Koda 16 ($599), but if you don't need the extra space for larger pizza, then it's a waste of 200 dollars that could be spent on accessories.
Similar comparisons to other popular pizza ovens result in the same conclusion. You won't find a pizza oven that offers the same features at the same level of quality for less.
This is why I don't hesitate to recommend the Ooni Koda 12 to anyone looking for an affordable pizza oven that's easy to use, looks good, and is built to high-quality standards.
Ooni Koda 12 Sales (Updated October 2022)
Like most high-quality products, Ooni pizza ovens don't often go on sale. The Ooni Koda 12 is the exception to this rule because it's frequently available somewhere at a discount, depending on the time of year, either by itself or as part of a bundle.
Check Amazon
Amazon is a great place to search for deals on all kinds of products, and the Ooni Koda 12 is no exception. For some reason, this pizza oven is very frequently on sale via Amazon—not by a huge amount, but consistently by about 5-10% off.
This isn't always the case, though, especially when nearing a major holiday sales period like Black Friday/Cyber Monday or Memorial Day. In that case, use your best judgement in terms of whether to buy now or wait for a deal.
Ooni Black Friday/Cyber Monday and Memorial Day Sales
By far the best time of year to buy an Ooni oven is Black Friday/Cyber Monday, or Memorial Day, when the entire Ooni pizza oven lineup goes on sale at a considerable discount.
The details of this year's 2022 sale haven't been released yet, but when they do, you'll be able to find more information here. Bookmark that page and check back in late November.
Don't Forget Bundles
If there isn't a sale going on, you can still buy an Ooni pizza oven at a discounted price. Buy buying the oven with some essential accessories (like a peel), you can usually save some money in the process.
To check the latest bundle discounts, head over to Ooni's website.
Ooni Koda 12: What I Like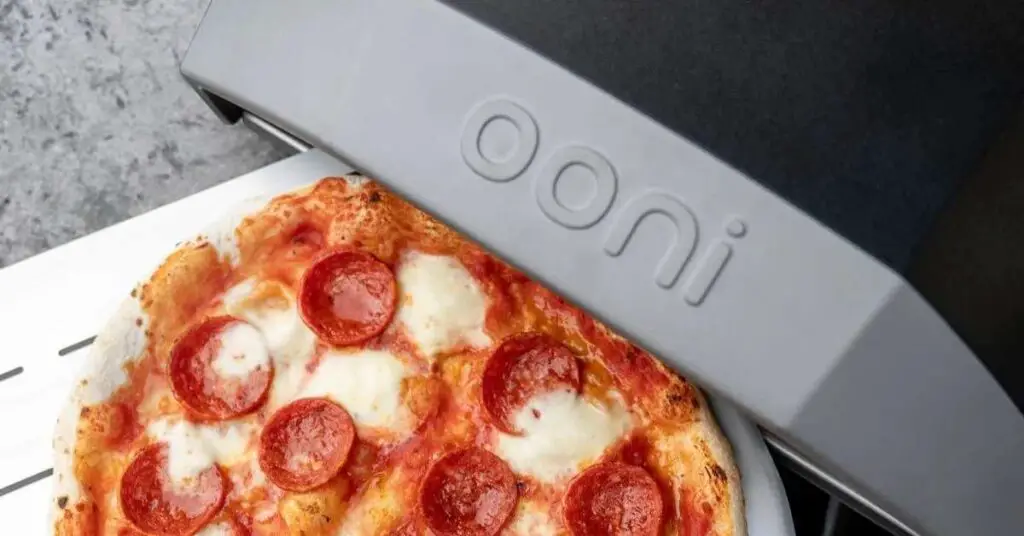 There are many things I like about the Ooni Koda 12, several of which I've already touched upon above. To summarize, here are the features I appreciate most about the Ooni Koda 12 that I think make it one of the best value pizza ovens available today:
Convenience: As a propane-only pizza oven, the Ooni Koda 12 is incredibly convenient and easy to use. To get started, all you have to do is press the heat control dial and turn it counterclockwise until you see a flame—that's it. Wood-fired pizza is great, but tending to a flame takes time and there's an initial learning curve as well. With the Ooni Koda 12, it's basically ready to go right out of the box for all experience levels.
Portability: All Ooni pizza ovens are portable, but some are heavier than others. I love the Ooni Karu 16, for example, but at over 60lbs, I'm not inclined to take it camping with me or to a friends house for a casual afternoon. On the other hand, the Ooni Koda 12 (at only 20lbs) isn't much heavier than a bag of groceries that can be taken anywhere its needed. Its compact size also makes it easy to store away on a shelf, or in a closet, when not in use.
Smoke-Free: A wood-fired, smoke-infused crust is a hallmark of classic Neapolitan pizza, but it isn't strictly necessary and takes a lot of extra work—both in terms of tending to the flame, and cleaning up soot and smoke residue afterwards. The Ooni Koda 12's propane burner is completely smoke-free and leaves no soot or residue to clean up when you're done. This is perfect for close-quarters living situations where smoke isn't appropriate, or for times when you just want to make a pizza and be done with it.
Affordable: Priced at only $399, the Ooni Koda 12 is (in my opinion) the most competitively priced premium-quality propane pizza oven on the market today. As mentioned before—yes, there are cheaper propane pizza ovens out there, but none of them are built to the same design standards as Ooni, or offer the same features and reliability.
Ooni Koda 12: Downsides
In terms of downsides, there aren't many to speak of, but there are some things you should be aware of about the Ooni Koda 12 before making a purchase.
Keep the following in mind when deciding between the Ooni Koda 12 and the alternatives:
It's only good for small/medium sized pizza. The Ooni Koda 12 has a 13×13 inch baking surface, making it just big enough for a 12 inch pizza when factoring for shrinkage during the baking process. This is about exactly the size of a standard Neapolitan pizza—so if you have your heart set on big floppy New York slices, you're going to be disappointed. To make larger pizzas, check out the Ooni Koda 16, Ooni Karu 16, or the Gozney Dome.
It can only cook with propane. The Ooni Koda 12 only has a propane-gas burner, and there isn't an option to buy an additional wood or charcoal burner to hook up to it. For most people, propane is the most convenient option, and they aren't looking to cook with wood anyways. But if you're interested in experimenting with wood-fired pizza in the future, you'll need a multi-fuel pizza oven. For this, I recommend checking out the Ooni Karu 12 (propane, wood, charcoal), or the Gozney Roccbox (propane and wood).
How To Use The Ooni Koda 12 For The First Time
The Ooni Koda 12 is one of the easiest pizza ovens to setup and use almost as soon as it comes out of the box. Most of the setup process is self-explanatory, especially if you have experience using a propane oven or barbecue. In any case, here is roughly what you can expect to get up and running with this pizza oven.
Remove the Ooni Koda 12 from the box and its packaging. Remove the baking stone from its packaging as well and carefully place it in the oven, as per the included instructions.
Unfold the legs and make sure each leg is properly attached to the base and that the oven is steady without any wobbling. This will almost certainly be the case anyways unless the unit is defective.
Connect the Ooni Koda 12 to your propane source. How to do this will vary depending on what part of the world you live in, but in most cases it simply involves attaching the hose and gas regulator to your propane tank.
To light the Ooni Koda 12, press while slowly turning the temperature control knob (see photo above) counterclockwise until you hear a click and see the flame ignite.
Keep pressing on the control knob for an additional 5 seconds to ensure the flame stays lit.
If for some reason the flame doesn't ignite the first time, turn the knob back to the off position, wait 5 minutes, and try again. In the meantime, double check that the hose and regulator are properly attached to your propane source.
Tip: If the flame suddenly goes out while cooking or preheating, turn the control knob to the off position, detach the tank, and wait 5 minutes before reigniting. This is unlikely to happen anyways, but it's always best to exercise caution when working with gas.
Ooni Koda 12 Recipe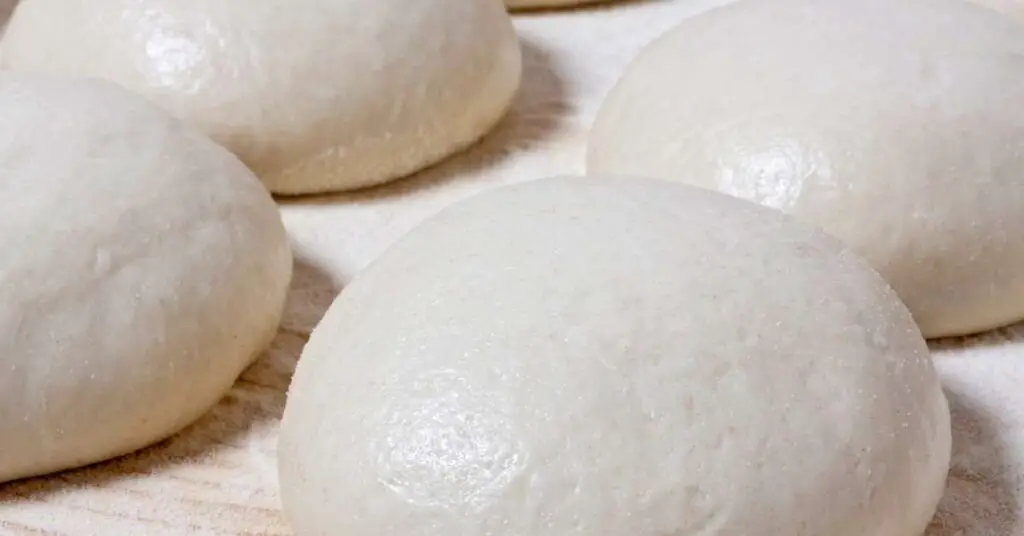 The Ooni Koda 12 will work fine with any pizza dough recipe out there, including store bought pizza dough—and even Ooni's own pizza dough which you can order from their website.
But if you're looking for a great pizza dough recipe that pairs perfectly with a pizza oven like this, check out my own improved version of Ooni's classic pizza dough recipe.
This pizza dough recipe isn't a major departure from other recipes out there, but I like it because it has extra hydration (for a super moist and crispy crust), and because it's cold-fermented for a more mature flavor.
Check out the recipe here, or if you're even more adventurous, you can try my Poolish pizza dough recipe for an even more flavorful and moist pizza dough.
Ideal Pizza Styles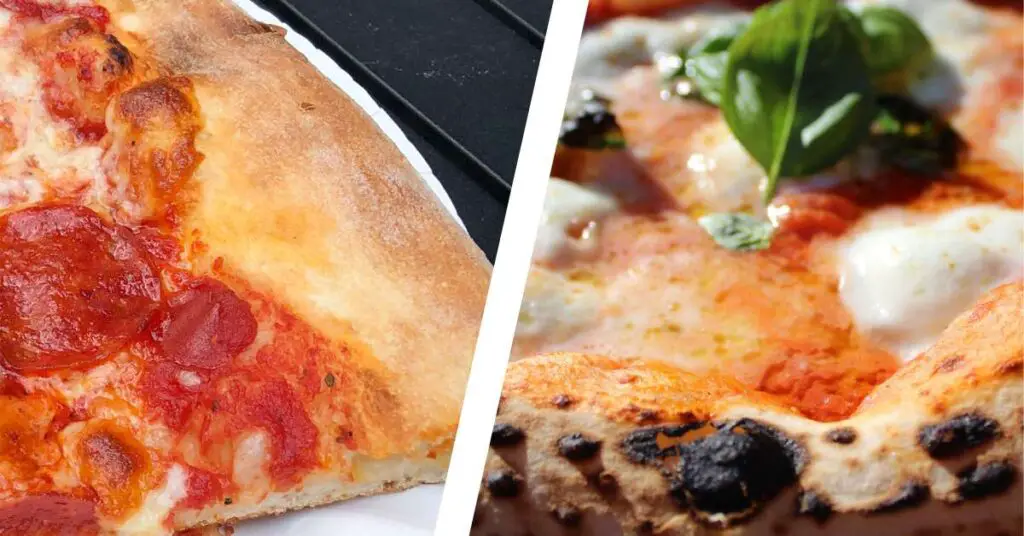 The Ooni Koda 12 is an extremely versatile pizza oven, so it excels at making a wide variety of pizza styles. For this oven, I recommend the following pizza styles based on these different temperature settings.
| Style | Temperature | Duration |
| --- | --- | --- |
| Neapolitan | 850-1000F | 60-90 seconds |
| New York | 650-750F | 7-10 minutes |
| Detroit | 425-550F | 10-15 minutes |
| Sicilian | 425-550F | 10-15 minutes |
Note: Duration is simply an estimate, your experience will vary.
Best Ooni Koda 12 Accessories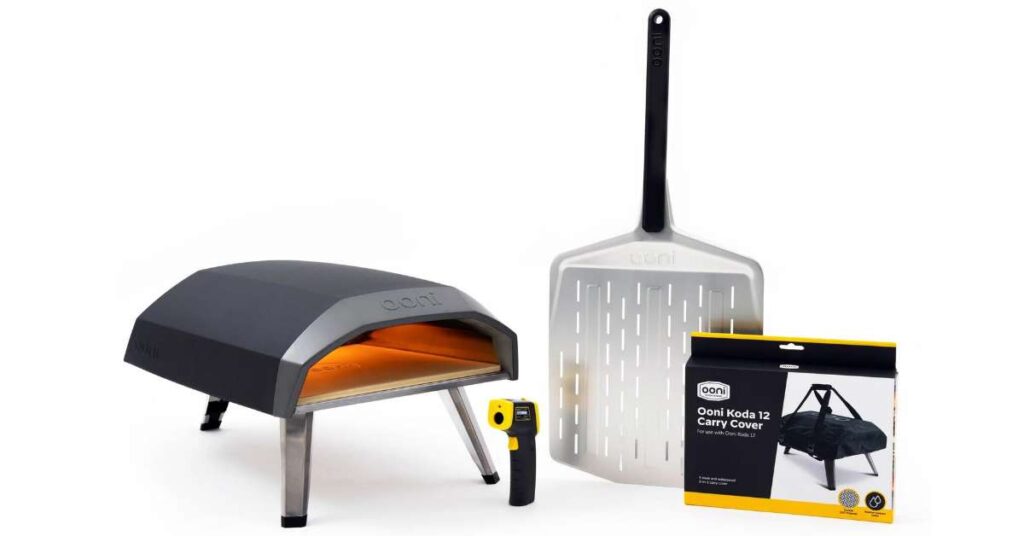 Ooni offers a wide range of high-quality accessories for their pizza ovens, like digital kitchen scales and pizza peels. However, some of these accessories are merely useful while others are absolutely essential.
Essential Accessories:
Pizza Peel: In order to get a pizza into a pizza oven, you need a pizza peel. This isn't unique to Ooni pizza ovens, nor does it require an Ooni brand pizza peel to work. That said, the Ooni pizza peels are of great quality and fit perfectly in the chamber of the oven, making it easy to launch a pizza. I recommend the 12 inch perforated metal peel for use with the Ooni Koda 12, but if you decide to buy a non-Ooni peel, just make sure it fits within the opening of the oven.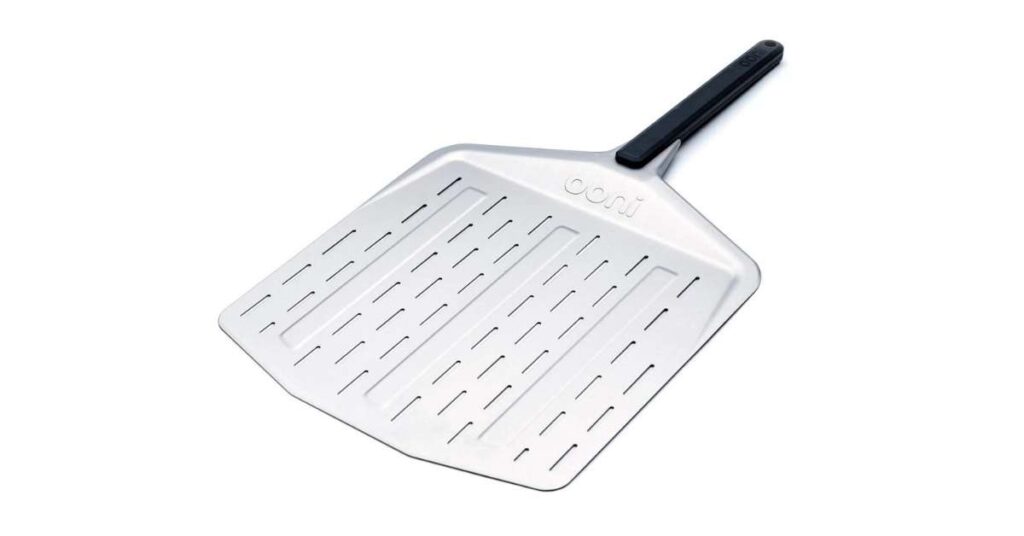 Useful Accessories:
Digital Scale: A digital scale lets you measure out ingredients by weight rather than by volume. This is not only quicker and more convenient than using cups and spoons, it also leads to much more consistent results from one batch of dough or ingredients to the next. Of course, you can keep using cups and spoons if you prefer, but I highly recommend picking up a digital scale—it really makes everything so much easier.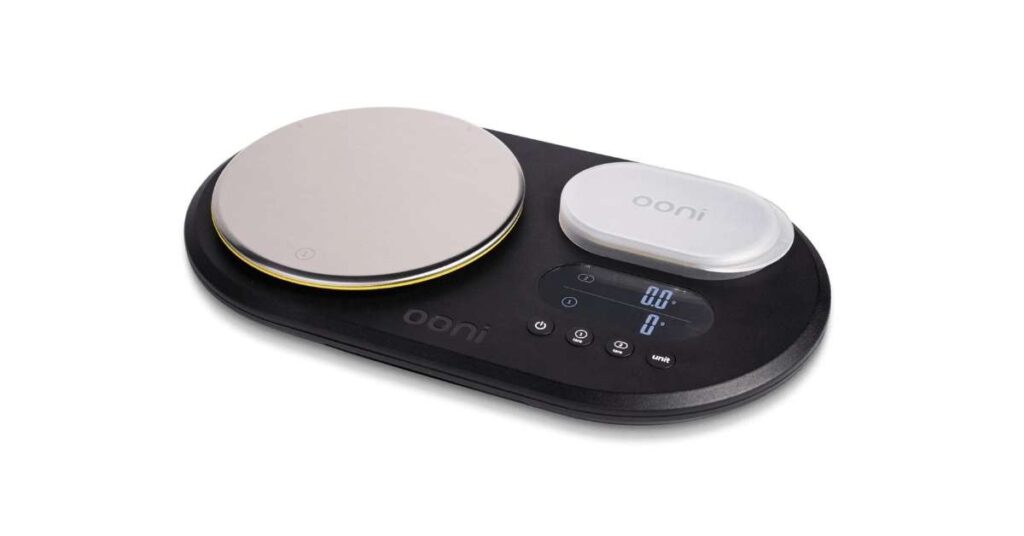 Turning Peel: A turning peel is different from a regular pizza peel, which is used to get the pizza in and out of the oven. By contrast, a turning peel is a smaller (usually round) peel used only to rotate the pizza within the oven while it's cooking. This is usually done once per pizza to ensure an even cook on both sides. If you don't have/want a turning peel, you can just as easily take the pizza out of the oven using a regular pizza peel and rotate it manually. But if you find yourself making pizza frequently, you might want to pick up a turning peel for the sake of convenience.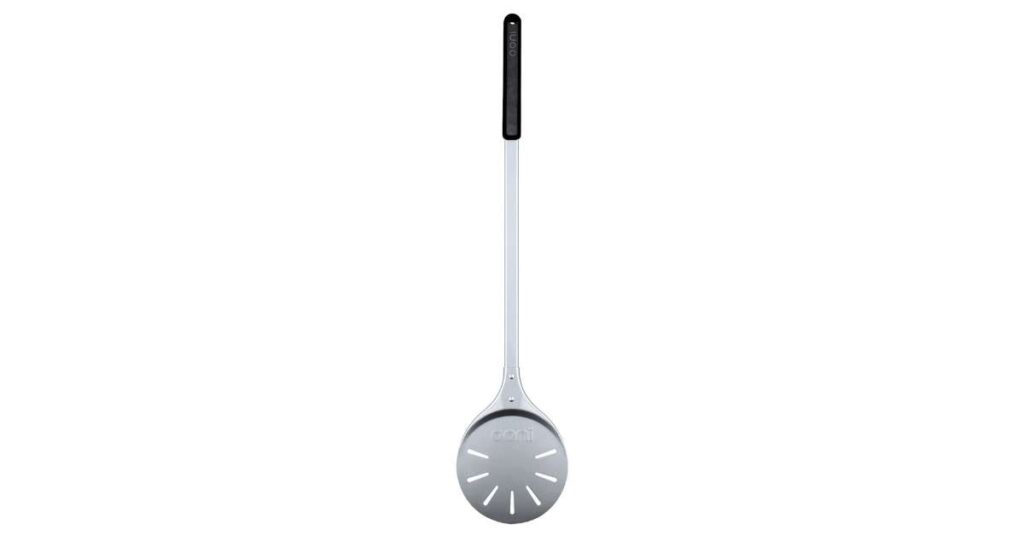 Infrared Thermometer: For the most part, Ooni pizza ovens are very easy to preheat—simply light it up, let it heat up for 15-20 minutes, then launch your pizza. But depending on different variables like the weather or time of day, it can sometimes take shorter or longer to reach your oven's maximum temperature. This is when an infrared thermometer comes in handy: just point the laser at the pizza oven's baking surface, and when the temperature is to your liking, you're ready to start cooking. This isn't essential, but it's incredibly useful for all sorts of cooking purposes, including making pizza.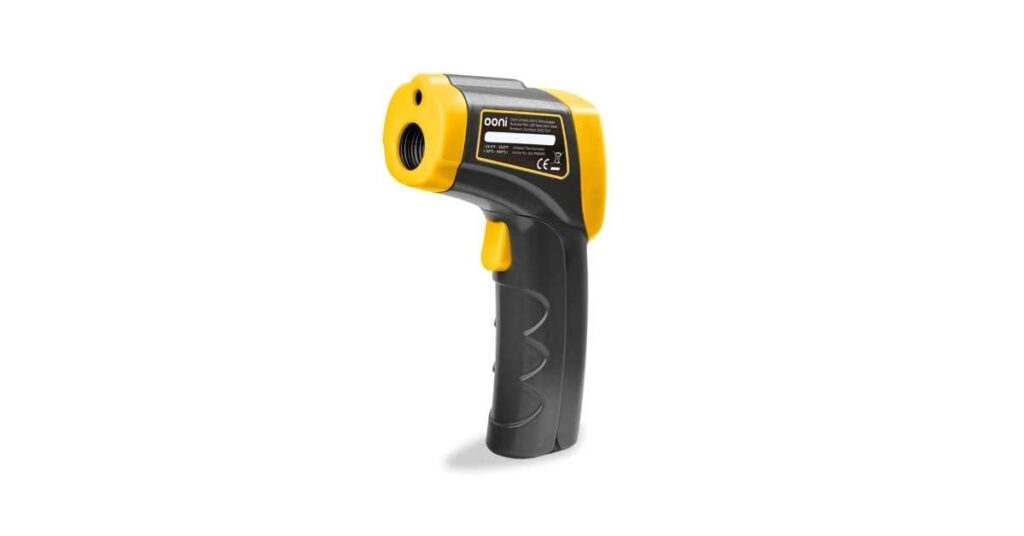 Tip: Other than a regular pizza peel (which you absolutely need to use a pizza oven), everything else is a matter of preference and convenience. These are just a few useful accessories that I use on a regular basis, but you can find a list of many more (including high-quality ingredients) in my post here.
Ooni Koda 12 Alternatives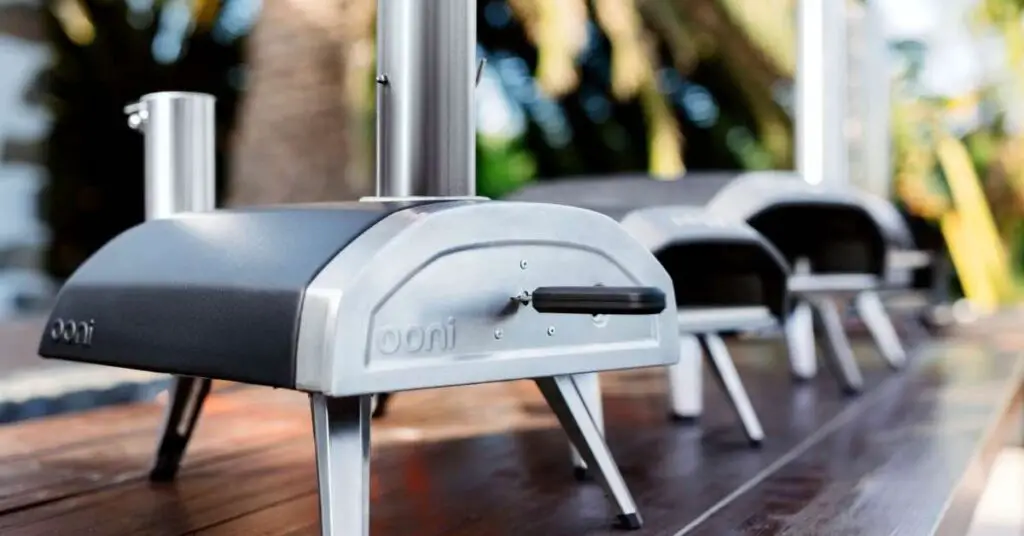 I have no problem recommending the Ooni Koda 12 to most people out there, but if for whatever reason you'd prefer an alternative, consider the following:
Ooni Karu 12: This is another Ooni 12 inch pizza oven that can cook with wood/charcoal right out of the box—as well as propane with an optional attachment. I really like this pizza oven, especially for people looking for a compact multi-fuel pizza oven. This oven is priced at $399, but if you want propane as well it will push the price up to $499.
Gozney Roccbox: The Roccbox is a hugely popular 12 inch multi-fuel pizza oven that can burn wood, propane (or both) right out of the box (depending on which option you choose at purchase). It's a great propane oven, but (in my opinion) not as good with wood burning as the Ooni options due to the lack of a chimney. That said, the Gozney Roccbox is an excellent pizza oven that sells for $499 for propane or $599 for propane and wood.
Ooni Koda 16: The Koda 16 is the perfect choice for those who love the features of the Ooni Koda 12 but simply want a bigger oven for bigger pizza. Priced at $599, the Ooni Koda 16 has all of the features of the smaller Koda 12 but with the addition of an "L-Shaped" propane burner that ensures an even cook with only a quarter-turn rotation required per pizza.
Related Questions:
Is Ooni Koda 12 Big Enough?
The Ooni Koda 12 has a 13×13 inch baking surface, making it just big enough for a 12 inch pizza—about the size of a standard Neapolitan pizza. If you think this is too small for you, you should consider the Ooni Koda 16 with its larger 16×16 inch baking surface.
Why Won't My Ooni Koda 12 Stay Lit?
If your Ooni Koda won't stay lit, it's usually either because your propane tank is low on gas or the hose and gas regulator aren't fully attached. If this doesn't work, check that the "piezo" (electric charge igniter) is properly aligned over the propane burner in the back.
Can I Use The Ooni Koda 12 Indoors?
Is The Ooni Koda 12 Worth It?
The Ooni Koda 12 is worth it for anyone looking for a premium-quality 12 inch propane pizza oven. This pizza oven reaches temperatures of 950F in only 15 minutes using a convenient and fuel efficient propane burner.
What Else Can I Cook In The Ooni Koda 12?
The Ooni Koda 12 is just as good at cooking roasts and vegetables as it is cooking pizza. As long as you have the right cookware (like cast iron griddles), you can cook anything that will fit through the front door of the oven. Note: never cook anything but pizza or bread directly on the baking stone.
Can You Use Wood In The Ooni Koda 12?
The Ooni Koda 12 is a propane exclusive pizza oven, meaning you can't use wood or charcoal with it. However, if you're interested in an inexpensive wood-fired pizza oven, check out the wood pellet fueled Ooni Fyra 12 for great performance and price.
Ooni Koda 12 Pizza Oven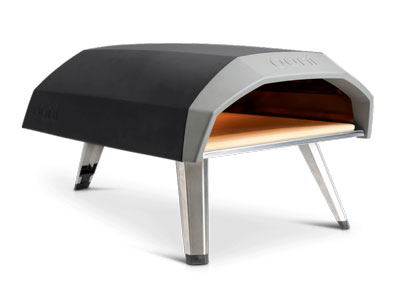 Heats up in only 15 minutes