Solo Pi Outdoor Pizza Oven Review: Great Performance, But A Little Expensive
Known mostly for their fire pits and patio accessories, Solo Stove has recently forayed into the pizza oven game with the Solo Pi outdoor pizza oven. Who can blame them? Sales of portable outdoor pizza ovens have gone through the roof in recent years.
The Solo Pi outdoor pizza oven comes in several bundle packages that include different accessories. These packages range in price from $649 for the base Solo Pi bundle up to $1199 for the full package with all accessories and dual fuel support.
So, is the Solo Pi a good pizza oven? Yes, based on the experience of me and my reviewing team, the Solo Pi performs extremely well and features excellent build quality. We love the way this oven looks and feels, from the first unboxing to the last pizza. The folks at Solo Stove seem to have spared no expense when designing their premier pizza oven, which says a lot about them as a company.
But is the Solo Pi worth the money? The answer, unfortunately, is no. With so many well-designed and well-built pizza ovens on the market that perform just as well for less money, it's hard to recommend the Solo Pi over many of its competitors. Check out the less expensive and feature-packed Ooni Karu 12G before making a final decision on the Solo Pi.
That's purely a financial argument, though, and there's more to a pizza oven than how much it costs. Let's get into what the Solo Pi is all about and what makes it unique in the world of portable outdoor pizza ovens.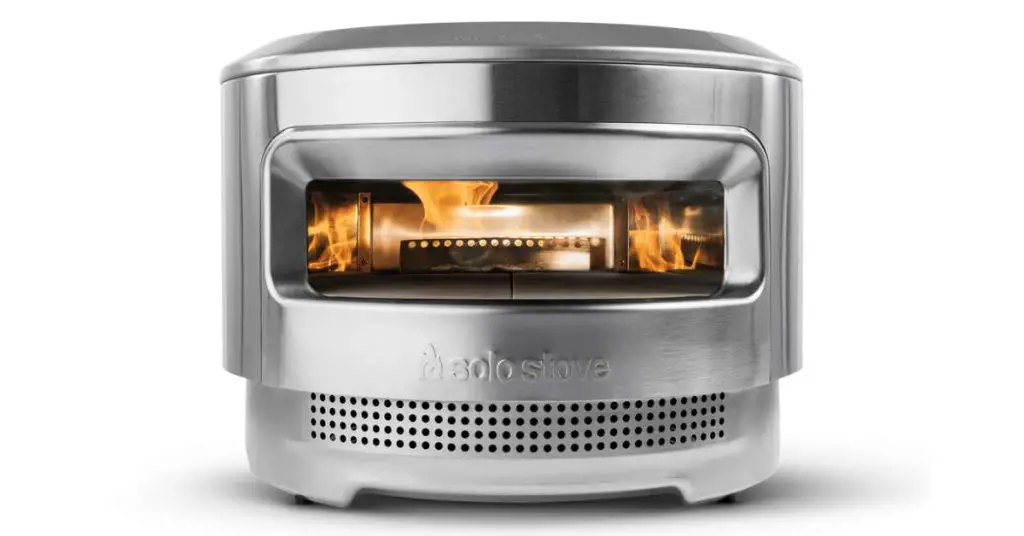 Solo Pi Assembly Is Dead Simple
Pizza ovens are generally pretty easy to set up these days, and the Solo Pi is no exception. You basically just take it out of the box, insert the baking stone, and you're ready to go. 
Some pizza ovens come with the baking stone already slotted in, but I actually appreciate when the stone is packaged separately to avoid cracks during shipping. These small details are definitely a plus for the Solo Pi.
Related Post: Ooni vs Solo Pi: Each Ooni Model Compared
Wood-Only vs Dual-Fuel
Like most multi-fuel pizza ovens, the Solo Pi comes in two variations: wood and dual fuel. If you buy the base model for the lowest price, you'll only be able to cook with wood. But if you pay up for the dual-fuel option, you'll also receive a propane burner attachment which can be swapped out with the wood burner fairly easily. 
The wood burner is basically just a door that slots into the back of the Solo Pi. When you get the propane burner, it's just a matter of inserting it into the space where the wood burner is and screwing it on. 
This is not unique to the Solo Pi, but I appreciate that the screws can be screwed in easily by hand and don't require a screwdriver. Many of the budget pizza ovens I've demoed just use regular philips head screws which tend to strip and rust over time. This is another plus on the side of the Solo Pi pizza oven that makes it easy and enjoyable to use.
Solo Pi pizza oven is thoughtfully designed
We've already touched on several important design aspects of the Solo Pi pizza, but let's get into the basic tech specs before diving right into the nitty gritty on performance, build-quality, and my overall thoughts.
Basic Tech Specs
External Size: 20.5 inches across (52.07cm)
External Height: 15.2 inches (38.42cm)
Unboxed Weight: 30.5 pounds (13.83kg) 
Baking Stone Thickness: 0.5 inches (13mm)
Max Pizza Size: 12 inches
Before we get into my actual experience with the Solo Pi, let's talk about these tech specs a little bit.
Solo Pi is well designed: ✅
Solo Pi is expensive for a 12 inch oven: ❌
The first number that leaps off the page to me is the 12 inch maximum pizza size. As far as pizza ovens go, 12 inches is about the standard. Yes, there are plenty of 16 inch pizza oven models out there, but 12 inches is what you expect from your average portable pizza oven.
What isn't normal is the price—paying nearly $650 for a base model 12 inch pizza oven is (in my opinion) extraordinarily expensive. In order for the whole thing to be worth it, the Solo Pi now has to be among the best performing pizza ovens I've ever used, which is a tall order for any pizza oven.
On the positive side, I really like the 13mm (½ inch) baking stone. Your average portable pizza oven typically comes with a 10mm baking stone or less, which is generally more than enough for retaining heat and producing a nicely browned and charred pizza crust.
The 13mm baking stone on the Solo Pi helps give it an extra bump in performance and heat retention. Compared to other similar pizza ovens, the Solo Pi's baking stone is thicker than about half of the Ooni pizza oven lineup, but not quite as thick as the Gozney Roccbox. 
This extra thickness is a nice feature, but not a deal breaker by any means either.
The Solo Pi is a high-performance pizza oven
Cutting right to the chase, the Solo Pi performs as well as you'd expect from a premium quality outdoor pizza oven. Considering its lofty price tag, the Solo Pi has at least passed its first and most basic test:
As with any pizza oven I review, by "performs well", I mean it heats up to the maximum temperature within the time range specified by the manufacturer. I also look to see if the oven can maintain a heat balance between the ambient air and baking stone that results in an evenly cooked pizza.
Solo Stove says the Solo Pi takes about 15 minutes to reach the maximum temperature, but in reality it took closer to 25 minutes to break 900F. This is perfectly acceptable to me, and to be honest, no pizza oven I've ever used reaches its maximum temperature in the times listed—it always takes longer.
This is because pizza oven times and temperatures are simply averages extracted from laboratory-like testing facilities that can't be reproduced at home. That's especially true if you live in a cold climate like I do. This is why I generally avoid getting into preheating times specifics because you won't get the same results at home.
Depending on the time of year, time of day, local climate, humidity, and fuel sources, your actual preheat times and max temperatures can vary greatly. So if a pizza oven I test comes anywhere in the range, I consider it to be accurately advertised. The Solo Pi fits the bill here with no surprises. 
If you decide to go with the Solo Pi, you can expect it to reach a maximum temperature around 900F within about 25-30 minutes. You can also expect the Solo Pi to retain and distribute this heat efficiently enough for evenly cooked crust and toppings.
Solo Pi Features & Build-Quality
The Solo Pi is well engineered and built from high-quality materials, just like you'd expect from a premium brand like Solo Stove (especially at these prices). 
At only 30.5 lbs, the Solo Pi is actually one of the lighter portable pizza ovens out there. No, it's not nearly as light as other pizza ovens (like the 22lb Ooni Koda 12), but it certainly doesn't feel heavy to carry it from point A to B. It doesn't feel nearly as heavy as the Roccbox, for example.
Will you be taking the Solo Pi up a hiking trail or camping with you anytime soon? Probably not…but who actually does that anyways?
"Demi-Dome" Interior Chamber Design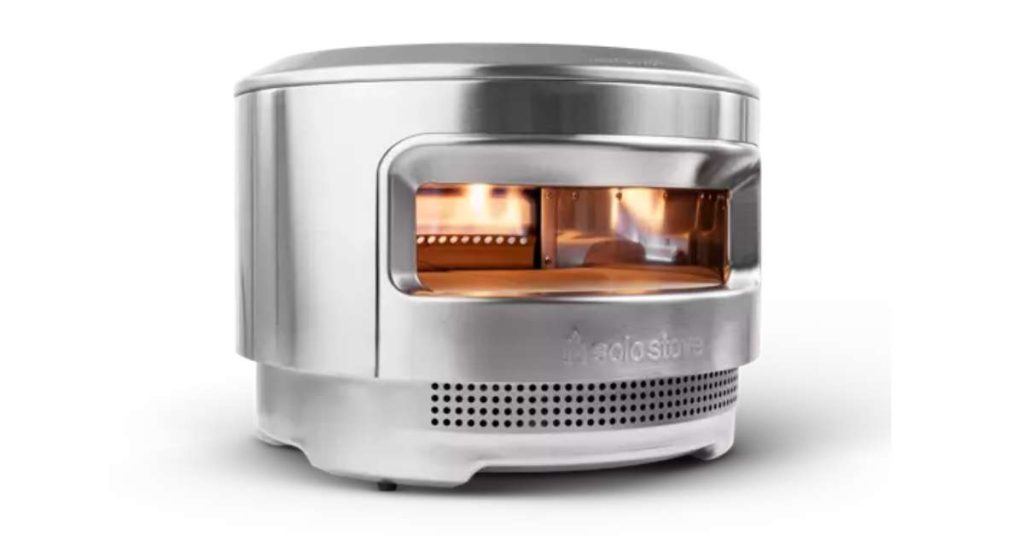 The interior ceiling of the Solo Pi has a unique dome-like design which helps with heat retention and distribution. 
Good heat distribution from above: ✅
You won't see this from just looking at the pictures, but you can see it clearly if you look directly in and up towards the ceiling of the oven. You can also feel the demi-dome shape with your hands if you reach in and feel it (while it's off, of course!).
It's not exactly like a true dome you'd find in a classic brick pizza oven, or even the Gozney Dome. In fact, it's more of a slight bevel than a dome—I guess that's why they call it a "demi-dome"? 
In any case, this demi-dome design works extremely well at reflecting heat, and to be honest, I don't really expect a dome shaped ceiling in any portable pizza oven. This is another plus for the Solo Pi and does help justify the higher price (more on this later).
The Solo Pi has great airflow for not having a chimney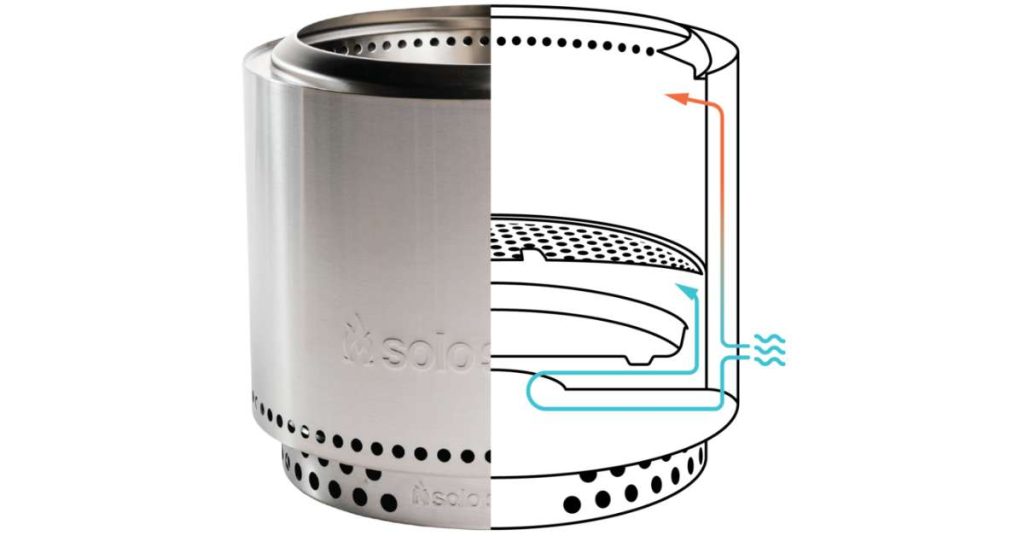 If you buy the base Solo Pi pizza oven model, you're getting a wood-fired pizza oven. Most wood-fired pizza ovens have a chimney, while the Solo Pi pizza oven doesn't. Is this a good thing or a missing feature? The truth is, it's mostly positive but still a mixed bag of results.
Great airflow and little smoke thanks to upper and lower "burn holes": ✅
No chimney to direct heat and smoke away from the oven (and your face): ❌
A pizza oven chimney serves two purposes: it generates the airflow necessary for proper wood-fired cooking, and it directs heat and smoke away from the oven and whoever is using it. Generally speaking, a chimney isn't that important when using propane.
So, the Solo Pi incorporates the same "smoke free" burn hole design and technology used in its fire pits, which isn't surprising since this is part of how Solo Stove has made a name for itself. 
Basically, the Solo Pi has a set of "burn holes" on the bottom and top of the oven that creates the airflow necessary to keep the wood fire burning efficiently. The top holes are designed to prevent smoke, thereby avoiding the need for a chimney.
I've seen this design in other pizza ovens before, and for the most part it works pretty well. But, despite claims of being completely "smoke free", I usually experience some smoke when using the Solo Pi, even if it is quite a bit less than a traditional pizza oven.
Personally, I'm not completely sold on this design because it doesn't do the basic job of directing the hottest air coming out of the oven as far away from your face as possible when using it. Instead, the hot air is just wafting out of the top of the Solo Pi. People know not to get near a chimney, but not so much random holes on the top of an oven unless they understand the design.
But do these "burn holes" work well enough to make an excellent pizza? Absolutely, so any complaints here are just my personal preference.
The Solo Pi has some really cool looking aesthetics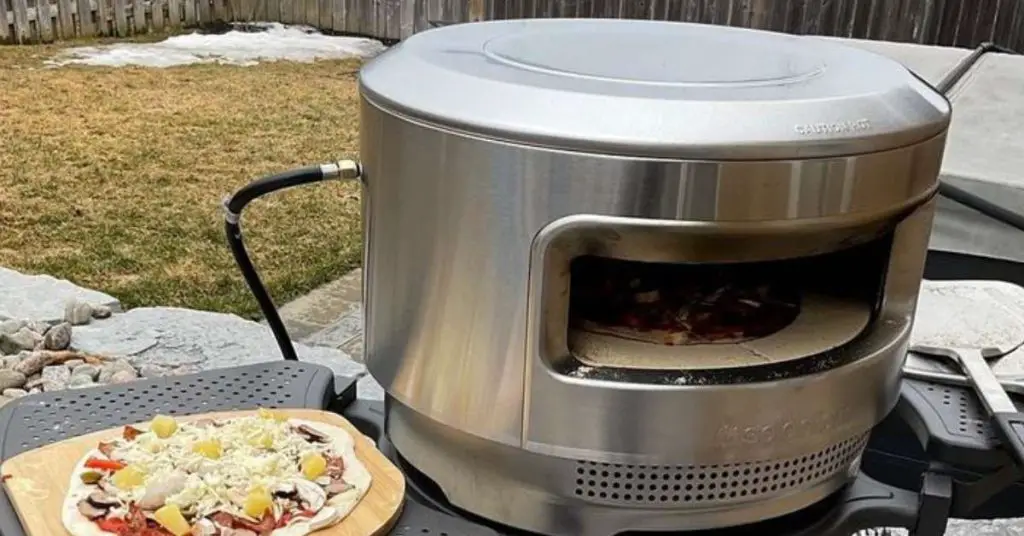 When it comes to looks, it shouldn't really be a factor when reviewing a pizza oven. But I think we can all admit that it does matter, at least a little bit.
Solo Pi looks cool in your backyard: ✅
My first impression of the Solo Pi stove is that it looks a little like Soviet retro space technology from the 50s, thanks to its round stainless steel chrome design. This thing looks like it could be landing on the surface of Venus but decided to be a pizza oven at the last minute instead.
This unique look is clearly one of the reasons why the Solo Pi has turned into such a hit with the pizza making community. Several commenters have compared the Solo Pi to the Gozney Dome, but I don't know if I necessarily agree. Yes, both are round, but the Gozney Dome and the Solo Pi have an entirely different feature set and price points.
I don't like round baking stones, but this one is OK
If you've been around this blog for a while, you'll know I generally don't like round baking surfaces. In my opinion, it's just wasted space and is often justified by some kind of "rotation" mechanism that saves you a few seconds from having to turn it with a peel.
The Breville Pizzaiolo indoor pizza oven is an example of a pizza oven that introduced a round baking surface into a square unit. I really don't know why they did this.
The Solo Pi has a round baking surface, but I'm giving it a pass because the entire pizza oven is round, so technically there isn't any "wasted" corner space.
Sure, it would be nice to have extra room if the entire oven was square, but then the entire aesthetic appeal of it would be reduced, so I get it.
Fuel Sources
The Solo Pi pizza oven can cook with wood right out of the box or with propane if you purchase a more expensive bundle. You'll pay about a 130$ more for the dual-fuel option. This is pretty standard with all portable multi-fuel pizza ovens—it comes with one type of burner then you pay for the other.
The propane burner works exactly as advertised, and frankly I found it much easier to use than the traditional wood burner. The propane option preheated the fastest as well, but not by a huge margin compared to wood.
Propane is by far the most convenient option and doesn't have much of a learning curve, so I recommend paying up for it. 
Relatively Small Fuel Tray
Like a lot of portable wood-fired pizza ovens, the fuel tray in the Solo Pi is pretty small for my liking. It isn't a problem in terms of airflow, as there are some strategically placed holes in the tray itself, but it makes slotting wood into it difficult. 
You'll need to keep this in mind when sourcing wood for your Solo Pi, because you can only fit a few big chunks of wood in it at a time. Smaller pieces of wood kindling are ideal, but you'll need to be careful to not overstuff the tray or you'll impede airflow and your oven won't burn as hot.
I found I had to refill the fuel tray with more wood a couple of times during my time using the Solo Pi, but this isn't super unusual with most portable wood-fired pizza ovens. I'm sure with time, I'll figure out the sweet spot in terms of wood chunk size and quantity, but keep in mind that I'm more or less an expert with this stuff, so it could take you longer to master.
Most people will end up preferring the convenience of propane
I'll say this again—for 99% of people out there, propane is going to be the better fuel option, unless you really know what you're doing or are committed to learning the craft of wood-fired cooking. For this reason, you should really consider getting the propane burner, so you at least have some options when you don't feel like dealing with wood. 
No, propane won't get you the wood-fired taste of authentic Neapolitan pizza, but it's not the end all be all either. Propane is much easier to use and much quicker to get up and running. 
Solo Pi pizza oven is a little on the pricey side
So, this is the part of the review where the Solo Pi goes from great to not so good. The Solo Pi pizza oven lives up to all its hype and fanfare, but it's just too expensive for what it is and what it does.
Solo Pi is more expensive than other ovens with similar features: ❌
The least expensive Solo Pi pizza oven costs $649.99 (sales not included), and that comes with the wood burner, a pizza peel, a turning peel, an infrared thermometer, a pizza cutter, and a carrying case.
To be clear, it's quite generous of Solo Stove to include so many accessories with their pizza ovens, especially the pizza peel which is required for making pizza in any pizza oven. Most pizza oven brands (like Ooni) only include the pizza oven itself in the box and everything else is sold separately.
That said, $649 is a lot of money for a 12 inch pizza that can only burn wood, even with all the extras. If you want to get the propane burner as well (which I think everyone should), the price jumps by about $130 dollars to $879.99.
Solo Pi vs Ooni Karu 16 & Ooni Karu 12G
To put this in perspective, for about the same price ($899) you can get the Ooni Karu 16 with a gas burner which is much bigger (16 inch baking surface vs 12), and has more features including a built-in thermometer and a chimney. It's hard to justify paying this much for a pizza oven when you can get an objectively better one for the same price elsewhere.
This isn't to say the Solo Pi is overpriced—I'm sure the design choices they made completely justify the cost. I'm not accusing Solo Stove of price gouging in any way. But at the end of the day, all that matters is performance, and the Solo Pi doesn't perform better than other less expensive options.
All that means is if you want to buy the Solo Pi pizza oven, make sure you have good reasons for it. In my opinion, just thinking it looks cool and appreciating the smokeless design is a good enough reason if you can afford it. 
If you're on a budget and really want a fully-featured multi-fuel pizza oven, check out the Ooni Karu 12G which will set you back $529 for all the features and burner types. 
And if you're on a super-tight budget and don't care about bells and whistles, check out the older Ooni Karu 12 model which is currently only $299 for the base unit.
Final Thoughts
The Solo Pi pizza oven by Solo Stove is a great pizza oven that I wouldn't mind using as my daily driver if it came to it, but it's a bit too expensive for me to recommend over Ooni or Gozney options.
I have noticed that the Solo Pi seems to be one of those pizza ovens that's constantly on sale, so the pricing can be a little deceiving. For example, right now the $649 base model bundle is being advertised as $499. I think this pricing is designed to make people think this is a limited time offer, when in reality it's always going to cost $499. 
I'm not a huge fan of misleading consumers when it comes to pricing, but it's still worth noting that you probably won't pay "full price" if you buy the Solo Pi. That said, it's still a bit more expensive than other similar pizza ovens that are less expensive, like the Ooni Karu 16 and Ooni Karu 12G I mentioned earlier. Be sure to check out both of those pizza ovens before deciding on the Solo Pi. 
But, if you can afford the Solo Pi and like the way it looks, you'll be very happy with its performance. It's a great pizza oven, I just wish it wasn't so expensive for what it is.
Key Review Facts
Solo Stove, known for fire pits and patio accessories, has entered the pizza oven market with the Solo Pi.
The Solo Pi comes in several bundle packages, ranging from $649 to $1199, depending on the included accessories and fuel support.
The Solo Pi performs well and has excellent build quality.
Despite its quality, the Solo Pi is considered expensive compared to other well-performing pizza ovens in the market.
The Solo Pi is easy to assemble, requiring only the baking stone to be inserted after unboxing.
The Solo Pi comes in two variations: wood and dual fuel. The dual-fuel option includes a propane burner attachment.
The oven is compact and portable, weighing only 30.5 lbs.
The Solo Pi can reach a maximum temperature around 900F within about 25-30 minutes.
The Solo Pi is built from high-quality materials.
The interior ceiling of the Solo Pi has a unique demi-dome design which helps with heat retention and distribution.
The Solo Pi does not have a chimney but incorporates "burn holes" for efficient burning and smoke reduction.
The Solo Pi has a unique aesthetic, resembling retro space technology.
The least expensive Solo Pi pizza oven costs $649.99 and includes a wood burner, a pizza peel, a turning peel, an infrared thermometer, a pizza cutter, and a carrying case.
The price jumps to $879.99 if you want to include the propane burner.
Despite its performance, the Solo Pi is considered expensive compared to other similar pizza ovens, such as the Ooni Karu 16 and Ooni Karu 12G.
The Solo Pi is often on sale, so the listed price may be higher than the actual selling price.
Despite its price, if you like the Solo Pi's look and can afford it, you'll be happy with its performance.
Solo Pi Outdoor Pizza Oven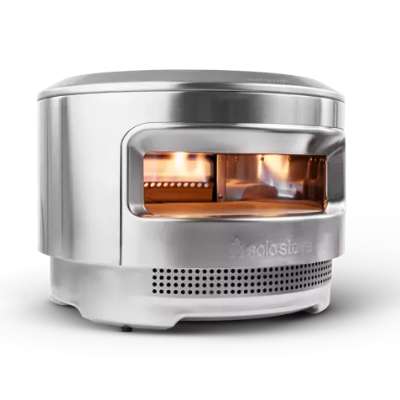 The Solo Pi oven by Solo Stove is a 12 inch multi-fuel pizza oven with a unique round form factor. Some of its standout features include a "demi-dome" ceiling for improved heat distribution on top, and an innovative series of "burn holes" that allow for a "smokeless" wood-fired cooking experience.
Good heat distribution and fast preheat times
Price is very expensive for a 12 inch oven
Innovative chimney-less airflow design
Summary
The Solo Pi pizza oven is carefully engineered and thoughtfully designed for those who understand the ideal conditions for making pizza. The one flaw of the Solo Pi is price: it's significantly more expensive than similar Ooni models with the same (or more) features. But if you can get it on sale, the Solo Pi looks great and won't dissapoint.
Related Questions
Why is the top of my pizza overcooked while the bottom is still undercooked?
This is a common problem with portable pizza ovens that is easily fixed by adjusting the flame. You want to crank the flame up high while preheating so the baking stone gets nice and hot, but when you slide in your pizza you should turn it down low. This will allow the crust to cook fully while not burning the top of the crust and toppings with a crazy big flame.