Gozney Dome Review: More Than Just A Pizza Oven
The Gozney Dome has been on the market for a couple of years now, and during that time we've had a chance to use and abuse it to its full capabilities. This review will tell you exactly what we love and don't love about the Dome.
In a nutshell? The Gozney Dome is a fantastic pizza oven—if you can afford it. This oven isn't just about making great pizza, it's a lifestyle piece that's designed to be the focal point of your outdoor space, as well as cook great pizza. We recommend the Dome to our clients looking for the most extravagant pizza oven experience.
The Dome also sports several unique features not found on other pizza ovens (like an accessory port and a steam injector), as well as the amazing heat retention Gozney ovens are known for.
If you've heard enough, you can learn more about purchasing options on our shop page. Expect to spend about $2,000 when it's all said and done. Otherwise, keep reading for our in-depth Gozney Dome review below.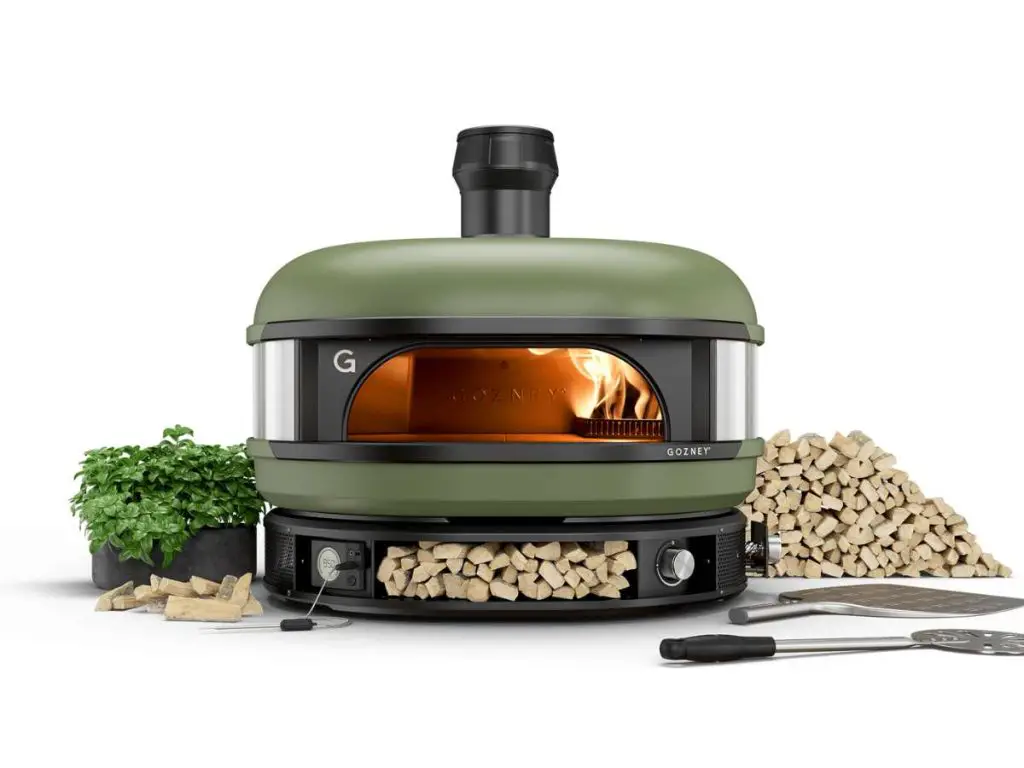 What is the Gozney Dome Pizza Oven?
The Dome is Gozney's second major foray into the domestic pizza oven market. It comes on the heels of the well-known (and widely acclaimed) Gozney Roccbox, a portable 12 inch pizza oven that's been on the market for several years now.
The Dome is a huge departure from the Roccbox in several important ways. For one, the Dome is absolutely massive with a 18.5 x 21.65 inch baking surface. That's room enough for a large 16 inch pizza with room to spare. You can even cook multiple smaller pizzas at once in the Dome, which is rare in the pre-built pizza oven market.
The Gozney Dome is also too large to be considered portable, which sets it apart from other popular pizza ovens like the Roccbox and Ooni. Sure, you can wheel it around on its stand, or move it from one spot to another—it isn't anchored down in any way. But the Dome is designed to more or less stay in one spot, similar to the traditional Domed wood-fired pizza oven (hence the name).
Important Features of the Gozney Dome
Like we mentioned earlier, the main feature of the Gozney Dome is its size. In a world where most portable pizza ovens are 16 x 16 inches at the maximum, the Dome exceeds that by quite a bit. That said, some of the space is taken up by the gas or wood burner, so it's not a 1-1 comparison. In any case, it's quite large.
The Dome is also fully multi-fuel, with support for propane, charcoal, traditional wood logs, and wood pellets. This makes it easy to switch between authentic wood-fired cooking, and quick and easy propane on those nights when you just want a pizza fast.
The Gozney Dome's large size makes it perfect for cooking things other than pizza. In fact, there's more than enough room to cook a large pizza as well as roasted meats or vegetables at the same time. This is a big perk when serving a crowd who is expecting more than just pizza.
Unique Extra Features:
The Dome also has some interesting features we don't typically see on pizza ovens, such as:
A digital thermometer with built-in meat probes.
Precise airflow regulation controls
A steam injector for bread and pizza crusts
An "accessory port" for expansions like a smoker and a pellet burner. 
Durable weather-proof ceramic bonded exterior shell.
Pros and Cons
The Good:
Incredible insulation
High performance
Huge baking surface
Amazing aesthetics
Durable, weather-proof
Makes great pizza
The Bad:
Very expensive, not accessible for most people
Not portable
Gozney Dome Initial Setup & Tech Specs
Unlike a traditional domed pizza oven, the Gozney Dome is more or less ready to use right out of the box. Simply unbox the main oven unit, attach the fuel burner of your choice, and you're ready to preheat and cook pizza.
Just be aware that the Dome is quite large and quite heavy, so you might need an assistant to help you get it out of the box and onto whatever stand or table you plan on keeping it. Don't drop it!
Gozney Dome Specs:
Weight (oven only): 128lb
External Dimensions:

26″ H x 24.9″ D x 28.9″ W
660.4mm H x 632.46mm D x 734.06mm W

Internal oven dimensions:

Width: 21.65″ (550mm)
Depth: 18.5″ (470mm)
Height: 7.48″ (190mm)

Pizza capacity: 1 x 16" Pizza, 2 x 12" inch pizzas, plus room for extras
Door size:

Width: 16.14″ (410mm)
Height: 4.72″ (120mm)
Who Do We Recommend to Buy the Gozney Dome?
When clients come to us asking about the Gozney Dome, they're usually impressed with its cool aesthetics, impressive performance, and massive baking surface size. It's hard to blame them, the Dome is a legitimately impressive pizza oven, both in terms of looks and performance.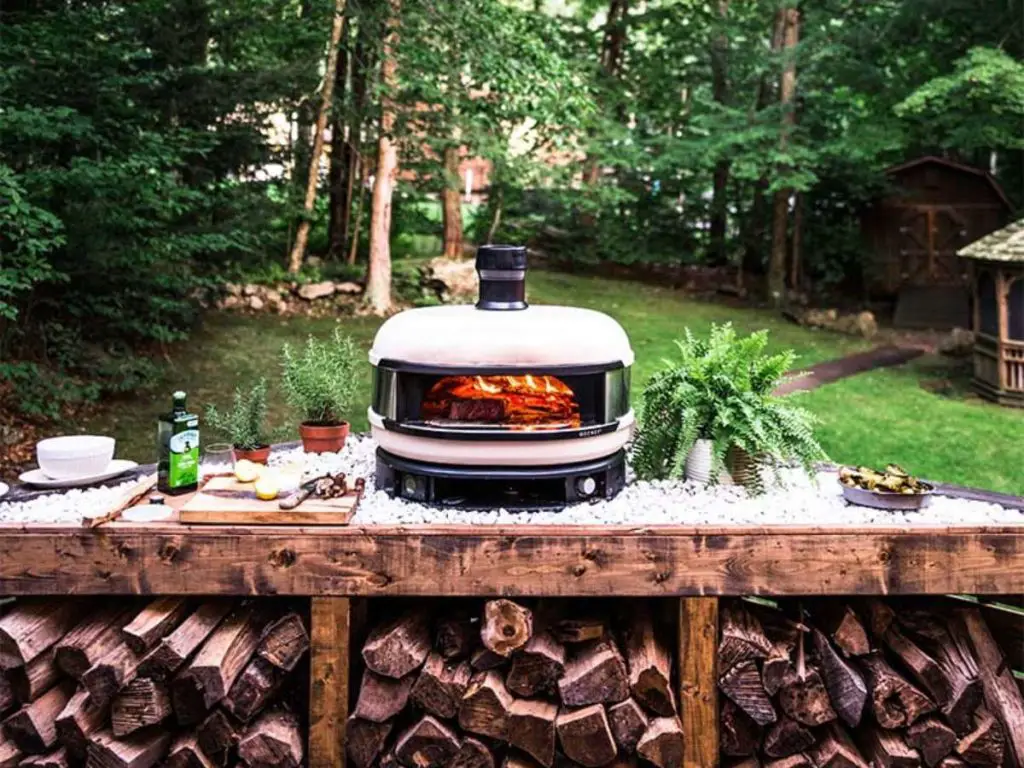 But that doesn't mean the Dome is necessarily the best choice for everyone. Let me explain what we mean by this.
When it comes to the Gozney Dome, the first question we ask clients is: what are your pizza goals? Are you primarily looking for a pizza oven to cook fantastic pizza, or do you want an impressive centerpiece for your backyard or patio? The answer to this question makes a big difference.
The Gozney Dome is the kind of pizza oven that will immediately draw a reaction from friends and family when they come to visit. It's large, sleek, modern-looking, and impossible to miss even at a glance.
That said, if you just want the best pizza oven possible for making pizza, there are much less expensive options out there. For example, the Ooni Karu 16 makes pizza just as good as the Dome, with a similar feature-set and a much lower price tag ($799). And while the Ooni Karu 16 certainly isn't ugly, it's more or less a standard looking portable pizza oven that you store away when not in use.
On the other hand, the Gozney Dome is just as much of a lifestyle statement as it is a traditional pizza oven. It's almost like investing in a piece of outdoor furniture that also makes pizza, which is reflected in its very high price tag. 
For this reason, we recommend the Dome primarily to those searching for a pizza oven that looks as great as it performs—at any price.
Final Thoughts & Recommendations
So, do we recommend the Gozney Dome pizza oven to our clients? Absolutely! We love the Dome, and it's a regular favorite of ours for functions and family get-togethers.
But if you're at all budget-conscious, you should probably stick with a traditional portable pizza oven for a much more reasonable price. That's not to say the Dome is overpriced, it isn't—it's just a bit overkill for someone who only wants to make great pizza and nothing more.
The Ooni Karu 16 is a great alternative, as is the 12 inch Ooni Karu 12G, both of which sell for a fraction of the price of the Dome. The wow-factor from these ovens comes from the pizza they make, not the oven itself.
Instead, buy the Gozney Dome if money isn't a huge concern for you and you want a pizza oven with as much sex-appeal as performance. We've even seen the Dome used successfully in some smaller-scale commercial environments, which is another fantastic use-case scenario.
Still unsure if the Dome is right for you? Fill out our free pizza oven recommendation form and our team will get back to you with a personalized recommendation including a full cost-breakdown and purchasing options.
Related Questions
Can I switch between wood and gas fuel types after purchasing the Dome?
No, once you choose a fuel type for the Dome, it's not interchangeable at a later date. It's important to select the fuel type that best suits your cooking preferences and needs when purchasing.
Is the Gozney Dome good for baking bread?
Yes, in fact, the Dome features a Steam Injector accessory. This creates more moisture in the oven when baking bread, resulting in a longer rise and even crispier crusts. It's an additional accessory that can be purchased to elevate your bread baking experience.