Gozney Dome vs Gozney Roccbox: Two Very Different Pizza Ovens Compared
Gozney carries two pizza ovens designed for domestic use—the Roccbox and the Dome. However, these two pizza ovens are quite distinct and cater to very different prospective buyers.
In a nutshell, the Gozney Roccbox is a portable 12 inch pizza oven priced at $499, while the Gozney Dome is a huge domed pizza oven priced at $1,900.
The Roccbox is aimed at budget users who just want to make good Neapolitan style pizza at home, while the Dome is better for those who don't care about price and want the most extravagant pizza oven possible.
For what it's worth, both the Roccbox and the Dome are excellent pizza ovens capable of making excellent pizza. They differ greatly in terms of size and features, which we'll get into in more detail below.
But to truly understand why they are so different, let's first talk about what makes each oven special.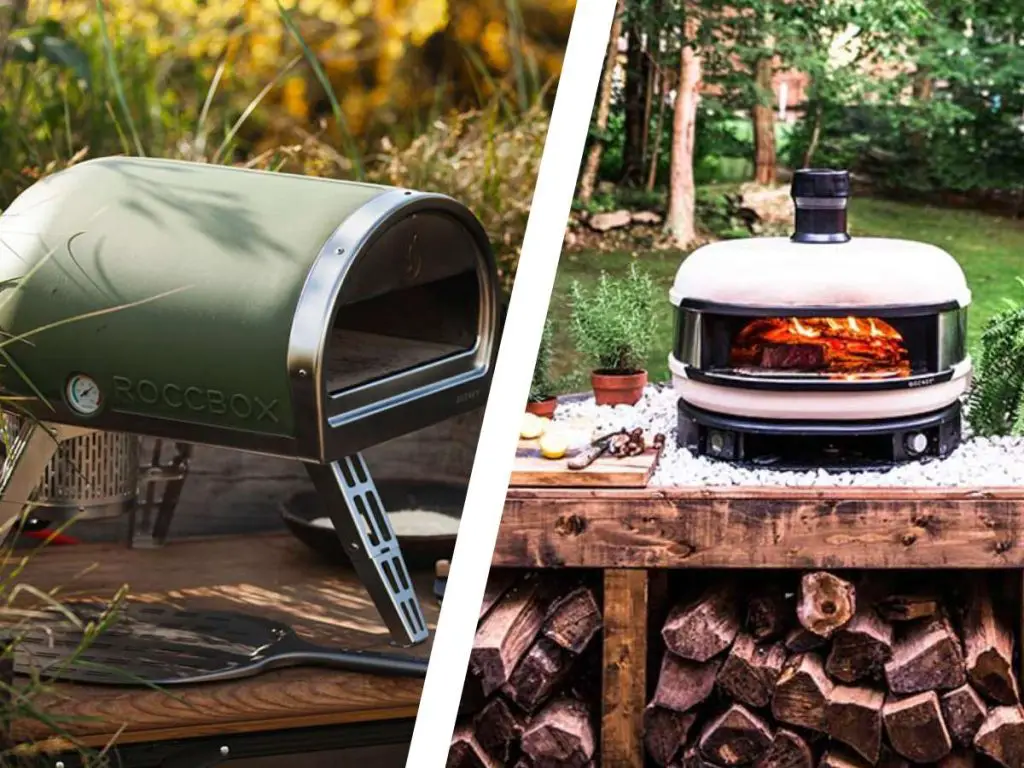 Gozney Roccbox Explained: High-Performance In A Small Package
The Gozney Roccbox is one of the most well recognized portable pizza ovens on the market today, known for its green silicone jacket and turtle-like appearance. It supports propane, wood, and charcoal.
But underneath that bright green exterior is a high-performance portable pizza oven that lives up to its reputation. Its gas and wood burners are efficient and its extra thick layers of insulation help it retain heat as good or better than most of its competitors out there, including Ooni.
Priced at $499, the Roccbox leans slightly on the pricier side for a 12 inch pizza oven, but it comes with a propane burner as standard which is what most people will want to use anyways. This is a nice touch because most of its competitors come with a wood burner as standard and only support propane with the purchase of a separate attachment.
The Roccbox is ideal for those with limited space and budgets who want to make authentic Neapolitan style pizza at home, using either wood or gas. It also comes with a pizza peel, which is typically sold separately with other models.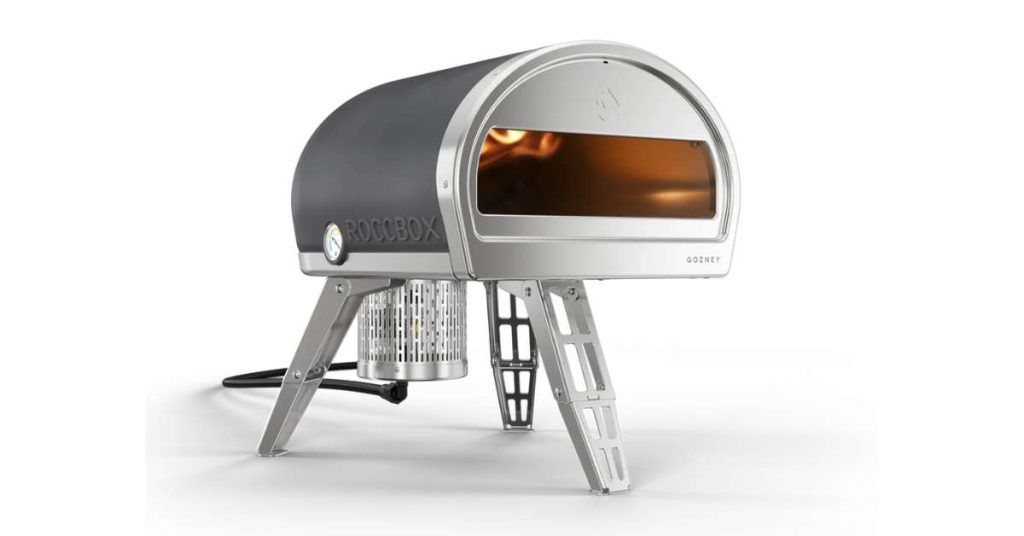 Gozney Dome Explained: A Pizza Oven & Lifestyle Statement
The Gozney Dome is more than just a pizza oven, it's a showpiece. It isn't nearly as well known as the Roccbox, but it remains a favorite among those with enough space (and money) to buy one. It works with propane, charcoal, wood, and wood pellets.
At first glance, the Dome is massive. While most pizza ovens feature either a 12 x 12 or a 16 x 16 inch baking surface, the Gozney Dome has a huge 18 x 26 inch baking stone perfect for making extra large pizzas with room to spare. We've even experimented with cooking multiple smaller pizzas at once in our Dome with great results.
The Gozney Dome also comes with all of the features you would expect in a premium pizza oven, plus a few extras we've never seen before. These include a digital thermometer with meat probes, a steam injector, and even an expansion port for hooking up an optional smoker and wood pellet burner.
But perhaps the biggest selling point of the Dome is its unique and highly appealing aesthetic qualities. In a lineup of pizza ovens, the Gozney Dome really stands apart from the rest, both due to its sheer size and its unique domed appearance. This oven is like a high-tech modern version of a traditional domed brick pizza oven.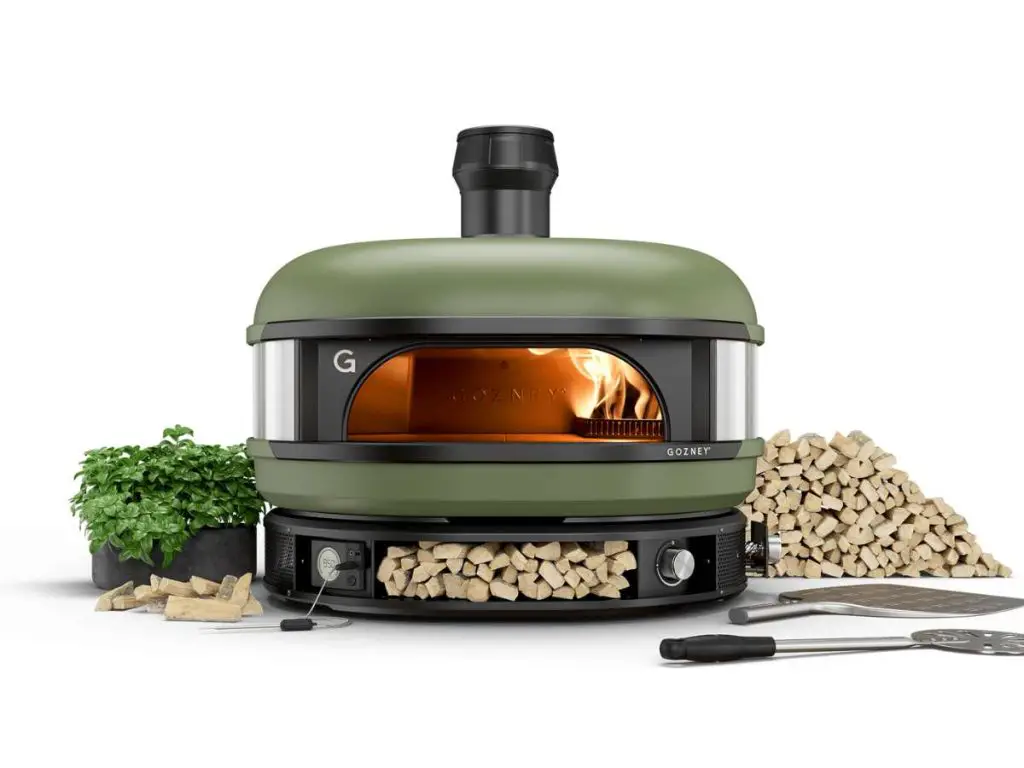 Roccbox vs Dome: Who Should Buy Which Pizza Oven & Why
Just looking at price alone, it's pretty clear that the Roccbox and the Dome are aimed at a different kind of buyer.
Let's get into what the cost of each pizza oven actually gets you for your money.
Gozney Dome
Priced at over $2,000 when you factor in taxes and accessories, the Gozney Dome is far from cheap. In fact, it's over twice as expensive as our current favorite premium portable pizza oven, the Ooni Karu 16 ($799), which itself is a bit of a splurge.
This is why in our pizza oven consulting business, we recommend the Dome for those who want more than just a pizza oven that makes great pizza. The Gozney Dome is a great choice for those who want a centerpiece for their backyard or patio, especially if they're working with a remodeling budget that goes beyond simple performance and function.
The Dome is the kind of home cooking appliance that will make your neighbors jealous, and the price reflects that. It's easily one of the best pizza ovens on the market in our experience, even if its size and extravagance is a bit impractical for most average home pizza makers.
Get the Dome if money isn't the most important factor in your purchase and you want something that looks as beautiful as it performs making pizza. As long as you can afford it, the Dome delivers in spades.
Gozney Roccbox
Priced at $499 for the base model, the Roccbox is a fraction of the price of the Gozney Dome. That said, it isn't exactly inexpensive either.
In fact, for a 12 inch pizza oven, the Roccbox is a bit pricey for what you're getting. That doesn't mean it's overpriced, it's just more expensive than other portable pizza ovens of the same size and with comparable features.
But in terms of performance, the Roccbox delivers, especially when using propane. As a wood-fired oven, the Roccbox works well, but its wood burner can be a challenge to operate sometimes. It's cramped, and inserting pieces of wood into the small slot is a chore over an extended cooking period.
In our pizza oven consulting business, we actually don't recommend the Roccbox very often outside of niche circumstances. That's because, as of 2023, there are pizza ovens that compete with it directly, and even surpass it in some cases. 
Most notably, the newly released Ooni Karu 12G sports almost all of the same features as the Roccbox with a newer, more fuel-efficient design and a lower price ($429). This is the pizza oven we recommend most often for those considering the Roccbox. 
When we do recommend the Roccbox, it's usually due to a specific use case scenario where its unique qualities are most beneficial. For example, a low-volume food truck or food stand that serves pizza. In this case, the incredible heat retention of the Roccbox makes it easy to serve one customer after another with little to no downtime between pizzas.
Contrast that with a normal pizza oven user, who will only ever make 1-2 pizzas at a time and will get little benefit from the extra heat retention.
But if you do have your eyes set on a Roccbox, for whatever reason, don't hesitate to buy one. It's a great pizza oven, and you won't be disappointed with the results. Just keep in mind that today there are better options out there for a better price.
Roccbox vs Dome Pros and Cons
Gozney Roccbox:
| Roccbox Pros | Roccbox Cons |
| --- | --- |
| Amazing heat retention | A little pricey for its size and features |
| Durable, weather resistant | Heavy for its size |
| Suited for small scale commercial settings | Hasn't been updated in years |
| Makes great pizza | |
| Multi-fuel support | |
Gozney Dome:
| Dome Pros | Dome Cons |
| --- | --- |
| Massive baking surface | Expensive |
| Unbeatable aesthetics | Not portable |
| Features not available on other pizza ovens | |
| Multi-fuel support | |
| Mimics a traditional dome pizza oven with high-tech controls | |
Final Thoughts & Recommendations
In the end, the Gozney Roccbox and Gozney Dome are very different pizza ovens designed for very different purposes (aside from making pizza, that is). For this reason, most people are not going to be on the fence between these two pizza ovens.
If you're at all budget-minded, you'll stay away from the Dome with its impressive size and innovative features. But if money is no object for you, you'll most likely love the Gozney Dome as much as we do.
On the other hand, if you're just looking for a high-performance pizza oven in a compact package, the Roccbox is the obvious choice over the Dome. Just keep in mind that there are now better options out there in the same price range, like the Ooni Karu 12G.
In either case, Gozney is a great company and you'll surely be happy with whichever pizza oven you choose. You can learn more about purchasing options for both ovens in our pizza oven shop.
Related Questions:
What are the main differences between the Roccbox and Dome pizza ovens in terms of size and functionality?
The Roccbox is a portable pizza oven designed for compact spaces and budget users, while the Dome is a larger, premium oven with advanced features, catering to those seeking a centerpiece for their outdoor space.
Which of the two ovens, Roccbox or Dome, offers more fuel options for cooking?
Both the Roccbox and Dome offer multi-fuel support, including propane, wood, and charcoal. However, the Dome also supports wood pellets, giving it a slight edge in terms of fuel versatility.