How To EASILY Hand Stretch Pizza Dough For Amazing Homemade Pizza
For many people, stretching pizza dough into a circle (or square) that can be topped and baked is the most difficult part of the pizza making process. You may have experienced this yourself, especially if your dough constantly snaps back into its original shape no matter how many times you pull it in every direction.
In this tutorial, I'm going to demonstrate how to easily hand stretch pizza dough in the simplest way possible, without using any advanced methods like tossing it in the air or the Neapolitan "slap" technique. Instead, we're just going to gently press and stretch the dough until we get the shape we're looking for.
For the best results, make sure you're using a high-quality pizza dough, or just follow my homemade pizza dough recipe here.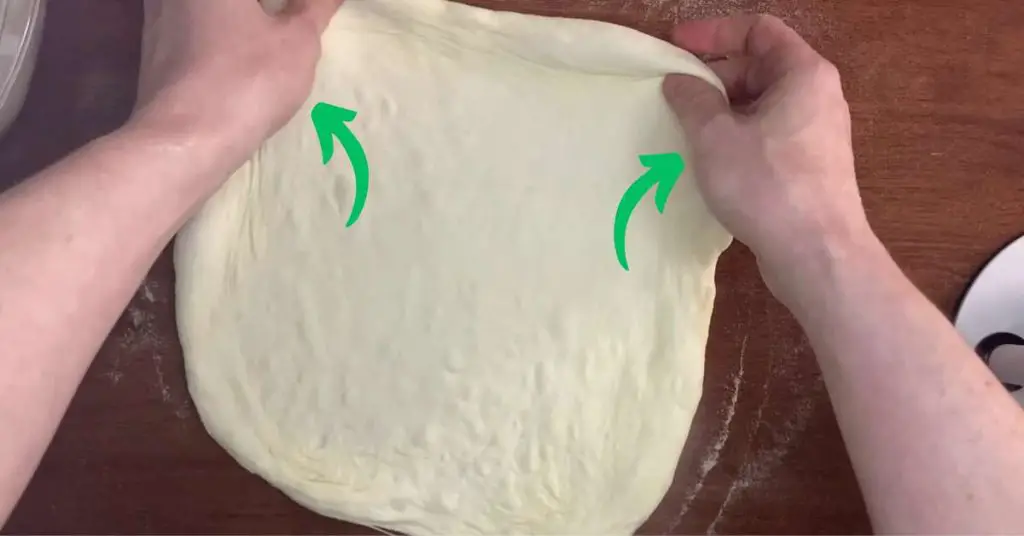 Choosing the Right Pizza Dough
When it comes to stretching pizza dough, it doesn't really matter what kind of dough you choose. Whether it's bought frozen from the grocery store, fresh from a bakery, or even homemade, the same principles apply.
That said, a pizza dough with a higher amount of hydration (water) will be softer and easier to stretch than a pizza dough with less hydration. On the other hand, a wetter pizza dough can tear more easily than a drier one, so it really is a trade off no matter which kind you choose in terms of handling.
In general, I recommend a higher hydration pizza dough (70% or more) if you plan on baking your pizza in a home oven. This is because home ovens take longer to cook at lower temperatures, so the extra hydration prevents the crust from drying out during the baking process.
Tip: If you need a pizza dough recipe, try my super simple overnight pizza dough recipe that uses common ingredients you probably already have at home.
Preparing the Pizza Dough for Stretching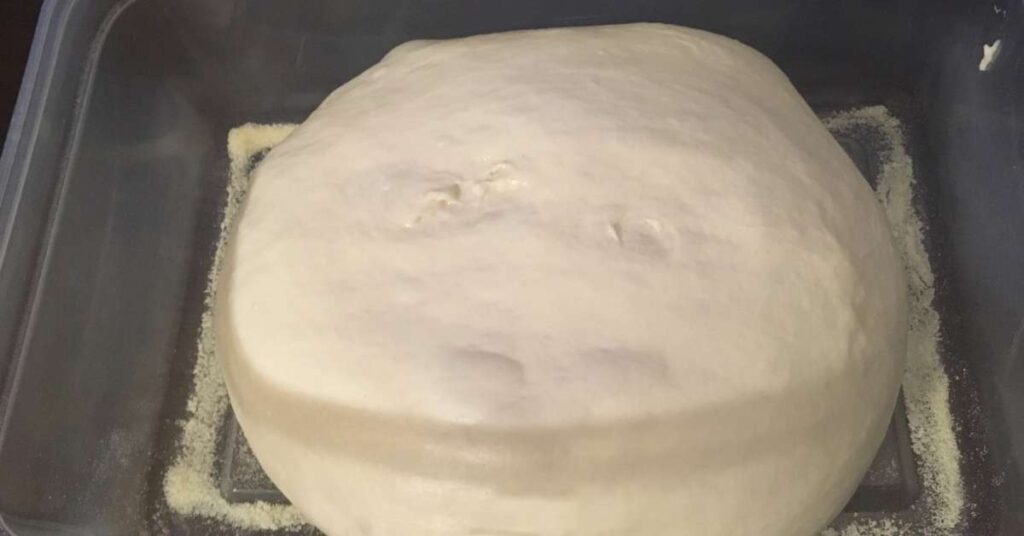 If your idea of stretching pizza dough involves taking a cold hunk of dough out of the fridge and getting to work using the steps below, you're already on the wrong track.
Pizza dough should never be stretched cold—it won't shape correctly, and will form bitter-tasting black spots during baking. Instead, pizza dough should always be formed into a tight ball and proofed for several hours before starting the shaping process.
To get started, lightly coat your hands in olive oil and form each piece of pizza dough into a taught ball, then place each ball into a sealed proofing container for 2-3 hours at room temperature. During this time, the dough ball will fill with air and gas while the gluten relaxes making it easier to shape. This is the crucial first step to every great pizza.
Why Stretch Pizza by Hand?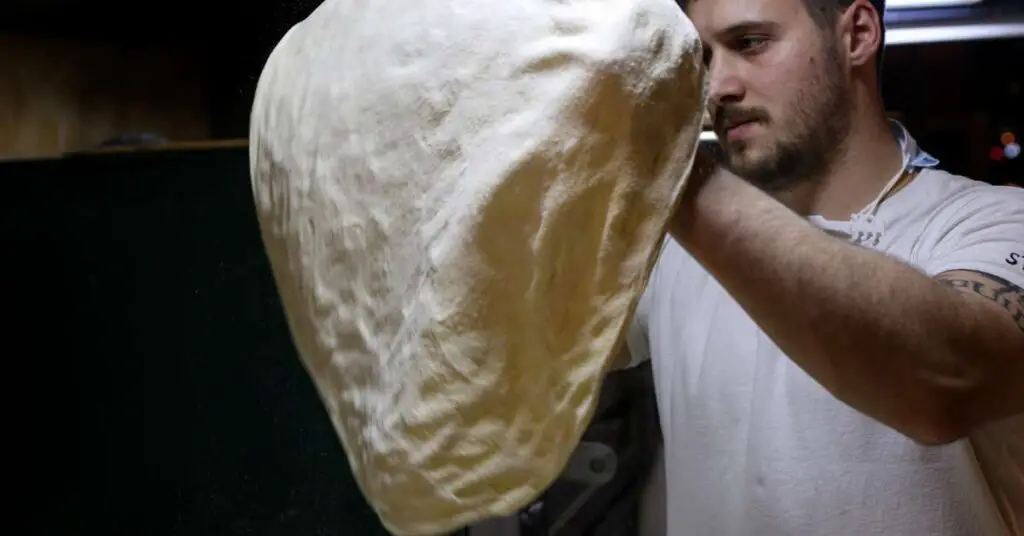 I think for many people, "stretching" pizza dough just means using a rolling pin, but this isn't usually the case. Most pizza is actually stretched by hand (or with a machine) and not simply flattened with a rolling pin.
One of the best parts about pizza is the fluffy, bubbly crust that rises as it bakes. This happens because as the dough proofs, it accumulates gas inside thousands of tiny bubbles that expand under intense heat in the oven. When you roll dough with a rolling pin, all of this air and gas escapes and the bubbles are burst, meaning it will bake into a crust that's more like a tortilla than a pizza.
If your aim is to make an ultra-thin crust pizza, then maybe you're OK with this. But for most people looking for a traditional pizza crust (even a relatively thin one) you'll want to stretch your pizza dough by hand rather than use a rolling pin.
Related Post: Why Your Homemade Pizza Crust Isn't Browning
Best Ways to Stretch Pizza Dough By Hand
Stretching pizza dough by hand is easy, and there are lots of different ways to do it. Neapolitan pizza makers use a "slapping" techniques where they quickly rotate the dough with one hand while slapping the dough onto the counter with the other. New York City pizza makers famously toss their dough in the air, which allows gravity to stretch the dough into the shape of a pizza as it spins.
While highly effective, for the purposes of this tutorial, we're not going to be doing any of these things. These techniques require years of practice to master and are designed for those working in a commercial environment serving hundreds of customers per day.
Instead, I'm going to focus on a simple press, pull, and knuckle stretching technique that is highly effective and easy to master, if a bit slower compared to other more advanced methods.
How to Stretch Pizza Dough Video
How to Hand Stretch Pizza Dough for Baking
To get started hand stretching your pizza dough, you'll need a fully proofed pizza dough ball, bench flour, and a clean working surface. I prefer semolina flour (the same flour used for making pasta) for its taste and texture, but whatever flour you have available will work as well.
Step 1

Wait for the dough ball to fully relax and proof—this is crucial, don't rush this step. If you need help with this step, read my full set of instructions for balling and proofing pizza dough here.

Step 2

Drop the dough ball into a flour bath. This can either be a container full of semolina flour (or whatever kind of flour you're using), or just a pile of flour on a clean counter surface. The idea is to fully coat the outside surfaces of the dough with flour to prevent sticking as we shape it.

Step 3

Lightly dust a clean counter surface with semolina flour to prevent sticking.

Step 4

Transfer the dough to the counter and pat it lightly to get it into a roughly symmetrical circle with a consistent thickness.

Step 5

Working from the middle outwards, gently press the dough to move the air and gas from the center to the outer edges. Be very careful with this step—we're not looking to smash the dough, just rearrange where the gas is with a gentle stretch.

Step 6

Turn the dough over and press it again going from the middle towards the top, then rotate 90 degrees and continue pressing and turning as needed, etc. If it starts to stick, apply a small dusting of semolina flour.

Step 7

Place the bottom of the dough (the rough side) on your knuckles and gently pull from the sides while spreading your fingers to complete the stretch. Continue rotating and stretching this way as needed.

Step 8

When the dough is stretched to your liking, place it on a floured pizza peel and begin to add sauce and toppings. When the pizza dough is topped, slide your fingers underneath and give the dough a final stretch in both directions. Be very careful not to tear the dough.

Step 9

Slide the pizza onto a hot pizza steel and bake until the crust is golden. Enjoy!
Result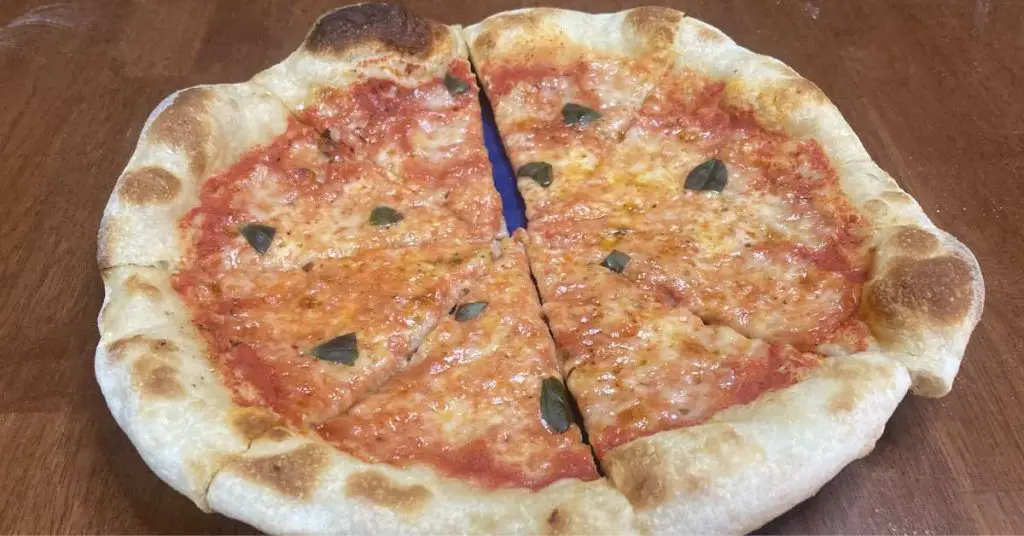 Related Posts:
Related Questions
Why won't my pizza dough stretch?
If your pizza dough isn't stretching easily, it most likely hasn't been balled and proofed properly. Before stretching your pizza dough, make sure to let it proof for 3-4 hours, especially if it's cold.
Does pizza dough stretch better warm or cold?
Pizza dough stretches better warm than cold, which is why you should always let it proof before stretching. This is because gluten becomes brittle in cold temperatures, making the dough difficult to stretch and at risk of tearing.
How long to leave pizza dough out before stretching?
If your pizza dough is coming directly from the fridge, leave it for 3-4 hours before stretching. If your pizza dough is room temperature already, leave it 1-2 hours to proof before stretching.
Should I roll or stretch pizza dough?
In my opinion, it's always better to stretch pizza dough by hand because it preserves the gas and gluten structure that developed during proofing. On the other hand, a rolling pin can be more efficient for making ultra-thin styles of pizza like Roman and Bari style.