Ooni Koda 16 Outdoor Gas Pizza Oven Review
I'll just come right out and say it—I love the Ooni Koda 16 and I fully recommend it. But just so you keep reading this review, I'll add that it might not be the best choice for everyone, depending on your situation. Don't worry, I'll get into some alternative Ooni pizza oven choices later on in this review.
The reason why I have no problem recommending the Ooni Koda 16 is because it addresses the two main issues most likely to make people disappointed with their pizza oven purchase: the difficulty in cooking with wood, and a small baking surface. Not everyone wants to learn how to use a wood-fired oven, and not everyone wants to be limited to a 12 inch pizza.
By contrast, the Ooni Koda 16 features a super simple to use propane burner right out of the box, and it's big enough for the same size pizza you might order from Domino's to feed the whole family . If the Ooni Koda 16's $599 price tag fits in your budget, there really are very few compromises with this oven, so don't hesitate to pick one up.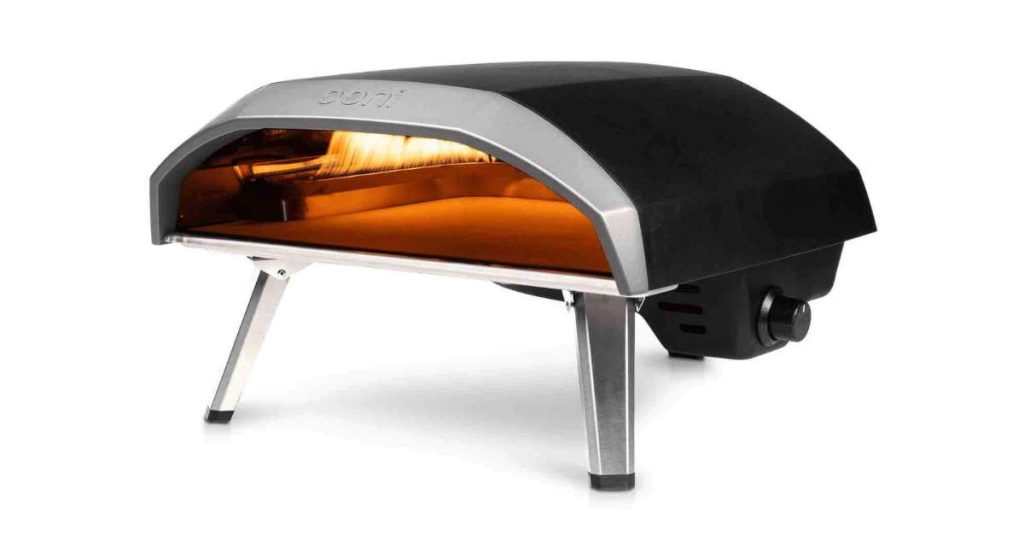 Ooni Koda 16 Review: Pros and Cons
Pros:
Size: The Ooni Koda 16 has several advantages over other pizza ovens, both inside and outside of the rest of the Ooni lineup. Its exclusively gas-powered design results in a much more streamlined oven that requires very little in the way of setup. 
Easy Setup: Some pizza ovens require some assembly, especially cheaper ones you can find on Amazon or Ali Express. But the Ooni Koda 16 is basically ready to use right out of the box. 
Small learning curve: A gas pizza oven like the Ooni Koda 16 requires very little experience with pizza ovens before you're up and running and making pizzas. Honestly, I don't think most people appreciate how difficult it can be to cook with wood or charcoal. Solid fuels like wood and charcoal require some practice to get the flame to the right size, and maintaining a consistent heat in the oven over the course of a cook can be even more challenging.
Portability: Despite its huge baking surface, the Ooni Koda 16 is lightweight, making it one of the more portable 16-inch models. The easy setup right out of the box is another plus. You may not be taking it camping with you anytime soon (although you could), it's no problem to pack it up and bring it to a friend's house when you need to.
Price: At $599, the Ooni Koda 16 isn't cheap, but it is one of the least expensive 16 inch pizza oven models on the market. Sure, you can find no-name knockoff brands online, but they won't come with the same craftsmanship or quality guarantees that you get with Ooni. Ultimately, you get what you pay for with the Ooni Koda 16.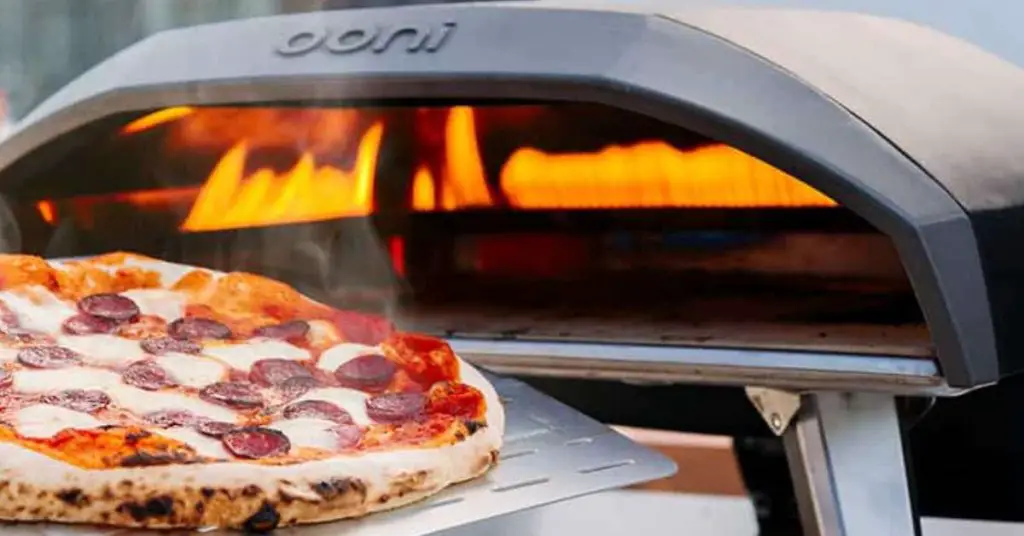 Cons:
Learning Curve: I know I just got through telling you about how there isn't much of a learning curve with this oven, and it's true. But I would be remiss not to reiterate that all pizza ovens require some learning, especially if you've never used one before. And even if you're using store bought ingredients, you'll still need to learn how to properly proof and stretch the dough if you want good results.
Gas Only: The Ooni Koda 16 only works with gas, and you'll need a separate burner depending on if you want to use propane or natural gas. For me, the simplicity of an oven that's only designed to use gas is a pro, but if you're looking for something that uses wood it's a con. If you're looking for a 16 inch wood-fired oven, check out the Ooni Karu 16 instead. 
Price: The Ooni Koda 16 is very fairly priced, but $599 is going to be outside of many people's budgets. If you're one of these people you can save a lot of money going with the 12 inch version (the Ooni Koda 12) which has most of the same features for only $399.
Gets really hot: This isn't so much of a con as it is a tip. The Ooni Koda 16 gets incredibly hot, especially when you're working with the maximum temperature. This isn't a problem in itself, but sometimes one side of the pizza can burn before the rest is fully cooked. To avoid this, I recommend turning down the flame right before you launch your pizza into the oven. The stone will still stay hot for as long as it takes to cook the pizza. When you're ready to cook another pizza, turn the flame back up and reheat the oven.
The Ooni Koda 16 Is Huge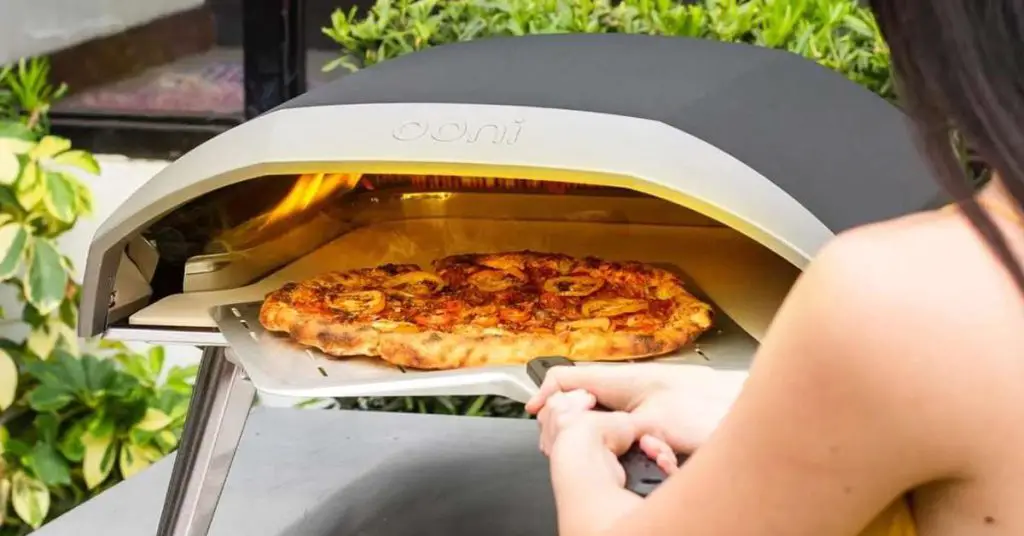 The Ooni Koda 16 is a simple pizza oven with several advanced features, like its 16 inch baking surface and propane burner with precision controls. And despite being well insulated, it's still relatively lightweight (39.2lbs)—just don't expect the same layer-upon-layer of insulation you can find on other pizza ovens like the Roccbox. 
For me, though, this is a feature and not a bug—in fact, I challenge anyone to find a pizza oven this large and this lightweight at this price point. You might be able to find one, but it isn't going to be of the same quality of an Ooni pizza oven.
Related Post: Can Ooni Pizza Ovens Be Used In The Rain?
I've Been Using the Ooni Koda 16 For Years
Over the years, the Ooni Koda 16 has become a staple at my house, despite having access to plenty of pizza ovens to work with. Its user-friendly design and large 16-inch baking surface make it versatile for making lots of different pizza styles and sizes. 
And while I'm a huge fan of wood-fired pizza, sometimes I just want to fire up the oven and get on with my day. In my opinion, propane is the perfect fuel source for when you want to cook high quality pizzas for your family or guests, and also have time to spend with them instead of constantly tending to a flame.
A Pizza Oven Makes A Huge Difference
For the uninformed, a pizza oven might seem like an unnecessary luxury. After all, why buy a dedicated pizza oven when you can just use the oven you already have in your kitchen? The truth is, a pizza oven and a regular home oven aren't really the same at all.
If you want to make pizzeria quality pizza at home, a pizza oven is essential. The high heat (up to 950F) is way beyond the capabilities of a regular kitchen oven and is absolutely crucial for the kind of crust and char you see on professionally made Neapolitan and New York style pizza.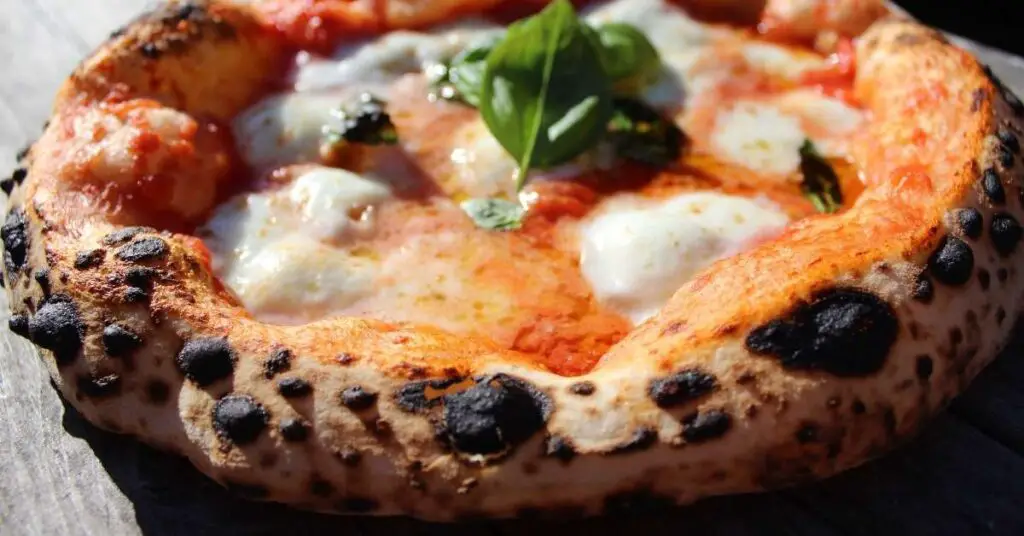 This intense heat carmelizes the sugars in the dough to get the kind of charring that makes pizzeria pizza so good. It also allows you to cook a pizza quick enough so that all the moisture in the crust and toppings doesn't completely dry out before the pizza is fully cooked.
Standout Features of the Ooni Koda 16
Fast & Easy Setup
When you read about the Ooni Koda 16 being easy to set up, that's no exaggeration. The setup process essentially involves taking the unit out of the box, slotting in the baking stone, unfolding the legs, and hooking up the propane. Beyond that, it's just a matter of preheating the stone to burn off any manufacturing residue, then you're ready to go. 
Spacious Oven Chamber & Baking Surface
The Ooni Koda 16 is spacious, with dimensions of 23.2 x 25 x 14.7 inches and a weight of only 39 pounds. The 16-inch pizza capacity and 20.5-inch wide mouth allow for a variety of pizza sizes. The oven can also accommodate a 14-inch cast-iron skillet, making it versatile for cooking other dishes.
Yet, despite its large size, the Ooni Koda 16 feels surprisingly light. Yes, 40 lbs is still heavy, and no, you're not going to be taking it with you down a hiking trail like you see in some of the advertising. But the Ooni Koda 16 is (in my opinion) a perfect blend of durability and high-quality materials in a lightweight and compact form factor. Compare this to the Roccbox (a great pizza oven, by the way), which is built like a boat anchor.
Fuel and Ignition
As I've mentioned already, the Ooni Koda 16 is powered by propane or natural gas, which is easy to use and convenient for maintaining a consistent baking temperature over long periods of time. The built-in gas ignition ensures a quick and easy start, while the L-shaped burner provides even heat distribution and only requires a small quarter turn rotation halfway through the cooking process.
Precise Temperature Control
If you've never used a wood-fired pizza oven before, you might not realize how difficult it can be to maintain and adjust for specific baking temperatures. It's not super easy, and involves constantly tending to the flame while adding (or removing) fuel to raise or lower the temperature. It isn't simply a matter of lighting a fire in the oven and waiting for 15 minutes.
With a propane pizza oven like the Ooni Koda 16, it couldn't be easier. All you really need to do is turn on the gas to get started, then if you want a higher or lower temperature, you just turn the gas control dial up or down. This takes a lot of guesswork out of getting the oven to the ideal temperature before you actually make your pizza.
Design and Construction
The Ooni Koda 16 is designed for portability and durability with a powder coated stainless steel shell. Its folding legs make storage easy, and the carbon steel shell is both durable and attractive. Despite its lightweight design, the oven is well-insulated, ensuring consistent heat for perfect pizzas every time.
Ooni Koda 16 Accessories
The Ooni Koda 16 comes with a cordierite stone baking board and a propane gas burner right out of the box, which is everything you need to get started besides a pizza peel. Remember that a pizza peel is absolutely necessary to use a pizza oven, so if you don't have one already you'll need to buy one—either from Ooni or somewhere else, just make sure it's not so big it can't fit into the opening of the oven.
Ooni also offers some optional accessories, like a custom fit weatherproof cover and a modular stainless steel table. 
The Ooni Koda 16 will fit on most surfaces, as long as it's sturdy enough to hold the oven's weight, but Ooni's modular pizza oven tables are well-crafted and incredibly convenient. If you have room in your budget and need a table to cook from, I recommend picking one of these up. 
You Can Cook Other Foods Besides Pizza In The Ooni Koda 16
While the Ooni Koda 16 is specialized for making pizza, it's basically just a portable propane oven like any other. That means any kind of food you would normally cook under a flame, like roasted vegetables, steaks, and rotisserie chickens, will cook amazingly well in this oven.
The only thing you need to be concerned with when cooking foods besides pizza is the baking stone. The baking stone is only designed for dry foods like dough and bread, not foods that leak oil and fat while cooking. This is why it's crucial to use the right cookware if you're making anything besides pizza or bread.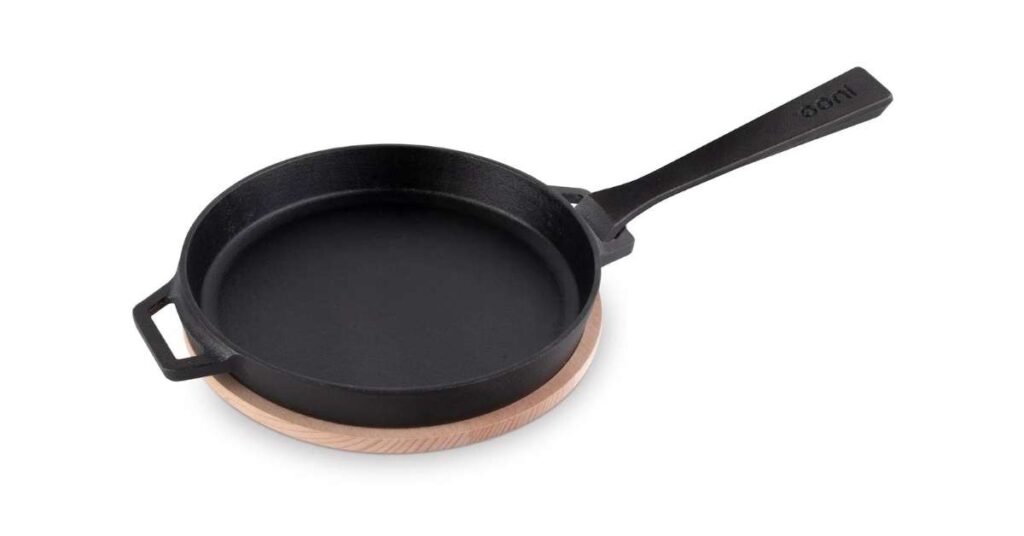 So, for example, if I'm making a steak in the Ooni Koda 16, I'll use a cast iron pan. The same goes if I'm roasting vegetables or cooking chicken. Just make sure whatever you do to not cook these kinds of foods directly on the baking stone. Not only will doing so probably burn your food, you also risk degrading the baking stone, smoking up your oven, and potentially even cracking the stone in the long term. 
If you need some good quality cookware to use in your Koda 16, Ooni offers some high quality pans and skillets that work great. That said, any oven safe pan will work as long as it can withstand the temperatures of an Ooni.
How the Ooni Koda 16 Stacks up with other Pizza Ovens
| | Ooni Koda 16 | Ooni Koda 12 | Roccbox | Ooni Karu 16 |
| --- | --- | --- | --- | --- |
| Fuel Types | Propane & natural gas | Propane Gas | Wood, Charcoal, Propane Gas | Wood, Charcoal, Propane Gas & Natural Gas (with optional adaptors) |
| Baking Surface Size | 16 x 16 inches | 13 x 13 inches | 12.5 x 12.5 inches | 16.7 x 24.5 inches |
| Materials Used | Powder coated carbon steel & Brushed 304, 409, 430, Stainless steel | Powder coated carbon steel | Stainless steel | Powder coated carbon steel & Brushed 304, 409, 430, Stainless steel |
| Weight | 40.1 lbs | 20.4 lbs | 44 lbs | 62.6 lbs |
| Price | $599 | $399 | $499 | $799 |
Comparison with Ooni Koda 12
The Ooni Koda 12 is a smaller, more affordable alternative to the Koda 16, with most of the same features except the Koda 16's innovative "L-shaped" propane burner. 
In my opinion, the L-shaped burner is a great but not essential feature, so don't feel you're missing out on something huge if you opt for the smaller and less expensive Koda 12 model. You'll just have to rotate the pizza a little more, which isn't a big deal or unusual with any pizza oven.
As for price, you can save a lot of money with the Ooni Koda 12 compared to the Ooni Koda 16: $399 vs $599. So if you like the Koda 16 but can't fit it into your budget, the Koda 12 is a great alternative. Just be aware you won't be cooking any 16 inch pizzas in it.
Comparison with Roccbox by Gozney
The Roccbox by Gozney offers a completely different design and set of features. The Roccbox has more insulation and offers multi-fuel options, but if you're looking for a simple, gas-powered oven, the Ooni Koda 16 is a better choice.
Something to consider between these two ovens is your pizza style preferences. The Ooni Koda 16 can technically cook any style of pizza, including Neapolitan, but it's ideal for New York style which benefits from the large baking surface and easily adjustable propane controls at the lower settings.
Comparison with Ooni Karu 16
The Ooni Karu 16 offers more versatility with its multi-fuel options, as well as a slew of extra features including an insulated glass door and a built-in thermometer. However, it's also (a lot) more expensive and caters more to aficionados who might already have experience in wood-fired cooking. 
By contrast, the Ooni Koda 16 is a simpler, more streamlined model that shouldn't be intimidating even for those with no pizza oven experience.
That said, the Ooni Karu 16 features a similarly huge 16 inch baking surface and the option to use propane if you don't want to use wood or charcoal. But the catch is you'll need to purchase the propane attachment for the Karu 16 separately for an additional $100. This makes the total cost of a propane burning Ooni Karu 16 $899, which is quite a bit more expensive. 
So if you're looking for a 16 inch, propane pizza oven with tons of features as well as the ability to burn wood and charcoal, the Ooni Karu 16 is a sure bet. But if you're set on using propane the majority of the time, you can save at least $300 with the Ooni Koda 16 and still have the same 16 inch baking surface.
Final Verdict
Value for the Money
The Ooni Koda 16 offers excellent value for money. Its balance of price and features makes it an excellent choice for those looking to make large, pizzeria-quality pizzas at home without spending a fortune. It also features much better construction and thermal design than almost any other less expensive oven you might find on Amazon.
Suitability for Different Users
The Ooni Koda 16 is suitable for anyone looking to make pizza of any size and style right at home. Its exclusively gas burning design makes it simple to use for beginners and a treat for those with more experience.
Overall Recommendation
Overall, I highly recommend the Ooni Koda 16 if you're interested in making pizza at home in a dedicated pizza oven. Its performance, features, and affordability make it a standout choice among the many options on the market today.
If you like the idea of the Ooni Koda 16 but can't quite afford the $599 price tag, have a look at its smaller sibling the Ooni Koda 12 priced at $399. It has almost all of the features of the Koda 16 but with a smaller 12 inch baking surface—still plenty big for making great pizza. 
Related Questions
Can you use the Ooni Koda 16 indoors?
Unfortunately, as a gas burning pizza oven, the Ooni Koda 16 is not safe for use indoors. In fact, using any pizza oven that isn't electric in any enclosed space will cause a dangerous build of harmful gasses that can eventually lead to death. Only ever use the Ooni Koda 16 outside in a well ventilated area.
That said, if you're looking for a pizza oven that can be used indoors, check out the all-electric Ooni Volt 12. This pizza oven is completely safe for use indoors and fits comfortably on most kitchen counters.
How much propane does the Ooni Koda 16 use?
The Ooni Koda 16 is a fairly fuel-efficient pizza oven, so you can expect it to burn through about 1.3lbs of gas per hour.
Ooni Koda 16 Review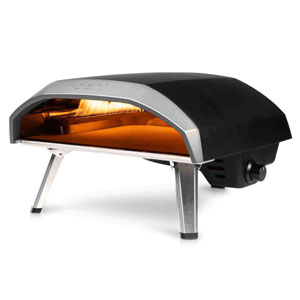 Mini Review
The Ooni Koda 16 isn't cheap at $599, but it's worth every penny you'll spend on it. Among the many amazing features of the Ooni Koda 16, the standouts I like most are: a 16 inch baking surface, precise propane controls, simple out of the box setup, and a sleek fuel-efficient design. The only reason to pass on the Koda 16 is if you want to use wood or charcoal, or if you don't have the space for it. In those cases, check out either the Ooni Karu 12G or the Ooni Koda12 instead.