Ooni Karu 12G Pizza Oven Review: The New Jewel In Ooni's Crown
The Ooni Karu 12G is the newest pizza oven in Ooni's lineup, and it's more than just a cosmetic update of the old Ooni Karu 12. In fact, in our experience, the improvements made here make the Karu 12G among the best on the market in terms of features, price, and performance.
More specifically, the Ooni Karu 12G fills a void in Ooni's pizza oven collection. Previously, Ooni only offered a basic 12 inch multi-fuel pizza oven, forcing users to fork out big money on something like the Ooni Karu 16 if they wanted all the bells and whistles.
In our pizza oven consulting business, we recommend the Ooni Karu 12G to those looking for the best pizza oven possible under $500 . This pizza oven is particularly valuable for those with a smaller outdoor space, like a patio or a balcony, who don't want to compromise on features or performance.
Still interested? Let's get into what makes the Ooni Karu 12G so special, and where it fits in with the rest of the portable pizza oven landscape. And if you're already sold, you can head over to our shop page for purchasing options.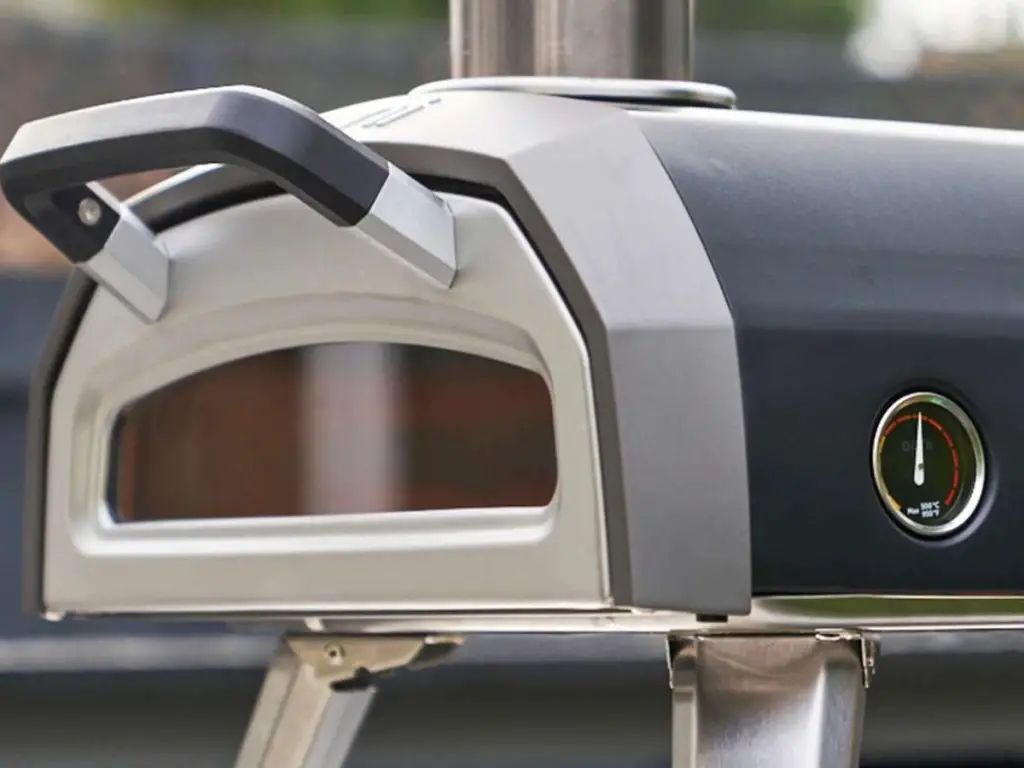 The Ooni Karu 12G is Big Enough For A 12 Inch Pizza
The Karu 12G is a 12 inch pizza oven, which unsurprisingly means it's big enough for a 12 inch pizza. The Baking surface is actually 13 x 13 inches in surface area, but pizzas generally shrink a little as they cook, so if you stretch it properly at the outset you should end up with a 12 inch pizza when all is said and done.
This is honest advertising by Ooni, because many pizza oven manufacturers market their portable ovens as 12 inches while only having a 12 x 12 inch baking surface. 
With those ovens, you can realistically only get a 10-11 inch pizza after it bakes. By contrast, the Ooni Karu 12G is a true 12 inch pizza oven. This makes it perfect for smaller, 12 inch pizza styles like Neapolitan and California.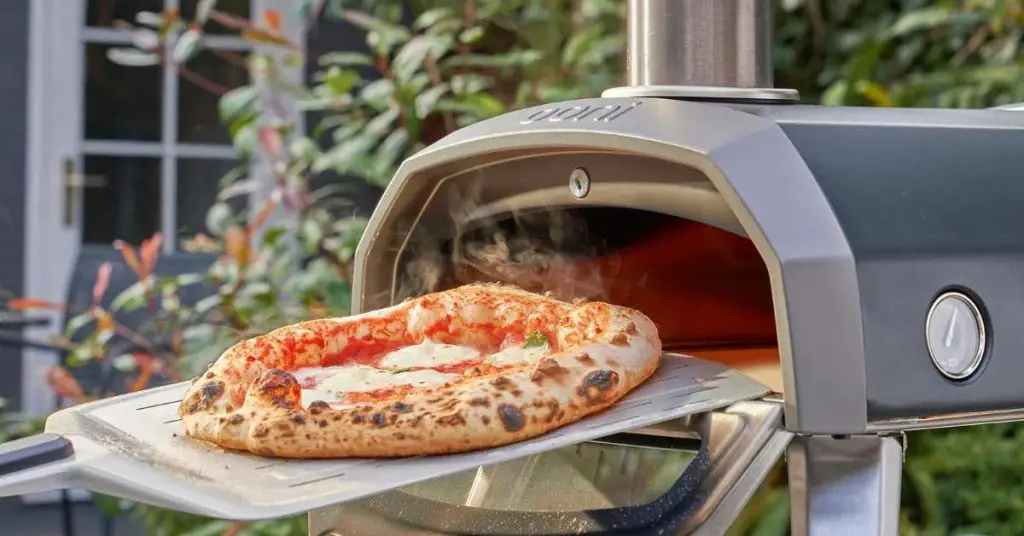 On the other hand, if you want to make larger pizza styles like New York and New Haven, the Ooni Karu 12G might not be the best choice for you. It's difficult to get big, floppy, foldable slices out of a 12 inch pizza. Instead, you'll want to consider a large oven like the Ooni Koda 16 or the Ooni Karu 16, but be prepared to pay up for the privilege of baking bigger pizzas.
The Ooni Karu 12G Is Packed With Useful Features At A Low Price
Ooni pizza ovens are known for their advanced features and user-friendly design, but their 12 inch offerings were always lacking. 12 inch pizza ovens are generally the most affordable and compact, which makes them popular among average home pizza makers.
This is where competitors like the Gozney Roccbox have been able to gain so much traction in the market despite Ooni's dominance. The Roccbox is a 12 inch pizza oven with advanced features, multi-fuel support, and top-of-class heat retention priced just under $500, making it highly desirable for a huge segment of buyers.
Meanwhile, Ooni previously offered only the Karu 12, the Koda 12, and the Fyra 12. These pizza ovens are great performers, and cost between $299 and $399, but they're more specialized and often don't have the full set of features found on the larger Ooni models or the Roccbox. 
Ooni clearly recognized this problem and has taken aim right at it with the newly released Ooni Karu 12G. In our opinion, they've succeeded in beating their main competition and then some.
Ooni Karu 12G Features
The Ooni Karu 12G has all of the best features of its much larger and older sibling, the Ooni Karu 16. In many cases, these new features are actually an improvement over larger and more expensive models due to newer engineering techniques and the benefit of hindsight.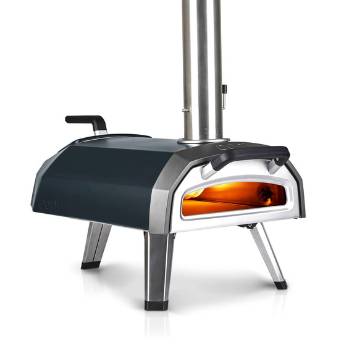 Here are some of the key features we love about the Karu 12G:
Improved heat retention—preheats to the maximum temperature up to 30% faster compared to older models
Insulated borosilicate glass viewing door just like the one on the Karu 16
Multi-Fuel—supports wood, charcoal, and propane
Built-in thermometer let's you monitor the ambient temperature of the oven
Improved fuel-efficiency—uses over 30% less fuel than older models
Powder-coated exterior shell with "SureGrab" door handle remains cool to the touch even when the oven's fired up. Great for those with kids and pets around.
Ooni Karu 12G Technical Specifications:
Max Pizza Size: Up to 12 inches
Unboxed Size: 29.7 x 28.7 x 16.5″
Weight: 34.17lbs
Heat Up Time: 15 minutes
Max Temperature: 950°F
Propane Gas Compatible: 
Material: Powder-coated carbon steel
Pizza Stone Type: 0.6″ cordierite stone
Pizza Stone Size: 13 x 13″
Opening Height: 3.86″
Fuel Consumption: 2.2lbs for 10 pizzas
Gas Consumption: 0.74 lb/hr
kW (BTU): 5.0kw (17060.7 BTU)
Outdoor use only
Shipping and Warranty Details
Shipping and Warranty: The company offers free shipping and a 5-year warranty upon registration.
Guarantee: If you're not satisfied with your pizza results, the company offers a buy-back option within 60 days.
Ooni Karu 12G Initial Setup & Ease of Use
Like most portable pizza ovens, the Ooni Karu 12G is very easy to set up and use. Basically, you take the oven body out of the box, unfold the legs, and you're ready to go. This is what we like to see—setting up a pizza oven should not be like putting together a piece of Ikea furniture.
Depending on your choice of fuel, you may need to hook up the gas burner to the back of the oven, but that's relatively straightforward as well. Simply line up the burner with the holes in the back, screw it in, then hook it up to your propane connection or tank.
Ease of Use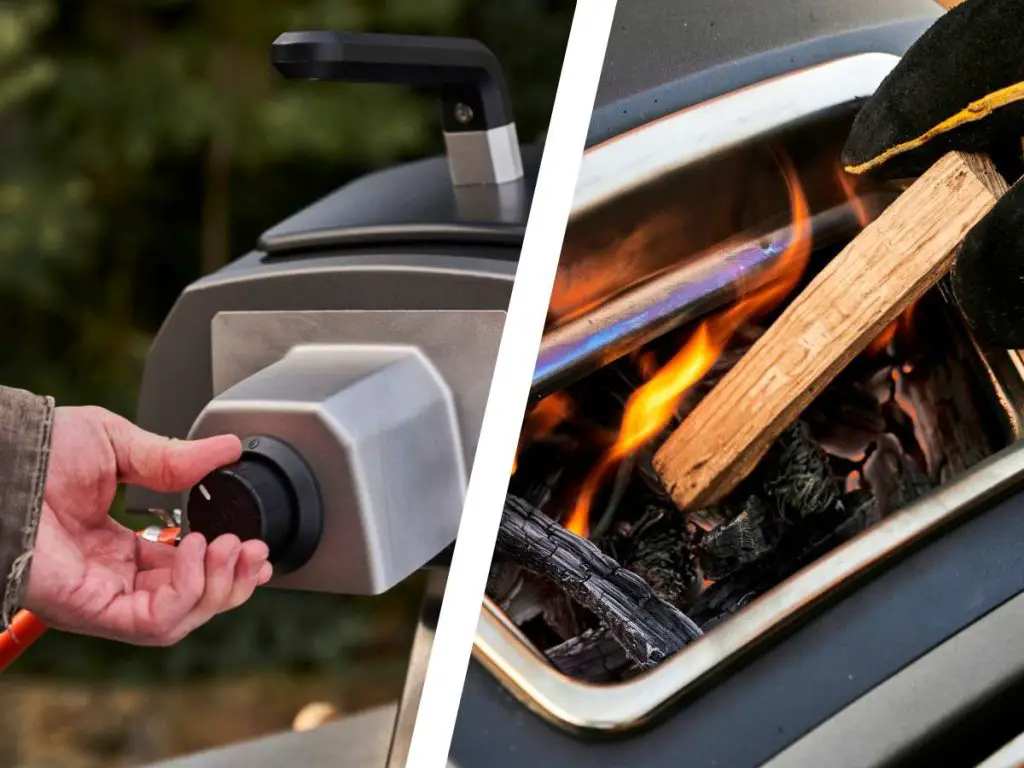 Using the Ooni Karu 12G is about as easy as any other portable pizza oven, but your experience will vary depending on the type of fuel you choose and how much experience you have using pizza ovens.
By far the easiest way to use the Karu 12G (or any other pizza oven) is by using propane. With propane, you can simply hook up to your gas tank, hit the ignition, and you're ready to go as soon as the oven finishes preheating.
In our pizza oven consulting business, we almost always recommend propane pizza ovens to clients without experience with wood-fired cooking—or at least a strong desire to learn it.
As for using the Ooni Karu 12G with wood, it's a great experience if you know what you're doing. The wood burner is efficient and spacious, especially for a 12 inch model. This makes fueling and refueling the oven as easy as you can expect with any well-designed portable pizza oven.
But be advised, wood-fired cooking is a challenge and also a bit of an art form. Getting your wood to light (and stay lit) takes some practice, especially when it comes to adjusting the temperature higher and lower in the middle of the cooking process.
By contrast, when using the Karu 12G with propane, adjusting the temperature higher and lower is as easy as turning a knob.
So, Is The Ooni Karu 12G Actually Worth The Money?
The Ooni Karu 12G isn't cheap, but it's very competitively priced and worth every penny when it comes to performance and features. 
Its closest competitor on the market, the Gozney Roccbox, has a similar feature set and size but it costs $499 vs the Ooni Karu 12G at $429. In fact, we generally recommend the Karu 12G over the Roccbox outside of some very niche use case scenarios.
In our pizza consulting business, there are few portable pizza ovens with the kind of quality design and performance selling for such a competitive price. The Ooni Karu 12G has our full seal of approval.
Ooni Karu 12G Pros and Cons:
| Pros | Cons |
| --- | --- |
| Compact and Lightweight | Limited to 12 inch pizzas |
| Multi-Fuel Support | Propane use requires separate burner purchase ($100) |
| Improved heat-retention vs previous models | |
| Improved fuel-efficiency vs previous models | |
| Built-in Thermometer | |
| Insulated glass viewing door | |
Final Thoughts
The Ooni Karu 12G is our new favorite pizza oven under $500, and I think this review reflects that. This oven is without a doubt the best 12 inch pizza oven on the market today.
But before you go ahead and buy, make sure you're aware of its strengths and weaknesses. For starters, you can't make large pizzas in this oven, so it's not the best choice for New York and New Haven style pizza fans. Look to 16 inch models like the Ooni Karu 16 or Gozney Dome instead.
Also, make sure you actually want or need all of the extra features that come with the Karu 12G. If not, you can save a lot of money buying the original Karu 12 model which is basically a barebones multi-fuel pizza oven for almost half the price at $299. Alternatively, you could look at the Ooni Koda 12, a propane-exclusive pizza oven, for $399. 
All in all, the Ooni Karu 12G is a fantastic portable pizza oven that's perfect for both newbie pizza makers and experts alike.