Stoke Pizza Oven Review: A Good Pizza Oven With Some Major Design Flaws
The world of outdoor pizza ovens is huge, with so many models and brands vying for the top spot in the market. Stoke is one of these brands, and their Stoke pizza oven has been making waves in the industry since its relatively recent launch. But is the Stoke pizza oven worth your money? 
After spending some time using the Stoke over the past several months, my overall impressions of it are fairly positive, but it does have a couple of glaring design flaws in terms of how well it generates and retains heat.
In other words, it cooked my pizza well, but it took too long to preheat and didn't retain that heat very well during or after the first cook.
In this Stoke pizza oven review, I'll go over my hands-on experience with the Stoke, and give you an unbiased look at its performance, design, and overall value.
Key Takeaway: In general, I like the Stoke and it makes good pizza. But due to some design flaws that impact how hot it gets, I'd recommend going with a more established pizza oven like the Ooni Karu 12G or the Ooni Karu 16. Hopefully, future revisions of the Stoke fix these issues.
What is the Stoke Pizza Oven?
The Stoke pizza oven is one of the more recent additions to the market for portable pizza ovens. It comes in various sizes and with multiple fuel choices, all for different prices. 
Like most portable pizza ovens, the Stoke promises to bring the performance of a pizzeria quality oven to your backyard or patio for a reasonable price.
Related Post: Blackstone Propane Pizza Oven Review
The Stoke Comes In 13 and 16 Inch Models
The Stoke Pizza Oven comes in two primary sizes:
13-inch model: A more compact version, perfect for smaller gatherings or for those with limited outdoor space. This is about the size of a standard Neapolitan style pizza.
16-inch model: A larger variant, ideal for those who frequently entertain or have bigger families to feed. This is about the size of a larger New York style pizza.
The Stoke Works With Your Choice of Wood, Gas, or Both
Stoke doesn't limit you to just one type of fuel. Depending on your preference, you can opt for:
Wood Model: For those who crave that authentic wood-fired flavor.
Hybrid Model: A combination of gas and wood, offering both convenience and flavor.
Gas Model: Prioritizing ease and consistency, perfect for those who want a quick pizza without the fuss of managing wood.
The Stoke Pizza Oven, with its range of sizes and fuel options, aims to cater to a broad spectrum of backyard pizza makers. Whether you're a Neapolitan purist who swears by the wood-fired flavor, or someone who values convenience, Stoke aims to offer something for everyone. 
And with the Stoke's sleek design, it's clearly trying to compete with some of the bigger names in the market, namely Ooni and Roccbox.
Assembly and First Use
Unboxing and setting up a new pizza oven is usually either super easy or a giant pain, so I was eager to see which of the two would be the case for the Stoke. 
The Stoke Is Easy To Assemble
Right off the bat, I was pleasantly surprised by the simplicity of the assembly process. The oven arrived in secure packaging with all components neatly organized. The included book of instructions was very clear about the steps needed to get the Stoke up and running.
The steps to assemble your Stoke goes as follows:
Screw in the top mounted thermometer (make sure it's nice and snug)
Attach the 3 included screws onto the back of the unit and hook on the burner of your choice (gas regulator or wood burner). Tighten the screws until it fits securely.
Attach the feet to the bottom of the oven.
Slot the baking stone into the chamber of the oven.
Attach the propane line and make sure it's screwed firmly in place.
That's basically it! The Stoke is very easy to unbox and assemble, right on par with other popular pizza ovens like Ooni and Roccbox.
Lighting It Up The Stoke: First Cook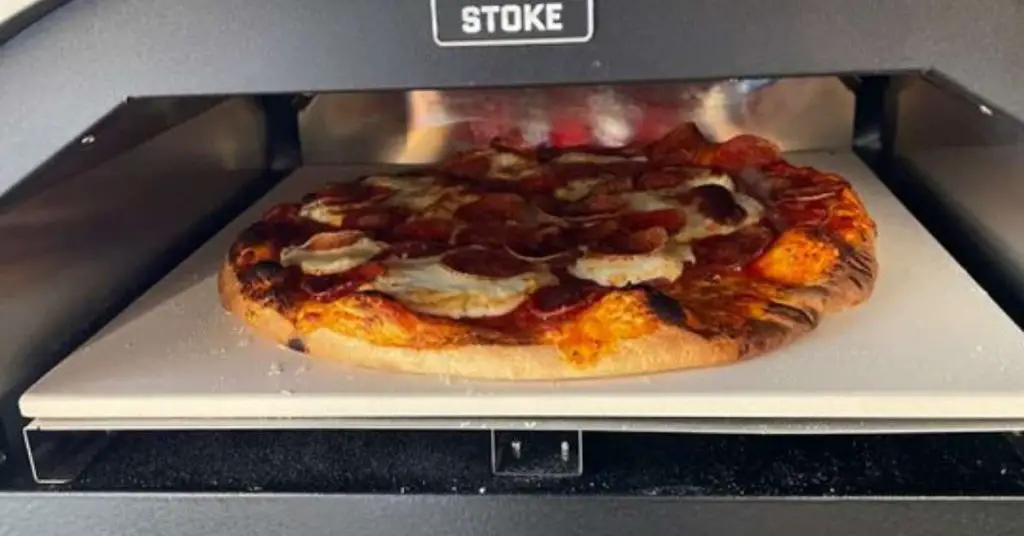 Eager to test out the Stoke, I decided to go with the gas powered option for my first cook. I made sure my fuel line was attached and fired up the oven to let the stone preheat.
As I was waiting for the stone to reach its maximum temperature, I started reading reviews for the Stoke online. Several of these reviews reported that their Stoke pizza oven either didn't get hot enough to crisp the bottom of the crust, or they couldn't get it to reach the reported 900F within 20 mins.
Normally, I don't pay too much attention to the maximum temperature claims made by manufacturers, or how long they claim it will take to reach it. There are just too many variables (outside of a testing facility) when it comes to how hot a pizza oven can get, and how long it takes to get there. 
Instead, I try to focus on getting the oven to that sweet spot between 800-900F (for Neapolitan style) and seeing if it can maintain that temperature over the duration of the cook. Consistent and even heat distribution are among the most important factors when it comes to a well-cooked pizza in any oven.
But because I was curious, I decided to see how long it would take my oven to reach anything close to the 900F claims made by Stoke. After 20 minutes, the stone was only around 700F, then after about an hour, it was hovering around 30 minutes. This is good enough to make a decent pizza, but nowhere near the claim of 900F in 20 minutes.
The pizza itself turned out well, but that's not a huge surprise. The oven was hot enough to caramelize the crust and I generally know what I'm doing when it comes to making pizza. But as for the shortcomings in terms of max temperature, I have a few theories on that which I'll get into in the next section.
Design and Build Quality: Good and Bad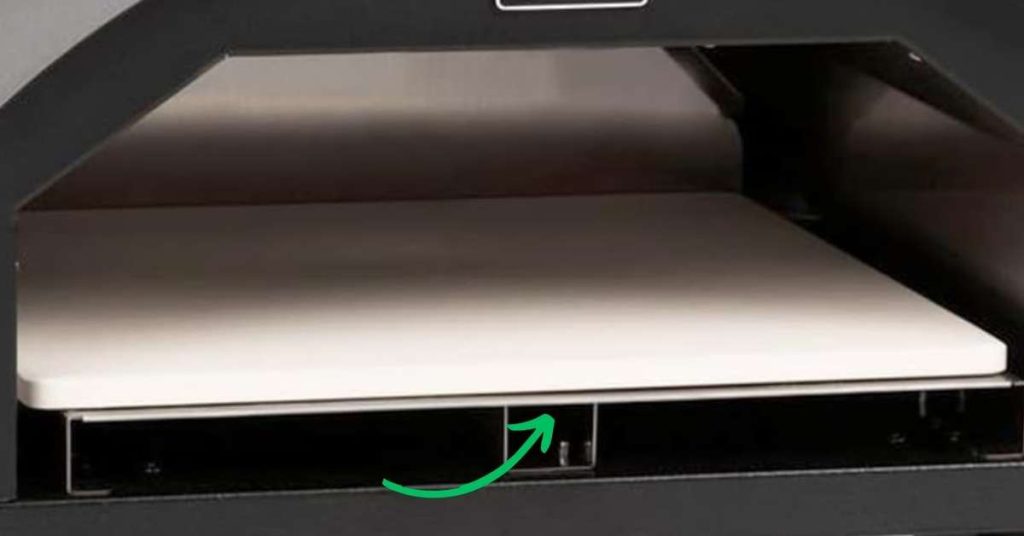 The Stoke is a well-built oven, and it's clear that a lot of attention was put into making it compete with other similar premium quality pizza ovens on the market. However, due to a few design choices, there are some real performance drawbacks.
For starters, the baking stone is mounted on a metal plate. This by itself won't prevent the stone from getting hot, but it will slow it down. Just like cooking a pizza on a cold pan will slow down the cooking process in a home oven.
There's also a high metal wall between the stone and the flame, which can only make it even slower to preheat.
Another thing I noticed are the vents at the top of the oven, which is odd for a propane pizza oven. I guess these are there for venting smoke when you're burning wood (the model I bought doesn't have a chimney), but I think all they're really doing is letting heat escape from the chamber. 
I would have preferred a chimney or no vents at all, similar to what you see in Ooni and Roccbox pizza ovens.
I also read reports online of people dealing with faulty gas regulators which prevented their ovens from reaching over 500-600F. Fortunately, my setup appeared to be unaffected, so it was only the overall thermal design that held it back for me.
That said, the Stoke still worked fine for me, it just wasn't as hot as I would have expected, and it took a lot longer to preheat.
The Stoke Pizza Oven Has Great Aesthetics
The Stoke pizza oven is modern and sleek looking. It actually reminds me a lot of the Bertello pizza oven with its square shape and domed top. I also like the fact that it has four legs instead of three like most pizza ovens, which gives it a bit of extra stability.
Build Quality: Robust and Durable
After using it for a while, it's clear that the Stoke is built to last. The oven walls are thick and well-insulated, and the body of the oven is very durable.
This is why it's a shame that the Stoke has those air vents at the top which defeat the purpose of having good insulation. It doesn't make it bad at heat retention, but it isn't great either.
Portability and Size
Weighing in at 33.7lbs, the Stoke is a hefty pizza oven for its mere 13 inches in size. This isn't necessarily a bad thing, as it usually means it's built with high quality materials. In my opinion, the Stoke actually feels slightly heavier than it is.
Safety Features
Safety is always important when dealing with high temperatures, and the Stoke doesn't skimp in this department. The oven's exterior remains relatively cool to the touch, even when it's blazing hot inside. This feature is particularly reassuring if you have curious kids or pets around.
Specifications
The Stoke Pizza Oven comes in two primary sizes, each with its own set of specifications. Here's a detailed breakdown:
| Feature | 13-inch gas | 13-inch Wood | 16-inch Hybrid |
| --- | --- | --- | --- |
| Size | 13 inches | 13 inches | 16 inches |
| Fuel Type | gas | Wood | Gas & Wood |
| Weight | 33.7 lbs | 33.7 lbs | 40.7 lbs |
| Max Temperature | 900°F | 900°F | 900°F |
| Price | $445 (base) | $499 (base) | $715 (base) |
13" Stoke Pizza Oven:
Dimensions: 13"L x 18.22"H x 11.15"W
Weight: 33.7 lbs (15.3 kg)
Cooking Surface: 406.4mm (16″)
Cordierite Stone Baking Board: 15mm (0.6″) thick
16" Stoke Pizza Oven:
Dimensions: 16"L x 18.22"H x 11.15"W
Weight: 40.7 lbs (18.45 kg)
Cooking Surface: 406.4mm (16″)
Cordierite Stone Baking Board: 15mm (0.6″) thick
In addition to the size differences, the Stoke Pizza Oven also comes in different fuel models:
Fuel Differences:
Wood Models:
Fuel Source: Wood
Features: Efficient gas burner with waterfall effect flame, built-in gas ignition for fast, easy cooking, gas terminal for attaching hose and gas source, folding legs for easy transport and storage, and a durable, insulated, heat-resistant steel shell.
Hybrid Models:
Fuel Source: Hybrid (Gas and Wood)
Features: Efficient gas burner with waterfall effect flame, built-in gas ignition for fast, easy cooking, gas terminal for attaching hose and gas source, detachable legs for easy transport and storage, and a durable, insulated, heat-resistant steel shell.
Gas Models:
Fuel Source: Gas
Features: Efficient gas burner with waterfall effect flame, built-in gas ignition for fast, easy cooking, gas terminal for attaching hose and gas source, and a durable, insulated, heat-resistant steel shell. Compatible with standard propane tanks (up to 30lbs/13kg).
Overall Thoughts: Stoke Pizza Oven Review
After spending considerable time with the Stoke Pizza Oven, I've come to a few conclusions. First and foremost, the Stoke is undeniably a well-crafted piece of equipment. Its design is both functional and aesthetically pleasing, making it a standout in any outdoor setting.
The versatility in size and fuel options is a significant advantage. Whether you're someone with a smaller patio or a sprawling backyard, there's a Stoke model that fits. And the choice between wood, gas, or a hybrid fuel system means you can tailor your pizza-making experience to your preferences.
However, no product is without its drawbacks. The Stoke, while impressive in many ways, fails to deliver in terms of thermal reliability. It simply takes too long to preheat compared to other similar pizza ovens, and doesn't retain the heat that well due to some design flaws. This may have been addressed in newer revisions, but it wasn't in the 13 inch model I tried.
Final Thoughts: A Mixed Bag
At the end of the day, I think the Stoke pizza oven shows a lot of promise. The build quality and aesthetics are top-notch, and the size and fuel options provide welcome flexibility. However, Stoke still has some work to do when it comes to optimizing the oven's thermal performance.
If they can improve the preheat times and heat retention with some design tweaks, the Stoke would become a serious contender in the world of portable pizza ovens. The foundation is there, but they just need to iron out those few kinks holding it back from greatness.
So while the Stoke isn't ready to dethrone Ooni or Roccbox just yet, it's still a nice little pizza oven with a lot of potential. Until then, I recommend going with the Ooni Karu 12G for better features at a better price, or the fully featured Ooni Karu 16 if you want 16 inches and all the bells and whistles.
Related Questions
Is Stoke better than Ooni?
The Stoke is a good pizza oven, but in general it's not better than Ooni in terms of either performance or price. Ooni pizza ovens don't have any glaring design flaws like the Stoke and there are more options to choose from. If it were my money, I'd choose the Ooni Karu 12G or the Ooni Karu 16 over either Stoke model.
Why is my Stoke pizza oven not getting hot enough?
Many people, including myself, have reported problems with their Stoke pizza oven not getting hot enough. In most cases, it's a combination of a faulty gas regulator and some odd design choices that prevent the stone from preheating in the pre-designated amount of time (20 mins). Getting a new regulator will definitely help, but the design issues mean you'll always need to let it preheat for up to an hour to get it to the right temperatures—at least in my experience with it.
Stoke Pizza Oven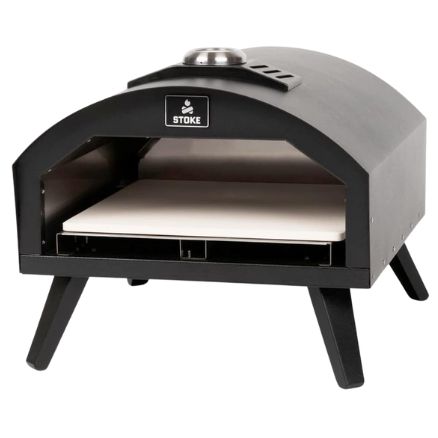 Fuel: Wood, Gas, Hybrid
Price: $399-799