Best Outdoor Natural Gas Pizza Ovens: 5 Premium Brands Compared
In our pizza oven consulting business, we're big fans of gas-powered pizza ovens, which are incredibly versatile when it comes to all styles of pizza. These kinds of ovens are usually either gas exclusive models (like the Ooni Koda 16), or multi-fuel pizza ovens with an optional gas burner attachment (like the Ooni Karu 16).
Compared to other kinds of fuel, gas pizza ovens are simply easier to use, which is why we love recommending them to users of all experience levels. To use a gas pizza oven, you simply hook up to a fuel source, hit the ignition for lighting, adjust the flame, and let it preheat.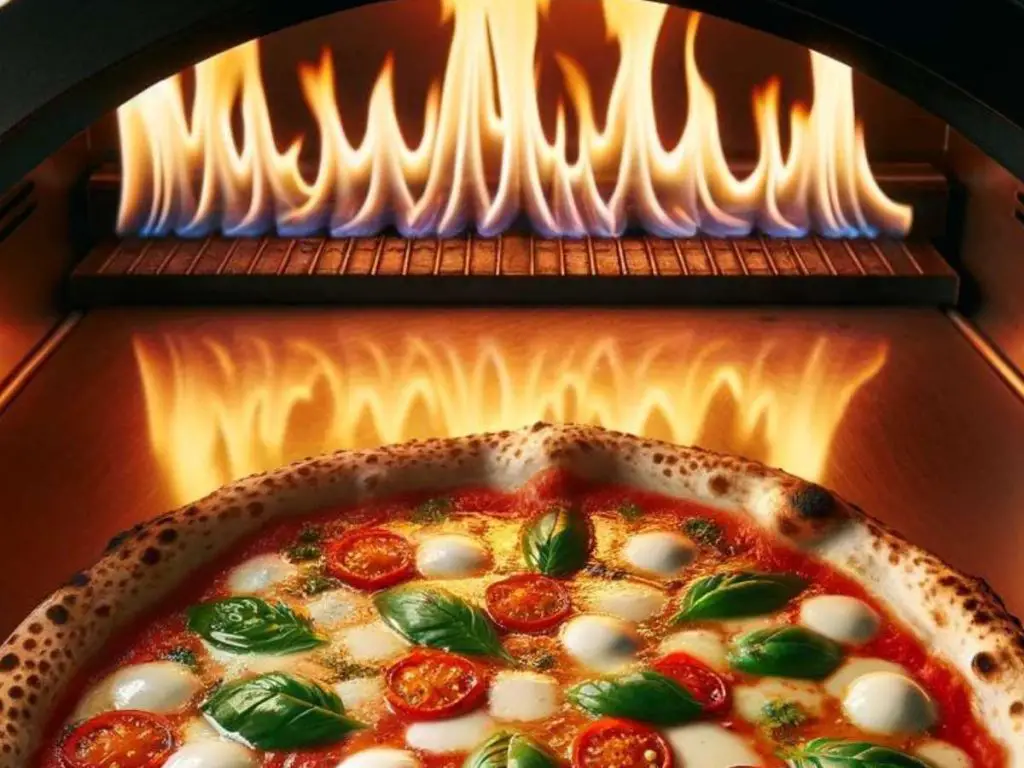 Consider A Natural Gas Pizza Oven
Depending on your situation, you can make things even more convenient by choosing a pizza oven that supports natural gas.
Natural gas generally burns a little less hot than propane, making its ability to reach the highest temperatures a bit more difficult. But picking a pizza oven that supports it can be a major benefit if you already have a natural gas hookup at your home.
That said, you'd be surprised to learn that very few gas pizza ovens on the market actually support natural gas. This is why we've compiled this list of the best outdoor natural gas pizza ovens for you.
Each model on our list is from a reputable, premium pizza oven brand—no random Amazon budget brands of questionable quality here.
#1 Gozney Dome Multi-Fuel Pizza Oven ($1999)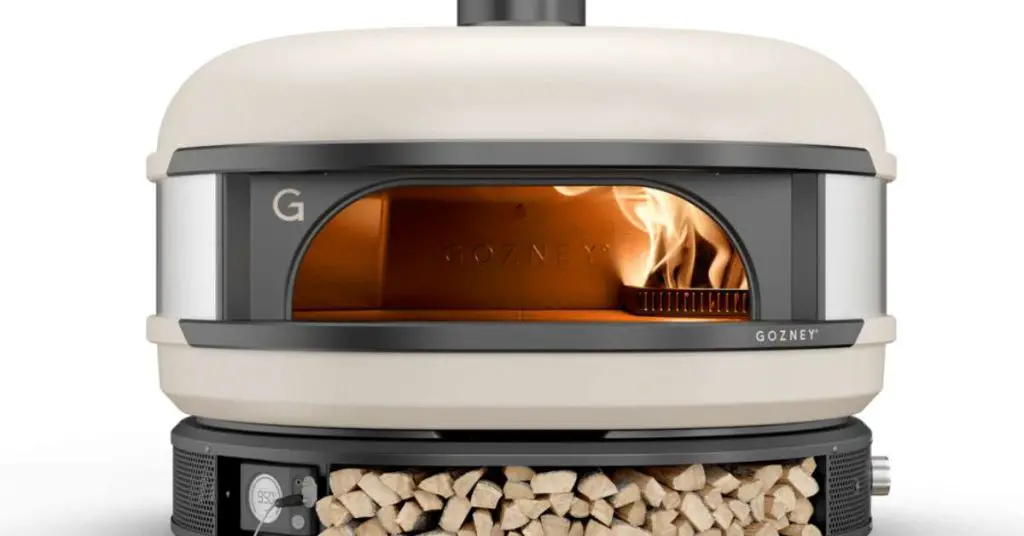 The Gozney Dome is a multi-fuel outdoor pizza oven designed to use wood, propane, charcoal, and natural gas, making it compatible with every fuel type. Just be aware that with the Gozney Dome, you have the option of wood, and wood plus gas. That means if you buy the wood only model, you can't upgrade it to use gas in the future without replacing the entire oven.
We love the Gozney Dome because it's like having a fully featured, ultra-modern version of a traditional domed Neapolitan pizza oven right in your backyard. We recommend the Dome for those who willing to spare no expense for a high-performance pizza oven that looks great. 
To use natural gas with the Gozney Dome, you'll need to purchase the dual-fuel model, even if you don't ever intend on using wood or propane. This makes the Dome significantly more expensive than the other options on this list, but it's still an awesome pizza oven.
Unique Features:
Big enough to cook anything: With the Gozney Dome, your cooking options are nearly endless. Bake, roast, steam, and even cold smoke whatever you feel like serving your guests. Whether it's a quick and delicious pizza on a weeknight, or a slow-roasted Sunday dinner, this oven can do it.
Dual Fuel Models: Choose between wood burner or dual fuel models for ultimate flexibility. Quick and convenient gas for busy nights, or flavorful wood fire for special occasions – the choice is yours.
Stunning Design: The Gozney Dome is truly gorgeous. It's massive and modern-looking, and comes in your choice of bone or olive green, ensuring it's not just an oven, but a statement piece in your outdoor kitchen.
High-Performance Cooking: Reach temperatures up to 950°F for authentic, restaurant-quality pizzas in just 60-90 seconds. But why stop at pizza? The Gozney Dome is perfect for cooking anything that benefits from high-heat and an open flame, like rotisserie chicken, meat, and roasted potatoes.
Built to Last: With a solid 128lbs build and a 5-year warranty upon registration, the Gozney Dome is an investment in your culinary future. Durable, reliable, and ready for anything.
Tech Specs:
Weight: 128 lbs
Temperature Capability: Up to 950° F
Fuel Options: Natural gas, wood
Design Colors: Bone, Olive Green
Time to Preheat: Varies based on fuel choice
Duration to Cook Pizza: Approximately 60-80 seconds
Warranty Details: 5-year warranty upon registration
#2 Ooni Karu 16 Multi-Fuel Pizza Oven ($799)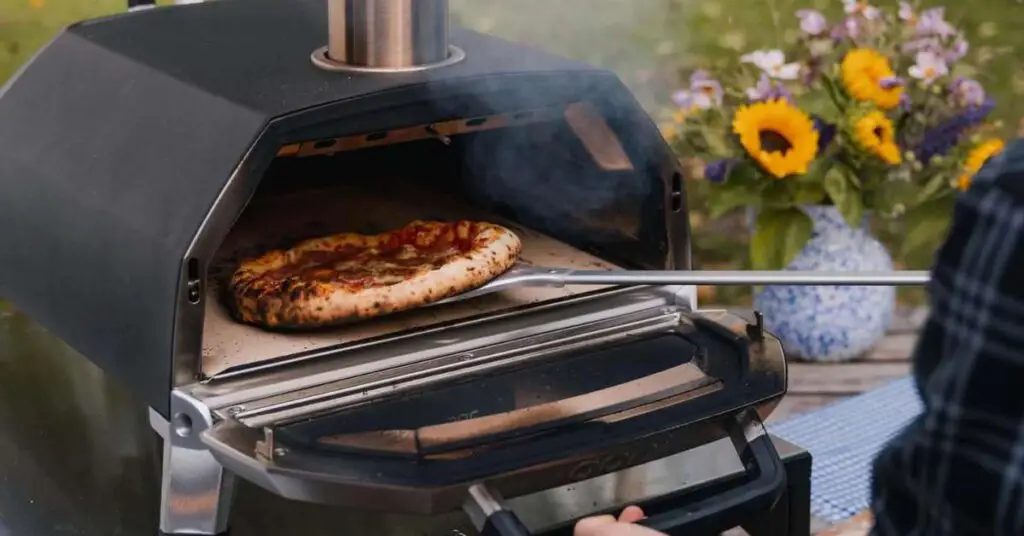 The Ooni Karu 16 is a multi-fuel pizza oven supports wood, charcoal, propane, and natural gas. As one of the first domestic use pizza ovens officially recommended by the AVPN, you know you're dealing with a premium-quality unit. 
We love the Ooni Karu 16 because it has nearly every extra feature you could want in a 16-inch portable pizza oven at a relatively affordable price. Just keep in mind that in order to use natural gas, you'll need to purchase an additional conversion kit for about $100. 
We recommend the Ooni Karu 16 to those looking for the best, most feature-packed, pizza oven at the best price. There really are very few compromises when it comes to this pizza oven, which is why it's remained our top overall pick since its release a few years ago. 
Unique Features:
Multi-Fuel Support: Wood, charcoal, propane and natural gas—the Ooni Karu 16 doesn't discriminate when it comes to fuel options. And you can always switch between propane and natural gas using its modular burner design.
Insulated glass viewing door: The Ooni Karu 16 has a fully insulated hinged glass door that makes it easy to see how your pizza is doing without opening the door and losing all the heat.
Huge baking surface: The Ooni Karu 16 is easily the largest pizza oven on the market, with even more baking surface area than the massive Gozney Dome. This makes it easy even for a beginner to launch a pizza of any size into the oven without worrying about it fitting.
Digital Thermometer: Built-in digital thermometer makes it easy to know exactly when your oven is ready to cook pizza of any style.
Tech Specs:
Weight: 57.3 lbs
Pizza Size Capacity: 16 inches
Temperature Capability: Up to 950° F
Fuel Options: Natural gas, wood, charcoal
Time to Preheat: Approximately 15 minutes
Duration to Cook Pizza: Around 60 seconds
#3 Bertello Grande 16 Multi Fuel Pizza Oven ($549)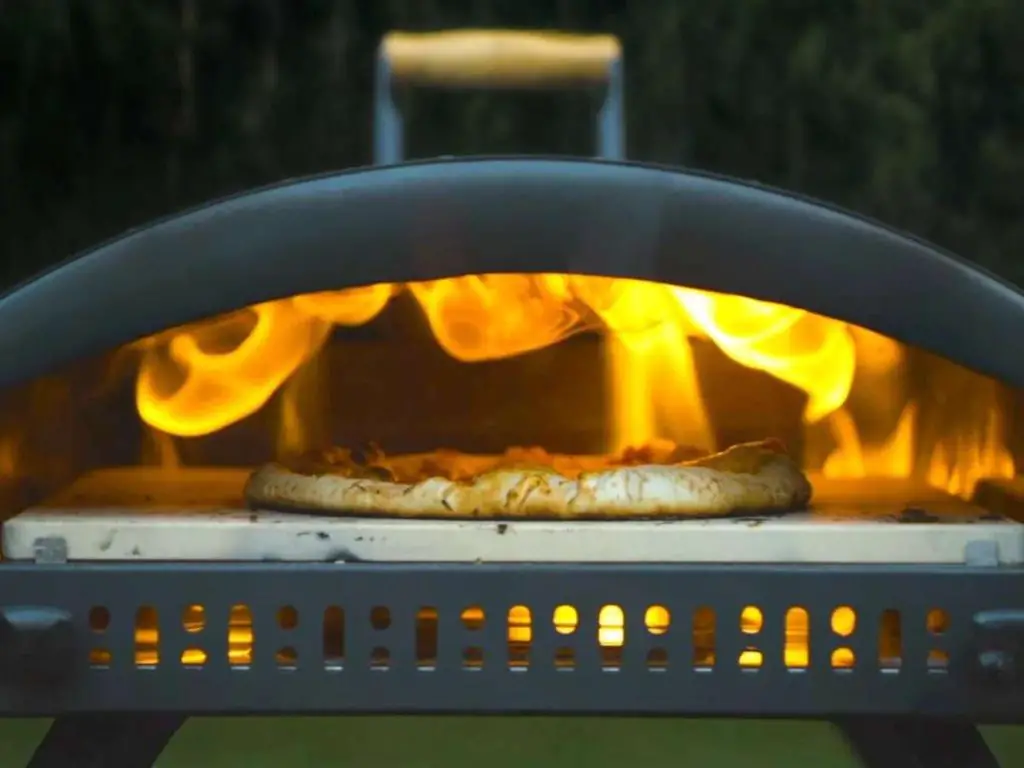 The Bertello Grande 16's claim to fame is its dual gas burners, which heats from the top of the oven as well as underneath the baking stone. This system makes the Grande 16 one of the fastest pizza ovens in terms of preheating that we've ever used.
We also love the fact that the Bertello Grande is one of the few portable pizza ovens to support natural gas. Just remember that in order to use natural gas with the Bertello Grande, you'll need to purchase an additional natural gas burner for about $135.
As one of the few pizza ovens to give Ooni and Gozney a run for their money, we recommend the Bertello Grande to those looking for one of the least expensive and best performing 16 inch pizza ovens on the market.
Like with most of the pizza ovens on this list, you'll need a natural gas conversion kit to use it with natural gas.
Unique Features:
Dual Fuel Design: The Bertello Grande is designed to be used with gas, or a combination of gas and wood. Unlike many pizza ovens that don't allow you use multiple fuel sources at once, the Grande is intended to be preheated with gas then supplemented with wood for enhanced flavor.
Quick Heat-Up: The Bertello Grande burns HOT, perhaps hotter than any other pizza oven we've used. With the Bertello Grande, you're fully preheated and ready to cook in under 15 minutes.
Dual-Gas Burners: Most pizza ovens feature a single gas burner, but the Bertello Grande has 2: one above and another below the baking stone. This not only preheats the oven extremely quickly, it also helps keep it hot while you cook.
Solid Design: Not everyone is a fan of the Bertello Grande's hammered finish, but we actually like it. It's also a testament to the oven's durability and engineering.
Tech Specs:
Weight: 58.7 lbs
Pizza Size Capacity: 16 inches
Temperature Capability: Up to 950° F
Fuel Options: Gas and wood (dual fuel system)
Time to Preheat: Approximately 15 minutes
Duration to Cook Pizza: Approximately 90 seconds
#4 Ooni Koda 16: Gas Exclusive Pizza Oven ($599)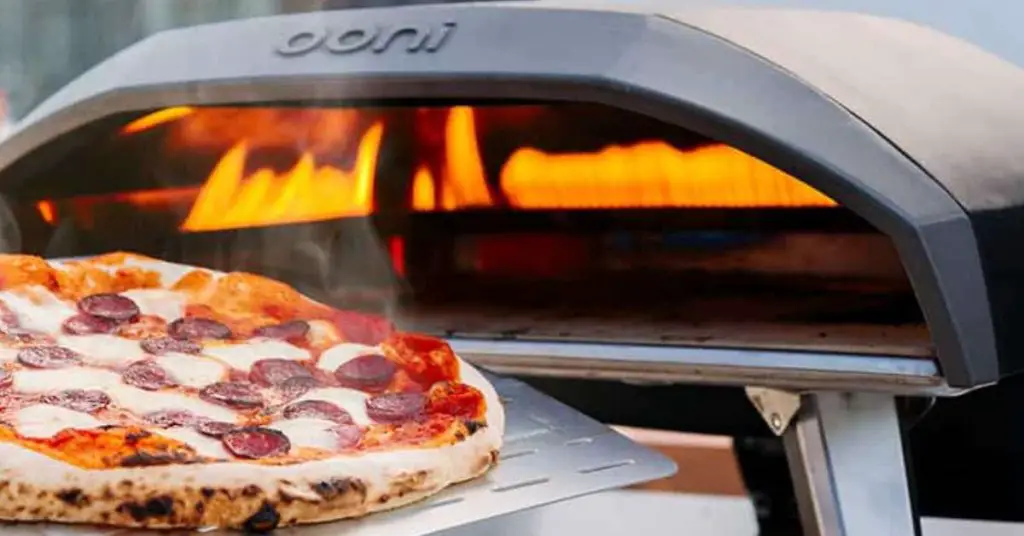 The Ooni Koda 16 is one of our favorite outdoor portable pizza oven models, and it's probably the easiest to use with natural gas out of all the others on our list.
As a gas exclusive pizza oven, the Koda 16 only requires a very small conversion kit to use natural gas that costs just $49. That's nearly two-thirds less expensive than most other natural gas conversion kits out there. And that assumes you want to use propane as well, because if you don't, you can order the natural gas only model for no additional cost.
We also love the Koda 16's L-Shaped gas burner, which provides heat coverage of nearly half of the pizza at once, making it a sleek and efficient choice. This gives you a more evenly cooked pizza with less turning.
With its simple design and easy gas controls, we recommend the Ooni Koda 16 for those looking for an inexpensive option for cooking larger pizza styles (like New York and New Haven).
When you factor in the cost of additional natural gas burners, the Ooni Koda 16 is actually the least expensive option on our list.
Unique Features:
Large Cooking Area: The Ooni Koda 16 features an extra-large cooking area, allowing you to cook 16-inch pizzas or multiple dishes simultaneously, which is not standard in most pizza ovens.
Innovative L-Shaped burner: Unique to this model, the innovative L-shaped flame provides one-turn cooking, ensuring even heat distribution and a perfectly cooked pizza without the need to rotate it manually.
Quick Preheat: It heats to an impressive 950°F (500°C) in just about 20 minutes, letting you to start cooking in less time than many other ovens on the market.
Multi-Fuel Versatility: The Ooni Koda 16 offers the flexibility to switch between propane or natural gas with an optional gas burner, catering to your availability of fuels and cooking preferences.
Association Approval: It's recognized by the Associazione Verace Pizza Napoletana, a notable international authority on Neapolitan pizza, as 'Recommended for Domestic Use', which is a rare endorsement for a gas-powered pizza oven.
Tech Specs:
Weight: 40.1 lbs
Pizza Size Capacity: 16 inches (also accommodates two cast iron pans)
Temperature Capability: Up to 950° F
Fuel Options: Propane, natural gas (with optional conversion kit)
Time to Preheat: Approximately 20 minutes
Duration to Cook Pizza: Approximately 60 seconds
#5 Halo Versa 16 Multi-Fuel Pizza Oven ($399)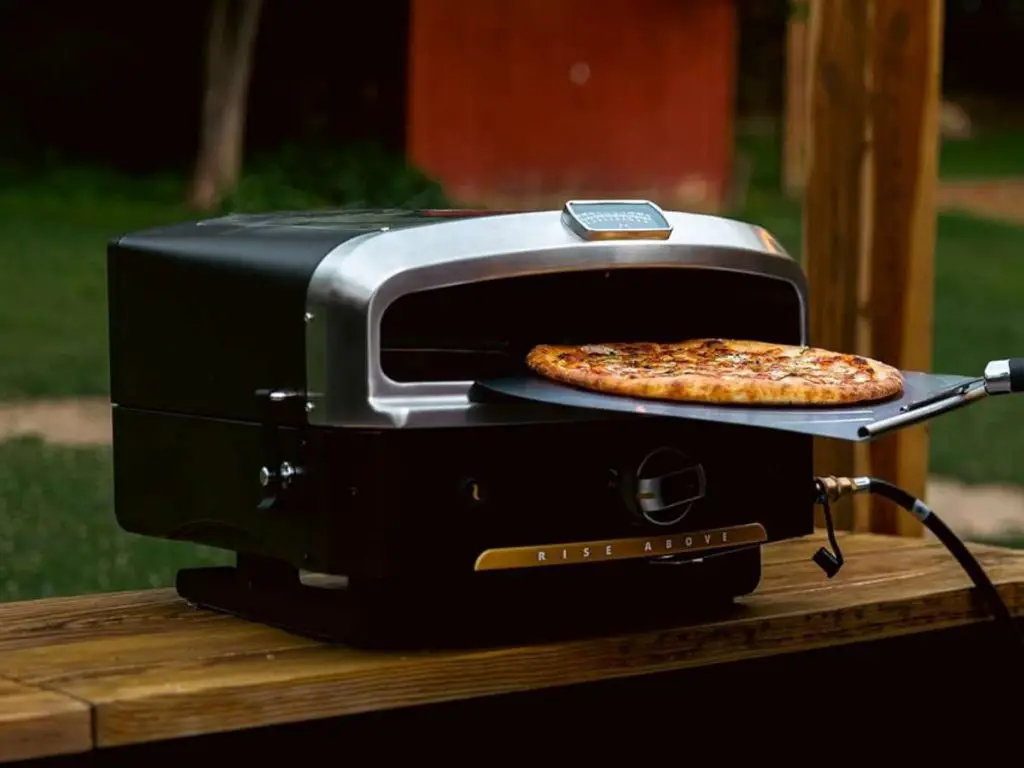 The Halo Versa 16 has some unique features compared to the others on this list, some good and some questionable. In either case, this is a well-designed, high-performance pizza oven that supports natural gas.
We love the Halo Versa 16's dual burner design that provides heat on the top and below the stone. This helps the oven heat up fast and keeps the baking stone hot and is perfect for making delicious pizza. But unlike other dual burner pizza ovens (like the Bertello Grande 16), the bottom burner is infrared rather than an open flame. This is more efficient than other methods since a full flame isn't necessary outside of the main cooking area up top.
We don't love the round, rotating baking stone. This is a feature we see being pushed on several pizza oven models these days, but it's more of a gimmick than a useful feature. A round baking stone just makes it difficult to launch a full 16 inch pizza on the stone, plus it's a waste of cooking area in the corners. The mechanism that turns the stone is just one more part that can break, and the space between the stone and the oven floor is a disaster waiting to happen when toppings and dough inevitably drip off the stone.
But on the positive side, the Halo Versa 16 performs exceptionally well and we like its compact design. This pizza oven is one of the few 16 inch pizza ovens that's designed to be used out of the back of a vehicle, so it's ideal for camping trips (and relatively lightweight as well). 
Just remember that to use the Halo Versa 16 with natural gas, you'll need this natural gas conversion kit.
Unique Features:
Dual Burner System: The Halo Versa 16 features a dual burner system, combining an infrared burner beneath the stone for consistent temperatures and a rear gas burner for convection heat, enhancing the cooking quality and efficiency.
Rotating Cooking Surface: A standout feature is the rotating cordierite stone, powered by either batteries or a plug-in, which provides a hands-free, even cooking experience without the need to manually rotate the pizza.
Hinged Top for Easy Maintenance: The hinged top design of the Halo Versa 16 allows for easy access to the interior for cleaning and maintenance, setting it apart from many other models.
Flexible Fuel Options: While initially designed for propane, the Halo Versa 16 is adaptable, with a conversion kit for natural gas, giving you flexibility no matter which fuel type you choose.
Award-Winning Design: The Halo Versa 16 is not only practical in its portability and construction but also an award-winner, having secured the 2022 Retailer's Choice Award, indicating its exceptional design and functionality.
Tech Specs:
Weight: 43.21 lbs
Temperature Capability: Up to 950° F
Fuel Options: Propane, natural gas (with conversion kit)
Time to Preheat: Approximately 12 minutes
Special Feature: Rotating pizza stone
Why Gas Is Easier to Use Than Wood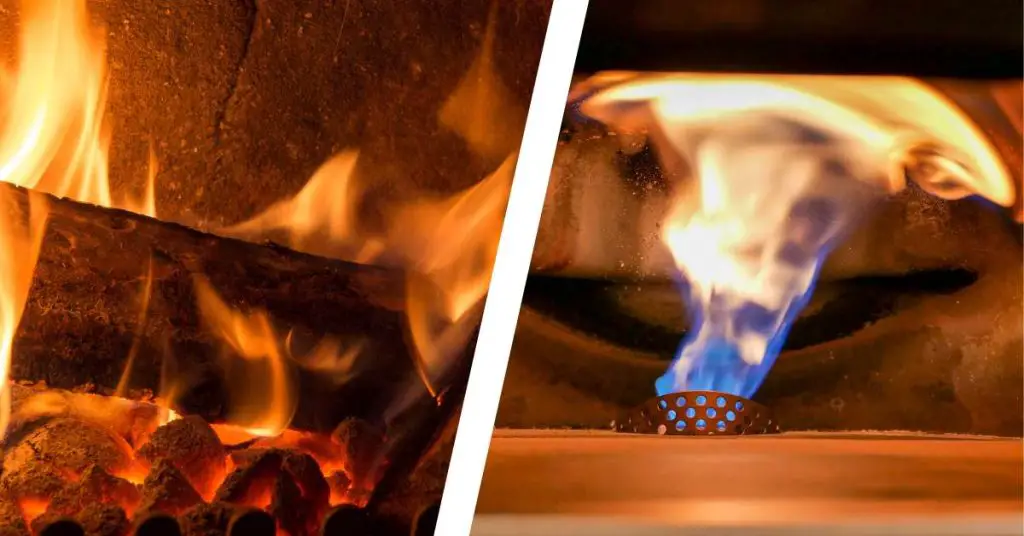 Gas outdoor pizza ovens offer a heat source with a level of convenience that wood-fired pizza ovens struggle to match. This is why, more and more, the best outdoor pizza ovens come with gas options or offer conversion kits. With a gas oven, you can cook a pizza without the prep work of chopping and storing wood, or managing a pile of embers.
The gas ignition system means your oven can heat up faster and more easily than with wood, reaching the maximum temperature needed for pizza at top speed. Many gas pizza ovens come with a built-in temperature gauge, so you know exactly when your oven is ready to cook pizzas.
Plus, the use of propane gas or natural gas is cleaner, without the ash and soot associated with wood ovens, making the gas pizza oven is best for those who prefer a straightforward cooking process and minimal cleanup.
Pros and Cons of Using A Natural Gas Pizza Oven
Choosing a natural gas pizza oven offers several benefits over propane. The biggest advantage is the convenience of a continuous supply. With natural gas, there's no need to replace fuel tanks, making it a hassle-free option for those who make pizza frequently.
Natural gas ovens are also cost-efficient in the long run, as natural gas is typically less expensive than propane. These pizza ovens are usually made from the same durable material as other pizza oven types as well.
But while natural gas is more fuel-efficient and convenient for regular use, propane can reach higher temperatures faster. This shouldn't be a deal breaker, because the difference in heating times is often less than 5 minutes, but it's something to be aware of. 
What Features to Look for in a Gas Pizza Oven Purchase
High Temperature Capabilities: Make sure the oven can reach the high temperatures needed for authentic pizza styles like Neapolitan, typically above 800°F (at a minimum).
Quality Construction: Look for ovens made from stainless steel or other durable materials that can withstand the elements and high heat. If it has a glass door with a handle, that's a bonus.
Built-in Thermometer: A thermometer is crucial for monitoring the oven's temperature without opening it, which is essential for even cooking. Consider purchasing an infrared thermometer as well for gauging the temperature of the baking surface itself.
Cordierite Pizza Stone: A high-quality pizza stone provides even heat distribution and retains heat for a perfect crust. Make sure the stone is thick enough and provides a big enough baking surface (between 13 and 16 inches).
Size and Portability: Consider the size of the oven to ensure it fits your outdoor space and check if it's portable if you plan to move it around. This is crucial, especially if you don't have a big backyard or balcony.
Fuel Efficiency: Make sure to check the oven's fuel consumption to ensure it's economical to run, whether it uses propane or natural gas.
Ease of Cleaning: Features like a removable baking stone can make cleaning out ash and food debris much easier. But generally speaking, gas pizza ovens are easy to keep clean in any case.
Adjustable Flame Control: This allows for precise heat adjustments to cook various dishes beyond pizza (like roast vegetables and meats).
Accessories: Check if the oven comes with everything you need, like a pizza peel, which is essential for getting the pizza to slide in and out of the oven.
Warranty and Support: A good warranty and responsive customer support can be invaluable for troubleshooting and maintenance. Most reputable brands (like Ooni and Gozney) offer a mandatory 1 year warranty along with a free upgrade to 3-5 years if you register the product.