Blackstone Propane Pizza Oven Review (New 2023 Model)
Outdoor pizza ovens: they're every pizza maker's dream. The allure of making authentic, pizzeria-quality pizzas right in your own backyard is hard to resist.
Enter the Blackstone Propane Pizza Oven. It's been making waves in recent years, and I'm right here riding them—kind of.
Reaching soaring temperatures of over 1000F? Check. A finely-tuned oven calibrated specifically for making pizza? Not so much.
The Blackstone Propane Pizza Oven has a lot going for it, but it's unfortunately not ready to compete with the big boys in the world of portable pizza ovens. It sort of feels like Blackstone was making an outdoor grill, then at the last minute decided to turn it into a pizza oven. Keep reading to find out why.
That said, if you're tempted by what the Blackstone Propane Pizza Oven is offering—namely, a large 16 inch pizza oven that gets really hot—there are much better options out there. 
For starters, I recommend checking out the Ooni Karu 16 if you want one of the best 16 inch portable pizza ovens on the market at a good price. And if you're looking for something even bigger that looks as good as it performs, check out the Gozney Dome.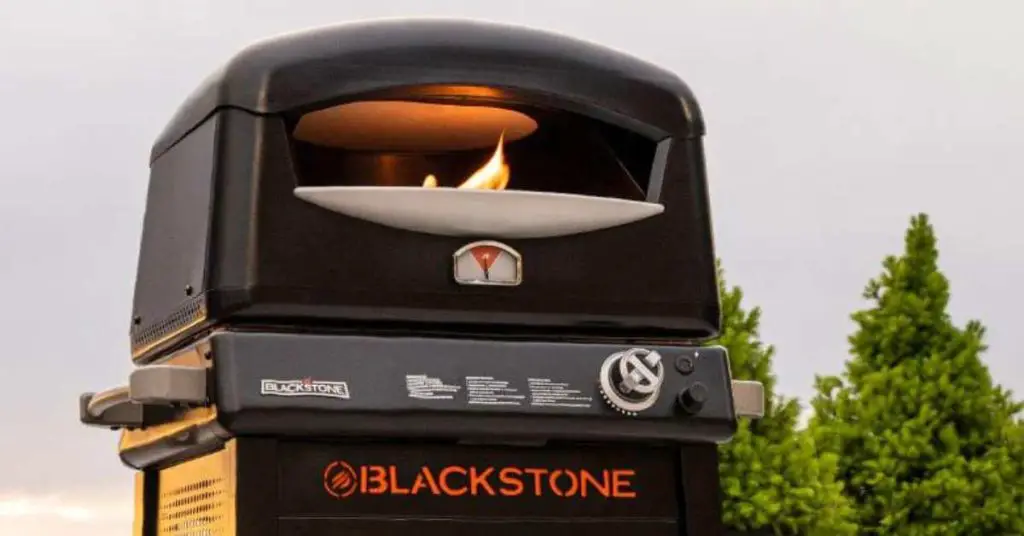 Blackstone Propane Pizza Oven Review: Pros and Cons
Let's get right to the meat of this review with a list of what I like and don't like about the Blackstone Propane Pizza Oven.
Pros:
High Temperatures: The Blackstone doesn't shy away from the heat. It consistently and easily hits over 1000F, which is impressive for a propane oven.
Generous Baking Surface: With a 16-inch pizza stone, you've got plenty of space to make any style of pizza you want. 
Includes a stand: Stands and tables are often sold separately, so getting one included for free is a nice touch.
Top baking Stone: The Blackstone has a baking stone mounted to the ceiling of the oven, which helps direct more heat to the top of the pizza. This is a nice feature, but I'm not entirely convinced it's necessary either.
Cons:
Heat Control Issues: While achieving high temperatures is nice on paper, in practice it's a bit challenging to control. The Blackstone tends to burn everything unless you dial the heat way down, or turn it off entirely mid-cook.
Overpowered Burner: The root of the heat issue is partly due to an overpowered propane burner. It's like having a sports car engine in a compact car. Way too much heat for such a small pizza oven.
Round Stone Design: I've always had a gripe with round baking surfaces because they waste corner space and give you no room for error when launching a full sized pizza.
Gimmicky Rotation: Rotating pizza stones are not unique to the Blackstone, and they're usually marketed as a perk. In reality it's solving a problem that doesn't exist—a flick of the wrist and a pizza peel will get the job done without a round baking stone.
Gap Issues: There's a significant gap between the pizza stone and the oven's interior walls. Drop some toppings there, and you're in for a smoky mess.
Useless Thermostat: The thermostat doesn't actually tell you the temperature, it just has a dial with red in the middle that indicates when it's "ready" for pizza.
Better Alternatives Available: With ovens like the Ooni Karu 16 and the Gozney Dome on the market, the Blackstone feels a step behind. These alternatives offer better performance without the quirks of a round baking surface or a misbehaving burner.
What is the Blackstone Propane Pizza Oven?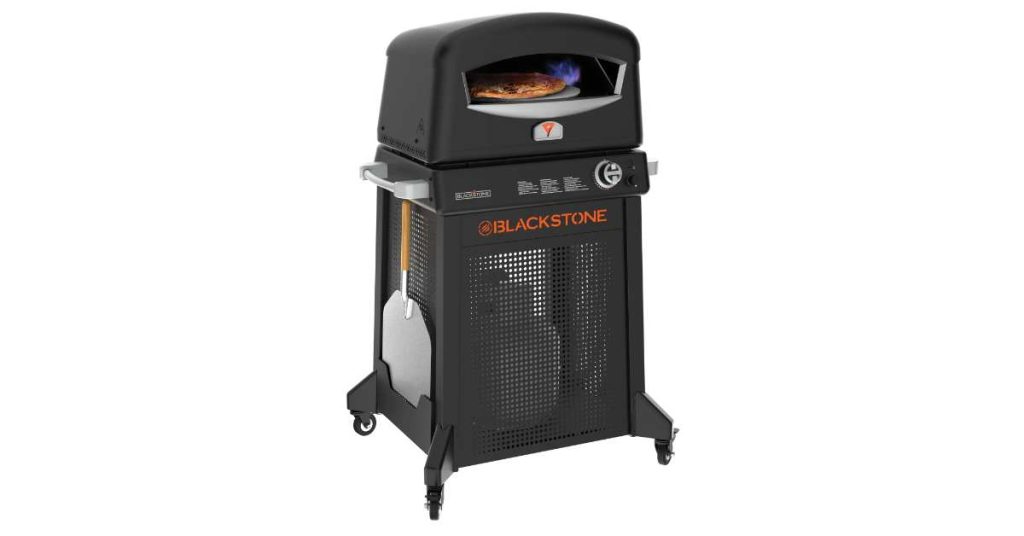 If you don't know already, the Blackstone is a propane powered pizza oven that's designed and marketed to compete with other well-known pizza ovens on the market. It currently costs $597 at Walmart. Like with any other portable pizza oven, the aim is to bring pizzeria quality pizza right to your own backyard or patio.
Blackstone is well-known in the world of outdoor grills, so it's understandable why their pizza ovens have received so much attention over the years. Of all the pizza ovens out there, the Blackstone is one of the models I receive lots of questions about, hence why I'm doing this review.
Another claim to fame of the Blackstone pizza oven is the fact that it's available right at Walmart, which makes it accessible for almost everyone no matter where you live (at least in North America). 
The Blackstone Propane Pizza Oven is also fairly inexpensive for a standalone 16 inch pizza oven that comes with its own stand, especially if you pick one up on sale. The Walmart closest to me is selling them for just under $600. Not bad. 
Design and Build Quality
At first glance, the Blackstone Propane Pizza Oven looks sleek and modern. The all black finish and stainless steel oven chamber gives it a clean look, making it a nice looking addition to any outdoor space. It actually looks a lot like an outdoor grill, which makes sense since it's a Blackstone. 
But, as we all know, looks aren't everything.
Now, about that rotating pizza stone. Does it work? Yes, but is it practical? Not really. The round design means you're losing valuable baking space. And if you're like me, who loves to max out the size of my pizzas for the oven I'm using, this round stone is more than a bit of a letdown.
But here's the thing with the Blackstone in particular: there's this massive gap between the baking stone and the oven's interior walls. If any of your toppings drip over the edges (and they will), then it's straight into the abyss. Not only does this make cleaning a nightmare, but it also means you're going to get some unwanted smoky flavors if anything falls in (not the good kind, either).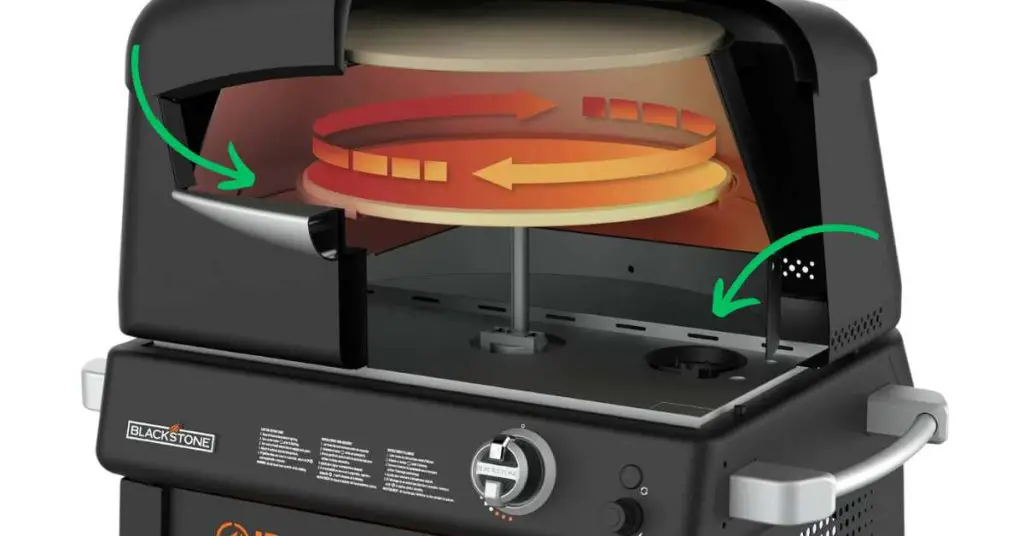 The thermostat is essentially useless as well. It just tells you when the oven is in the right temperature "zone" for making pizza, even when it's way too hot. I'm all for simplicity, but when I'm making pizza in an expensive pizza oven, I need precision. This is why I ended up using my own infrared thermometer instead.
What weird, though, is that it appears that other models of this same pizza oven feature a thermostat that actually shows the temperature. I'm not sure why or how that is, but all I can tell you is that the model I used is the same as in the picture below.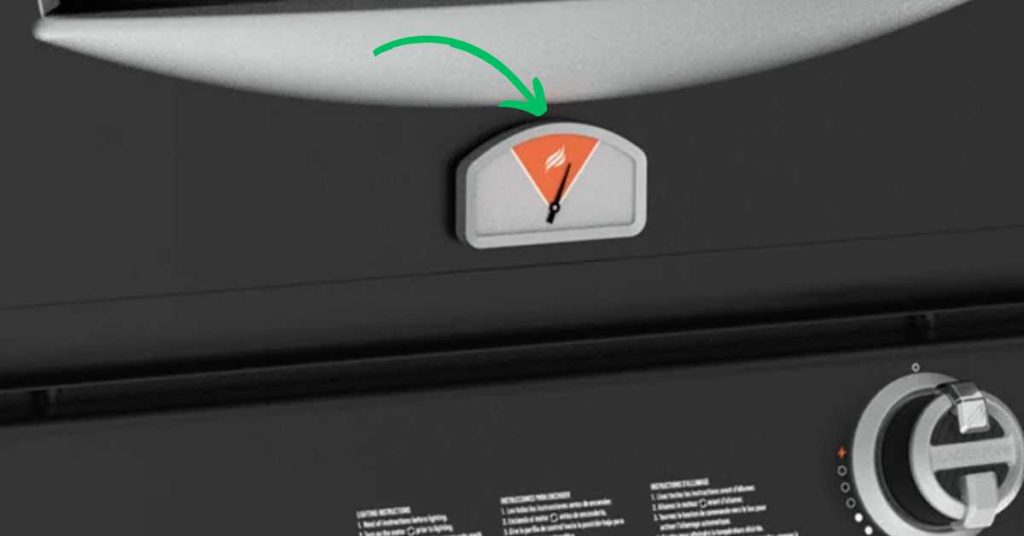 Overall, while the Blackstone has some cool design elements, I think there were a few oversights in the practicality department. It honestly feels like a pizza oven designed by someone who's only ever used an outdoor grill. Sure, it's super powerful, but it misses the mark with pizza specifically. 
Blackstone Propane Pizza Oven Specifications
Alright, let's get into the nitty-gritty details of this pizza oven:
Fuel Type: Propane
Temperature Range: While it can soar to over 1000°F, controlling it to stay at a desired temperature can be a challenge.
Pizza Stone Size: A generous 16 inches in diameter. Round, because, well, it rotates.
Rotating Feature: Yes, the stone rotates. Handy? Debatable. Gimmicky? Absolutely.
Thermostat: Doesn't provide an exact temperature. Instead, it has a dial that indicates when the oven is "ready", which leaves lots of room for interpretation.
Exterior: Black stainless steel finish, giving it a sleek and modern look. It''s definitely cool looking.
Burner: Propane burner that's, in my opinion, a tad overpowered. It's like putting a V8 engine in a compact car. You'll have to manually adjust the regulator if you want less power.
Gap: A significant gap between the pizza stone and the oven's interior walls. Great for losing toppings, not so great for cleaning.
In terms of specs, the Blackstone Propane Pizza Oven packs a punch. But as with any product, it's not just about the numbers. It's about how those numbers translate to real-world performance. And in this case, there are a few quirks to be mindful of.
Technical Specifications:
| Specification | Detail |
| --- | --- |
| Product Type | Outdoor Propane Pizza Oven |
| Pizza Stone Material | Cordierite |
| Pizza Stone Size | 16 inches (Rotating) |
| Fuel Type | Propane |
| Temperature Capability | Up to 900°F |
| Ignition | Electric, auto-safe ignition |
| Special Features | 2-Stone Technology, Detachable mobile base, 16″ cordierite stones, Bake pizzas in as little as 90 seconds, Adjustable high-pressure regulator, 4 locking caster wheels, Bulk propane tank cradle on base |
| Model Number | #6824 |
| Product Dimensions (LxWxH) | 32.75 x 26.75 x 52.00 Inches |
The oven's design is geared towards outdoor enthusiasts who want to enjoy authentic pizza without the need for a traditional wood-fired oven. The rotating stone is a unique feature, although its practicality can be debated. The mobile stand is a great addition for those who like to move their cooking station around, be it in the backyard or for a picnic.
Performance and Usability
Alright, let's gets into the details: how does the Blackstone Propane Pizza Oven actually perform?
First off, that temperature. The oven can reach a scorching 900°F, which is impressive for a propane oven. But here's the catch: it's a little too good at getting hot. With its overpowered burner, it seems to have a natural inclination to turn pizza into charcoal if you're not careful. 
It's a bit ironic because I'm usually complaining about pizza ovens not getting hot enough, but with the Blackstone it's reversed.
Now, about that rotating stone. On paper, it sounds like a great feature, especially if you're new to pizza ovens. No need to manually turn your pizza, right? 
But in practice, it's little more than a gimmick. Rotating a pizza with a peel is simple and effective, taking only a few seconds. And in order for a baking stone to rotate, it has to be round which wastes a ton of potential baking space around the corners (see diagram further up).
Speaking of the stone, it's not just its round shape that's the problem, it's the huge gaps between it and the interior walls, as well as a huge space beneath. Drop some toppings, and they'll drip over the edge never to be seen or cleaned again. Not the best design choice, if you ask me.
The thermostat is another odd feature. Instead of giving an exact temperature reading (or even a ballpark), it has a dial that indicates when the oven is "ready" when the arrow is in the red zone in the middle. But "ready" seems to mean "way too hot", especially for those who prefer lower temperature styles like New York and New Haven style. It's honestly way too hot even for Neapolitan.
However, it's not all doom and gloom. With some tweaks, like adjusting the gas regulator and turning the heat down (or off entirely during the cook), you can get decent results. But with other stellar options out there, like the Ooni Karu 16 or the Gozney Dome, it makes you wonder if the effort is worth it. Personally, I don't think it is.
In a nutshell, the Blackstone has potential, but it might require a bit more tinkering and babysitting than you'd expect from a top-tier pizza oven.
Blackstone Propane Pizza Oven Review: What I Think Overall
The Blackstone Propane Pizza Oven is a mixed bag. On one hand, its ability to reach those high temperatures is admirable. It's a testament to its powerful burner, and for those who crave that authentic, charred Neapolitan crust, it's a tempting feature.
But, (and it's a big but) the oven's design choices leave a lot to be desired. The rotating stone, while seemingly innovative, feels more like a solution to a problem that doesn't exist. The round shape of the stone, coupled with the gap between it and the oven walls, can be a recipe for a messy baking disaster.
The truth is, while you can make the Blackstone work for you with some adjustments, it's hard to ignore the fact that there are other ovens out there that offer a more seamless experience right out of the box. Pizza ovens that don't require you to play a guessing game with the temperature or compromise on the shape and size of your pizza.
Wrapping Up
Navigating the world of pizza ovens can be a bit like walking through a maze, especially if you're new to making homemade pizza. There are so many options, each with its own set of features, strengths, and weaknesses. The Blackstone Propane Pizza Oven is no exception. It's a unique piece of equipment with a lot of potential, but it also has several annoying quirks.
What I've come to appreciate is its raw power—it's clearly been designed by a grilling company. But that's actually a big part of the problem. The design choices, especially the round stone with the gaps, and the overpowered gas burner, were clearly not implemented or designed by people who specialize in pizza. 
Would I recommend the Blackstone propane pizza oven? If you want a black and white answer, then no, I wouldn't. But the Blackstone isn't overpriced, and with some tinkering, you can master it and end up making some good pizza.
But if you aren't interested in tinkering, and want a pizza oven designed by pizza experts, there are much better options out there. For example, the Ooni Karu 16 isn't much more expensive than the Blackstone and it's superior in every single way. Better airflow, better design, more portable, more fuel choices, and a larger baking area—and that's just scratching the surface. 
And if you're looking for a larger standalone pizza oven that isn't quite as portable, the Gozney Dome is an amazing choice that performs well and looks amazing. 
In the end, it's up to you, but with so many better pizza ovens out there, it's difficult for me to recommend the Blackstone unless it's your only option.
Blackstone Propane Pizza Oven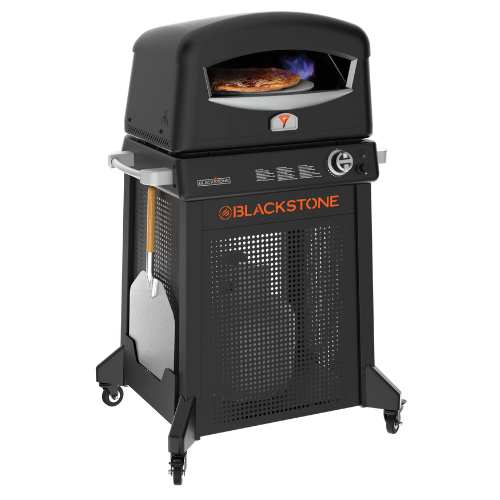 Poorly calibrated gas regulator
Summary
The Blackstone Propane Pizza Oven has a lot of good things going for it, but some odd design choices when it comes to the gas burner and baking stone make it difficult to recommend. That said, you can still get some good results with it if you tinker around with the gas regulator and be careful to avoid the gaps when launching onto the stone.
Related Questions
Is the Blackstone Pizza Oven suitable for other dishes besides pizza?
Yes, anything you can cook in a pan or other oven safe cookware can be cooked in the Blackstone pizza oven. I often roast vegetables and meats in my pizza oven.
Does the Blackstone Pizza Oven come with a propane tank?
No, the Blackstone Pizza Oven does not include a propane tank. While it has a bulk propane tank cradle on the base of the cart, the propane tank itself needs to be purchased separately.