Who are Ooni's Competitors? A Closer Look at Gozney, Bertello, and Breville
When it comes to pizza ovens, Ooni is considered one of the best, but it isn't the only game in town. Let me introduce you to Gozney, Bertello, and Breville – three of the main brands who are Ooni's competitors in the pizza oven market.
But before we get into that, here are three non-Ooni pizza ovens from these brands you might be interested in:
| Brand | Model | Fuel Type | Max Pizza Size | Price |
| --- | --- | --- | --- | --- |
| Gozney | Roccbox | Gas/Wood | 11 inches | $499 |
| Bertello | Outdoor Pizza Oven | Gas/Wood/Charcoal | 12 inches | $310 – $499 |
| Breville | Smart Oven Pizzaiolo | Electric | 12 inches | $999.95 |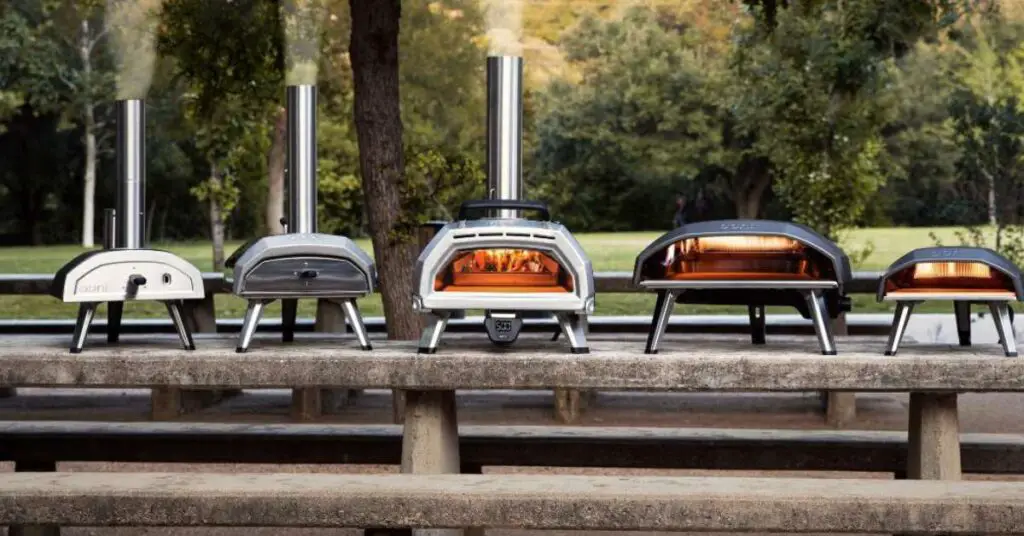 Gozney: Another UK Pizza Oven Brand
Ooni isn't the only big name on the UK pizza oven scene.
Gozney, born from the minds of Tom and Laura Gozney in 2010, is a UK-based brand that's made a name for itself in the pizza oven market. The Gozney Roccbox, their flagship product, is a testament to their dedication to quality and performance.
Similar to Ooni models, the Roccbox is a portable outdoor pizza oven that can reach temperatures of up to 950°F (500°C)—perfect for Neapolitan and other wood-fired styles of pizza. 
The Roccbox is known for its retractable outer silicone skin, which helps keep the outside of the oven from burning your hands if you accidentally touch it while in use. This pizza oven is also well known for its amazing insulation, made from thick layers of aluminum that helps it heat up fast and retain heat between pizzas.  
But just like Ooni, what sets the Roccbox apart from many of its competitors is its dual fuel capability. You can use either gas or wood, depending on your preference and living situation. 
Having tried both, I can tell you that either option works great, but the wood-fired option will infuse your crust with a smoky flavor that's characteristic of Neapolitan style pizza.
The built-in thermometer and included pizza peel are handy additions, making the whole process easy for beginners.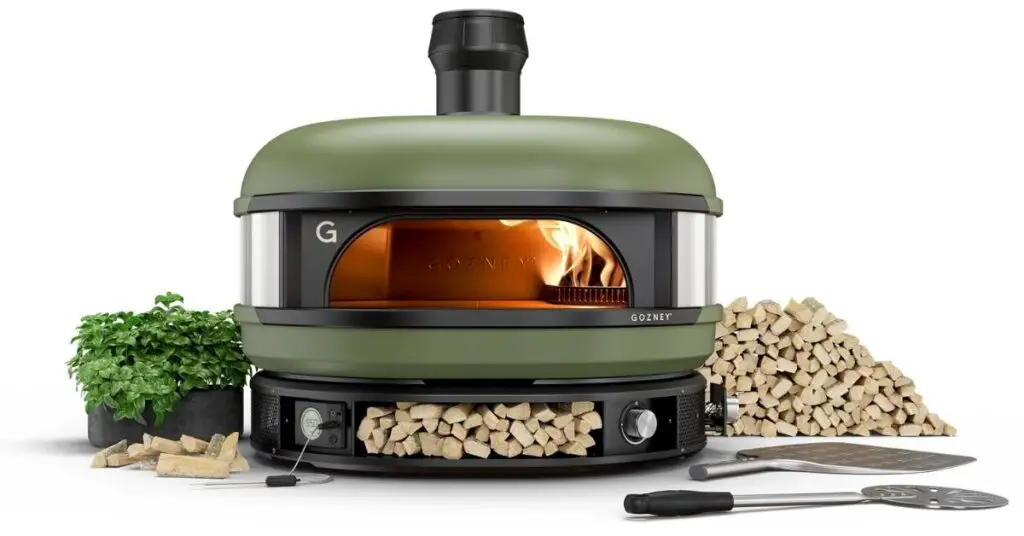 Related Posts: What pizza oven does Guy Fieri use?
Bertello: Born on Shark Tank
Bertello is a relatively new American brand that got its start on the TV show Shark Tank, and it's been making waves in the pizza oven industry ever since. Their 12 inch Bertello Outdoor Pizza Oven is a versatile piece of equipment that can use wood, charcoal, or propane.
The Bertello Outdoor Pizza Oven can reach temperatures of up to 950 degrees Fahrenheit, which is hot enough to cook a pizza in 60-90 seconds. I've actually had the chance to use the Bertello 12 inch a few times, and I can't complain about the quality of the pizzas it produced, or the ease of use in setting it up.
The only trouble I had using the Bertello was in getting it to maintain high temperatures at or near 900 degrees using wood and charcoal. I suspect this is easier when using propane, and also that with some practice I probably could have done better. This comes with the territory every time you use a new pizza oven, so I'm not terribly surprised.
As of 2022, Bertello also sells another pizza oven, the Bertello Grande, which is basically a 16 inch version of the original 12 inch Bertello Outdoor Pizza Oven. While I haven't yet tried the Grande, it appears to be extremely similar in form and function to the 12 inch version, so I would expect a similar experience and results.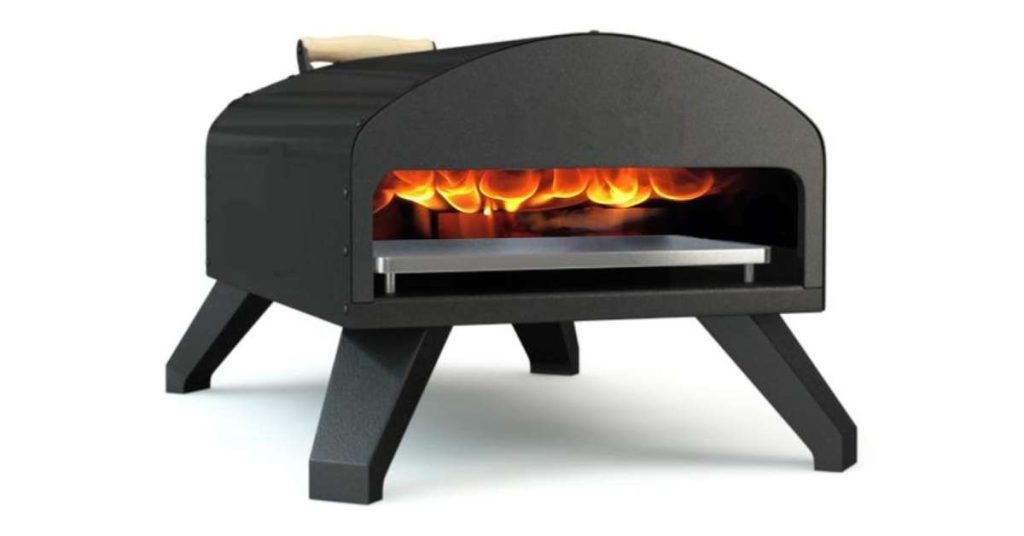 Breville: A Household Name in Kitchen Appliances
Breville is an Australian brand founded in Sydney in 1932 that has developed a strong name for itself in the kitchen appliances space over the decades, including pizza ovens. Most notably, Breville's Smart Oven Pizzaiolo is an indoor countertop pizza oven that's become a force to be reckoned with in the pizza oven market. 
In fact, until the Ooni Volt 12 was launched in early 2023, Breville's Smart Oven Pizzaiolo was really the only choice when it came to premium quality indoor pizza ovens hot enough to make proper Neapolitan style pizza. 
The Pizzaiolo can reach 750 degrees Fahrenheit, which isn't as hot as most outdoor pizza ovens, but still hot enough for Neapolitan pizza. It's fairly simple to use as well, with presets for beginners and a manual mode for those with more experience.
I actually had the chance to use the Breville Pizzaiolo myself a few years ago, and it was a great experience. At the time, it was the first indoor domestic pizza oven I'd ever used, so I was pretty impressed with it. Sure, it's a bit cramped inside, and it would be nice if it went over 750F. It's also a bit pricey at $999 for such a small oven, but the ability to cook indoors using electricity makes it worth it.
It should also be noted that the much newer Ooni Volt 12 reaches a full 100 degree hotter than the Pizzaiolo (750F vs 850F), and sells for the same price. But if you're looking for a high-end countertop pizza oven, the Pizzaiolo is still worth considering even in 2023.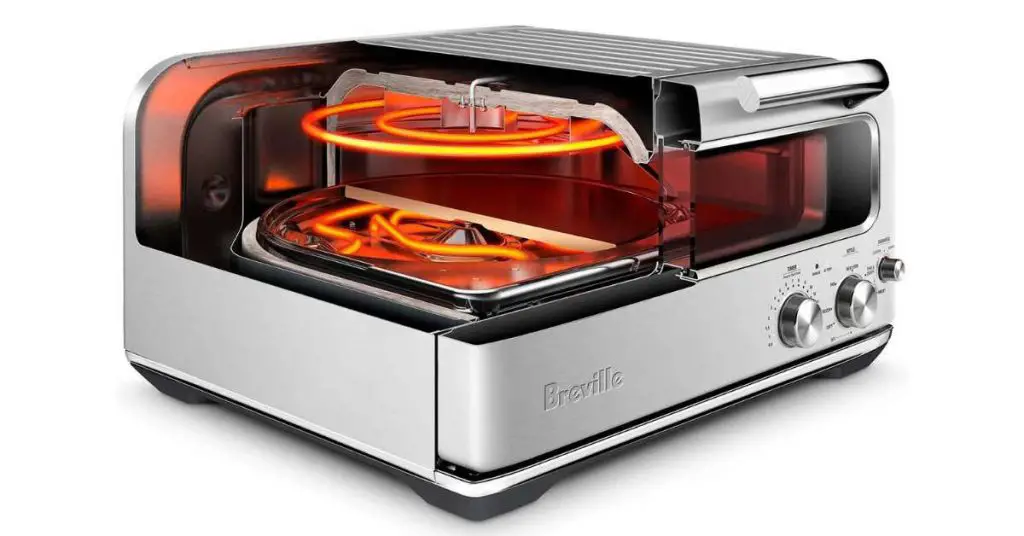 Comparing the Competitors
When comparing Gozney, Bertello, Breville, and Ooni, several factors come into play. Despite a lot of overlap in terms of features and functions, each brand has its own strengths and unique aspects. 
Gozney's Roccbox, for instance, stands out with its thick insulation, compact form, and attention to safety with its safe-touch silicone jacket. Bertello's oven, on the other hand, shines with its affordability and inclusion of all the accessories you need to get started. Breville's Pizzaiolo, while on the pricier side, offers a high-end, countertop solution for those who prefer cooking in the comfort of their own kitchen.
Ooni, of course, has its own set of advantages, namely its bigger product line and generally more affordable price points. But it's clear that these three brands are giving it some serious competition. 
Each brand offers a unique pizza-making experience, and having used all of them, I can say that they all deliver on their promise of delicious, homemade pizza—but that's not a huge surprise since almost any pizza oven is capable of at least making a good pizza. 
This is why it's so important to pick the oven that matches the price you want, the size you want, and choice of fuel you're looking for above all else.
Who Are Ooni's Competitors? A Look at the Pizza Oven Market
The pizza oven market is a dynamic and competitive space, even though it feels like just a few companies dominate the space. Brands like Gozney, Bertello, and Breville, each with their unique histories and product offerings, continue to innovate and compete with Ooni.
Gozney, with its UK roots and focus on professional-grade home ovens, brings Tom Gozney's personal touch to each model they produce. Bertello, with its Shark Tank fame, offers a versatile and affordable solution for outdoor pizza cooking that's backed by the investment of Kevin O'Leary. Breville, with its long history and wide range of kitchen appliances, provides a high-end countertop option for those looking to cook pizza indoors.
Each of these brands is attempting to carve out a niche in the pizza oven market that's currently so dominated by a single brand—Ooni. But each one of these brands offers high quality constructions with attention to detail, and that makes them real contenders on the pizza oven scene for years to come.
So, while Ooni is by far the most popular choice among consumers (for good reason), it's hardly the only option anymore. Brands like Gozney, Bertello, and Breville are offering competitive products that are worth considering, especially when you can find one on sale. 
Next time you're in the market for a pizza oven, remember to check out these other brands before automatically going with an Ooni.
Honorable Mentions:

Of course, there are more than three competitors to Ooni in the market for pizza ovens. Here are a few well-known brands that compete with Ooni, despite not being featured in this article.