Can You Use Ooni Indoors? How & When To Use An Ooni Pizza Oven Indoors
You have a premium Ooni pizza oven, but the weather is terrible, so you're wondering: "can an Ooni pizza oven be used indoors?" Or perhaps more specifically, can the Ooni Koda (12 or 16) be used indoors?"
It makes sense, right? The Ooni Koda series is propane only, meaning it doesn't generate much, if any smoke. For this reason, lots of people wonder if it's safe to use their Ooni indoors or near a window, in a garage, etc. 
Let's dive into exactly when it's safe to use your Ooni indoors, and more importantly, when it isn't.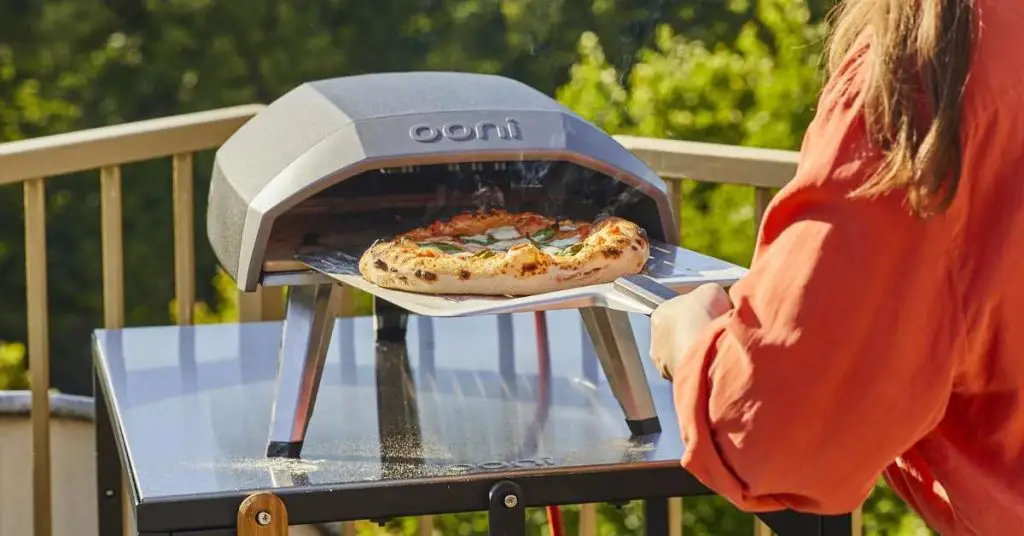 Playing With Fire: Can You Use An Ooni Pizza Oven Indoors?
Can you use Ooni indoors? The answer is simple: No, you should not use a gas, wood, or charcoal pizza oven indoors, and that includes the Ooni Koda series. 
While these ovens are incredibly efficient and well designed, they're engineered for outdoor use only, and the main reason for this is safety. 
Fuel burning ovens produce a substantial amount of intense heat – ideal for churning out perfectly cooked pizzas in a matter of minutes, but also incredibly unsafe in enclosed environments. They also emit carbon monoxide, a dangerous gas that's unsafe for indoor environments without proper ventilation.
If you've ever been to a wood-fired pizzeria, you'll notice they have massive ventilation systems that funnels all smoke and fumes safely out of the restaurant and away from customers and employees. There's a very good reason for this—it's literally deadly not to.
So unless you have a similar ventilation system in your home, it's best to keep your fuel burning Ooni pizza oven safely outside.
| Oven Model | Fuel Type | Pizza Size | Indoor Safe | Outdoor Safe |
| --- | --- | --- | --- | --- |
| Karu 16 Multi-Fuel Pizza Oven | Wood, Charcoal, Propane Gas & Natural Gas (with optional adaptors) | Up to 16 inches | No | Yes |
| Karu 12 Multi-Fuel Pizza Oven | Wood, Charcoal & Propane Gas (with optional adaptor) | Up to 12 inches | No | Yes |
| Karu 12G Multi-Fuel Pizza Oven | Wood, Charcoal & Propane Gas (with optional adaptor) | Up to 12 inches | No | Yes |
| Koda 16 Gas Powered Pizza Oven | Propane Gas & Natural Gas (with optional conversion kit) | Up to 16 inches | No | Yes |
| Koda 12 Gas Powered Pizza Oven | Propane Gas | Up to 12 inches | No | Yes |
| Fyra 12 Wood Pellet Pizza Oven | Wood Pellets | Up to 12 inches | No | Yes |
| Volt 12 Electric Pizza Oven | Electric | Up to 12 inches | Yes | Yes |
Quick Ooni Pizza Oven Indoor Safety Reference Chart
Embracing the Elements: Can You Use Ooni in the Rain?
On the topic of outdoor use, you might also wonder about using your Ooni in the rain. Well, Ooni pizza ovens are built for outdoor use, but I wouldn't recommend using your's in anything more than a slight drizzle. 
While a little rain won't damage your Ooni, it's best to avoid using it during heavy rain, not least to keep your pizza from getting soggy! If a rainstorm starts to brew during your pizza party, it's best to pack up your Ooni and wait for less inclement weather. The rain won't damage the Ooni, but heavy rain will prevent it from performing optimally.
In terms of storage, I recommend bringing your Ooni inside when not in use, or getting an Ooni carrying case for total protection whether inside or outside.
Garage Gourmet: Can You Use an Ooni in a Garage?
If you're thinking of taking your Ooni into a semi-enclosed space, like a garage, think again. Although it may seem like a garage provides sufficient ventilation, since it's sort of "outside", it's still not an ideal or safe environment for a gas pizza oven. 
The enclosed nature of a garage can lead to a buildup of heat and carbon monoxide—similar to if you left the engine of your car running. For this reason, it's always best to use your Ooni in a well-ventilated outdoor space, away from your house, as well as pets and children.
The Indoor Exception: Ooni Volt 12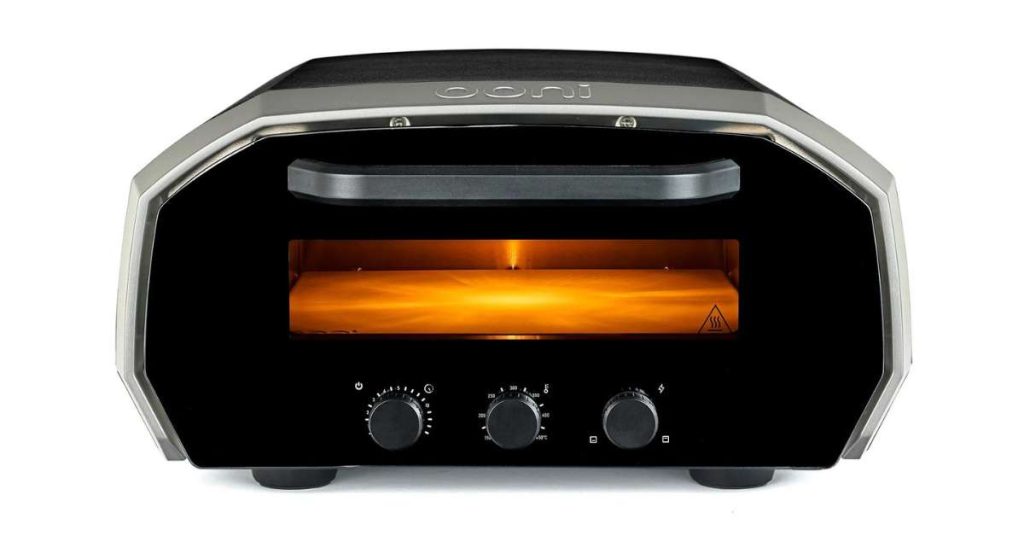 The Ooni Volt 12 stands out in the Ooni line-up as a game-changer for indoor pizza lovers. Unlike most Ooni ovens, the Volt 12 is designed to work just as well inside as it does outside. 
If you're a fan of Ooni's delicious stone-baked pizza but don't fancy stepping outdoors, this indoor-ready, versatile electric pizza oven is your new best friend.
A Leap into Electric
The Volt 12 is Ooni's debut into the world of electric ovens, and it's already making waves. This powerful oven brings the taste of authentic, restaurant-quality pizza right into your kitchen, whipping up a Neapolitan-style pizza in a lightning-fast 90 seconds. It's also amazing at most other styles of pizza as well, as long as it's 12 inches or smaller.
So whether you're a pizza-making pro or a novice just starting out, the Volt 12 has got you covered. You have the freedom to manually adjust the heat settings, or you can sit back and let the oven automatically manage the heat for you.
Portable Perks
One of the beauties of the ooni Volt 12 is its portability. It's light, it's compact, and with built-in handles, moving it around your kitchen isn't much of a hassle. The Volt 12 isn't just for indoor use either; its steel shell sports a weather-resistant, powder-coated finish and top-notch insulation for maximum heat retention. 
So, with this in mind, feel free to take your pizza party outside when the weather is good and the mood strikes!
High-Tech Features
The Volt 12 isn't just about portability and indoor use; it's also packed with features that elevate your pizza-making game. One of these is the innovative Boost function, a clever addition that heats the baking stone back to cooking temperatures super quickly between bakes. 
This means your last pizza of the night will be just as well cooked as the first one. And to keep track of your pizza as it bakes, an internal oven light and insulated viewing window lets you keep an eye on things.
What's Inside the Box?
When you unbox the Ooni Volt 12, you'll find a 13-inch Cordierite pizza stone, an Ooni Volt Essentials Guide, and a handy manual. The oven itself is relatively compact as well at 24.2" x 20.8" x 10.9" (61.7cm x 52.9cm x 27.9cm), and it weighs in at a relatively light 39.2lbs (17.8kg). 
The cooking surface is a 13.27" x 13.27" square (33.7cm x 33.7cm), and the pizza stone is 0.4" thick (10mm), which is about the standard for portable pizza ovens. Now, you're all set to start baking homemade pizzas indoors.
Kitchen Counter Hero: Where to Place Your Ooni Volt 12
The Ooni Volt 12 is designed to fit conveniently on a standard kitchen countertop. Because of its compact size and weight, you can easily move it around your house or store it when not in use. 
But remember, it's crucial to place the oven on a heat-resistant surface, keeping safety as a priority when baking those delicious pizzas. You don't want to accidentally melt or damage your kitchen counter or table if it isn't suited for the heat (but most are anyways, so it's not a huge issue).
Power and Performance: Ooni Volt 12 Specifications
Equipped with top and bottom heating elements, the Ooni Volt 12 offers adjustable dials to control the temperature. It's powered by 1600 Watts and operates on a voltage of 120 Volts. The oven can reach a whopping 850°F (450 °C) in just 20 minutes. 
That means you can have fresh, homemade pizza, of whatever style you prefer, ready in just 90 seconds, a testament to its high performance and efficiency. This represents a huge step forward for domestic use, indoor electric pizza ovens.
Final Verdict: You Can Use Ooni Indoors, As Long As It's The Ooni Volt 12 Electric Pizza Oven
While traditional gas-powered Ooni ovens are a no-go for indoor use, the Ooni Volt 12 makes indoor pizza making not just possible, but easy and enjoyable. It's a reliable, high-performing, and versatile option for pizza lovers who want the flexibility to bake indoors or outdoors, come rain or shine.
Whether you're a pizza-making novice or a seasoned pizzaiolo, the Ooni Volt 12 is a fantastic addition to your kitchen arsenal. Thanks to this oven's compact design, high performance, and innovative features, it's handily a standout choice for those who want to make pizzeria quality pizza at home.
So, the next time pizza cravings hit, you won't need to worry about weather conditions or safety concerns. With the Ooni Volt 12, you can whip up delicious, mouth-watering pizzas right in your own kitchen, any time you want.
Oh, and just a reminder—please don't use any Ooni oven except the Ooni Volt 12 indoors. Safety first, always.
Related Questions:
Can Ooni Pizza Ovens Be Used Indoors?
No, Ooni pizza ovens are not safe for indoor use because they burn fuel that emits gas and smoke, which is harmful (even deadly) in an enclosed area. The only exception to this is the Ooni Volt 12, which is a fully electric pizza oven designed to be used safely indoors.