4 Essential Tools That Will Make Your Pizza Better
Anyone can make a delicious pizza at home, especially if you follow my simple recipe and step-by-step guide and use fresh, simple ingredients.
But if you really want to up your game and give yourself the best chance to make a top notch pizza, you need to have these four essential pizza making tools in your kitchen.
Don't worry though – these tools won't break the bank, and you might even own some already.
Below are all the tools you need to make the best pizza possible right at home – plus tips on how to find the right one.  
---
Pizza Tools Quick FAQ
What are the best tools to have for making pizza?
A large pizza stone, a pizza peel, a digital weigh scale and a dough scraper.
---
A Pizza Stone:
Typical home ovens just don't get hot enough to make pizza the way you're used to getting it at a pizzeria (learn how they actually make old school pizza in Naples here).
If you just throw your uncooked pizza into your home oven, you'll probably wind up with something that's burnt on top and barely cooked on the bottom. This is because cheese and sauce cook quickly while baking the crust takes time.
The fix is easy—get a pizza stone.
A pizza stone is designed to be preheated in your oven for at least one hour before cooking your pizza. The stone gets super hot so that when you slide your pizza onto it, the dough starts cooking right away.
So now instead of a doughy, uncooked crust, you'll have a crispy golden brown one that's still moist and chewy on the inside. Trust me, you won't go back once you start using one.
Note that a pizza stone works great for baking breads as well. 
Pizza stones generally are not that expensive, and in my experience, they last a long time (I've never thrown one away).
The most important thing to consider when purchasing yours is sizing. I recommend measuring your oven and getting the largest stone it will accomodate. 
A Pizza Peel:
If you plan on using a pizza stone, then a pizza peel is absolutely essential.
You've probably seen these on tv before—they're those big paddles that professional pizza-makers use to get their pizzas in and out of the oven.
Pizza peels are simple to use. You prepare your raw dough on the peel itself, and when you're ready, you just slide the uncooked pizza onto the stone (see my step-by-step guide to cooking thin crust pizza at home here).
Without a pizza peel, it would be impossible to get your pizza from the counter into the oven without using a pan and ruining your crust.
Thankfully, you can get a pretty high quality one without forking over too much dough (pun intended). Here's the one I use.
Whatever you get, just make sure it's on the thinner side, so that you can easily slide your pizza on and off. The first peel I purchased was much thicker (almost an inch thick) and I don't use it anymore.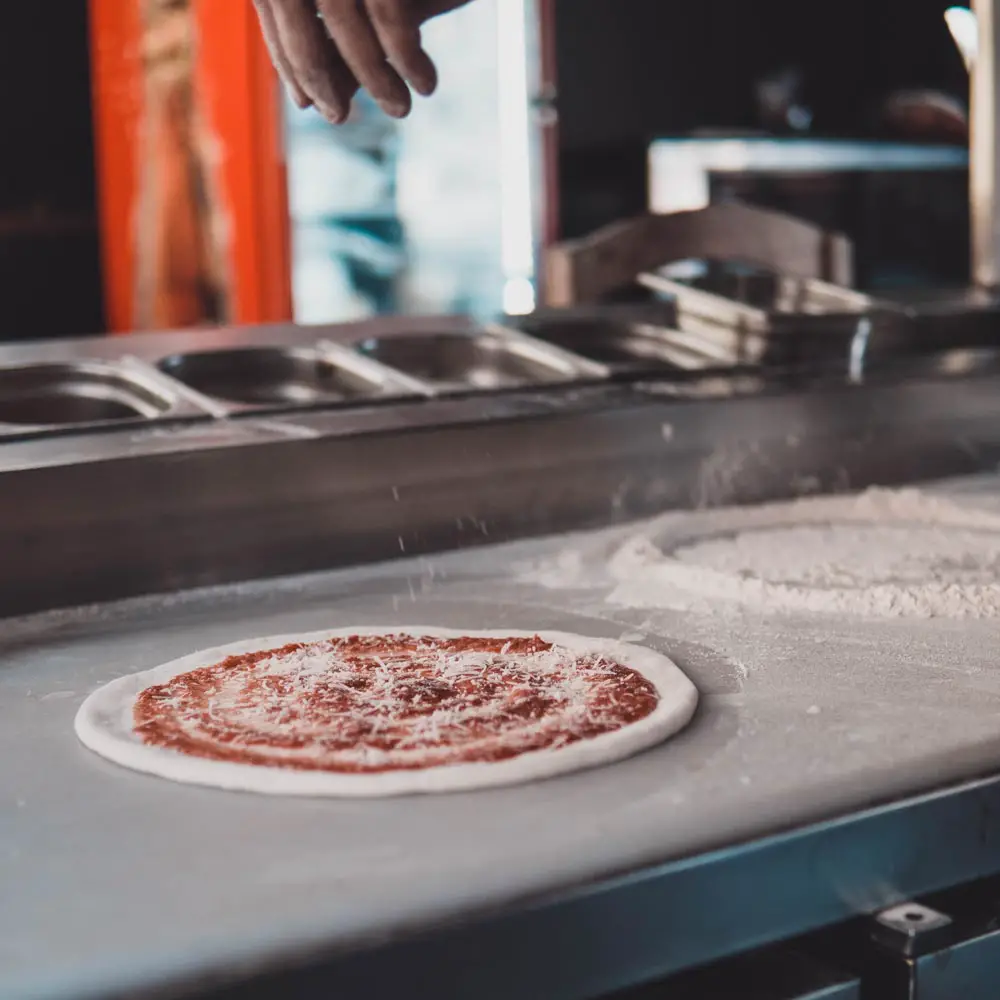 A Digital Weigh Scale:
You may have noticed if you've seen any of my recipes that I don't use cups and spoons.
This isn't because I'm a stickler for the metric system. It's because measuring ingredients acurately (preferably in grams) is the only way to keep accurate measurements of your ingredients, which is reeeeeaaaaallllly important when making dough.
Baking is a science and it's incredibly important to use the correct ingredients in exact quantities.
Eyeballing a measuring cup or spoon is a great way to use just a little too much flour or water every time you go to make your pizza dough. In fact, eyeballing your measurements may be one of the 10 pizza making mistakes you're making if you can never get your dough to turn out right.
A digital weigh scale, on the other hand, will give you a precise reading of exactly how many grams you're using at a time.
Using a weight scale is also just easier. Instead of having to wash and dry your measuring spoons over and over again, you can simply place your mixing bowl on the scale and start adding ingredients. There's a reason why the best chefs all over the world use digital scales instead of old fashioned cups and spoons!
And if you're like me, you'll start to find yourself using your digital scale for all kinds of other cooking and baking. It takes a bit of getting used to, but once you start using it, it's pretty hard to go back!
A Dough Scaper:
Unlike everything else on this list, a dough scraper isn't absolutely essential to making pizza, but it sure does make things easier.
If you've seen my pizza recipes, you know I prefer to use a very wet dough to counteract the drying effects of cooking in a home oven.
But the wetter the dough, the stickier and harder it is to work with. You'll find as you're kneading a wet dough with your hands, it's almost impossible to prevent half the ingredients winding up between your fingers, under your finger nails, and sticking to the counter. Yuck
A dough scraper helps with all this. Instead of using your hands, you can simply scrape and fold the dough over onto itself until the dough ball forms into something more workable by hand.
Dough scrapers come in all varieties, and your counter may dictate what you choose. I got this set, which includes both plastic and stainless steel scrapers. Very handy!
Like I said – you can make pizza without this tool. But I don't recommend it! Especially since you can get a scraper for pretty cheap.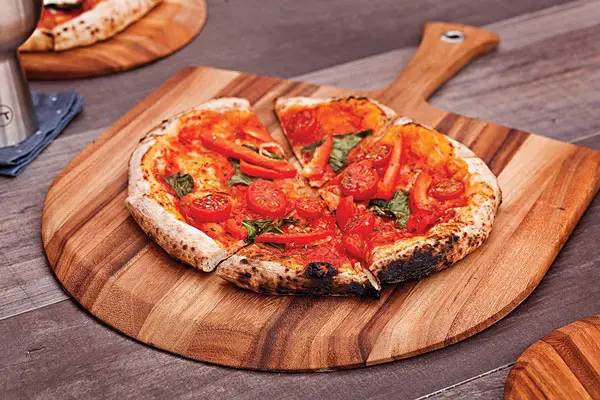 I hope you find these pizza making tools helpful on your pizza making journey. For now, Buon Appetito (that's Italian for Bon Appetit!).