Why Your Pizza Crust Is So Soggy
If you've ever made homemade pizza crust, you know how difficult it is to get the crust crispy and chewy like you might find in a pizzeria.
There are lot's of factors to consider when it comes to crispiness, like the hydration level, whether or not you've added a browning ingredient like honey or oil, and the temperature and time in the oven (find all my pizza dough solutions here).
But what if you've done all that and your pizza still turns out soggy? But I have the solution: use a drying rack!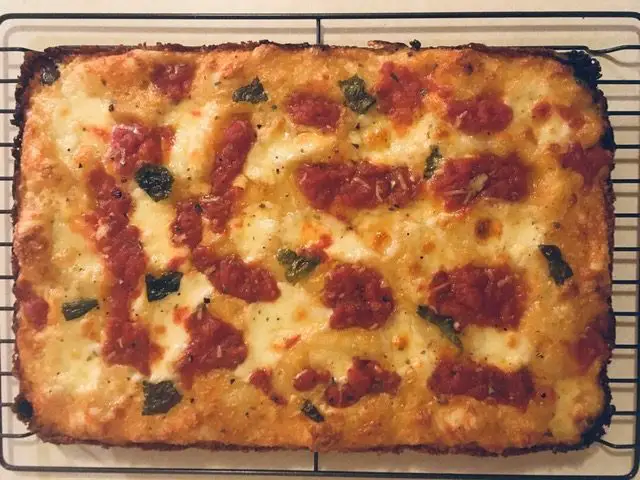 Related Post: Common Homemade Pizza Making Mistakes
How To Make Crispy Pizza At Home
How to Make Crispy Pizza Step By Step
Total Time: 3 minutes
Cook Pizza
Bake your pizza to your liking. Make sure the bottom crust is at least a golden brown color to ensure it's baked enough.
Remove Pizza
Remove pizza from oven and immediately place it onto a cooling rack.
Let Pizza Sit
Leave pizza on cooling rack for 3-5 minutes.
Enjoy!
By elevating the pizza crust, you've allowed steam to be released. This helps maintain the crispiness of your pizza.
---
When you take your pizza out of the oven, you can see the steam rise out from the top, right? But steam is coming out from every part of the pizza, not just the top.
That means steam also comes out of the bottom of the pizza, right where we want the crust to be the crispiest.
Try taking a piece of toast and holding it over steam from a tea kettle and you'll quickly see it turn back into a soggy piece of bread. This is basically what you do when you plate your pizza right out of the oven.
So, the solution to this problem is incredibly simple. Instead of leaving your pizza on the counter top or pizza peel to cool, place it on a cooling rack instead! It only takes 2-3 minutes for most of the steam to be released from the bottom but it makes a huge difference. Nothing fancy, just a standard cooling rack like this one.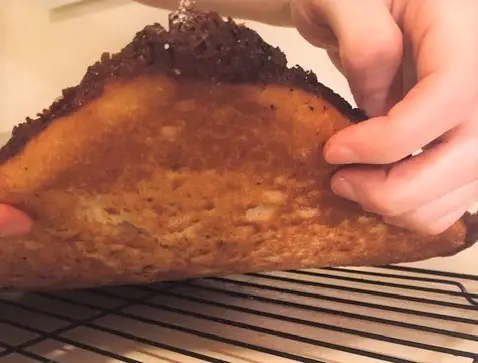 If that doesn't work, then you may want to see if you making these 10 other pizza dough mistakes. 
Or, if your pizzas never turn out quite the way you like them, follow my simple guide to Neapolitan pizza here. 
Buon Appetito! (That's Italian for Bon Appetit!)