If you're on the lookout for a simple tomato sauce to use for pizza that is easy and healthy you've come to the right place!
This is by far my favorite tomato sauce, because it tastes great and it's super easy to make. I use it for pizzas as well as for pasta and just about anything else that goes well with tomato sauce.
For This Sauce You Will Need:
A mixing bowl
A potato masher
1 can of good quality peeled tomatoes*
A tablespoon of good quality sea salt
1-2 fresh basil leaves
Extra-virgin olive oil
A glass jar or tupperware for storage
*Your tomatoes are the most important part of the sauce, so you want to choose the best ones you can afford. I try to find ones that come from Italy, especially from the San Marzano region. Cans marked with a D.O.P label are the best.
Step 1:
Pour the entire contents of the can of tomatoes into your mixing bowl.
Step 2:
Add about a tablespoon of good quality sea salt into the tomatoes, and pour in a tablespoon of extra-virgin olive oil. Feel free to add a little more or less, to your taste preferences. Trust yourself and have fun!
Next, tear up your basil leaves into a few large pieces and throw those in as well (optional). If you don't have fresh basil on hand, then you can use a few pinches of dried basil to taste, or none at all if you don't like basil. Remember that fresh basil can be quite strong so use sparingly at first.
Step 3:
Using your potato masher, mash up the tomatoes. The goal is not to completely obliterate your tomatoes. You just want to break up the large pieces of tomato flesh into much smaller pieces.
After a couple minutes of mashing, you should be left with a slightly chunky tomato sauce – and you're done. Told you it was simple!
You don't need to separately cook this sauce – just let it cook with whatever you're making. When you put it on a pizza, it will cook in the oven, and those little chunks of tomato will be bursting with fresh flavor.
(Not sure how to make good pizza at home? Try this step-by-step guide.)
And if you're using this sauce for pasta, just fry it in a pan while your pasta is cooking. Then when the pasta is almost done (but not fully done), add it to the pan, and let them finish together. So good.
Whatever you don't cook right away, you can store in the fridge – I find it usually lasts awhile, sometimes even up to a week.
I hope you enjoyed this sauce. I know my family does! Buon Appetito!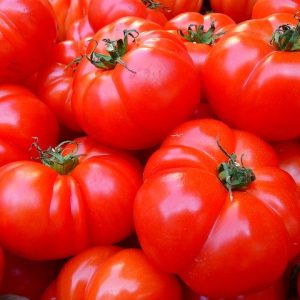 How to Make A Deliciously Simple Pizza Sauce
Ingredients  
1 can

Whole Peeled San Marzano Tomatoes

1

tbsp

Sea salt

20

ml

Extra Virgin Olive Oil

1 leaf

Fresh Basil
Instructions 
Pour contents of tomato can into mixing bowl.

Add salt and olive oil to bowl. Tear up basil leaf and add pieces to mixture.

Use a potato masher to crush the tomatoes. Crush until tomatoes are mostly crushed but not completely. The sauce should be easily spreadable but still slightly chunky.

You're done! Add directly to pizza or simmer at a low temperature beforehand for pasta.
AND IF YOU WANT TO TRY THIS RECIPE LATER, BE SURE TO SAVE IT TO YOUR 'FAMILY RECIPES' PINTEREST BOARD!