What Is New Haven Style Pizza, And Why Is It Called "Apizza"?
As a native New Yorker, I've taken the short ride over the border to New Haven, CT many times to enjoy their delicious local style of pizza. This article will go over the history of New Haven style pizza and why the city has become such an iconic (and unlikely) center of the pizza world. I'll also go over what makes New Haven style pizza so unique, and give you my take on the various methods used in its preparation.
In Brief: While mostly known for Yale University and its rich cultural history, New Haven, Connecticut is also the home of a unique style of pizza known locally as "apizza" (pronounced like ah-beetz). Served since the early 20th century to mainly Italian-American locals, New Haven style Apizza is now a nationally known pizza style served at a growing number of restaurants both inside and outside of New Haven. New Haven style pizza is characterized by a thin, crispy, coal-fired crust with plenty of charring and topped with fresh (often locally-sourced) ingredients.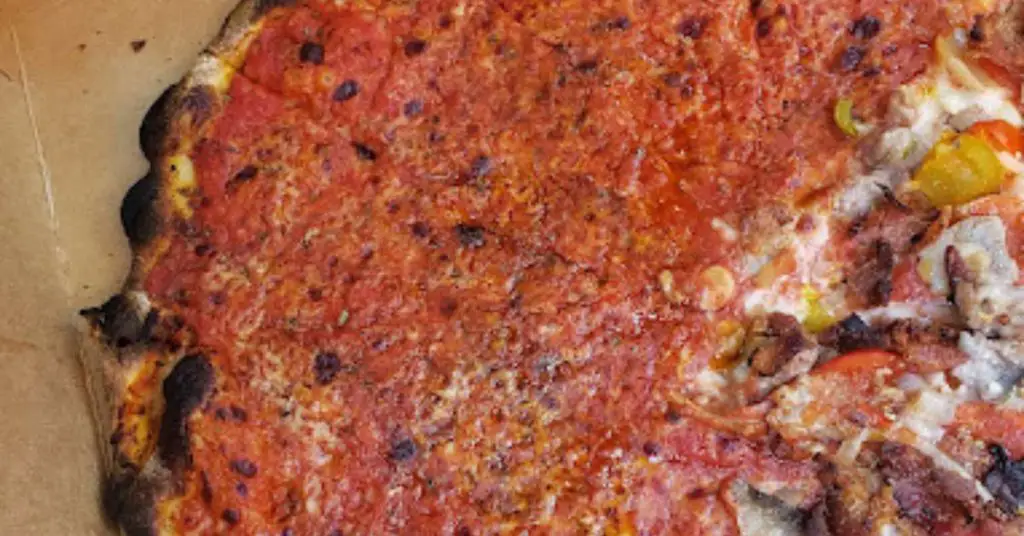 Keep reading if you want the full story on this unique and fresh pizza style, but here are some of the main points we'll go over below:
New Haven style pizza was invented in New Haven, Connecticut by Italian immigrants from southern Italy.
The crust of New Haven style pizza is thin and crispy, with a deep black charring along the edges.
New Haven style pizza is cooked in coal-fired oven at temperatures (typically) above 650F, or even as high as 1000F.
New Haven style pizza sauce is usually made from imported San Marzano tomatoes, known for their rich, tangy flavor.
To highlight the natural flavor of the San Marzano tomatoes, New Haven style pizza sauce is typically only lightly seasoned with salt, oregano, and (sometimes) garlic.
New Haven style pizza is often served with very few toppings, even the cheese is optional. A New Haven style apizza with only sauce is considered a "plain" pizza.
Similar to Neapolitan style pizza, New Haven style pizza focuses on using high-quality ingredients and simple, time-honored preparation techniques.
New Haven style pizza is often compared to Neapolitan pizza, but the crust and toppings are actually quite different compared to modern Neapolitan styles.
Bottom Line: New Haven style pizza may not be quite "Napoletana" as advertised, but it's a unique style of pizza in its own right that everyone should try if they have the chance. I recommend going to some of the most popular pizzerias in New Haven (like Sally's Appiza, Modern Appiza, or Frank Pepe Pizzeria Napoletana) and comparing the plain or cheese pizzas to figure out which one you like the best. These pizzerias each produce a distinct pizza, but all of them features a thin, crispy crust with lots of charring and fresh toppings.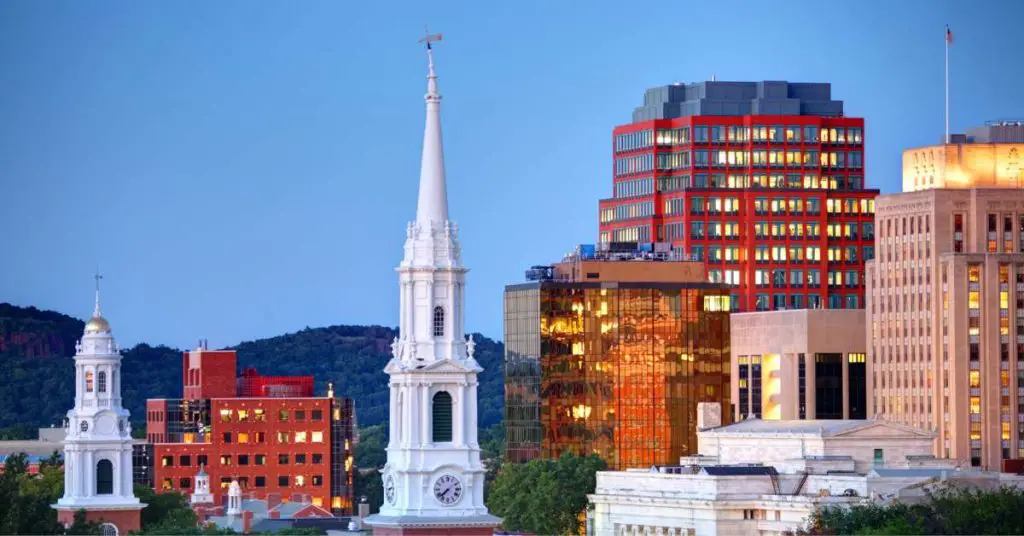 What Makes New Haven Pizza So Good?
New Haven style pizza (pronounced ah-beetz), is a distinct style of pizza with a rich history defined by a unique set of characteristics. Unlike the more well-known styles of pizza, such as New York style or Neapolitan, New Haven pizza has its own distinct flavors and textures that reflects its local origins and sets it apart from the rest.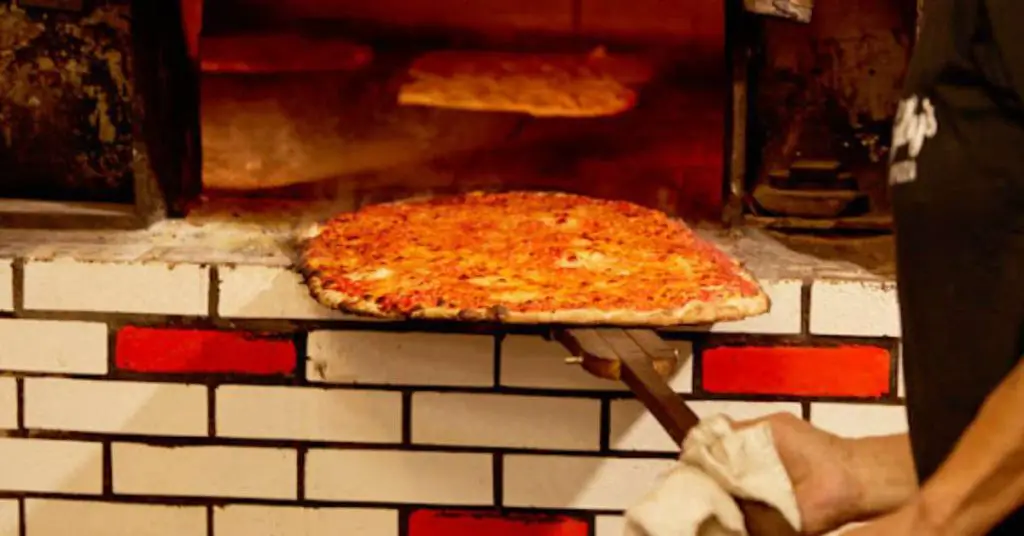 That said, if you didn't know New Haven pizza is considered its own unique style, you'd probably think you're eating what is essentially just a really good thin crust pizza. That's certainly all I thought it was as a kid when my family would make the occasional trip through New Haven. But New Haven pizza is absolutely a style all its own.
The crust of a New Haven pizza is one of these defining characteristics—it's thin and crispy, with a charred, coal-fired crust that gives it a uniquely smoky flavor. While New York and Neapolitan style pizza are known for their soft, chewy texture, New Haven style pizza is all about the crisp. This flavorful, slightly bitter tasting crust is the perfect complement for the simple and fresh ingredients its topped with.
Another key component of New Haven pizza is the sauce, which is almost always made from imported San Marzano tomatoes. San Marzano tomatoes are naturally sweet with low-levels of acidity, which makes them perfect for using as pizza sauce since they don't require any added sugar or pre-cooking. In order to preserve the natural flavors of the tomato as much as possible, New Have style pizza sauce is typically only seasoned with salt, dried oregano, and (sometimes) garlic.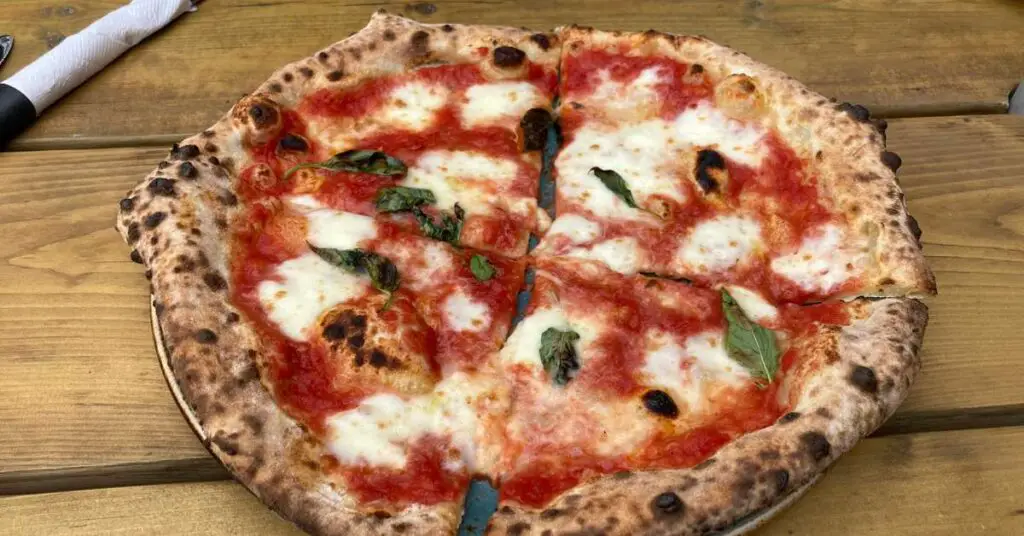 Similar to its distant Neapolitan style cousin from Naples, New Haven style pizza is traditionally served with very few toppings. In fact, one of the most popular styles of New Haven style pizza to this day is called a "plain" or "tomato" pie, which is literally just crust and tomato sauce with some seasonings.
New Haven style pizza is always served as a whole pizza as well, rather than by the slice, which is another similarity with Neapolitan style.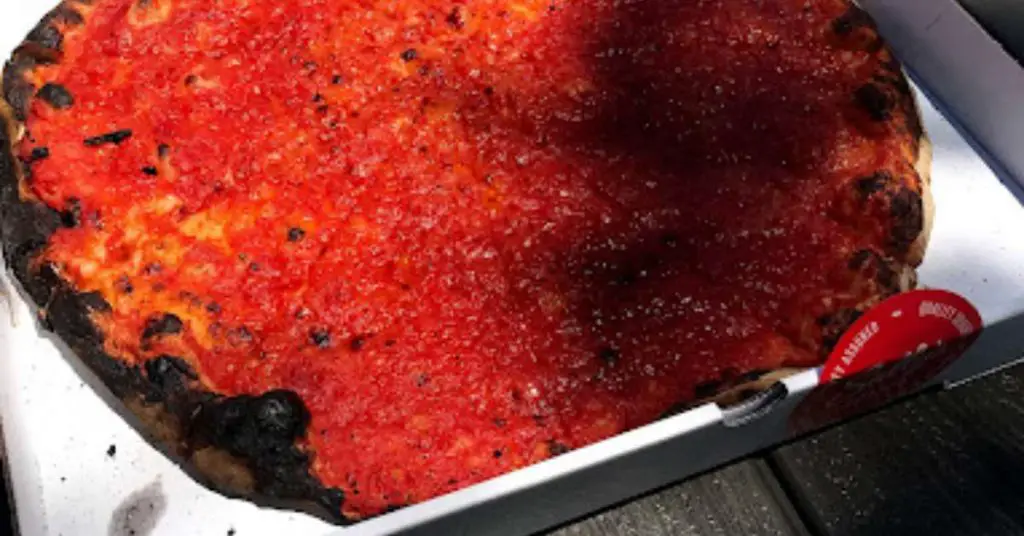 This kind of pizza is actually very similar (in principle) to the Neapolitan pizza marinara, which is one of the original pizza varieties from Naples that undoubtedly served as inspiration for early New Haven pizza makers. It also highlights the confidence of New Haven pizzerias in the quality of their sauce to stand on its own as the star of the show.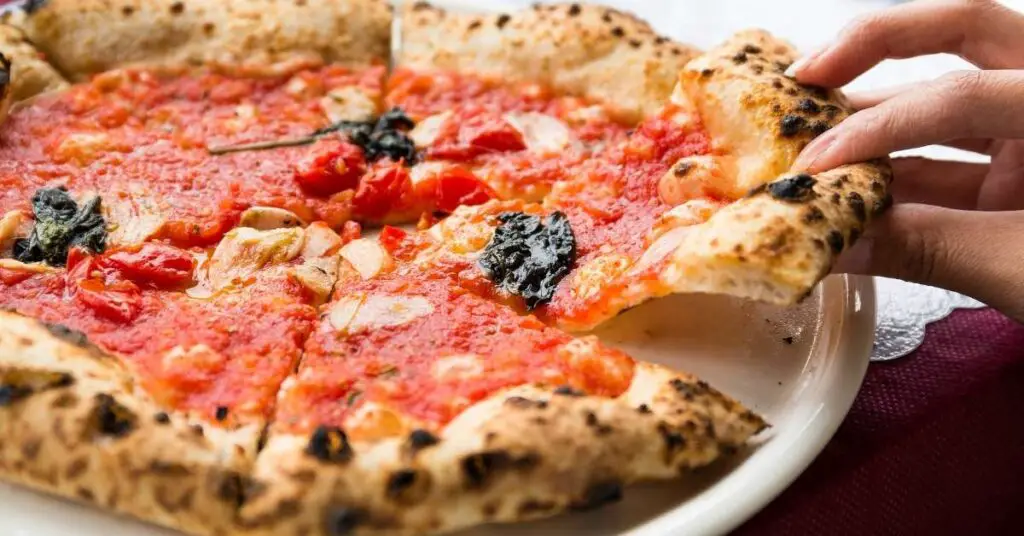 While the tomatoes for the San Marzano sauce may be imported, New Haven style pizza is known for its use of fresh, locally sourced ingredients. One well-known example is the frequent addition of fresh clams, which have been used to make Frank Pepe Pizzeria Napoletana's signature "clam pie" for at least the last 60-70 years. This type of pizza features the same thin crust as well as clams shucked to order, garlic, olive oil, and grated Pecorino Romano cheese. New Haven style clam pie represents the local fishing industry is highly sought after both by locals and pizza enthusiasts around the world.
Coal-Fired Pizza Ovens Are Key To New Haven Style Pizza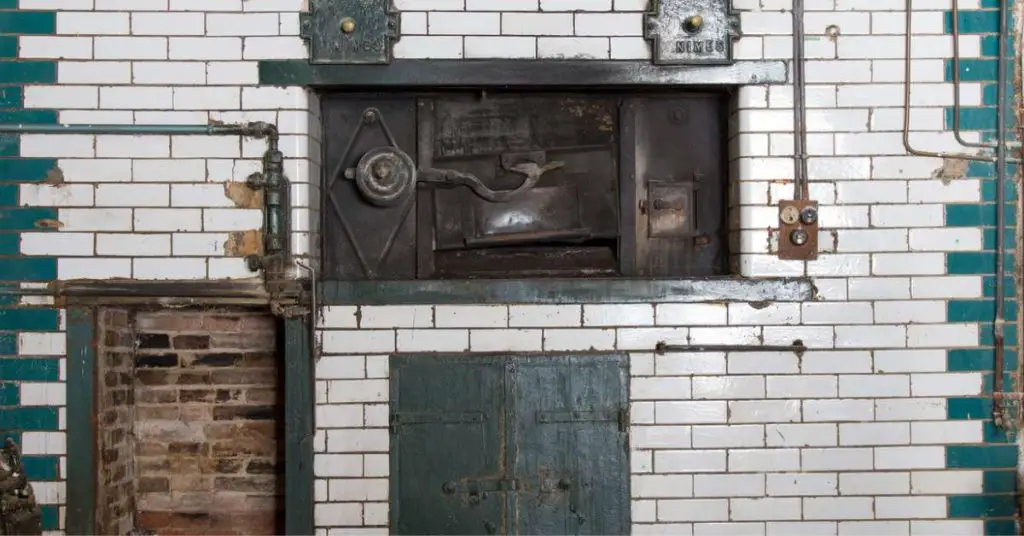 While a wood-fired oven is the key to the rich, smoky flavors of an authentic Neapolitan pizza, in New Haven it's all about the coal-fired ovens.
According to Gary Bimonte, the current owner of Frank Pepe Pizzeria Napoletana, coal burns at a temperature of 1000˚F, while wood burns at a temperatures between 600-700˚F, which produces an "intense, dry heat" and "seals in all the flavors".
This is very similar, in concept, to the way that Neapolitan style pizza is flash-cooked at extremely high temperatures. But while a wood-fired flame gives off a moist heat that helps keep Neapolitan pizza moist and soft, the dry heat of a coal fired oven helps produce a crisp, deeply charred crust characteristic of New Haven style pizza.
But, Why New Haven? The History of New Haven Style Pizza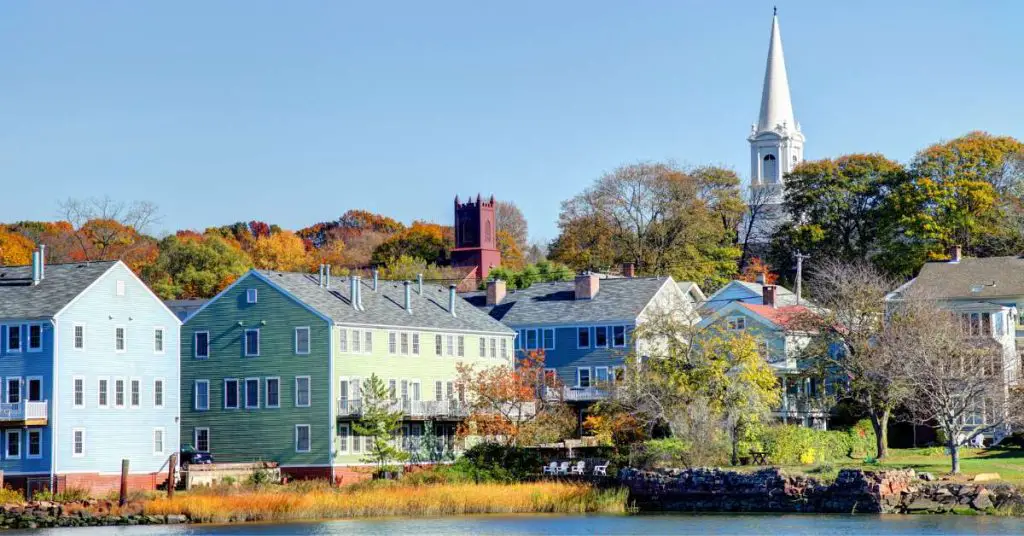 New Haven, Connecticut, is a medium-sized New England city with a rich history and a vibrant food scene. It's also home to one of the most prestigious institutions of research and learning in the world, Yale University. As someone who has visited the city personally, I can tell you from experience that it's a very interesting town.
But, why (and how) did New Haven, of all cities, become the home of this renowned style of pizza?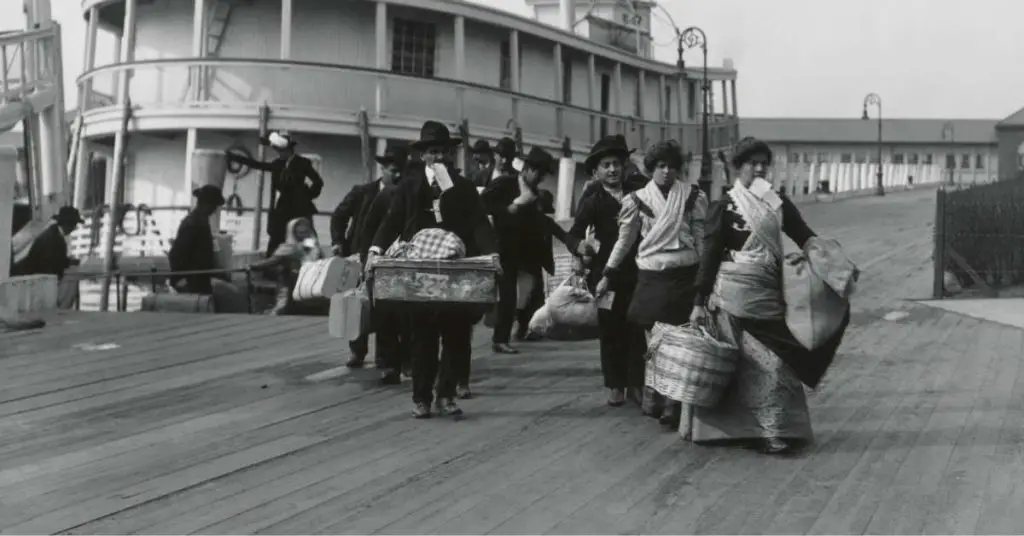 Well, one factor is the city's location on the Eastern US coast, which made it a major destination for Italian immigration in the late 19th and early 20th centuries. New Haven is basically right in the middle of a huge swathe of northeastern cities, from Philadelphia to Boston, so it makes sense that this city would also be a center for a large Italian American community to form.
In fact, my own family was part of that exodus of Italian migrants who went on to settle in New York City and southern New England.
Just like my family, these immigrants brought their culinary traditions and recipes with them, including a rustic style of pizza that had become popular among the working class of 19th century southern Italy. As they settled in New Haven, they adapted the recipe to their new home, using locally-sourced ingredients and adapting to local tastes and sensibilities. This is how the New Haven style pizza was invented.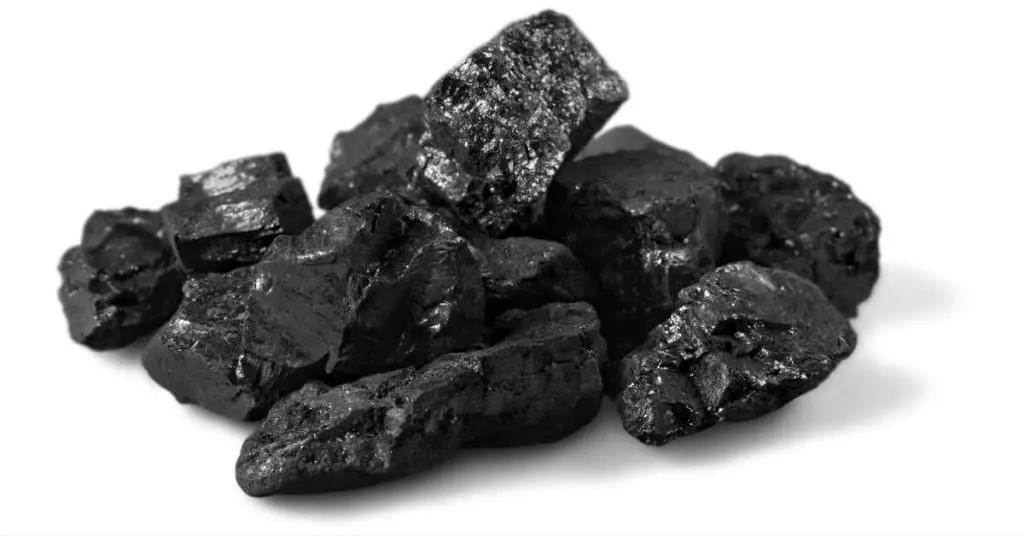 Another reason for the prevalence of pizza in New Haven is the city's history of coal-fired brick ovens. While these Italian immigrants would have been used to cooking with wood back home, they were coming to an area with an abundant source of inexpensive, high-quality coal, so adapting to coal-fired cooking just made sense. For the reasons I mentioned earlier, this use of coal-fired ovens has become one of the defining characteristics of traditional New Haven style pizza.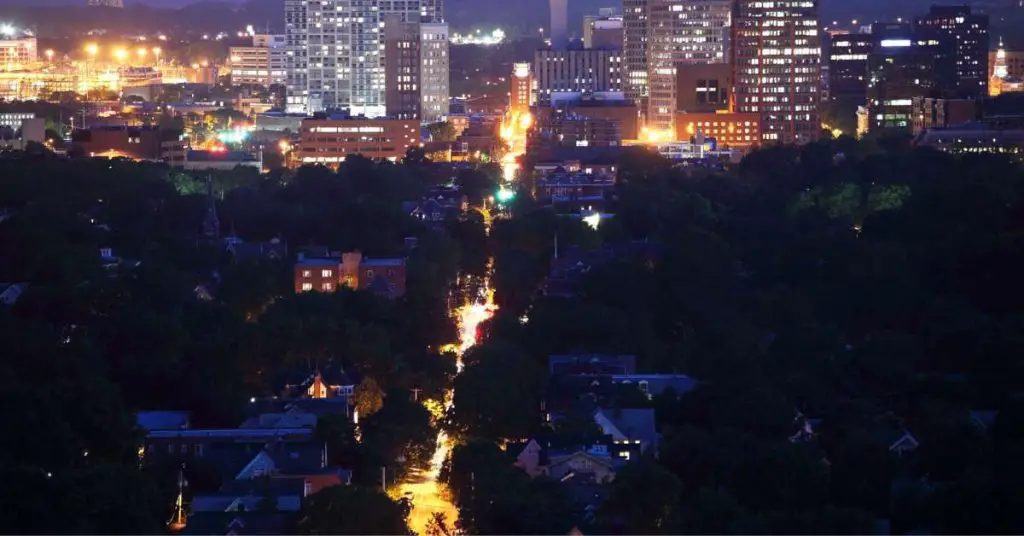 New Haven's unique pizza scene has also thrived (in part) due to a fierce competition among pizzerias. From Pepe's Pizzeria Napoletana, which was established in 1925, to Sally's Apizza, which opened in the 1930s, New Haven pizzerias have been perfecting their craft for nearly a century. These historic pizzerias have built a reputation for high-quality pizza, using only the best ingredients and staying true to traditional techniques of their founders.
How To Identify New Haven Style Pizza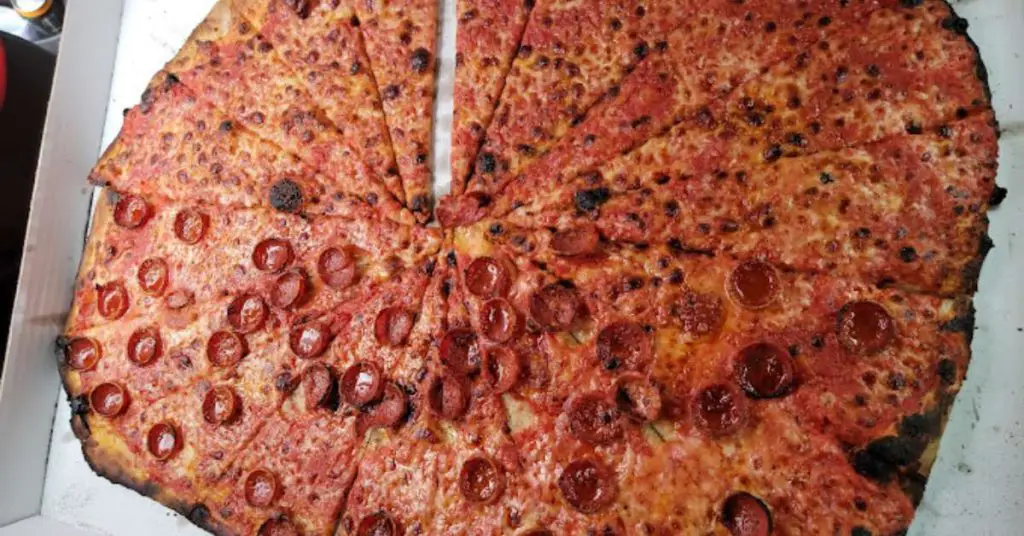 If you're eating out at a pizzeria claiming to serve New Haven style pizza, it's important to be able to identify if it's authentic. Believe it or not, there are lots of pizzerias around the US that claim to serve New Haven style pizza even though isn't anything close to the original.
Of course, even in New Haven itself, there is some variation from one pizzeria to another, so here are a few basic characteristics you should look out for:
A very thin, crispy crust.
Charring around the edges of the crust, and a deep brown color on the underside. There should be no pale areas on a New Haven style pizza.
A fully cooked, but not burnt, cheese with a reddish/orange color. There may be some brown bubbles on the cheese, but it shouldn't be completely crusted over. This indicates a cheese with the correct moisture and fat content is being used.
Fresh, simply toppings. Regardless of toppings, you should still be able to clearly taste the bright flavors of the sauce and cheese throughout.
An irregular shape. This isn't always the case but, in general, a traditional New Haven pizza is shaped a bit like an oval with lots of irregularities around the edges. This has to do with the way New Haven style pizza is hand stretched (or pounded).
Finally, it should taste delicious.
When it comes to New Haven style pizza, toppings are important, but it's really all about the crust. An authentic New Haven style crust will be very thin and very crispy—almost to the point of being crunchy at times, especially around the edges.
Ultimately, seeing is believing, so here are some pictures for reference so you can tell the difference between authentic and a bad copy on sight alone.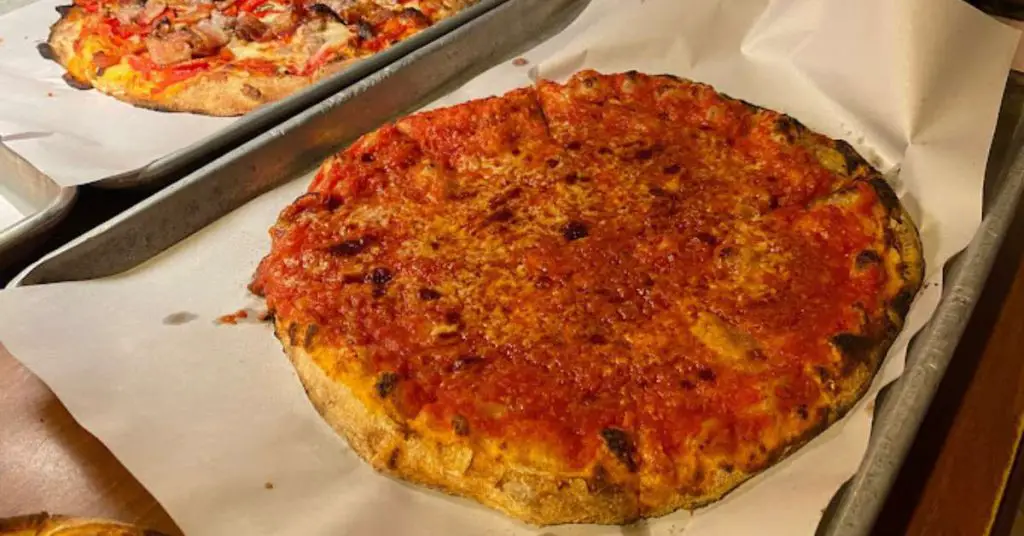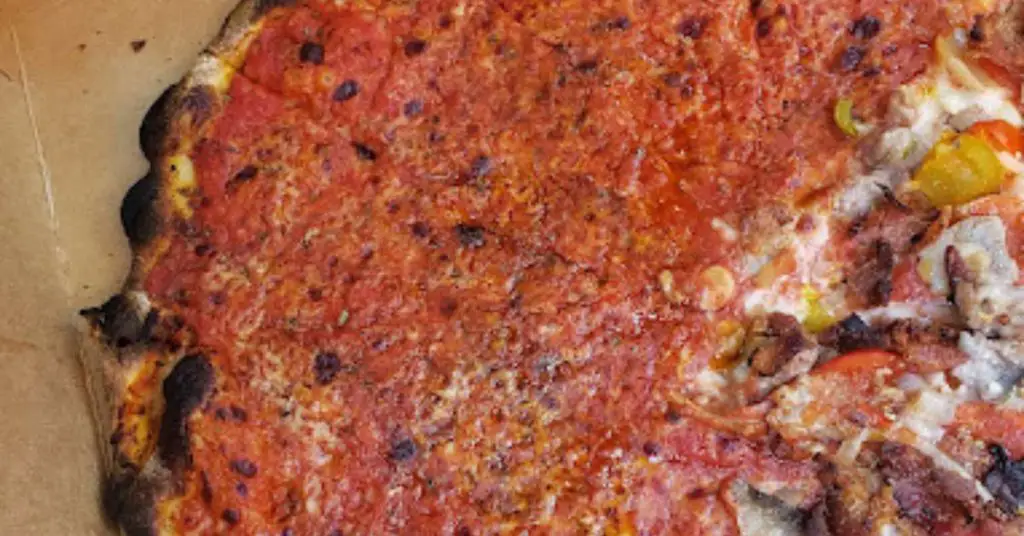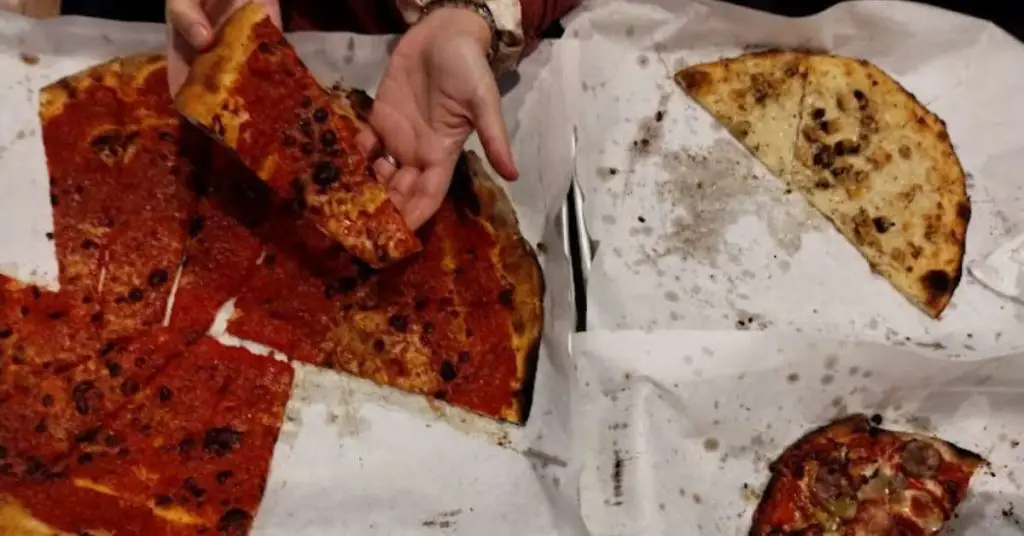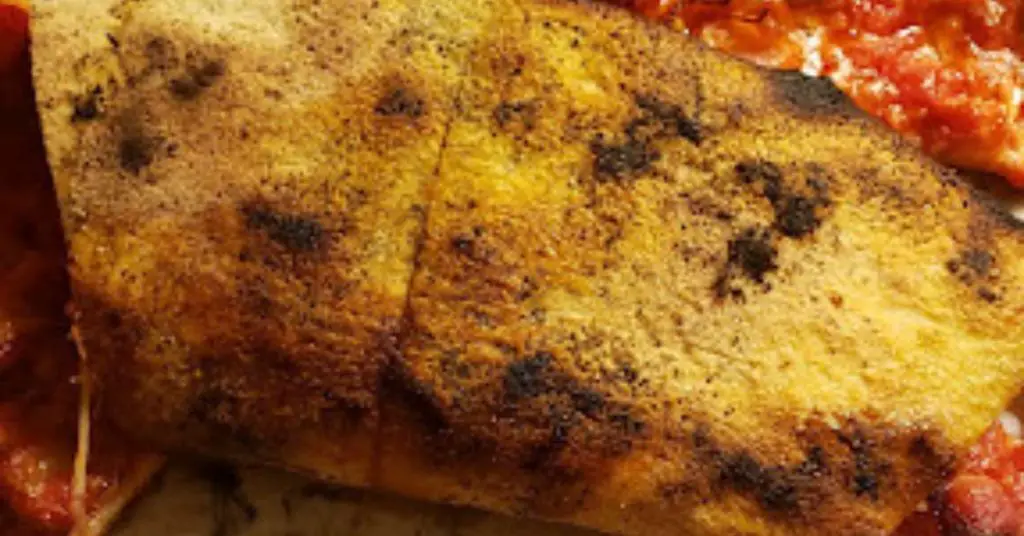 Finding New Haven Pizza Near You
In New Haven alone, there are dozens of pizzerias to choose from, with even a growing number of New Haven style locations in cities across the country.
Here are a few of my favorite New Haven style pizzerias, which also happen to be some of the oldest and most well-known.
New Haven Style Pizza Outside Of New Haven
Not long ago, New Haven style pizza was something you could only find if you happened to live near (or visit) New Haven itself. Today, fortunately, there are a growing number of pizzerias outside of New Haven that specialize in this unique style of pizza. Below is a list of a few of them:
White Pie Pizzeria: White Pie Pizzeria is a family-run business that offers handmade, New Haven style pizza in Denver and Colorado Springs, CO. Their menu features fresh, seasonal ingredients and family recipes that have been passed down through generations. They also offer catering services for events and have happy hour specials from 4pm to 6pm Monday through Saturday, and 9pm to 10pm Sunday through Thursday. They were established in May 2017 and focus on home-made pasta and pizza dishes.
Contact info: (303) 862-5323
Pete's New Haven Style Apizza: Pete's Apizza is a locally-owned Washington, DC based pizzeria that serves New Haven-style pizza. It was established by Joel and Alicia Mehr and has since expanded to include a team of individuals with backgrounds in food service. Pete's Apizza's values using fresh, healthy, all-natural ingredients and accommodating customers with dietary restrictions.
Contact info: (202) 237-7383
Salvation Pizza: Salvation Pizza is a pizzeria in Austin, Texas that believes in the power of community and bringing people together over great pizza. They serve New Haven-style pizza, known for its thin, hand-pounded crust with a distinctive snap and crunch. Their pizzas are made from scratch daily using traditional techniques and the freshest ingredients. Salvation Pizza has two locations in Austin, one in Rainey Street and one in Domain Northside, and they are open late into the night.
Contact info: (512) 499-0105
Of course, nothing is going to be quite like visiting one of the original New Haven pizzerias person. But, if you're fortunate enough to live near one of these pizzerias outside of New Haven, consider yourself one of the lucky few.
And I have to say, based on the photos you can find online, their pizza actually looks pretty authentic despite being nowhere near New Haven itself.
Note: If you've visited one of these pizzerias yourself, I'd love to hear your thoughts on them. Do they live up to New Haven's lofty reputation? Let me know in the comments below!
Other Ways To Enjoy New Haven Style Pizza
If (like most of us), you don't actually live near New Haven, or one of the few pizzerias to offer it elsewhere, you may still have are options.
New Haven style pizza is, basically, a thin crust pizza cooked well-done with relatively few toppings. So, if you live in a city with a wood-fired, or artistinal, pizzeria, they most likely serve something relatively close to New Haven style anyways. If it's a coal-fired pizzeria, that's even better, but it isn't a deal-breaker otherwise.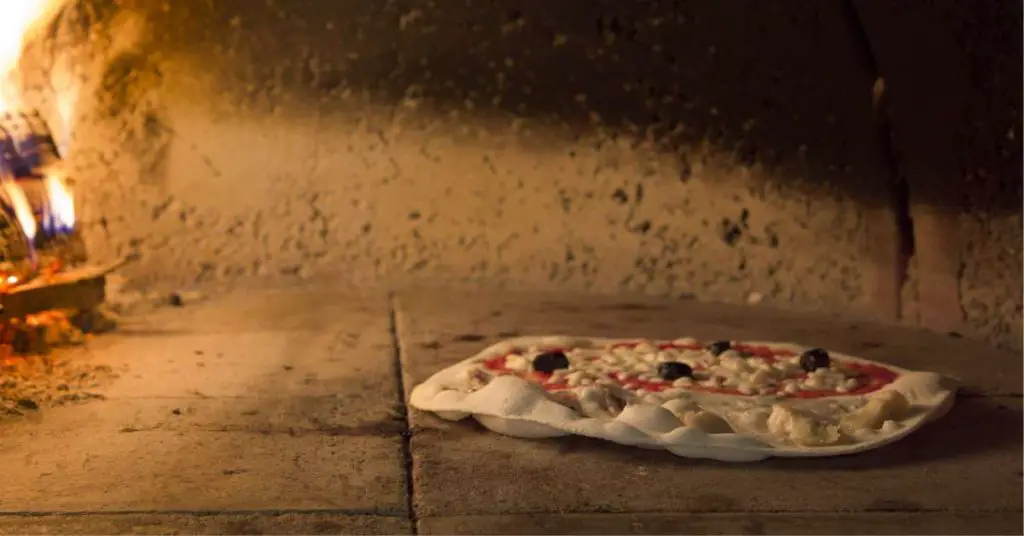 I think your best bet in finding something close to New Haven style outside of New Haven is at a Neapolitan pizzeria. Just ask if they'll do a thin crust margherita or marinara pizza for you and ask them to cook it well done. This is basically reverse-engineering a New Haven style pizza when you consider that many of the original New Haven pizza makers came from Naples anyways. The crust won't be quite as crispy as New Haven style due to the type of flour used (00 vs bread flour), but it's a close approximation and will taste good.
Make Your Own New Haven Style Pizza
Making a New Haven style pizza at home is simple, and you can even do it with store bought pizza dough. Here is a basic set of instructions you'll need to follow, without getting into specific recipes for the dough or sauce (ready-made is fine). Let's assume a large 14" pizza will use an approximately 375 gram dough ball.
Related: 70% Hydration Pizza Dough Recipe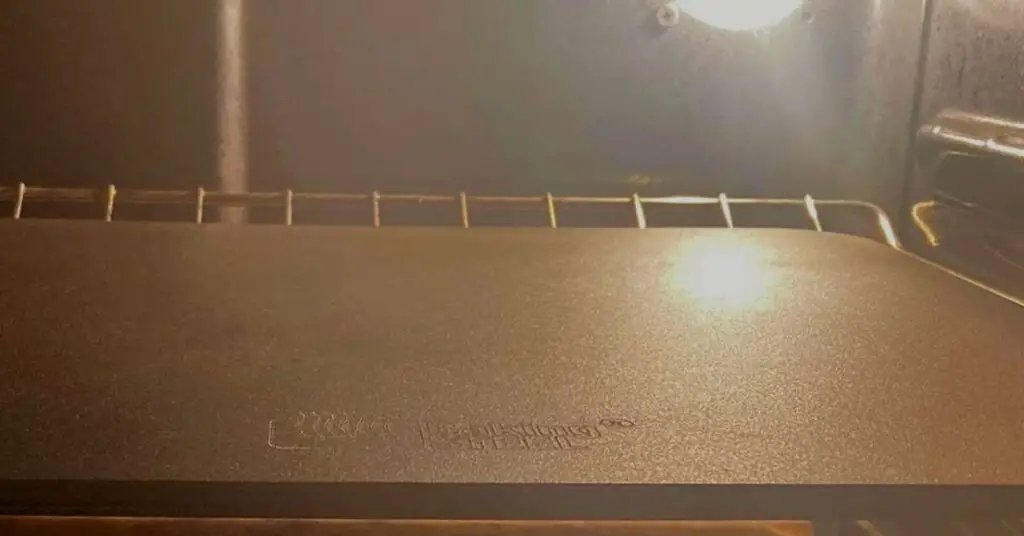 One thing I highly recommend using to make New Haven style pizza at home is a pizza steel. This is really the only way to get a truly crispy crust, which New Haven style is known for.
A pizza steel is basically a large slab of steel that gets super hot, replicating how a pizza oven operates in your own home oven. If you need a pizza steel, you can find my recommendation here.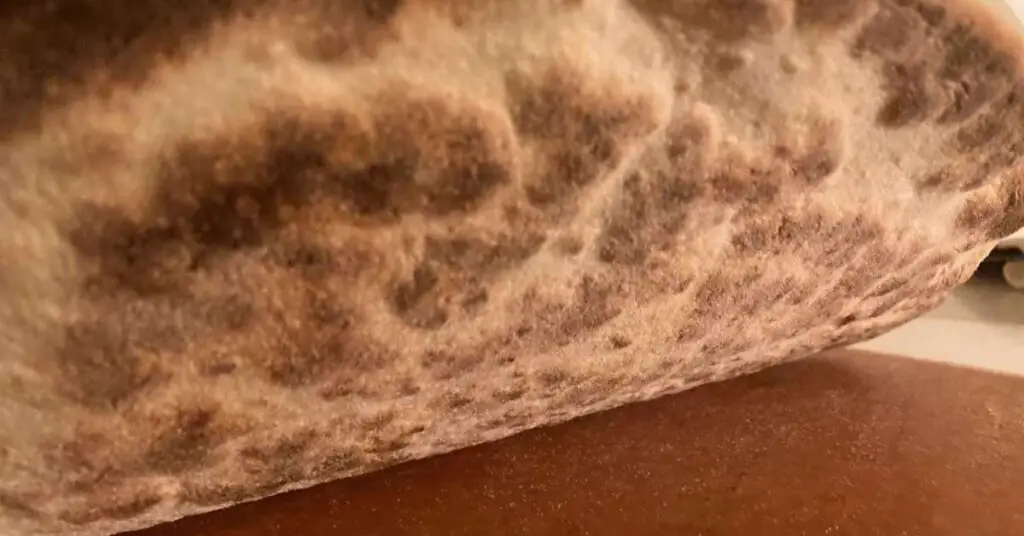 Related Posts: Is A Pizza Steel Worth It? (Yes), Pizza Making Ingredients & Tools, 70% Hydration Pizza Dough Recipe
How To Make New Haven Style Pizza At Home
About 1 hour before baking, place the pizza steel in the oven on the middle rack and preheat it at the maximum temperature—usually around 500F. Note: If your oven doesn't have a top broiler, place the steel on the top rack instead.
Take your dough and divide it equally into tight round balls. Place each one into an oiled proofing container (any resealable container will work) and let it proof for 2-3 hours at room temperature.
Drop the proofed dough ball into a flour bath, which is basically just a pile or flour, or a bowl full of flour. Semolina flour works best, but whatever you have will work. The idea is to completely coat the outside of the dough ball in flour, so don't knead or tear it.
Place the ball onto a lightly floured surface for stretching. Using your hands, gently press and stretch the dough ball into a disk about 12-14 inches in diameter, depending on how thin you want it and how big your dough ball is. If it gets sticky, dust it with flour but don't overdo it—floury pizza doesn't taste good. The dough should be good and flat, so don't worry about pressing around the edges. There really is no right or wrong way to do this, as long as it ends up being thin and doesn't stick.
Evenly spread the tomato sauce leaving about a 1 inch or less rim around the edges. Ideally, you will use a mixture of crushed (by hand) San Marzano tomatoes, olive oil, salt, and garlic, but any store bought pizza sauce will work as well, if you prefer.
Spread some full-fat, low moisture mozzarella cheese across the pizza, but don't put so much that you can't see still see the sauce underneath. The cheese can either be shredded or cut into thin slices.
Sprinkle some grated (or shredded) Pecorino Romano cheese over the pizza. If you don't have access to Pecorino Romano (or Parmigiano Reggiano), regular parmesan cheese will work just fine.
Using a pizza peel, transfer the pizza from your counter to the preheated baking steel. If you don't have a pizza steel (or stone), you can just use a piece of parchment paper placed directly on the middle rack of the oven. Note: If you need a pizza peel, I recommend this one for use in a home oven.
Now, the next step will vary a bit depending on your oven and the ingredients you've chosen, but you can expect a New Haven style pizza to take around 10 minutes to finish cooking in a standard home oven set at 500F.
About half-way through the cooking time (5 minutes, give or take) you should notice some light browning on the underside of the crust. At this point, turn on the top broiler of your oven and give it another 5 minutes to finish cooking the cheese and char the crust. If you don't have a top broiler, place the pizza steel (or parchment paper) on the top rack instead.
When the pizza is cooked to your liking, remove it from the oven and place it directly on a cooling rack for a few minutes before cutting into it. This will allow the pizza to settle and for steam to escape from the underside, ensuring a characteristically crispy crust.
Enjoy!
Tip: If you want to make pizza at home as perfect as one of the old New Haven pizzerias, consider picking up a portable pizza oven. Most pizza ovens can reach up to 950F, exactly what you need for New Haven style. My favorite pizza oven is the Ooni Karu 16 (you can read my review of it here), which can even cook with charcoal for the most authentic texture and flavor.
On a budget? The Ooni Koda 12 is one of the easiest to use and least expensive on the market. Read my review of it here.
Sources Referenced:
Related Posts:
Related Questions:
What is different about New Haven style pizza?
There are several characteristics that sets New Haven style pizza apart from the rest, but in my opinion the most important of these is the crust. New Haven style crust is extremely thin and extremely crispy, unlike the soft or chewy crusts found on New York or Neapolitan styles. Many people comment that their fingers are "black" after eating a New Haven style pizza due to the kind of charring that takes place in a coal-fired oven.
What's the difference between New Haven style and Neapolitan?
New Haven and Neapolitan style share some things in common, like their commitment to fresh ingredients and traditional baking techniques, but there are some major differences as well. Neapolitan style pizza dough is made from finely milled 00 flour, which makes for a soft, delicate crust. New Haven style pizza dough, on the other hand, is made with bread flour, which adds strength to the dough and gives it a crispier texture. New Haven style pizza is also cooked longer than Neapolitan style pizza.
Another major difference is the cheese—New Haven style pizza uses shredded or sliced low-moisture mozzarella, while Neapolitan style uses fresh mozzarella (typically fior di late) cut into cubes or batons.
What is the original New Haven style pizza?
The original New Haven style pizza is the kind you can find at pizzerias like Frank Pepe's that serve a distinct thin crust pizza known locally as "apizza" (pronounced ah-beetz). You'll be able to recognize a New Haven style pizza by its irregular, oblong shape and deep charring along the flat edges of the crust.
Is New Haven style Neapolitan?
While New Haven style pizzerias often refer to their pizza as "Napoletana" (since many of the original founders came from Naples), modern Neapolitan style pizza is actually quite different from what you find in New Haven. Neapolitan style pizza is know for its soft, fluffy crust and fresh mozzarella, while New Haven pizza is thin and crispy with a nearly flattened outer crust (or cornicione) topped with shredded low-moisture mozzarella.
These differences are mostly due to the different ingredients and sensibilities found in New Haven, as well as the fact that these immigrants came over 100 years ago while pizza in Italy has continued to evolve and change.