Ooni Volt 12 Pizza Oven Makes Oprah's Favorite Things List 2023
Ooni pizza ovens are known for their award-winning craftmanship and design. This year, Oprah has included the newly released Ooni Volt 12 pizza oven on her "favorite things" list for 2023. 
Curious about why this pizza oven is included on Oprah's list? Keep reading and we'll tell you all about the Volt as well as some of the reasons why we love it.
If you're interested in purchasing the Ooni Volt 12, there's good news. Ooni has just added it to their Black Friday sale, which means you can save $200 (20% off) if you buy before November 28th!
The Evolution of Indoor Home Pizza Ovens: Enter the Ooni Volt 12
The world of indoor pizza making has been revolutionized with the advent of the Ooni Volt 12 Electric Pizza Oven. This year, the Volt is getting lots of attention as part of Oprah's favorite things 2023. The Ooni Volt 12 pizza oven stands out not just for its ability to make great pizza, but also for its innovative design.
The inclusion of the the Volt 12 in Oprah's favorite things list is a nod to its excellence and appeal in the realm of electric home pizza ovens.
Oprah's Endorsement: A Mark of Quality and Innovation
When a product makes it to Oprah's favorite things list gift guide, it's usually a clear indicator of its exceptional quality and appeal. The Ooni Volt 12 is more than just a pizza oven; it's a blend of style, efficiency, and culinary innovation. Being part of Oprah's favorite things holiday gifts list helps has certainly helped spread the word about its innovative features and user friendly pizza making experience.
Crafting the Perfect Slice of Pizza at Home
The Ooni Volt 12 brings the experience of a professional pizzeria into the comfort of your home. It's an electric pizza oven capable of reaching high temperatures up to 850F, which is essential for making pizzeria quality pizza at home. This is very rare in the world of indoor pizza ovens, which typically don't go over 700F. 
So, whether you're aiming for a classic Neapolitan pizza or a unique creation of your own, this oven is designed to deliver world-class pizza and top-notch results.
Transforming Weekend Pizza Nights with the Ooni Volt 12
Weekends are the perfect time for relaxation and indulging in good food, and the Ooni Volt 12 can transform these moments. Finally, making a quick pizzeria quality pizza at home is possible.
This pizza oven is an ideal choice for those who love to cook and experiment with different pizza styles. The balance of temperature control, intuitive design, and ease of use makes it a must-have for any home pizza maker who wants to cook pizza indoors.
The Ooni Volt 12 as a Thoughtful Holiday Gift
As the holiday season approaches, the Ooni Volt 12, prominently featured on this year's list, is an ideal gift for culinary geeks. It's not just a pizza oven; it's a gateway to creating memorable experiences and bringing people together through the shared love of pizza.
Sustainability and Style: The Core of Ooni Volt 12
In an era where sustainability is crucial, the Ooni Volt 12 shines through. This electric oven is not only efficient but also aligns with sustainable practices. The company's commitment to environmental causes is evident, making Ooni a brand that resonates with the values of conscious consumers.
An Expert's Take on the Ooni Volt 12: Is It Actually Worth It?
As a pizza oven consultant, we've used and reviewed countless home pizza ovens over the years. But the Ooni Volt 12 is special because its designed primarily for indoor use. Usually, an indoor pizza oven is a step down from a regular outdoor pizza oven, but not so with the Volt. This pizza oven is able to reach temperature high enough even for Neapolitan style pizza, which makes it a bit like having a traditional brick pizza oven sitting right on your kitchen counter.
So, while we can't speak to the other items on Oprah's annual list, the Ooni Volt 12 has legitimately earned its spot on this year's list. It's truly the best way to make restaurant quality pizza at home.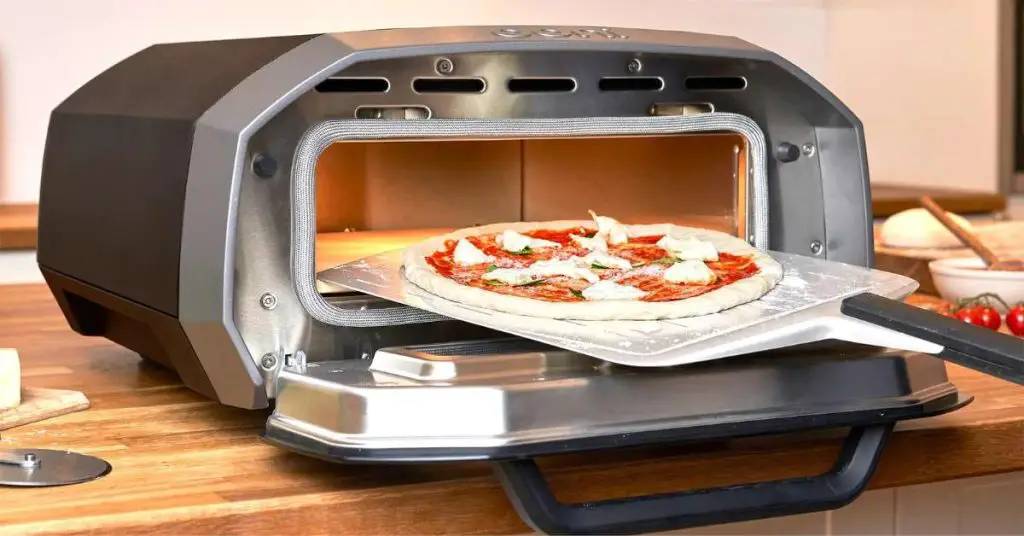 Why the Ooni Volt 12 Stands Out
The Ooni Volt 12's selection for Oprah's favorite things 2023 list is well-justified. We love its user-friendly design, and efficiency. Whether you're cooking for yourself or a group, this oven is versatile enough to cater to all needs, making it an instant classic in the pizza oven world.
Versatility in Cooking: Indoor and Outdoor Use
While the Ooni Volt 12 is primarily an electric oven, its design also accommodates outdoor cooking as well. This versatility allows you to enjoy pizza in various settings. The oven exemplifies Ooni's commitment to innovation and their mission to spread the joy of pizza making to a broader audience.
That said, we recommend the Volt 12 to those who primarily intend to use it indoors. Outdoor pizza ovens are generally much less expensive, so make sure you plan on using it mostly indoors to justify the cost. 
The Ooni Volt 12: Key Features
Design and Build Quality
The Ooni Volt 12 boasts a sleek and durable design, with a focus on both aesthetics and functionality. Its compact size makes it a perfect fit for any kitchen, while the built-in handles enhance its portability for outdoor use. The triple-paned glass door is not just about retaining heat; it adds to the overall beauty of the oven, allowing you to watch your pizza as it cooks.
Cooking Performance
One of the most impressive aspects of the Ooni Volt 12 is its rapid heating capability. Reaching temperatures of up to 850 °F in about 20 minutes, it ensures that your pizzas have the perfect crust and well-cooked toppings. The adjustable dials for controlling the top and bottom heating elements offer a level of precision that is often missing in home pizza ovens.
Once you master how the controls work, you'll never have to worry about undercooked crust or overcooked toppings again.
User Experience
The Ooni Volt 12 is designed with the user in mind. Its intuitive controls make it accessible to both novice and experienced pizza makers. The built-in timer and temperature control, along with the innovative Boost mode, ensure that every pizza is cooked to perfection.
Environmental Impact
Ooni's commitment to sustainability is evident in their partnership with global environmental causes. For every Ooni Volt 12 sold, the company plants trees, contributing to a greener planet. This commitment adds an extra layer of satisfaction for environmentally conscious consumers.
Final Thoughts
We love the Ooni Volt 12 electric pizza oven, and we have no problem recommending it over other indoor models such as the Breville Pizzaiolo because of its unique features and ability to reach such high temperatures. If you're just hearing about it now, you can thank Oprah for thinking to include it on her 2023 list.