Can You Put Asparagus In A Roccbox? Only If You Use This Tool…
People are usually drawn to pizza ovens like the Gozney Roccbox because they want to make pizza, but that doesn't mean it can only cook pizza. That's because the Roccbox is a super hot, wood-fired oven (950F), which makes it perfect for cooking anything that does well in high-heat. But can you put asparagus in a Roccbox?
The answer is yes, you can easily cook asparagus and other vegetables in a Gozney Roccbox. But to do so, you need to put the asparagus in heavy-duty cookware (like a cast-iron skillet) before putting it in the oven. This will preserve your Roccbox's baking surface, without sacrificing the charred, wood-fired flavors it infuses into the asparagus.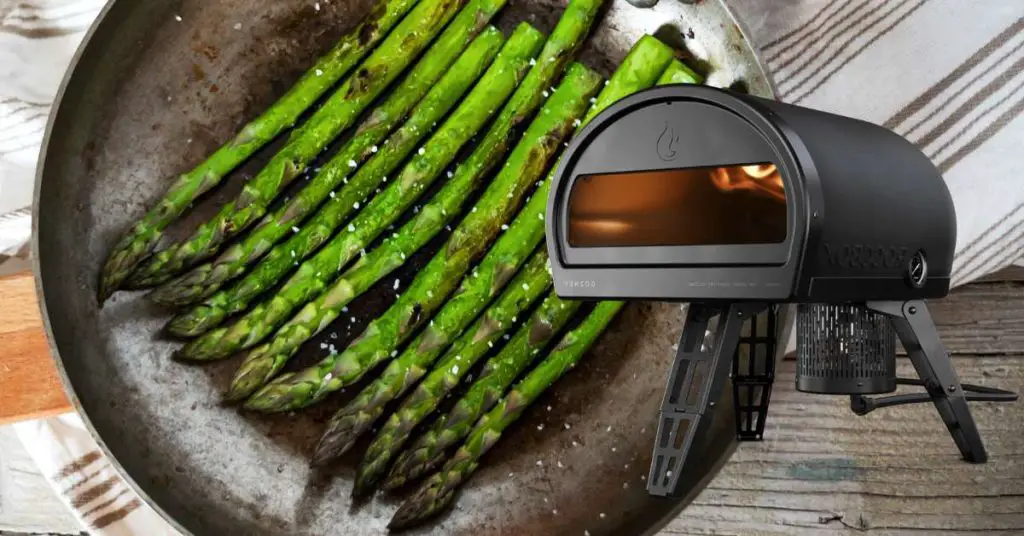 You Need Heavy-Duty Cookware To Cook Asparagus In A Roccbox
There's a simple reason you need to use a cast-iron pan or other high-heat resistant dish to cook vegetables in a Gozney Roccbox (or any other pizza oven). Namely, if you put anything wet on the cooking surface of your oven, then you risk damaging it. 
The Roccbox makes great pizzas in large part because it has a 19mm deep cordierite stone floor (i.e.: the bottom of the oven, where you place the food you're cooking).
And while this stone can withstand the extremely high temperature needed for Neapolitan pizzas, it's not meant for anything wet, drippy, or oily. 
If oil or wetness gets onto your stone, that can damage it by allowing moisture and oil to get into the cracks. Overtime, allowing grease and fat to accumulate on the stone will cause it to smoke up as well, which is annoying and can potentially affect the taste of whatever is cooking. 
So the only thing you ever really want to place on the pizza stone in your Roccbox is either pizza dough, or a cast-iron pan (or similar cookware for high heat). 
How To Cook Asparagus In A Roccbox Pizza Oven
Cooking asparagus in a pizza oven is a great choice, especially if you already have it fired up to make a pizza. If you're using wood, the smoky, wood-fired flavor the Roccbox imparts to the asparagus is amazing.
Here's how to cook asparagus in a Roccbox:
Fire up the oven using the fuel of your choice (wood is best for flavor).
Prepare your asparagus by snapping off the woody ends.
Toss with olive, salt and pepper, and any other desired seasoning.
Place in a high-heat resistant, oven-safe dish or cast iron pan. 
When the Roccbox hits your desired temperature, carefully place the pan in the oven using an oven glove or cloth to protect your hands. 
Cook, for around 5-10 minutes (or until they are tender and charred to your preference), stir occasionally
Carefully remove the pan from the oven, as the handle will  be extremely hot
Presumably, if you have a pizza oven, you probably also have oven accessories to use it safely. If not, be sure to invest in high heat-resistant oven gloves.
Also, as with any recipe, cooking times may vary. Given its high heat, it's especially easy to burn food in a Roccbox, so be sure to keep an eye on it. 
What Else You Can Cook In A Roccbox
Anything you can roast in an oven you can cook in a Roccbox, including most types of vegetables and meats. Just make sure you have the right pan to cook them in.
Meat, seafood, bread, and many desserts can also do nicely in a pizza oven like the Roccbox. 
Here are some other options:
| Food | ApproximateTemperature | Accessories Needed |
| --- | --- | --- |
| Neapolitan Pizza | 900°F | Pizza Peel |
| Wood-Fired Steak | 750°F | Cast Iron Pan |
| Chicken Wings | 700°F | Cast Iron Pan |
| Vegetables | 650°F | Cast Iron Pan |
| Deep-Dish Pizza | 500°F | High-heat Resistant Deep-Dish Pizza Pan |
| | | |
Asparagus as a pizza topping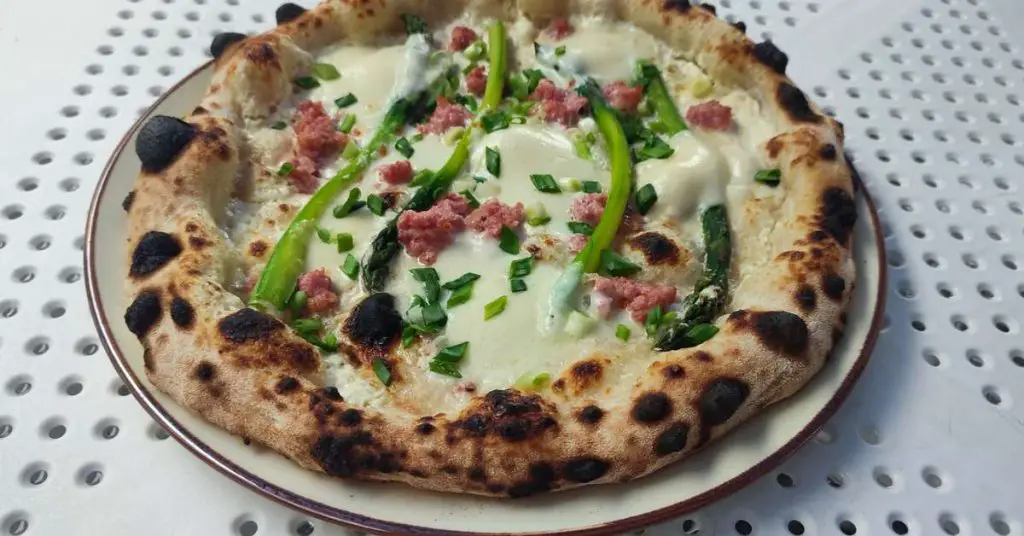 But perhaps the best way to cook asparagus in your Roccbox is as a pizza topping itself, however I wouldn't recommend putting it directly on the pizza raw. That's because asparagus is extremely dense and takes much longer to cook than a pizza does in an oven as hot as the Roccbox.
To use asparagus as a pizza topping, I recommend steaming it beforehand until the stalk is cooked all the way through. Then, drain any excess water from the asparagus and place 5-6 stalks on the pizza, either whole or chopped into smaller pieces. The asparagus will then char as the pizza cooks, just the way I like it.
Can you cooking asparagus in a Roccbox?
Yes, you can cook asparagus in a Roccbox, just don't cook it directly on the baking stone. Instead, place the asparagus in an oven safe pan, like a cast-iron skillet, and cook them at medium-high heat until tender and lightly charred.