Bertello Grande 16 Pizza Oven Review: A Major Upgrade Over The Original Bertello
If you've been a follower of this website for a while, you might have come across our review of the Bertello 12 inch pizza oven that was featured on the reality-TV show Shark Tank.
We thought the original Bertello had a lot going for it, but it was also flawed and difficult to recommend over competitors.
Today, we're reviewing the Bertello Grande 16, and we have to say: it's a big upgrade over the original in several ways.
Our favorite feature of the new Bertello Grande has to be its dual propane "under-stone" burners. This unique gas burner configuration makes the Bertello Grande one of the hottest (and fastest) portable pizza ovens we've ever used.
The Bertello Grande isn't better than the Ooni Karu 16, but it's still a solid competitor to it at a much lower price. So if you're looking for a budget-friendly alternative to the Ooni Karu 16 or Gozney Dome, we have no problem recommending the Grande. Especially if you can pick one up on sale.
Still interested? Let's get into some of the details of this very capable and affordable 16 inch pizza oven.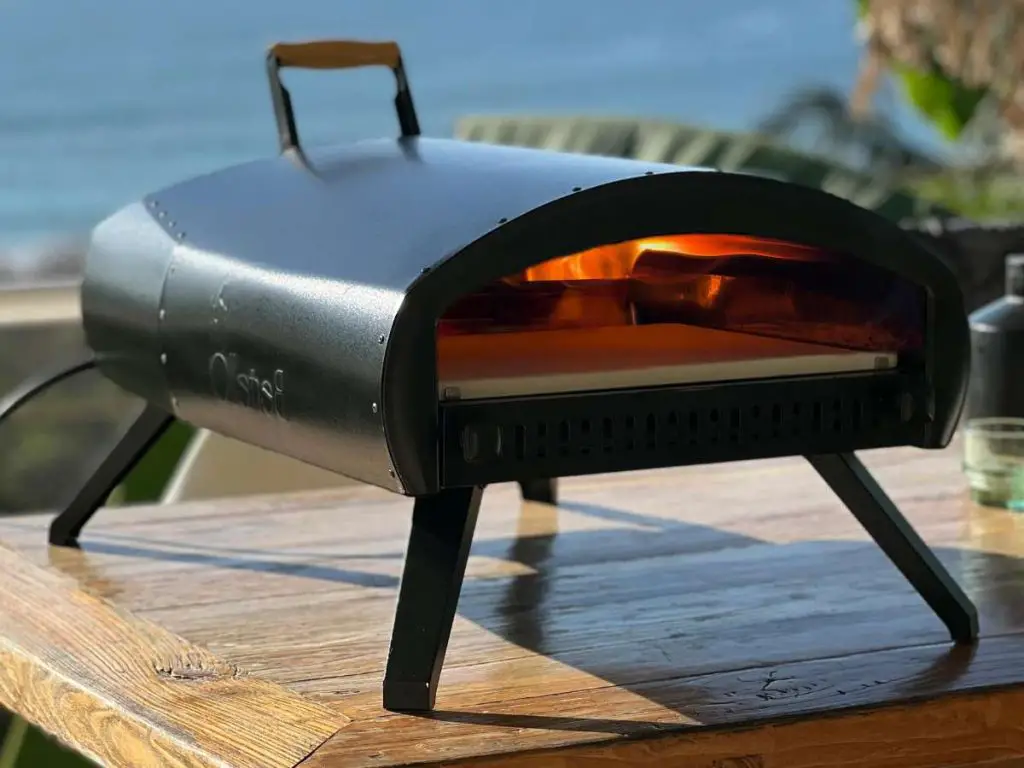 Design, Features, and Technical Specifications
| Specification | Detail |
| --- | --- |
| Name | Bertello Grande 16″ Outdoor Pizza Oven |
| Supported Fuel Types | Gas, Charcoal, Wood |
| Weight | 62.9lbs |
| Max Pizza Size | 16″ |
| Baking Surface Size | 16″x16″ |
| Warranty | 3-year limited |
| Price per Square Inch (baking surface) | $2.14 |
| Total Price | $549.99 |
External Design and Build 
The Bertello Grande 16″ Outdoor Pizza Oven aims to match modern design with functionality. Its exterior has a robust construction that feels sturdy to the touch.
While its appearance might be polarizing for some due to visible rivets and a hammered finish, there's no denying its build quality. The oven's size is substantial, accommodating pizzas up to 16″, so it's going to be hard to miss in any outdoor setting.
For what its worth, we actually like the way the Bertello Grande looks.
Core Features and Innovations 
Getting into the features, the Bertello Grande 16″ boasts dual-fuel capabilities, which is increasingly common these days. It's designed to heat quickly with gas, reaching temperatures over 900°F, and then be supplemented with wood for that authentic wood-fired pizza flavor. You can also use wood, without any gas, for the entire cooking process as well.
Unique "Under-stone" Duel Gas Burners
One of the interesting features we really like about the Bertello Grande is its "under-stone" burner, which basically means the pizza stone is preheated from the bottom rather than the top like most portable pizza ovens. What this means for you (the user) is that the Bertello Grande gets hotter quicker and stays hotter longer than other similar pizza ovens, even premium quality ones.
But the gas burner isn't just located under the pizza stone, there's also one placed above it. This helps to keep the stone hot as well as ensures that the top of the crust and toppings get cooked through as well.
Simultaneous Duel-Fuel Capable
Another interesting feature of the Bertello Grande is its unique wood tray that allows you to easily cook with wood and gas at the same time. Plenty of other pizza ovens allow this in theory, but the Grande makes it easy and is designed to work this way. We like that.
In a world of pizza ovens that mostly just copy whatever Ooni is doing, its refreshing to see at least one pizza oven brand trying to add something new to the equation. But whether or not these features mean the Bertello Grande is worth buying over other pizza ovens is another question we'll get into further down.
Unboxing and Initial Setup of the Bertello Grande 16″ Pizza Oven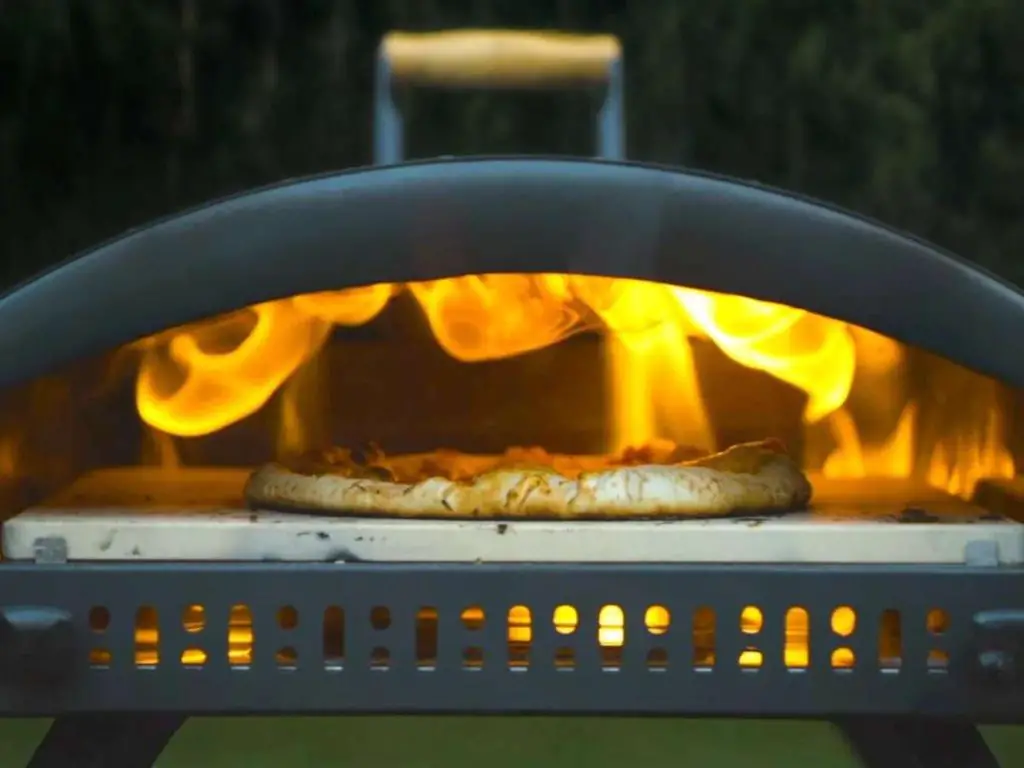 The moment of unboxing a new product is always exciting, and the Bertello Grande 16″ Pizza Oven was no exception. Sliding the box open, the first thing that caught our eye was the oven's robust design. Nestled securely within the packaging was the main oven unit – rivets, welding seems, and all. It may not be the most aesthetically pleasing aspect of the oven, but it does exude a sense of durability. Or maybe that's just us!
Alongside the oven, the box contained a gas attachment, a wood tray designed specifically for the gas burner, and a 16″x16″ pizza stone. While we didn't opt for additional accessories during purchase, take note that the pizza peel, an essential tool, was sold separately. So if you don't own one already like we do, you'll need to pick one up to use the oven.
Here's something I found peculiar: Bertello only sells a 12×14 inch pizza peel on their website. This is perfect if you're using a 12 inch oven, but for a 16 inch oven like the Grande 16 it's very limiting. Their bamboo pizza peel limits you to making a 14 inch pizza despite the oven's 16 inch baking surface.
That's no problem if you already own a 16 inch pizza peel like we do. But if you bought the peel from their website thinking you could use it to get the most out of your Bertello Grande, think again.
Initial Setup Process
Setting up the Bertello Grande 16″ was easy and uneventful. The instructions provided were clear, and the components fit together easily. The gas burner attached without a hitch, and placing the pizza stone inside felt intuitive. However, for someone new to pizza ovens, taking a moment to familiarize oneself with the components before diving into the assembly might be beneficial.
Post-assembly, we scoured through the manual and some online reviews to ensure we wasn't missing any crucial steps. It's common for some ovens to require an initial "burn-in" or "curing" process to remove any manufacturing residues.
While there wasn't any explicit mention of this for the Bertello Grande 16″, it's always a good practice to heat any new oven for a short period before cooking the first pizza, ensuring any residues are burned off. We did this but didn't notice much residue or manufacturing dust burning off to speak of.
What's in the Box and Additional Accessories
Included in the Box:
Bertello Grande Pizza Oven
Gas Burner
Wood Tray for Gas Burner
16″x16″ Pizza Stone
Not Included but Necessary:
Additional Accessories:
Bertello Grande 16 Weatherproof Cover
With the oven set up and ready to go, the real test lies in its performance. Let's start with the first-time firing experience and see how the Bertello Grande 16″ holds up.
Testing the Bertello Grande 16″ Pizza Oven for the First Time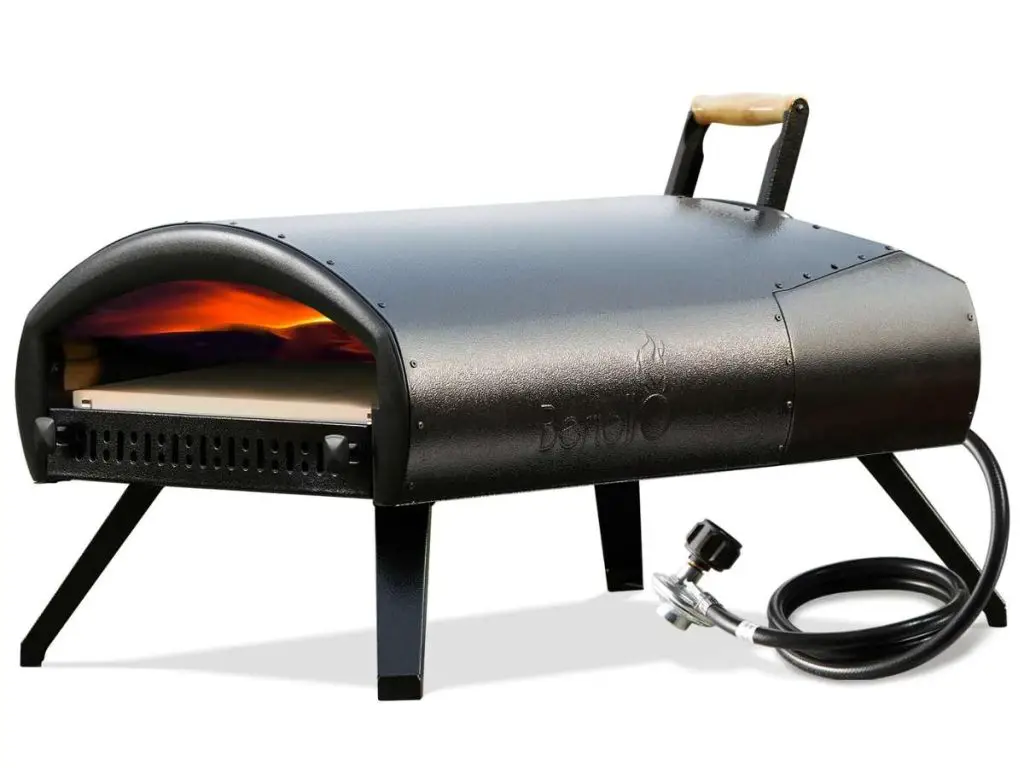 The true essence of any pizza oven lies in its performance, and the Bertello Grande 16″ was about to undergo its maiden voyage. Firing it up using its primary fuel type, gas, was no problem. The ignition was smooth, and within moments, the oven began to radiate heat. 
Bertello Grande Gas Performance
While Bertello claims a quick preheating time, we found this to be a wild understatement. Thanks to the duel gas burners, the Bertello Grande easily heats up faster than any other portable pizza oven we've used so far. Not only did the ambient air reach scorching temperatures quickly, the stone exceeded the stated 950F by a fair margin in under 20 minutes.
Keep in mind, it was a hot and sunny day when we performed these tests, so the oven body was already fairly warm. Your experience might vary weather depending, but probably not too much – the Bertello Grande is truly designed to get very hot very quickly.
Bertello Grande Wood Performance
Switching gears to its secondary fuel type, wood, the experience was slightly different. Adding wood chunks to the tray and igniting them added an authentic wood-fired aroma to the surroundings. Without use of the duel gas burners, the Bertello Grande took a bit longer to heat up using wood alone, clocking in at around 30 minutes to reach its peak temperature.
However, the combination of gas and wood was where the Bertello Grande 16″ truly shined. The convenience of gas and the smoky flavor given off by the wood made for a delightful pizza-making session. Comparatively, while gas was quicker and more consistent, the addition of wood definitely elevates the overall experience.
Tip: You can also use charcoal instead of wood if you prefer. But in our testing, wood and gas provided the best results both in terms of flavor and performance.
Simultaneous Wood & Gas Performance
While it also supports charcoal, the Bertello Grande 16″ primarily focuses on gas and wood. However, as we mentioned earlier, it's worth noting that the ability to use both simultaneously offers a unique versatility not commonly found in many outdoor pizza ovens. This dual-fuel system ensures that users can tailor their baking experience based on their preferences, be it for speed, flavor, or a combination of both.
With the initial tests done, it was time to put the oven through its paces and see how it fared with different pizza styles. Let's see what the reviewing team turned up this time!
Pizza Oven Performance Review: Bertello Grande 16″ in Action
The true test of a pizza oven lies in its ability to produce mouth-watering pizzas, and the Bertello Grande 16″ had some high expectations to meet. With its dual-fuel system and impressive heating capabilities, we were eager to see how it would fare with different pizza styles.
Neapolitan Pizza Test
Starting with the classic Neapolitan pizza, we actually had to turn down the oven from its maximum temperature. Aiming for that perfect 90-second bake at 850°F, we slid the pizza onto the stone. The oven's heat enveloped the pizza, causing the crust to puff up and char in spots almost immediately. That's a good sign.
However, we noticed that certain areas seemed to be browning faster than others. To prevent burning, we had to lower the flame slightly and rotate the pizza for even cooking. The result? A Neapolitan pizza with a crispy crust and a slightly smoky flavor, though a tad more rotation than I'd have liked. That might be a sign to turn down the temperature even more in the future.
New York Style Pizza Test
Next up was the New York-style pizza, characterized by its thicker crust and generous toppings. Setting the oven to a mid-range temperature of around 650°F and maintaining a low flame, we baked the pizza.
The Bertello Grande 16″ maintained its temperature consistently, and in roughly 7 minutes, the pizza emerged with a golden-brown crust and bubbling cheese. The crust had a slight crunch on the outside while remaining soft and chewy inside, capturing the essence of a classic New York slice.
Great results, though to be fair almost any pizza oven can cook New York style well if it's 16 inches or larger. Still very good performance, though.
Detroit Style Pizza Test
For the final test, we opted for a Detroit-style pan pizza, known for its thick, airy crust and caramelized cheese edges. Lowering the oven's temperature to around 450°F and keeping the flame very low, we patiently waited as the pizza baked.
The Bertello Grande 16″ did not disappoint. In about 18 minutes, the pizza was ready, with a crispy bottom and edges with a soft, pillowy interior. The oven's consistent heat ensured that the bottom was perfectly cooked without any signs of burning.
But again, low-temperature pizza styles like New York and Detroit are not the true test of a pizza oven. In fact, for Detroit style specifically, there really is no advantage to using a pizza oven versus a home oven. Most home ovens reach temperatures hotter than necessary for Detroit style.
That said, all in all, the Bertello Grande 16 showcased its versatility across these different pizza styles. No matter what style you're into, this pizza oven will serve you well.
Bertello Grande vs Ooni Karu 16
It's hard to judge any 16 inch pizza oven without comparing it to our personal favorite, the Ooni Karu 16.
The Bertello Grande 16 has a lot to offer that the Ooni Karu 16 doesn't, such as its duel gas burners and simultaneous gas and wood capabilities. That said, the Ooni Karu 16 has a built-in thermometer, a door with a glass viewing window, and better heat retention.
Personally, we prefer the Ooni Karu 16. It doesn't get as hot as quickly as the Bertello, but waiting a few extra minutes for the oven to heat up to the maximum temperature isn't a deal breaker for us.
However, at $549, the Bertello Grande 16 is about $250 less expensive than the Ooni Karu 16. It's usually available at a steep discount as well (sometimes as low as $399). So, if $799 for the Karu 16 is too expensive for you, you can enjoy many of the same features in the Bertello Grande for a much lower price.
It's also worth noting that at $549, the Bertello Grande is currently one of the least expensive premium pizza ovens available with a 16 inch baking surface. As you can see from the chart below, the Bertello Grande pizza oven costs $2.14 per square inch of baking surface, which is incredibly cost effective for an oven its size.
| Feature | Bertello Grande 16 | Ooni Karu 16 |
| --- | --- | --- |
| Name | Bertello Grande 16 | Ooni Karu 16 |
| Max Pizza Size | 16 inches | 16 inches |
| Baking Surface Size | 16″ x 16″ | 16.7″ x 16.7″ |
| Build Materials | Not specified | Stainless steel, ceramic fiber insulation |
| Fuel Types | Gas, Charcoal, Wood | Gas, Wood, Charcoal |
| Max Temperature | Over 900°F | 950°F |
| Price per Square Inch | $2.14 (approx.) | $2.85 (approx.) |
| Total Price | $549.99 | $799 |
Final Thoughts on the Bertello Grande 16 Pizza Oven
The Bertello Grande 16 Pizza Oven has been quite the journey, from unboxing to tasting the fruits of its labor. On the positive side, its dual-fuel system is a standout feature, offering both the convenience of gas and the authentic flavor of wood-fired pizza.
The oven's build quality feels solid, and its performance across different pizza styles was pretty impressive. However, it wasn't without its quirks. The absence of an integrated thermometer and the slightly uneven heating in certain spots were areas that could see improvement.
Weighing its features, performance, and the $549.99 price tag, would we recommend the Bertello Grande 16? Absolutely. For a very reasonable price, this pizza oven will give you many of the features you expect in a premium 16 inch pizza oven – and even several you didn't know you wanted as well.
But if money is no object to you, the Ooni Karu 16 is still a better 16 inch pizza oven all-around.
Key Takeaways:
Dual-fuel system offers versatility in cooking.
Robust build with a design that might be polarizing for some.
Consistent performance across different pizza styles, with minor heating nuances.
Lacks an integrated thermometer.
Priced on the higher end, but could be justified for those valuing its unique features.
Related Questions
Can the Bertello Grande 16 be used indoors or is it strictly an outdoor pizza oven?
The Bertello Grande 16 is designed primarily as an outdoor pizza oven. Using it indoors is not recommended due to the potential for smoke and carbon monoxide production, especially when using wood as a fuel source. Always ensure proper ventilation and safety precautions when using the oven.
How long does the Bertello Grande 16 retain its heat after turning it off?
The Bertello Grande 16, with its robust construction, retains heat for a considerable amount of time after being turned off. Depending on the ambient temperature and the fuel used, it can stay warm for up to an hour or more. This retained heat can be useful for slow-cooking or keeping food warm, but always exercise caution when approaching the oven after use.