Alfa Nano Pizza Oven Review: Amazing Performance, Hefty Price Tag
The Alfa Nano pizza oven is one that's been on our list to review for a while, and for good reason. Not only does the oven look great, it comes with raving reviews as well.
In a nutshell, the Alfa Nano performs as well as it looks, but it comes at a massive cost. At $1,400, the Alfa Nano is quite expensive for a pizza oven that can only fit a 12 inch pizza. It also doesn't support multi-fuel, which means you're stuck with whatever fuel type choice you make at purchase (gas or wood).
That said, we can't say enough about the Alfa Nano's performance. It heats up fast and the cooking process is amazingly easy and efficient. If you're looking for an authentic wood-fired pizza cooking experience, it's all here. It even comes with a pizza peel ($50-$100 value).
The Alfa Nano is ideal for those looking for a pizza oven that performs well and has a specific look. This oven was designed to be a showpiece to make your friends and neighbors envious—and it will!
But if you're just looking for a top-notch portable pizza oven, we recommend considering the fully multi-fuel capable Ooni Karu 16 at half the price and with twice the baking surface size. 
You might also be interested in the Gozney Dome, with similarly show-stopping looks and way more baking surface size.
Still interested? Keep reading for more details on what we like (and don't like) about the Alfa Nano pizza oven.
Note: The Alfa Nano is the new name for the Alfa One, but other than the name change it's the same pizza oven.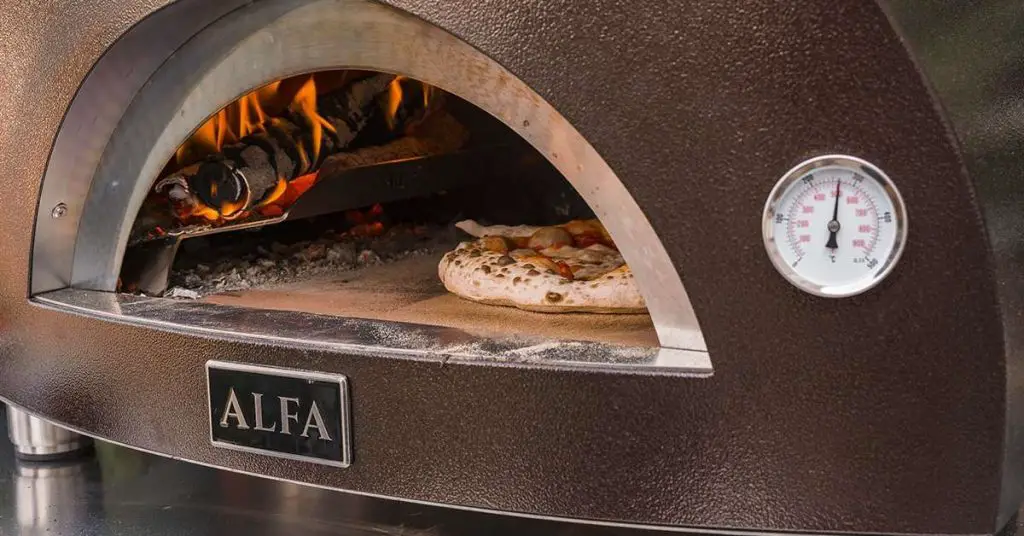 What Is The Alfa Nano Pizza Oven?
| | Alfa Nano | Ooni Karu 16 | Gozney Dome |
| --- | --- | --- | --- |
| Name | Alfa Nano | Ooni Karu 16 | Gozney Dome |
| Pizza Stone Size (inches) | 12 x 12 | 16.7 x 16.7 | 18.5 x 21.6 |
| Max Pizza Size (inches) | 12 | 16 | 16 |
| Minimum Heat Up Time | 10 mins | 20 mins | 20 mins |
| Fuel Types | Either wood or propane (not both) | Wood, charcoal, gas | Wood, charcoal, gas |
| Price | $1400 | $799 | $1999 |
| Baking Surface (sq inches) | 144 | 278.89 | 399.6 |
| Price per sq inch (baking surface) | $9.72 | $2.87 | $5.00 |
The Alfa Nano is a creation of Alfa Forni, a renowned manufacturer with a rich history in producing high-quality ovens. 
Known for their innovation and excellence, Alfa Forni has consistently delivered Italian made and designed pizza ovens that have been well-received by both professionals and home pizza makers alike.
Fuel-Types and Size
The Alfa Nano One is primarily a wood-fired pizza oven, which gives the most authentic cooking experience possible. You can also purchase a gas powered Alfa Nano for added convenience, but unfortunately you have to choose one or the other. The Alfa Nano does not support Multi-Fuel capability.
Despite its compact size, it doesn't compromise on performance, ensuring you get perfectly cooked pizzas every time. Our tests show that its size makes it an ideal choice for those with limited space but still want an authentic wood-fired (or gas) cooking experience.
In the following sections, we'll get into the design, technical specifications, setup process, and performance of the Alfa Nano One.
Alfa Nano Design and Aesthetics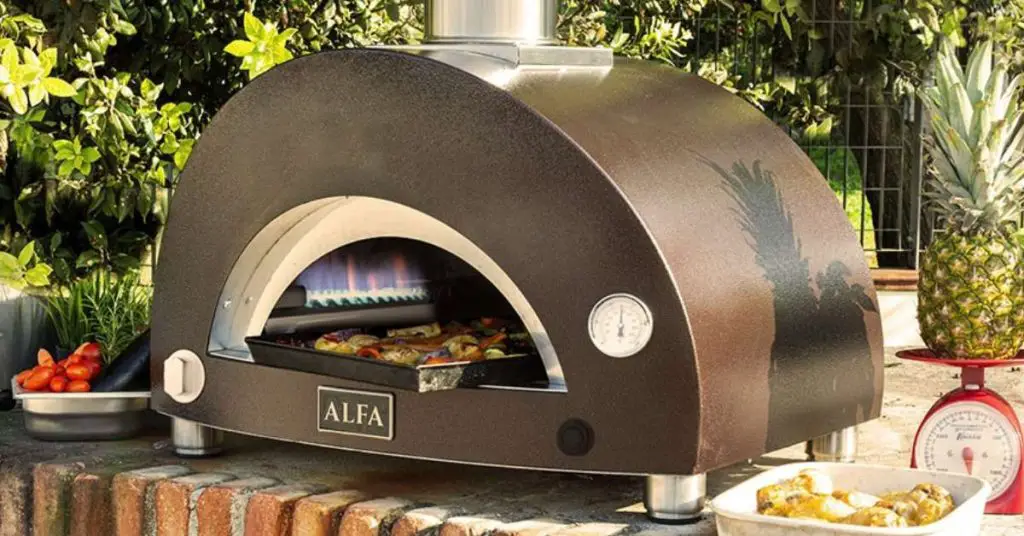 Exploring the Alfa Nano's Design
The Alfa Nano boasts a compact and elegant design that seamlessly blends sophistication and functionality. 
Its design makes it clear that a lot of thought was put into its construction with efficiency as well as aesthetics in mind. 
This makes the Alfa Nano stand out, as not just a cooking appliance but also an attractive addition to your cooking space.
Material and Build Quality
As a premium pizza oven, the Alfa Nano doesn't disappoint when it comes to build quality. This outdoor pizza oven features heavy insulation and a double powder-coated exterior, ensuring durability and longevity. 
These features contribute to the Alfa Nano's ability to retain heat efficiently, ensuring consistent cooking results. 
Our team found that this robust construction plays a significant role in the oven's overall performance and reliability, and puts it right up there with our other favorites like Ooni and Roccbox in terms of efficiency and results.
Unique Design Highlights
One of the most unique design highlights of the Alfa Nano is its beaten-copper finish and domed shape, giving it a stylish and distinctive look. 
This, along with other unique design elements, enhances the aesthetic appeal of the oven, making it a centerpiece in any setting. The Alfa Nano will naturally become the focal point of any backyard or patio.
Beyond its looks, these design highlights also contribute to the oven's functionality, which makes the Alfa Nano as efficient as it is attractive.
Alfa Nano Tech Specs
Getting into the technical aspects of the Alfa Nano, it's clear that Alfa Forni left no stone unturned in its mission to enhance the pizza cooking experience. Let's look at some of those details now.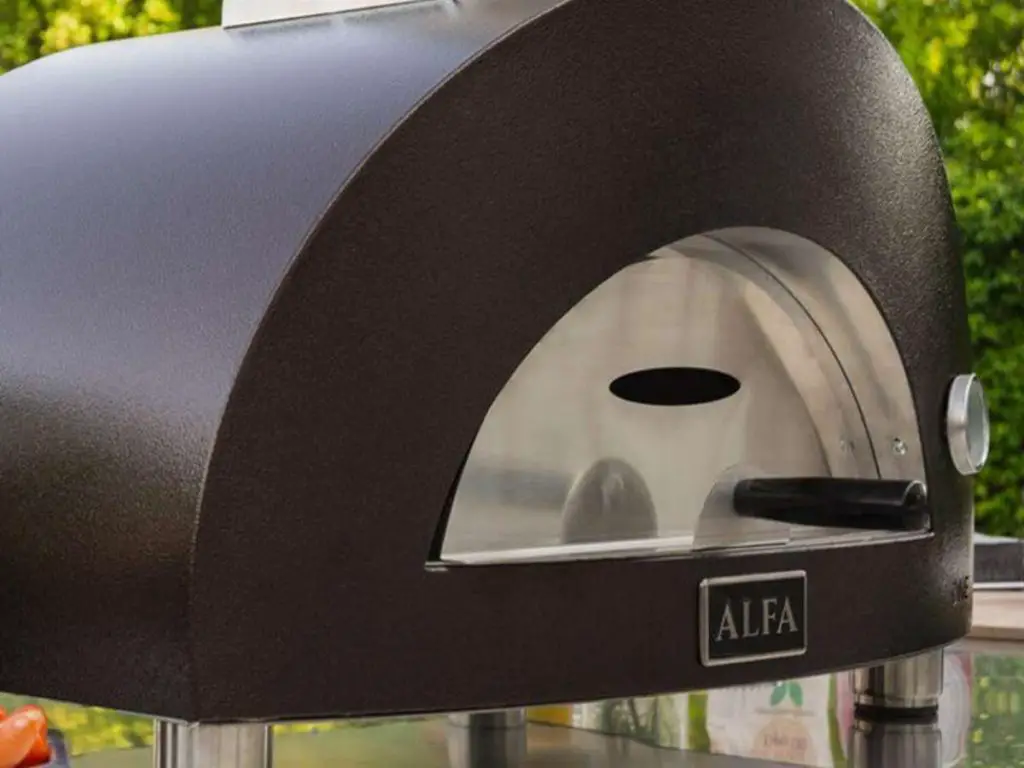 Dimensions, Weight, and Capacity
The Alfa Nano is compact with dimensions measuring 29 x 22 x 19 inches, making it suitable for small spaces. 
Despite its modest size, it has a substantial weight of 50kg (110 lbs), indicative of its robust construction. 
When it comes to cooking capacity, the Alfa Nano can efficiently handle 12" pizzas, which is actually one of its primary drawbacks. I would have expected an oven this robust and heavy to have room for at least a 16 inch pizza. 
This puts the Alfa Nano at a competitive disadvantage in terms of features and price compared to similar pizza ovens like the Gozney Dome.
Temperature Range and Heating Time
One of the standout technical features of the Alfa Nano is its impressive temperature range, capable of reaching up to 1000°F. 
This high temperature is paired with rapid heating capabilities, allowing you to get cooking without lengthy waiting times. In our experience, the Alfa Nano heats up quite a bit faster than its main competitors like the Ooni Karu 16 or the Gozney Dome. 
We were able to get the oven to the minimum Neapolitan pizza range (700-800F) within about 10 minutes, and up to 1000F within 25 minutes.
That said, your experience with preheating the Alfa Nano will vary depending on the kind of fuel type you're using (gas or wood), as well as the specific size and type of wood you buy. If you choose the wood-fired option, you should always try to use kiln-dried hardwood kindling for the best results. 
Many people get frustrated when they can't get their pizza oven hot enough (whether it's the Alfa Nano or another one), but it usually has more to do with their choice of fuel or method than the oven itself. 
Moral of the story: don't give up, using a wood-fired oven takes some practice.
Setting Up the Alfa Nano
Setting up the Alfa Nano is very easy, thanks to the clear and concise assembly and installation guide provided (which, frankly, is barely necessary). 
The Alfa Nano setup is designed with user convenience in mind, making the process smooth and straightforward.
Additional Equipment and Accessories
The Alfa Nano comes with all the essential equipment and accessories needed for assembly and operation. 
This includes a chimney, wood basket, and even a pizza peel, ensuring you have everything you need at your fingertips. These accessories are not just add-ons but integral parts of the Alfa Nano, enhancing its functionality and ease of use.
Ease of Setup
One of the highlights of the Alfa Nano is its user-friendly and simple setup. The instructions are easy to follow, and the mostly already put together design ensures you can assemble the oven without any specialized knowledge or tools. 
Our team found the Alfa Nano assembly to be a seamless experience, further solidifying it as a top choice for those seeking a hassle-free and efficient pizza oven. Just slot in the chimney piping, screw on the four feet, attach the wood basket (if it's the wood-fired model) and you're ready to go.
Next, let's get into cooking results and performance.
Alfa Nano Pizza Oven Performance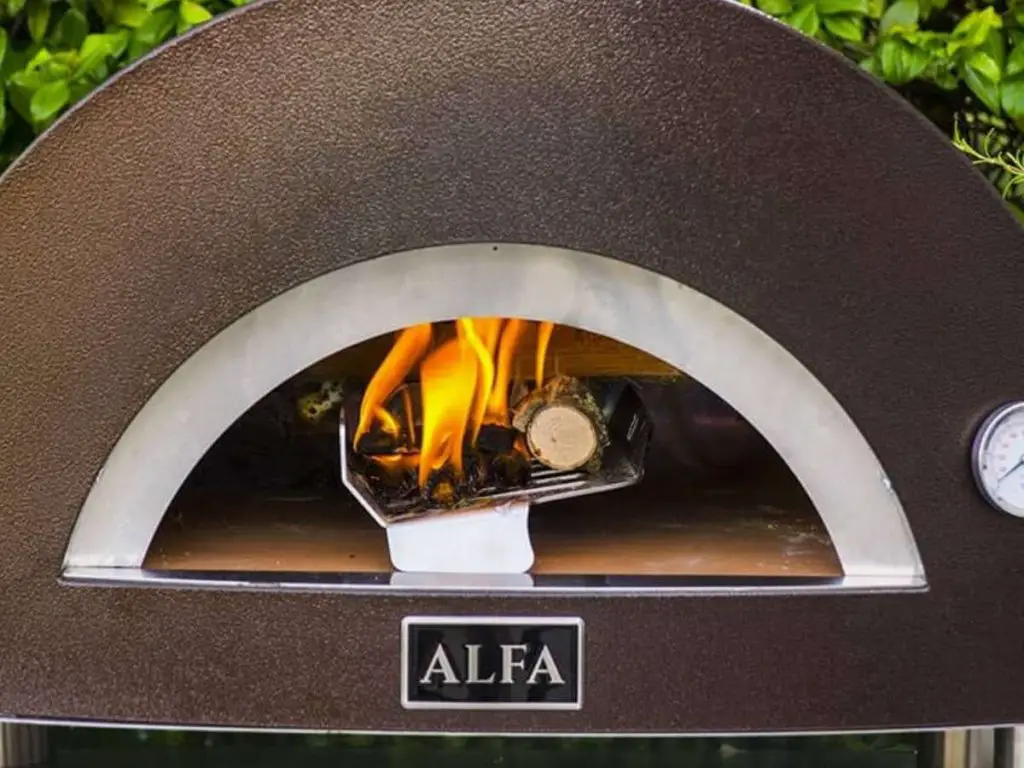 In our in-depth performance analysis of the Alfa Nano, efficiency and speed stand out to us the most. The oven boasts a very fast cooking time, taking as little as 60 seconds to cook a Neapolitan pizza just the way we like it. 
This fast cooking time doesn't compromise on quality, ensuring each pizza is evenly cooked and delicious without any burned edges, highlighting how well the Alfa Nano has been calibrated to do its job.
Heating Efficiency and Cooking Time
The Alfa Nano is synonymous with high efficiency and quick cooking. It maintains consistent temperatures, ensuring that your food is cooked evenly throughout. 
The heating efficiency of the Alfa Nano is unmatched, allowing you to prepare meals quickly and effectively, making it an ideal choice for those who value both time and quality.
Cooking Results and Tests
Our tests and real-time usage of the Alfa Nano further hammered home how well this oven performs. The oven consistently delivers perfectly cooked pizzas with a delightful crispness and well-done toppings. 
The Alfa Nano cooking experience is fairly seamless. So, as soon as the oven hit around 850F (about 15 mins in), we launched our first Neapolitan style pizza. Usually, the first pizza you cook in a new pizza oven comes out a bit overdone or underdone, but this one was perfect.
Was it just luck that our first pizza came out so well? Maybe, but it's also a signal that the Alfa Nano is designed with consistent results in mind.
Features of the Alfa Nano Oven
The Alfa Nano Oven is packed with notable features that set it apart in the market. One such exclusive feature is the Forninox™ Technology, a patented innovation that enhances the oven's performance and durability.
Basically, this is a fancy way of saying that the Alfa Nano is engineered with a stainless steel shell, a double layer of ceramic fiber, and a brick baking surface. This superior build quality is one of the reasons why the Alfa Nano performed so well in our tests. It's also one of the reasons why we rate this oven alongside other premium outdoor pizza ovens we love. 
These exclusive and patented features also underscore the Alfa Nano's commitment to delivering exceptional quality and functionality.
Extra Features
Beyond its basic features, the Alfa Nano offers additional functionalities that make it convenient and easy to use. 
A peephole in the door allows you to monitor your cooking without losing heat, and the removable door makes cleaning and maintenance easy. These thoughtful functionalities contribute to the overall exceptional experience of using the Alfa Nano oven, and set it apart from other budget pizza ovens.
Exclusive Technology
The Alfa Nano team prides itself on pioneering technology that enhances the pizza cooking experience. The patented flue system is a testament to the innovative design and exclusive technology that the Alfa Nano brings to the table. 
This, combined with other technological advancements, solidifies the Alfa Nano as a leader in pizza oven technology.
But that's not to say that the Alfa Nano is perfect, because it certainly isn't. In the next section, we'll get into some of the aspects of this oven that we like and dislike the most.
Pros and Cons of the Alfa Nano Pizza Oven
When considering if you should pick up an Alfa Nano, you need to weigh the pros and cons to make an informed decision. Below, we've compiled a list of the Alfa Nano's main advantages and disadvantages:
Pros and Cons:
Pros: 
Rapid Heating:

What We Loved: The Alfa Nano heats up incredibly fast, reaching optimal minimum Neapolitan temperatures in around 10 minutes.
The Details: It can heat up to 1000°F within 25 minutes, or around 850 in 10 minutes.

Compact and Elegant Design:

What We Loved: Its compact design is a space-saver, and it looks absolutely stunning with a beaten-copper finish. It's not just an oven; it's a statement piece for your backyard or patio.
The Details: Dimensions are 29 x 22 x 19 inches, making it suitable for smaller spaces.

Innovative Features:

What We Loved: The Alfa Nano is packed with innovative features like the Forninox™ Technology and a patented flue system. The peephole in the door is a nice feature for keeping an eye on your pizza without losing much heat.
The Details: The removable door and wide chamber opening makes it easy to clean and maintain, as well as maneuver pizza.

High-Quality Build:

What We Loved: The heavy insulation and double powder coating ensure durability and longevity. It's an investment that's built to last with easy cleaning and maintenance.
The Details: The materials used are top-notch, ensuring the oven withstands various weather conditions when used outdoors. It also does a great job of retaining heat between pizzas. 
Cons:
Price:

What We Noticed: The Alfa Nano comes with a hefty price tag, approximately $1400. But for a 12 inch pizza oven, it's very expensive. And while the features and quality are premium, it might be out of range for many home pizza makers. 
The Details: Be sure to consider your budget and frequency of use before making a purchase. Most people will prefer the more budget friendly Ooni Karu 16 or the similarly priced but much bigger Gozney Dome. 

Limited Cooking Capacity:

What We Noticed: The compact design, while a space-saver, limits the cooking capacity. It's ideal for small gatherings but might not be the best choice for larger parties or events.
The Details: It can comfortably cook 12" pizzas, one at a time. That's a very low capacity for such a hefty and expensive pizza oven.

Availability:

What We Noticed: The availability might be limited, and you might have to wait to get your hands on one, especially if purchasing from specific dealers or locations.
The Details: Be sure to check the official website (or a local dealer) for the current stock status.
Conclusion: The Final Verdict on Alfa Nano
After careful thought and analysis, we love the Alfa Nano, but it isn't without its faults. 
In terms of performance, the Alfa Nano is hard to beat. We also love the aesthetics—it really does look and perform like an authentic wood-fired pizza oven. 
That said, the biggest drawback to the Alfa Nano is price. At $1399, it's quite expensive for a pizza oven that can only handle a 12 inch pizza and isn't multi-fuel capable. For a similar price, you can get the Gozney Dome, which is an equally impressive pizza oven that's big enough for over a 16 inch pizza and is multi-fuel capable.
So, while we don't hesitate to recommend the Alfa Nano in terms of build-quality and performance, there are much more cost effective options out there. The Ooni Karu 16 can do everything the Alfa Nano can do (and more) at literally half the price. 
In the end, I think the Alfa Nano is best for someone who is looking for a particular aesthetic for their pizza oven. This isn't the kind of oven you store in the garage when not in use, it's going to become a centerpiece for your backyard or patio. In fact, that's a big part of what you're paying for in addition to the amazing performance.
Extra Tips and Advice
For those who choose the Alfa Nano, it's essential to familiarize yourself with the oven's functionalities to make the most of its features. Ensure you follow the manufacturer's guidelines for setup and usage to maintain the oven's efficiency and longevity. 
Preheat Properly: Fire up your Alfa Nano and let it preheat thoroughly. Giving it ample time to heat up ensures your pizza cooks evenly and perfectly. It doesn't take long!
Use the Peephole: Take advantage of the peephole in the door. It lets you keep an eye on your pizza without opening the door and losing that precious heat.
Explore Wood Types: Experiment with different types of wood. Each type imparts a unique flavor to your pizza, so have fun finding your favorite! Just make sure whatever you're using is hardwood and kiln-dried.
Clean Regularly: Keep your Alfa Nano clean. Regularly remove ash and food particles to ensure optimal performance and longevity.
Learn to control the flame: Blazing high temperatures might be perfect for Neapolitan style, but for New York style you'll want a lower flame and a lower overall temperature. This can take some time to master when using wood, so invest some time into learning to use your Alfa Nano to get the most out of it.
Related Questions
Can the Alfa Nano Pizza Oven be used indoors?
No, the Alfa Nano is a wood-fired oven designed for outdoor use only. Using it indoors could pose serious safety risks including fire hazards and carbon monoxide poisoning.
Is the Alfa Nano Pizza Oven portable?
Yes and No. The Alfa Nano pizza oven isn't fixed in place and can be moved whereover it will fit quite easily. However, at 110lbs, it's very heavy and not something you want to be moving around unnecessarily.