Ooni Memorial Day Sale 2023 Guide: Maximize Your Summer With 30% Off Select Pizza Ovens
If you're anything like me and always looking for a way to up your pizza game, mark your calendars! This year's Ooni Memorial Day 2023 Sale is back and as good as ever (up to 30% off) , running from May 20th to May 29th, 2023. This is the perfect time to finally pick up that Ooni pizza oven you've been eyeing and know that you're paying the best price.
Remember: This deal is from only from May 20th to May 29th 2023, so take advantage while it lasts.
This year, the deal is a little different. Rather than the standard 20% off all pizza ovens, the 2023 sale features a whopping 20-30% off select pizza ovens. This means that while not every pizza oven is sale, you can save a huge amount on the ones that are.
The pizza ovens that are on sale include the following: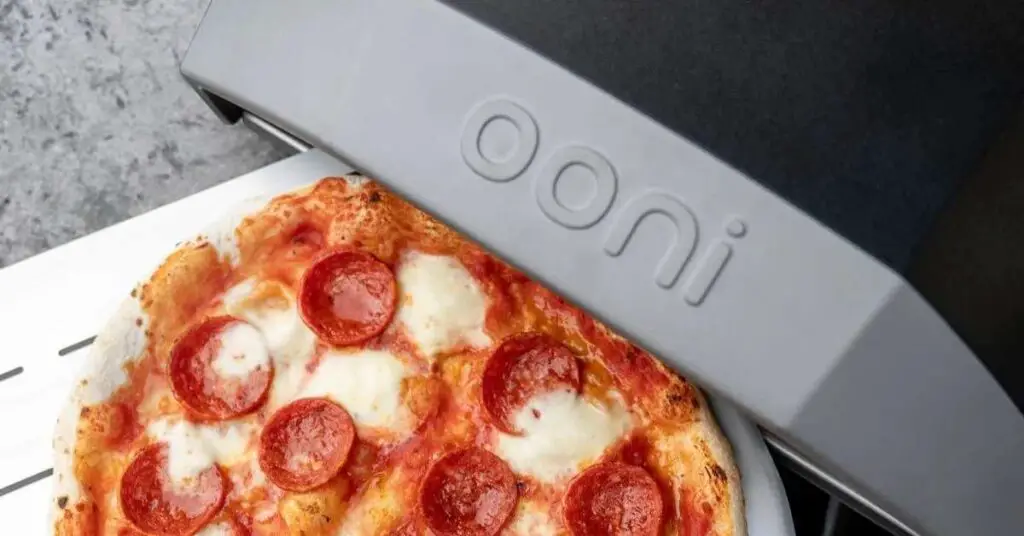 Why Choose Ooni?
Let's get the obvious question out of the way first: yes, there are cheaper pizza ovens out there. You can find them on Amazon, Aliexpress, and many other websites, as I'm sure you've seen many yourself when browsing online, or even at some local discount stores.
So, if you're asking yourself if it's worth it to buy an Ooni, there are several reasons I can offer, but they all tie back to one central theme that applies to most things in life, (and especially high-end pizza ovens): you get what you pay for.
Related Post: Ooni Koda 16 Outdoor Gas Pizza Oven Review
First, Ooni ovens embody quality. Unlike budget brands that often cut corners with lower-quality materials, Ooni commits to using durable, high-grade components in their ovens. You'll notice this quality the moment you fire up an Ooni for the first time – and it's a quality that endures, with these ovens designed to last for many years (with proper care and maintenance, of course). 
 A quality pizza oven has good airflow, is easy to maintain, and works reliably—cheaper pizza ovens share very few of these qualities, if any.
Of course, there are other quality pizza oven brands out there, notably Gozney, but today we're talking about Ooni because it's on sale for the next 9 days. I also happen to prefer Ooni to other brands, but that's just based on my own experience.
Versatility & Ease of Use
Next up, versatility. An Ooni oven doesn't just cook fantastic pizza (though it does that superbly), it also opens up a world of culinary possibilities. Want to sear a steak or char some broccoli? Your Ooni has you covered. It's like having a versatile outdoor kitchen appliance right in your backyard that can grill, cook, and bake all at the same time.
Ease of use is another standout feature. Pizza ovens in general can take some practice to master, but Ooni ovens are user-friendly, designed to be straightforward from assembly to cooking. In my opinion, Ooni offers just about the simplest pizza oven experience you can imagine, especially if you opt for one of the gas or electric models. 
Outstanding Customer Support & A Massive Online Community
 And if you ever need help, their customer support is ready to assist. It's a level of service that cheaper brands often lack. Not to mention the hundreds of communities online filled with Ooni users sharing their experiences, as well as tips and tricks. 
Last, but certainly not least, Ooni ovens deliver exceptional performance. They heat up quickly, reach impressive temperatures, and maintain the consistent heat necessary for a perfect pizza crust. It's this high level of performance that truly sets Ooni apart.
Everything Is Better On Sale
Now, here's the best part: Ooni is currently having a sale. That's right, you can experience all the advantages of an Ooni oven at a steeply discounted price—up to 30% off, in fact. It's a great opportunity to invest in an oven that offers quality, versatility, ease of use, and outstanding performance. These are the same pizza ovens I use on a regular basis.
Interested? Great! Let's dive into a few Ooni models that I'm particularly excited about. Each Ooni pizza oven offers something unique, though they all share the same quality of design and performance. 
For your convenience, I've selected 4 of my favorite Ooni pizza ovens below, but if you prefer to see all the ovens yourself, you can head on over to Ooni directly and choose from there. Please note, some of these ovens may or not be on sale depending on the details of the promotion, so be sure to check the Ooni website.
My Personal Favorite Ooni Pizza Ovens
Ooni offers 7 pizza ovens in total, and they are all similar in terms of quality and design, but here are a few that I'm the most excited to share with you during this sale.
Ooni Karu 16 Multi-Fuel Pizza Oven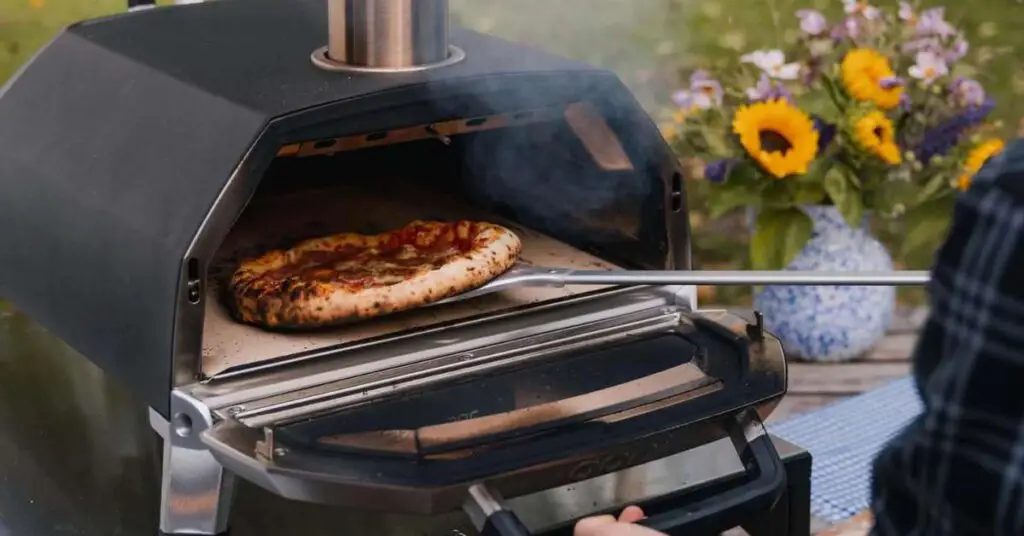 The Ooni Karu 16 is a dream for the serious pizza maker, and it's also one of my personal favorites. Priced at $799, this pizza oven can cook a pizza of up to 16 inches in just a couple of minutes (depending on what style you like). It heats up to a maximum of 950°F in only 15 minutes, so there's very little waiting around before you're ready to start making pizza.
The main selling point of the Ooni Karu 16 is its versatility: it uses wood, charcoal, propane gas, or natural gas (with optional adaptors).
The Ooni Karu 16 is perfect for those who want the ability to make any style of pizza using different sources of fuels at different times. With its huge baking surface, you can just as easily make large 16" New York style pies as you can small 12 inch wood-fired Neapolitan pizzas. 
Ooni Karu 12G Multi-Fuel Pizza Oven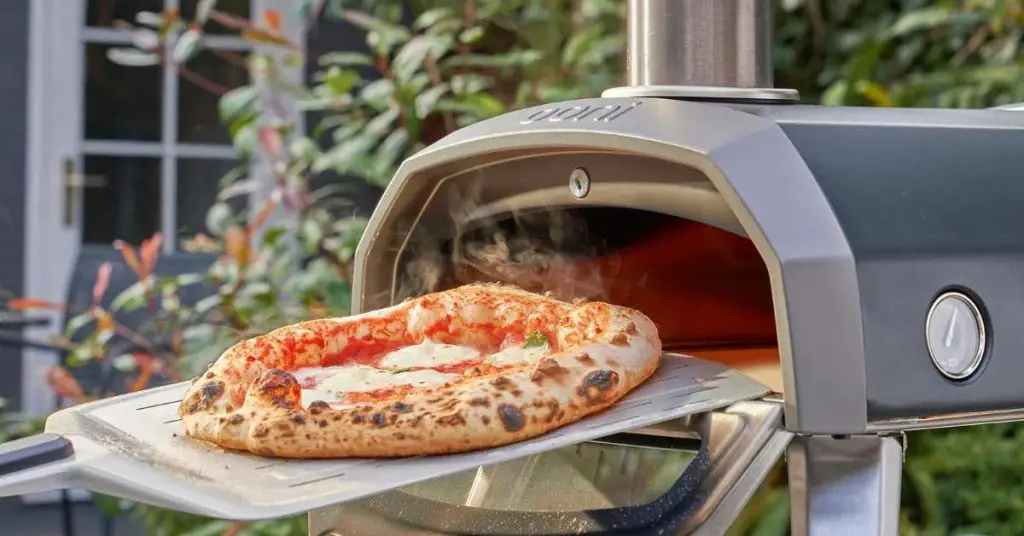 If you prefer a more compact option, the Karu 12G, priced at $429, is hard to beat. This pizza oven is the newest in Ooni's lineup and it comes with many of the most advanced features, including improved fuel efficiency and heat up times. 
With the capacity to cook a 12-inch pizza, the Karu 12G is perfect for smaller gatherings. Like its larger sibling the Karu 16, the Karu 12G can reach 950°F in 15 minutes and uses wood, charcoal, or propane gas as fuel. The Karu 12G is basically everything that the Karu 16 is but in a smaller, more compact package.
Ooni Koda 12 Gas Powered Pizza Oven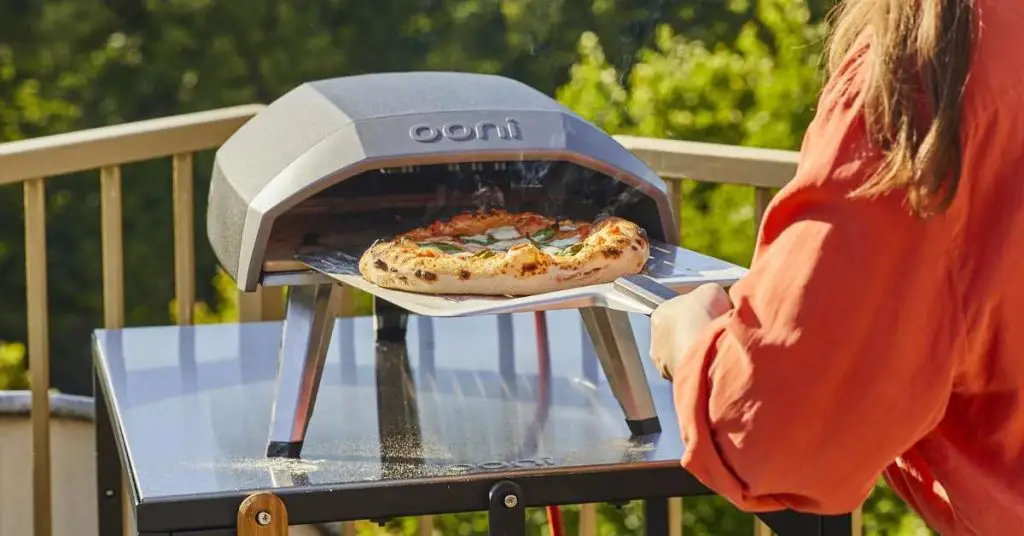 The Ooni Koda 12, available for $399, is another excellent choice for those short on space. This exclusively gas-powered oven can heat up to 950°F in 15 minutes. The Koda 12 is designed for outdoor use and can cook pizzas up to 12 inches in size.
If you live in an average sized apartment or condo with a smaller balcony, the Ooni Koda 12 pizza oven is your new best friend. It's small, doesn't produce smoke, and heats up fast using regular propane gas. It's also one of the more affordable pizza ovens at only $399.
The Ooni Koda 12 is easily the most convenient to use of all the pizza ovens listed here, so it's easy for me to recommend it, especially to those who don't have much experience using pizza ovens. 
Ooni Volt 12 Electric Pizza Oven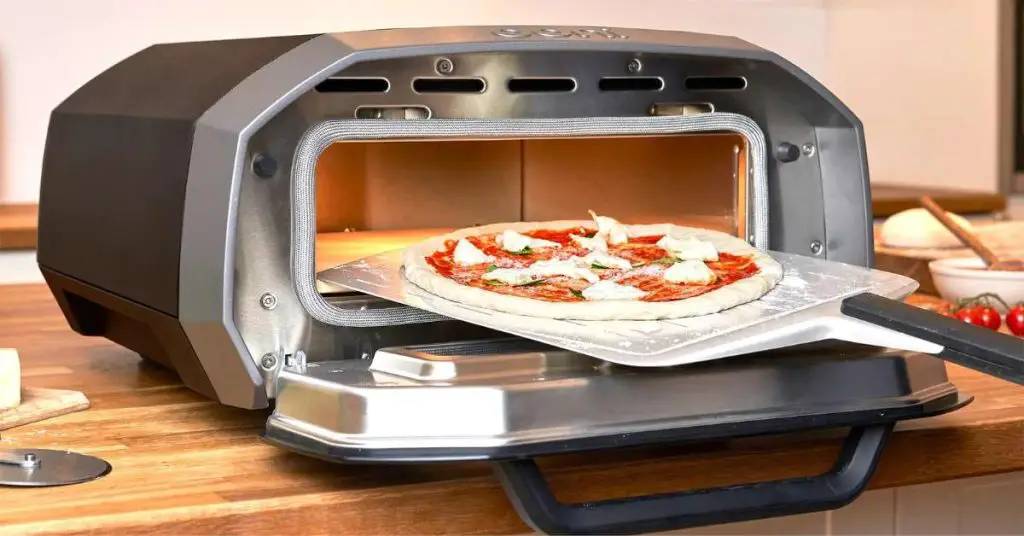 Priced at $999, the Ooni Volt 12 is maybe the most radical pizza oven to hit the market in recent years. The Volt 12 is the only Ooni pizza oven that can be used both indoors and outdoors. This is a major advantage if you prefer cooking in your own kitchen or don't have the land or a balcony for an outdoor model. 
The Ooni Volt 12 is fully electric, yet still able to reach a maximum temperature of 850°F. Yes, it's more expensive than the outdoor models of a similar size, but you're paying a premium for a pizza oven that's safe to use indoors, which takes some advanced engineering and design. The 
Ooni Volt 12 also doesn't get quite as hot as the other ovens (850F vs 950F), but it's still more than hot enough for most styles of pizza, including Neapolitan but especially New York style (which bakes at a lower temperature anyways).
The Ooni Volt 12 is perfect for those who prefer to cook inside, or who otherwise don't have a choice for any number of reasons. But if you plan on mostly cooking outside anyways, you're probably better off with one of the cheaper outdoor models.
Ooni Pizza Ovens Comparison Table
| | | | | |
| --- | --- | --- | --- | --- |
| Pizza Oven Model | Price | Max Pizza Size | Fuel Type(s) | Indoor/Outdoor Use |
| Karu 16 | $799 $639.20 | Up to 16 inches | Wood, Charcoal, Propane Gas & Natural Gas (with optional adaptors) | Outdoor |
| Karu 12G | $429 | Up to 12 inches | Wood, Charcoal & Propane Gas (with optional adaptor) | Outdoor |
| Koda 12 | $399 $319.20 | Up to 12 inches | Propane Gas | Outdoor |
| Volt 12 | $999 | Up to 12 inches | Electric | Both |
In addition to scoring fantastic deals on these ovens during the Ooni Memorial Day Sale, you're also joining a community of pizza enthusiasts who understand that making pizza is as fun as eating it. With Ooni (or any other premium quality pizza oven brand), you're not just buying a pizza oven; you're investing in an experience. 
Whether you want to host family pizza nights, organize a get together with friends and colleagues, or simply enjoy a slice of your own homemade pizza in the comfort of your own backyard, Ooni is an amazing option that I have no trouble recommending.
So if you're ready to take the plunge and invest in a premium pizza oven, now is as good a time as any with such a steep discount.