Gozney Roccbox vs Ooni Fyra 12 Outdoor Pizza Ovens: Wood-Pellets vs Multi-Fuel
The Ooni Fyra 12 and Gozney Roccbox are two outdoor pizza ovens with a lot going for them, as well as some important differences. Let's get right into it with this latest addition of the never-ending Roccbox vs Ooni outdoor pizza oven debate.
The Gozney Roccbox is ideal for those who want a multi-fuel pizza oven with unparalleled heat retention. When you pick up all 44 pounds of the Roccbox, you'll know exactly where all that insulation is coming from—it's quite a hefty unit!
The Ooni Fyra 12, on the other hand, is ideal for those looking for an exclusively wood pellet burning pizza oven in a lightweight and compact design. It may not retain heat as well as the Roccbox, but it does a perfectly fine job of making excellent pizzas just the same.
Perhaps the biggest difference between the Ooni Fyra 12 and Gozney Roccbox is price. The Roccbox is $599 with all attachments, while the Fyra is only $349. 
That said, they've very different pizza ovens with different features, so it's a bit like comparing apples and oranges. This is why it's so important to figure out which features are most important to you before making a purchase. Hopefully, this article helps you with that.
Pros and Cons: Ooni vs Roccbox
It's time for a good old pros and cons list—the backbone of any "this vs that" article.
Gozney Roccbox
Pros:
Dual fuel capability allows for more flexibility and choice.
Built-in thermometer measures the oven floor temp.
Super robust and durable construction.
Consistent performance and high-quality results.
Positive customer reviews.
Easy propane option.
Cons:
Higher price point—$599 for both wood and gas attachments.
Heavier and less portable compared to the Ooni Fyra 12.
Smaller cooking area.
Wood burner is hard to use for beginners.
Slightly smaller cooking surface makes it difficult to make a fully 12 inch pizza after pizza shrinks while cooking.
Ooni Fyra 12
Pros:
Lightweight and portable design.
Fuel-efficient wood-pellet burner and excellent airflow.
13 inch cooking area makes it easy to get a fully 12 inch pizza after baking shrinkage
More affordable price point.
Positive customer reviews.
Only $349, all-inclusive
Cons:
Requires constant attention during cooking to prevent burning.
No built-in thermometer.
Ongoing cost and availability of wood pellets.
Roccbox vs Ooni Fyra 12: Design and Construction
Ooni Fyra 12
The Ooni Fyra 12 is a unique pizza oven, both in terms of Ooni's lineup and the pizza oven market in general. Unlike many other wood-fired pizza ovens you can buy, the Fyra 12 uses wood pellets exclusively instead of traditional wood logs.
Wood pellets are much easier to use than wood logs—they light easier and stay lit longer because of how dense and consistent the grain of the wood is. This is mostly due to the fact that wood pellets are reconstituted from pulp rather than cut directly from a tree.
The Ooni Fyra 12 also uses an innovative gravity fed pellet hopper, which pretty much makes the job of refilling it with more pellets automatic. As more pellets are needed, they are drawn down into the burner via gravity. All you have to do is refill the hopper every so often to keep it loaded with pellets.
This makes the Fyra incredibly fuel efficient as well as easy to use compared to regular wood-fired ovens. 
The Ooni Fyra 12 is also only 22lbs, which makes it extremely portable for taking on the road, or just moving it around your own property. Its sleek, modern design will fit in great alongside whatever other backyard decor you have.
Gozney Roccbox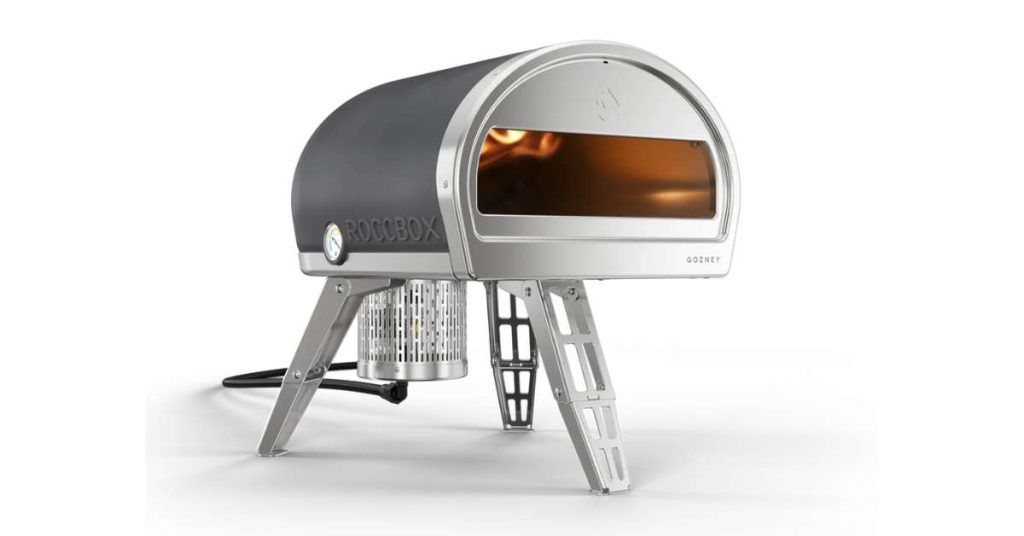 The Gozney Roccbox is quite a bit different from the Ooni Fyra 12, despite both being outdoor wood-fired pizza ovens.
For starters, the Roccbox is a multi-fuel pizza oven, which means it can burn more than just wood. You can easily swap out the wood burner for a propane burner, which gives you access to a much more convenient fuel source if you need it.
The Gozney Roccbox also uses traditional wood logs unlike the wood pellets of the Fyra 12. I prefer to use wood pellets myself, but wood logs are much easier to find and cheaper. With the Roccbox, you can even go into the woods and collect kindling yourself as long as you dry it properly. You can't do that with a wood-pellet pizza oven.
The Roccbox is much heavier and sturdier than the Ooni Fyra 12, thanks mostly to the super thick layers of thermal insulation around the exterior of the unit. This has the benefit of making the Roccbox more efficient in terms of heat retention, which is useful for keeping the oven hot between pizzas and minimizing downtime. 
That said, if you're only making 1-2 pizzas at a time, there isn't as much benefit to the extra heat retention. The extra heat retention of the Roccbox really shines in commercial settings, where it's important to have minimal downtime between each pizza.
But all the extra insulation comes at a cost, both in terms of price and weight. The Roccbox is heavy for its size (over 40lbs), so it's still technically portable, but you definitely don't want to lug it around more than you have to.
| Feature | Gozney Roccbox | Ooni Fyra 12 |
| --- | --- | --- |
| Price | $599 | $349 |
| Maximum Temperature | 950F (500C) | 950F (500C) |
| Fuel Type | Dual (Wood and Gas) | Wood Pellets |
| Weight | Heavier (44lbs) | Lighter (22lbs) |
| Portability | Less Portable | More Portable |
| Cooking Area | Smaller | Larger |
| Built-in Thermometer | Yes | No |
| Time to Reach Max Temperature | 30 minutes | 15 minutes |
| Construction | Robust and Durable | Sleek and Efficient |
| Cooking Experience | Easy with propane, harder with wood | Relatively easy for wood-fired |
Gozney Roccbox vs Ooni Fyra 12: Performance
Ooni Fyra 12
When it comes to performance, the Ooni Fyra 12 is hard to beat. Thanks to its wood-pellet design, it lights easily and is super simple to manage. Like most other Ooni pizza ovens, the Fyra 12 heats up quickly, has great airflow, and maintains its temperature very well.
I tell anyone looking for a wood-fired pizza oven who isn't already familiar with managing a wood flame to check out the Ooni Frya 12. It might just be the only wood-fired oven that doesn't have a steep learning curve before you can use it effectively.
Gozney Roccbox
Compared to the Ooni Frya 12, the Roccbox isn't as simple to use, at least if you're using wood. Gozney's improved "Wood Burner 2.0" attachment is a big improvement over the previous model, but it still takes some time to get the hang of. 
This learning curve isn't unique to the Roccbox, you'll face it with whatever wood-fired pizza oven you use that burns traditional wood logs. A lot of people complain when their new wood-fired oven (Roccbox or otherwise) doesn't hit the max temperatures or isn't easily adjusted to a lower temperature when needed. They think their oven is defective, but really they just don't know how to manage a wood-fired flame. It definitely takes practice at first, but it's pretty rewarding when you finally get the hang of it.
That said, the Roccbox is still an excellent pizza oven, and if you're inclined to learn the art of wood-fired cooking, you'll have a good time using it. But if you want a simpler wood-fired experience, I recommend going with the Ooni Fyra 12 instead.
But where the Roccbox shines is in its versatility. If you get sick of dealing with wood, or just want to make a quick pizza, you can easily fire up the propane burner and be ready to make pizza in as long as it takes to heat up. You can't do that with the exclusively wood burning Ooni Fyra 12.
Ooni Fyra 12 vs Roccbox: Cooking Experience
Ooni Fyra 12
The Ooni Fyra 12 isn't a massive pizza oven, in fact it's only big enough for a 12 inch pizza. But I appreciate the fact that the baking surface is actually 13 x 13 inches, because pizzas generally shrink about an inch during cooking.
This extra baking surface area means you can launch your pizza at 13 inches and end up with the 12 inch pizza when all is said and done. Many other pizza ovens advertise themselves as 12 inch ovens because they have a 12 x 12 inch baking surface. But realistically, this means you'll only end up with a 10-11 inch pizza when it's fully cooked.
Combined with the wood-pellet burner system, the Ooni Fyra 12 is a very enjoyable wood-fired pizza oven to use. I'm someone who believes you generally get what you pay for in a pizza oven, but I think with the Fyra 12 (at only $349) you get slightly more for your money. 
Gozney Roccbox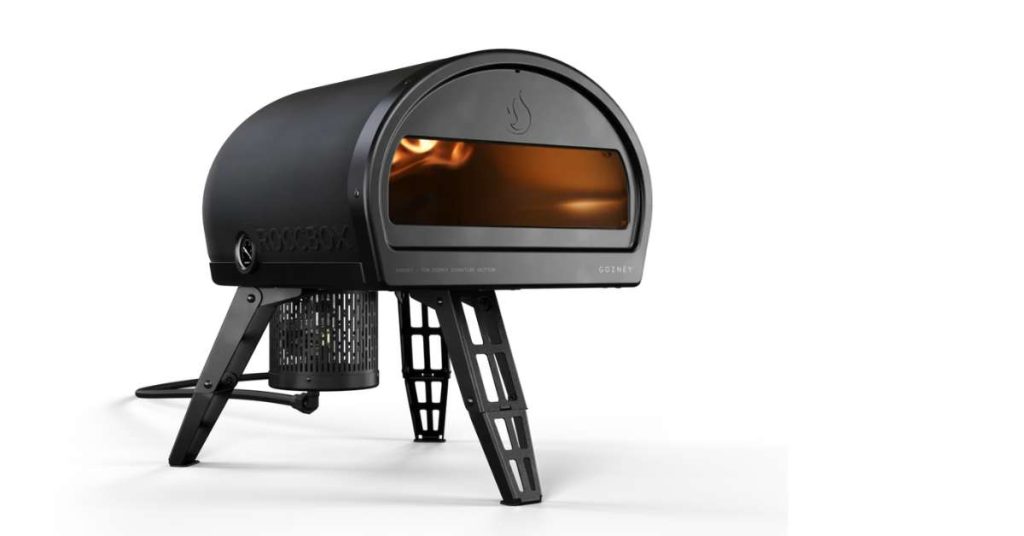 Cooking with the Gozney Roccbox is a different experience depending on which fuel type you're using. For propane, it's very simple—just fire up the burner and you're ready to go. But if you're using wood, it's a bit more difficult.
I mentioned earlier that using traditional wood logs is more difficult than wood-pellets, but I didn't mention the Roccbox's Wood Burner 2.0 attachment specifically.
The Wood Burner 2.0 (as the name suggests) is the updated version of the attachment you need to burn wood with the Roccbox. While it's a much better system than the previous model, it still leaves some things to be desired.
For example, the wood burner on the Roccbox is quite small, which means you need to make sure your kindling is small enough to fit comfortably in the slot and still have room for more. 
You'll find you need to reload the Roccbox with more wood fairly frequently, and getting them in while the oven is hot can be a bit of a challenge. But this isn't necessarily because Gozney has done anything wrong with their design, it's really just the nature of such a small wood-fired pizza oven. 
This is a big reason why I prefer the wood pellet system of the Ooni Fyra 12 instead, at least when it comes to wood-fired cooking. But if you're using propane, the Roccbox is the easiest to use between the two. Just remember that propane won't give your crust a smoky flavor, but that's really not the end all be all when it comes to how your pizza tastes.
Ooni vs Roccbox: Price and Value
Ooni Fyra 12
When it comes to price, the Ooni Fyra 12 is the clear winner, even though we're dealing with two very different products. At only $349, the Fyra is over $200 cheaper than the Roccbox when you factor in the cost of the extra wood burner.
This actually makes the Ooni Fyra 12 the least expensive Ooni pizza oven in the lineup, and one of the cheapest wood-fired pizza ovens on the market. Yes, there are some super cheap sub-$100 wood-fired ovens on Amazon, but those don't have nearly the same build-quality as an Ooni and generally aren't worth the money.
Just keep in mind that you'll need to use wood-pellets with the Ooni Fyra 12, you can't just throw in regular wood. Wood pellets are more expensive than traditional wood logs, but they do have the benefit of burning more efficiently, so in the end it's a tradeoff. For me, it's worth it though.
Gozney Roccbox
The Gozney Roccbox has a lot going for it, but price isn't really one of those things. This isn't to say it's overpriced, but you end up paying for things that you might not ever take advantage of.
At $499 for the base model, and $599 for the multi-fuel support, the Roccbox finds itself on the high end of average, and between the price points of other similar pizza ovens. 
For example, if you just plan on using propane, you can get the exclusively propane Ooni Koda 12 pizza oven for only $399. On the other hand, if you want to use wood, the Ooni Fyra 12 is much less expensive and easier to use.
To take it even further, if you want to use propane and wood, you can get the brand new Ooni Karu 12G pizza oven for $429 which does everything the Roccbox can do for a lower price. The only scenario where the Roccbox has a clear advantage is if you really really want that extra heat retention, but that isn't going to be a factor for the average user.
That said, the Gozney Roccbox is a very high-quality pizza oven with few downsides, it's just becoming harder and harder for it to compete with Ooni's lineup in terms of features and price.
Ooni vs Gozney: Warranty and Support
Ooni
When it comes to support, Ooni is best-in-class. Any time I've had a problem with anything, Ooni's support team has been helpful and prompt in getting back to me.
Ooni also offers a 1 year warranty on all their pizza ovens out of the box, and an additional 5 year extended warranty if you register. This means if anything goes wrong with your oven (besides you intentionally destroying it), Ooni will do whatever it takes to get it working again.
In addition, there is a massive online community of Ooni users who are constantly sharing tips and experiences with their ovens. Chances are, if you have any problem using your Ooni, you can easily find people online to help you along.
Gozney
Just like Ooni, Gozney also has an incredible customer support team ready to help you with anything you need. All of my experiences with Gozney, from purchasing to troubleshooting to warranty claims, have been met with total professionalism.
And also just like Ooni, there are endless communities and discussion threads online full of people using their Roccbox and sharing their experiences with it. 
So really, whether you choose the Ooni Fyra 12 or the Gozney Roccbox, you can rest assured that you're going to have a good purchasing experience and if you run into problems you'll get the support you need.
Roccbox vs Ooni: Final Thoughts
To end things off, I'll just reiterate some of the points I've made above.
If you want a wood-fired pizza oven, the easier and better choice (in my opinion) is the Ooni Fyra 12. It's cheaper, simpler to get going, and more fuel efficient than the Roccbox.
On the other hand, if you want a multi-fuel pizza oven, the Roccbox is your only option between the two with its built-in propane burner and option for wood and charcoal attachments. 
That said, the Ooni Karu 12G is a newer, more fuel efficient, and generally better multi-fuel oven. So, it's worth considering all of your options beyond just these two models to make sure you're getting everything you want for the money you're paying.
But if you value heat retention above all, the Gozney Roccbox can't be beat. This is a big advantage if you're planning on making dozens of pizzas at a time with minimal downtime between cooks for reheating. However, very few average users will ever make more than 1-3 pizzas at a time.
Key Facts From This Review
The Ooni Fyra 12 and the Gozney Roccbox are both high-quality outdoor pizza ovens, each with their unique features and advantages.
The Ooni Fyra 12 is lightweight, portable, and efficient, reaching temperatures of up to 950F degrees Fahrenheit in just 15 minutes.
The Gozney Roccbox, while heavier, offers robust construction, dual-fuel capability, and a built-in thermometer.
Both ovens provide a unique cooking experience. The Ooni Fyra 12 requires some attention during cooking, while the Gozney Roccbox offers more control and versatility with its dual-fuel option.
The Ooni Fyra 12 is priced at $349, making it a more affordable option. However, the cost of wood pellets is more expensive than regular wood.
The Gozney Roccbox is priced at $499, but that goes up to $599 if you want the wood burner attachment as well.
The choice between the two ovens ultimately comes down to personal preferences and needs. The Ooni Fyra 12 is great for those who value portability and efficiency, while the Gozney Roccbox is ideal for those who prefer a more traditional cooking experience and versatility.